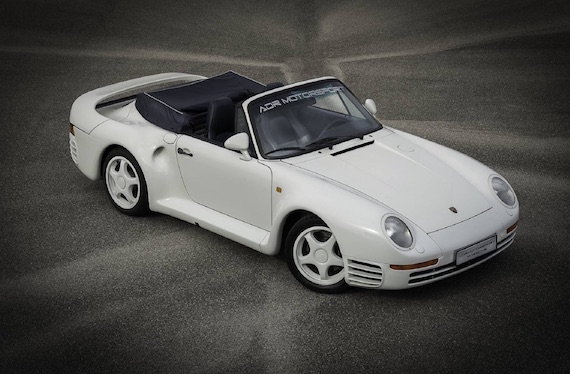 For fear of having three Porsche features in a row today, I'm going to go ahead with this post regardless. I typically avoid featuring air-cooled Porsches. The market seems saturated with them and values appear to be leveling off for run of the mill variants. In addition, as enthusiasts discover other Porsches that are more rare, such as the 944 Turbo, 968 and 928GTS, values increase for these cars and sometimes surpass their rear-engined counterparts. Those points considered, even though it isn't fully air-cooled, you don't see a 959 come up for sale every day. You especially don't see the only example of a Porsche 959 Cabriolet come up for sale every day. When I first saw this car, it was like seeing a mirage. The transformation from coupe to convertible suits the lines of this 959 fairly well but I admit I did a double take upon seeing it. I knew this wasn't an officially sanctioned Porsche. Perhaps growing up in the 1980s and seeing 959 bodykits on convertible Porsches reduced the wow factor a bit for me. Blame it on the crystal that aftermarket tuners were smoking back in that decade.
In any case, this one-off for sale in Italy came to be via an unfortunate accident back in 1998, when owner and Porsche racing driver Jürgen Lässig owned it. According to Top Gear, a company called Auto Becker in Germany purchased the wreck and went to work. What resulted is the work you see before you and comes replete with two windscreens (a Speedster version comes with the car which can be swapped in) as well as a hardtop made from the original roof. A US based collector once paid over three million Deutschmarks for this car after setting eyes on it at the Frankfurt Motor Show. Now it is up for sale again at an equally eye-watering price.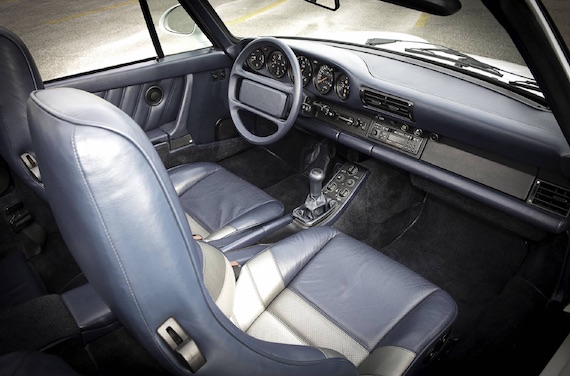 Year: 1987
Model: 959
Engine: 2.9 liter twin turbocharged flat-6 liter
Transmission: 6-speed manual
Mileage: 8,100 km (~ 5,033 mi)
Price: $1,100,000 USD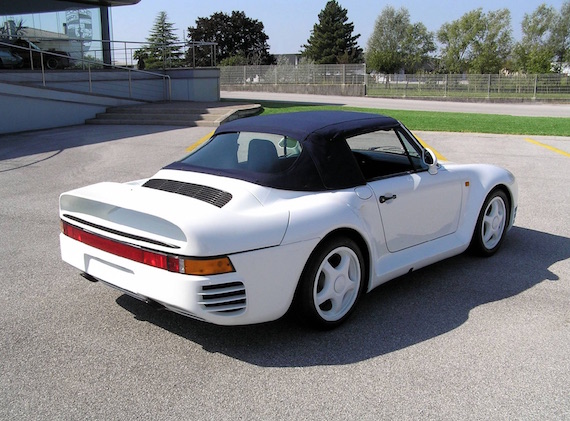 The asking price, while steep, does not surprise me. Vintage Porsches have been skyrocketing for years while prices for the 959 have always been strong. However, it would take a special kind of buyer to want a modified 959 such as this, one which could be compromised on a performance level with its roof chopped off. Surprisingly, there is little information about this car on the seller's website. One would think such a significant car would at least be worthy of a short write up. Last year, a 959 Komfort sold at auction for $1,045,000. The one million mark seems to be where prices for these forward-thinking supercars seem to settle as of late. In many cases, an accident history and chopped top might hurt the value of the car in question, but here, it might actually add a little bit to the bottom line.
-Paul