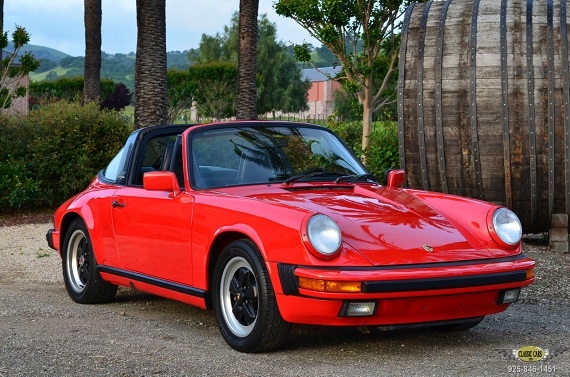 An '87 Carrera always provides us with a nice case study for glimpsing into the 3.2 Carrera market. As the first year Porsche fitted the 911 with the new G50 5-speed transmission it is with this model year that we most noticeably see shifts in value relative to the preceding year. The '88s and '89s then tend to show incremental increases over the '87 given the few differences between the three model years. Of course, whether you are a collector or just someone on the lookout for a good driver will then play a significant role in which side of that value spectrum you might wish to fall. These days, with values having taken a small step back for all but the absolute best examples the market sits in a fairly good place for those who do prefer the G50 transmission over the 915 and the '87s can restake their claim as the best overall value on the air-cooled 911 line. Here we have another nice looking Targa that should make for a good driver-quality value: a Guards Red 1987 Porsche 911 Carrera Targa, located in California, with Black leather interior and 103,200 miles on it.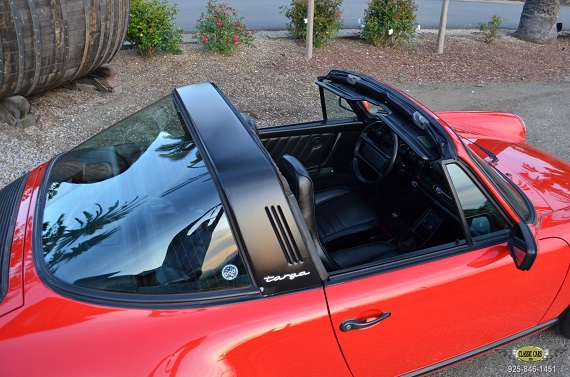 Year: 1987
Model: 911 Carrera Targa
Engine: 3.2 liter flat-6
Transmission: 5-speed manual
Mileage: 103,200 mi
Price: Reserve Auction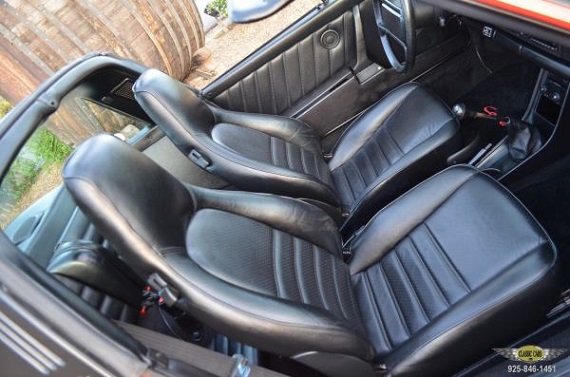 Porsche…There is No Substitute

1987 Porsche Carrera Targa

Low Mileage – Finished in Guards Red w/ Black Interior

3.2 Liter 214 hp Engine & Desirable 5-Speed G50 Getrag Transmission

Professionally Porsche Maintained, 2 Previous Owner Lifelong California Car
________________________________________

NOTE: Our listings are rather lengthy. They not only describe this particular car but also some history of the make/model, considerations in buying a classic car and facts about our firm. However, we continually hear from out-of-state / out-of- country buyers (many of our clients) that they prefer the level of detail that we provide. However, if you are not prepared to read the full listing, please scan the DETAILS below along with viewing the PHOTOGRAPHS at the bottom. If you'd prefer, please call us at 925-846-1451 and we'll gladly discuss the Porsche and answer any questions over the telephone, including our "Buy it Now" policy. Yes, the Porsche can be purchased prior to the end of the eBay auction.

PHOTOGRAPHS

PLEASE NOTE: EACH TIME WE LIST A VEHICLE ON eBay WE RECEIVE COMMENTS THAT THERE ARE NO PHOTOS OF THE INTERIOR, ENGINE, UNDERCARRIAGE, ETC. OF THE CAR. THERE ARE CLOSE TO 100 PHOTOS OF ALL AREAS OF THIS PORSCHE, BUT WHEN YOU REACH WHAT APPEARS TO BE THE LAST PHOTO, YOU WILL NEED TO SCROLL DOWN ON eBay TO VIEW THE REMAINING PHOTOS. IF YOU ARE STILL UNABLE TO SEE THEM, PLEASE CALL US AT 925-846-1451 AND WE WILL PROVIDE A DIRECT LINK. NOTE: IT IS A VIOLATION OF eBay POLICY FOR US TO LIST THE URL ON THE eBay LISTING. PLEASE LET US KNOW IF YOU WOULD LIKE ADDITIONAL PHOTOS OF ANY PART OF THE PORSCHE. ALL OF OUR PHOTOS ARE TAKEN IN NATURAL LIGHT AND WE DO NOT "PHOTO-SHOP" OR TOUCH-UP THE PHOTOS IN ANY WAY.

INTRODUCTION

This car is offered at a realistic price and, unlike bidding on cars in an auction environment, you will have the benefit of extensive information and history on the car prior to making a buying decision. Equally as important is the fact that Classic Cars Ltd. has been in business for 23+ years and enjoys an excellent national / international relationship with over 890 positive eBay feedback responses.

Please keep in mind that we will gladly…

1. Answer any questions over the telephone and take the time to guide prospective customers through the buying process (925-846-1451).

2. Assist with locating a quality, suitable transporter at very competitive prices.

3. Provide proof that we are licensed, bonded (for the financial transaction), fully insured, and operate from an established showroom environment.

4. Provide feedback from previous buyers, and specific references for vehicle purchases in your area (we also ask that you view our detailed eBay feedback by clicking on the number to the right of the eBay user name)

5. Offer additional information including specific photographs or clarification of any part of our description of the vehicle

Thank you again, please let me know if I can be of assistance.

Happy "eBaying"!

Paul R. Wankle, Pres.
Classic Cars Ltd.
Pleasanton, CA
925-846-1451

DETAILS-THIS PARTICULAR 1987 PORSCHE 911 CARRERA TARGA

In 1965 Porsche began the 911 model line that has become an icon among sports cars. This 1987 Porsche 911 Carrera Targa represents a limited owner, very well cared for example of the highly sought after 3.2.liter Carrera's that were manufactured from 1984 until 1989. The Porsche was originally sold in Northern California spending its entire life there. All maintenance has been performed by Porsche technicians and is supported by maintenance / service invoices. The most recent maintenance was completed in October 2015. The car has a clean CarFax report showing no accidents and no odometer rollback.

The VIN is WP0EB0912HS161218 and the Porsche is currently licensed and registered in California through May, 2016. The current odometer reading of 103,236 miles is verified based on maintenance records and supported by the CarFax report. The Porsche carries the factory VIN stickers on doors, hood, and trunk, further supporting the cars accident free history. This represents an annual average of only 3600 miles for 29 years plus the car has been driven less than 2000 miles in the past 6 years. The overall excellent condition of the car is more representative of a car with half of the total mileage.

HISTORY AND MAINTENANCE

This car was sold on May 13, 1987, to the original Northern California owner by Porsche Audi of Santa Cruz as evidenced in the included original Warranty & Maintenance Manual. This manual further records the early maintenance by Porsche specialists up through 40,000 miles.

The later maintenance (the past 6 years) is recorded on provided receipts, again from a German auto specialist. More recent maintenance items include:

– 10/22/2015; 103,183 miles-Oil, filter and fluids

– 06/05/2014; 102,993 miles-New battery

– 04/09/2013; 102,737 miles-New oxygen sensor

– 03/19/2013; 102,669 miles; $2,675-Oil, filter, fluids, air filter, fuel filter, spark plugs, valve cover gaskets, front brake pads & rotors, front wheel bearings

– 08/10/2010; 102,265 miles-Brake fluid flush

– 12/08/2009; 101,679 miles-Ignition relay

OPTIONS

All original factory stickers remain on the car and are quite legible (front and rear compartments and door jambs). The sticker under the front compartment lid lists the following option codes:

– C03 – California car

– 018 – Sports steering wheel w/ elevated hub

– 158 – Blaupunkt Reno radio (now replaced with a modern Alpine unit)

– 395 – 16-inch Fuchs forged alloy wheels, 6″ wide front/7″ wide rear

– 454 – Cruise control

– 474 – Sports shock absorbers

MECHANICAL

– 3164 cc flat 6 cylinder "boxer" engine

– 214 hp/195 lb-ft torque, 9.5:1 compression ratio

– Overhead camshaft engine with timing chain

– Dry sump engine oil system w/ separate oil tank

– Air cooled

– Air Flow Control fuel injection w/ electric pump

– 5-speed manual Getrag transmission

– Disc brakes all around w/ power assist

– Unitized chassis construction

– Independent suspension all around w/ torsion bars for each wheel

– Front and rear stabilizer bars

– 16-inch Fuchs forged alloy wheels; 6″ wide front/7″ wide rear

– Bridgestone Potenza tires, 205/55R16 front (9/32″ remaining tread)/225/50R16 rear (6/32″ remaining tread)

– Cruise control

– Air conditioning; converted to R134a (documented by tag in engine bay)

– Newer Interstate Mega-Tron Plus 6-year battery, 730 cold cranking amperes

EXTERIOR

– Excellent red paint with very good coverage and very few defects

– No door dings on sides

– Very straight accident free body

– "German quality" fit of all body panels

– Nice Targa style removable top w/ black padded exterior

– Excellent glass all around

– Front bumper area and lower valence are good

– Both black rear bumperettes and exterior trim in beautiful condition

– Dual factory outside rear view mirrors

INTERIOR

– All black interior presents a nice contrast to the red exterior

– Black leather front seats both in fine condition

– Rear jump seats w/ folding backs in good condition

– Factory 3-point front seat belts

– Factory 2-point rear seat belts

– All black carpet in good condition

– New black floor mats w/ red Carrera logo on front pair

– Black dash pad; one crack just left of center

– Nice black door panels

– Black sun visors w/ vanity mirrors

– Black liner of Targa top in good condition

– Nice black padded leather steering wheel

– Rear window defogger

– Both doors and both compartment lids open/close solidly with perfect gaps

– After market Alpine CDA-9847 AM/FM CD stereo w/ MP3 and WMA playback

– Front compartment is clean and has nice black carpet

– Factory compact spare tire in front compartment w/ never used 12 volt air compressor and complete factory tool kit

– Very clean engine compartment supporting excellent maintenance – no leaks

COSMETIC CONDITION

The overall cosmetic condition of the car is excellent. The Guards red paint is rich in color with excellent coverage and only minimal slight defects. Paint is original with the exception of minor touch-ups that are well done, match virtually perfectly, and are only visible under close, critical scrutiny. There are no door dings. Both the front and rear bumper areas are in good condition. The Targa top is structurally sound and the padded black covering presents well. All glass is excellent, and original. The premium alloy wheels are nice with only very slight curb rash on the passenger side pair. The premium Bridgestone tires are very nice with good remaining tread.

The all black interior shows beautifully. The leather seats, carpeting, and door panels are all excellent. The black padded dash has one crack just left of center. The front luggage compartment is neat and the engine compartment is remarkably clean. The underside of the car is not detailed but is "California" clean. The entire car is rust free and shows absolutely no signs of accident damage. The Car Fax supports the cars totally clean history.

DRIVABILITY

Best summarized as a pleasure to drive! The car is tight and unusually free from rattles and squeaks often found in Targa 911's. Mechanically we can find no issues and the independent German specialist who service and inspected the car agrees. As a well maintained Porsche the Carrera has never been neglected, abused, tracked or lacked the ongoing maintenance that it deserved.

The car starts immediately and idles smoothly. The 5 speed G50 shifts smoothly and all of the synchros are excellent. The engine is very strong, free from leaks, smoke, or signs of problems. The brakes were done recently and stop the car straight and sure. The emergency brake is fully functional and properly adjusted. Clutch engagement is excellent with no signs of slippage, chatter or issues.

The lighting system is fully functional and the upgraded sound system is an improvement over the period dealer added unit. No holes have been cut in any interior panels for additional speakers.

The mid-late 90's Carrera's have become popular for a reason. They are wonderful cars to drive with excellent performance, precise steering and great handling. This example is not just another pretty face but a well-cared for, low mileage, rust free California Carrera.

OTHER

– Passed the California required safety inspection for working wipers, turn signals, lights, brakes, etc.

– Original Owner's Manual and Warranty & Maintenance Manual

– File of maintenance record

– Clear California title and current California registration

– Original tool kit

– Portable 12 volt air compressor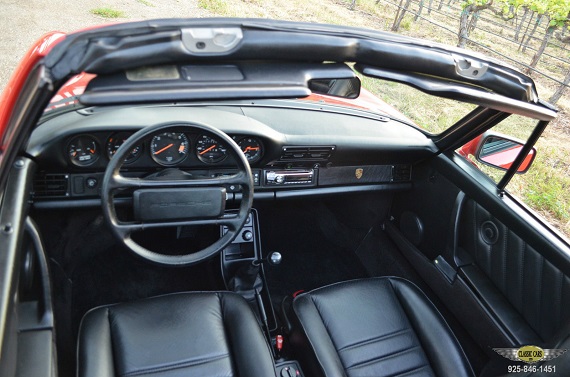 This seller has gone to pretty great lengths to provide as much information about this 911 as possible. That obviously helps us understand its state quite a bit better. It presents well and much of the detail in the ad lends credence to its care. There is a substantial gap in its maintenance history, though much of the recent maintenance is accounted for, but a PPI can help sort out any issues that may be present in that regard. In all, this looks like a good honest 911 with few issues that should provide a good deal more driving pleasure over its life. There's still a good bit of time left on this auction, but its present bidding of $29,400 seems a bit low for an '87 911 Targa. As we'd expect, the reserve is unmet. There isn't anything flashy about this 911, the colors are standard and the mileage is reasonable but not especially low, so we shouldn't expect high numbers, but I'd still expect bidding to at least reach the low $40Ks. We'll see if it does.
-Rob