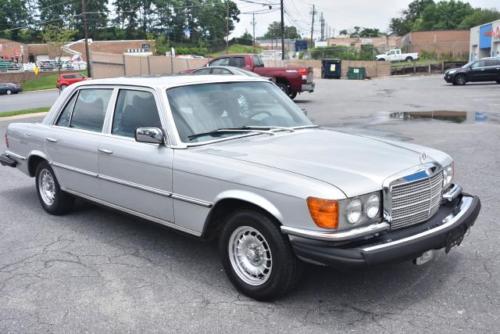 Tuner Tuesday posts usually focus on cars that have been turned up a few notches by aftermarket companies, but for some time Mercedes-Benz did all the magic internally. Indeed, if you go back to the 1920s and 1930s, Mercedes-Benz had a habit of taking the largest motor they could reliably produce and sticking it in their luxury cars. Such was where the legend of the 500 and 540K specials came from, but while the War postponed many further developments Mercedes-Benz were back at it in the W109 300SEL 6.3. Apparently not satisfied by that factory hot rod, engineers conceived its replacement with an even larger 6.9 liter V8 – mind you, in the midst of an international fuel crisis. Churning out 286 horsepower from the now legendary M100 V8, the 450SEL 6.9 was effectively a land-bound aircraft carrier and about as powerful. Long ignored by the market, the 6.9s have heated up over the past few years as large classic Mercedes-Benz models have become increasingly sought after and the rare 450SEL with the big motor is a solid draw. Today I have two examples to consider – a desirable European version and a less powerful and not quite as attractive American-spec car. Which is the one to choose?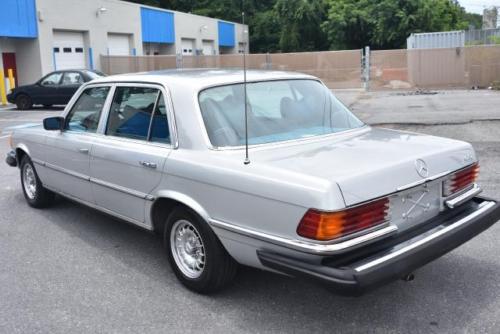 Year: 1977
Model: 450SEL 6.9
Engine: 6.9 liter V8
Transmission: 3-speed automatic
Mileage: 153,000 mi
Price: $29,500 Buy It Now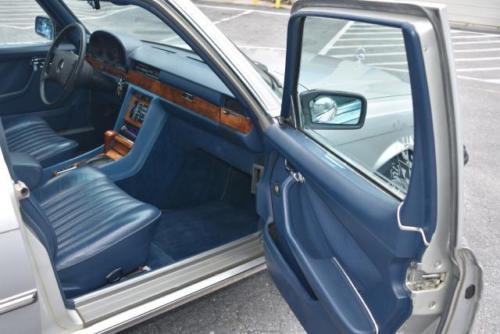 Absolutely amazing condition, one of the rarest cars with 6.9 liter engine!
Only 462 was made for North America.
Very strong and very fast. No rust, no issues.
The car can be a daily drive.
Own a piece of fine engineered History seemingly made for the Royalty.
This is made for N America which makes it even more rare and has been driven and maintained.
There are a couple of cracks on the original dash which could be replace, but it is original.
The paint is flawless.
The scarcity, beauty, power and condition makes this ever more collectible.
Don't miss out on a very fine classic car which you can drive and enjoy for many years.

Warning: You may be puzzled if you are driving a Luxury car, a Tank or a Jet. It gives you all these feelings.
I have driven a lot of different cars including some classic Benzes. Nothing like it. Very powerful. It is simply awesome.

Here is the proof. A short French film by Claude Lelouch from 1976 using a Mercedes Benz 450SEL 6.9:

https://www.youtube.com/watch?v=Dwjy0qED2Lo

Here is also short clips showing this car:

This car has had the privilege of open check book maintenance its whole life (some of the receipts will be included). Apart from routine maintenance here is a list of notable work completed:

– Hydro pneumatic suspension has been redone- hydraulic shocks replaced
– All new nitrogen suspension absorbers
– Timing chain replaced (preventative maintenance)
– New fuel pump and accumulator
– New water pump and front main seal
– New valve cover gaskets
– New plugs, wires, and distributor
– All new Door lock vacuum actuators ( all locks work like they should)
– New heating and AC servo with new control board
– Upgraded AC R134
– New auxiliary cooling fan temp sensor
– New turn signal/headlite/wiper control lever
– upgraded stereo, alarm system ( original Becker included)
– restored alloy wheels
– New rubber
– New fog lamps with covers
The exterior is exceptionally crisp. Body is straight , paint has nice depth. All the lights work ,glass and rubber show no wear. The car has had one bare metal re-spray with no accident history.

Here are the specs:

Specifications[edit]
Mercedes-Benz 450SEL 6.9[8]
Manufacturer Daimler-Benz AG
Class Five-passenger, four-door luxury sedan
Body Styles Four-door sedan
Predecessor 300SEL 6.3
Successor None
Shares components with Mercedes-Benz 600, Mercedes-Benz 300SEL 6.3, other Mercedes-Benz W116 sedans
Wheelbase: 116.5 in 2960 mm
Front track 59.9 in 1521 mm
Rear track 59.3 in 1505 mm
Overall length: 210 in 5335 mm
Width: 73.6 in 1870 mm
Curb weight: 4390 lb 1985 kg
Fuel tank capacity 25.3 US gal 95 L
Trunk (boot) capacity 18.2 ft³ 0.52 m³
Battery capacity 12 V, 88 A·h
Steering wheel turns 2.7 lock-to-lock
Turning circle 40 ft 12.1 m
Head Room – Front 38.6 in 980 mm
Leg Room – Front 41.7 in 1060 mm
Hip Room – Front 57.5 in 1460 mm
Shoulder Room – Front 55.1 in 1400 mm
Head Room – Rear 37.1 in 942 mm
Leg Room – Rear 38.1 in 967 mm
Hip Room – Rear 59.5 in 1510 mm
Shoulder Room – Rear 54.9 in 1394 mm
Engine V-8, Bosch fuel injection, electronic ignition, two single overhead camshafts, five main bearings
Net power @4250 rpm
(World) 286 PS 210 kW
Net torque @3000 rpm
(World) 405 lbf·ft 549 Nm
Net power @4000 rpm
(North America) 250 hp 186 kW
Net torque @2500 rpm
(North America): 360 lbf·ft 488 Nm
Compression ratio
(World) 8.8:1
Compression ratio
(North America) 8.0:1
Bore/stroke 4.21 × 3.74 in 107 × 95 mm
Displacement 417.1 in³ 6834 cc
Maximum engine speed 5300 rpm
Transmission: Three-speed automatic with torque converter
Rear axle ratio 2.65:1
Tires and wheels Michelin XWX 215/70VR14 steel-belted radial; 6.5Jx14 light alloy
Braking system Dual-circuit, power-assisted hydraulic, four-wheel disc brakes. Front discs ventilated.
Total swept brake area 456.5 in² 2945 cm²
0-60 mph (0–96 km/h) 7.1 seconds
Top speed (World) 225 km/h (139.8 mph)
Production World North America
1975 474 0
1976 1475 0
1977 1798 462
1978 1665 437
1979 1839 576
1980 129 317
1981 4 0
Total 7380 1816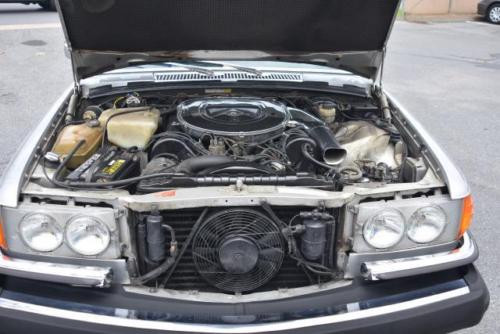 The seller's information is a bit misleading; yes, there were 462 1977s imported, but quite a few more than that made it to these shores. How many remain in serviceable condition is perhaps a more poignant question, but that they are rare is undeniable. This car features some big-dollar maintenance necessary to keep the complicated luxo-barge afloat, but to me still looks a bit tired from some angles. Notably, it appears that the passenger front door's paint is mismatched, though a respray is disclosed. The asking price is in line with what Hagerty places value for a condition 2 car, which seems a bit of a reach on this particular example considering the mileage and presentation. But it's still a strong example overall – strong enough to be more desirable than a European version of the same car?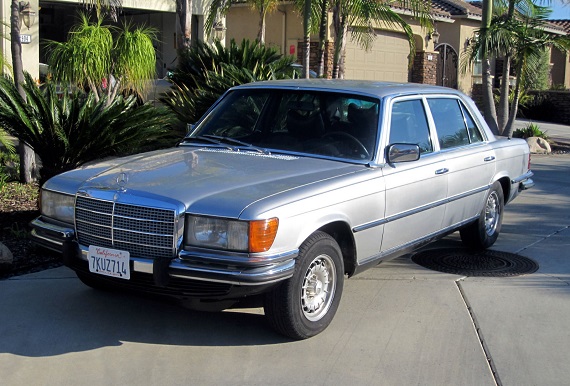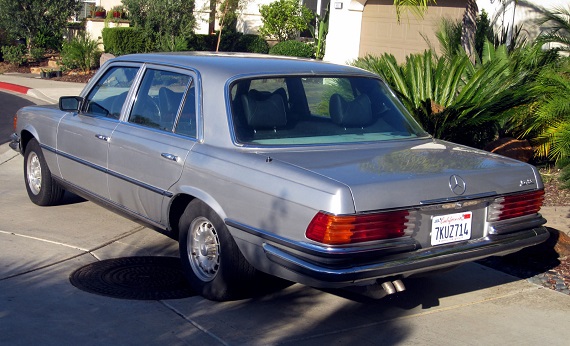 Year: 1978
Model: 450SEL 6.9
Engine: 6.9 liter V8
Transmission: 3-speed automatic
Mileage: 92,000 mi
Price: $27,000 Buy It Now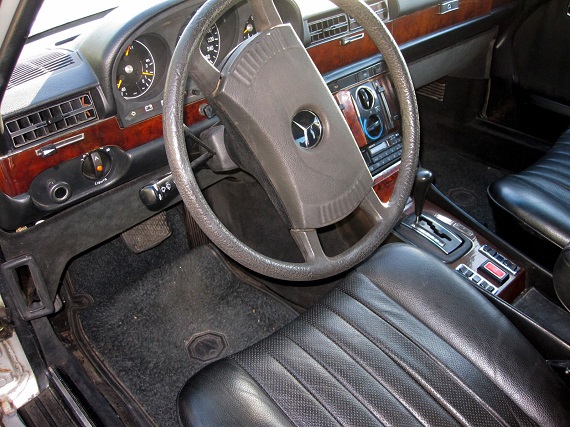 1978 Mercedes-Benz 450SEL 6.9 – VIN 116 036 12 003329 – 148,059 KM

European Model.

Good older repainted to original color Silver. Very very few paint chips.
Rustfree westcoast car.

Interior is black leather, and appears to be original and in good condition.
This is an Euro model with the high-power engine.

You thought the US models are fast – try a Euro model and you will never want a US model again. This car is an excellent driver, – no trailer queen.
Only Euro models can claim the throne as the "Fastest European Sedan" in 1978.

It has 289 horsepower, 39 more than the US version. Too bad we don't have an Autobahn!!

Everything is working as of placement of ad. I only say this because on a car that is 37 years old things break, but lately everything has been working for quite a while now.

I love this car and drive it all the time. I am loosing garage space, so some toys need to go.

Suspension works and stays up.
A/C is ice-cold.
New stainless steel exhaust.
New tune-up.
Has Nology HotWires and Silver spark plugs (makes the car run superb).
Recent oil change.
New hood pad.

Over the years, someone changed the bumpers from US style back to Euro style. Also note the Euro head lights. I love the look!

Speedo shows 148,059 KM (92,000 miles).

It appears the car was imported to the USA in 1985 and had one owner until I bought it.

Don't buy a show car and pay way too much. You will feel sick the first time you drive it and you get a scratch. And it will happen.
Of course, if you don't drive these cars, they break. They love to be driven and they must be driven.
This car gets driven all the time and the car loves it!

Things wrong:
Left headlight has a stone chip (filled in now).
Near drivers left foot, side carpet worn.
One bubble on roof near sun roof.

Will consider interesting trades, – cars, motorcycles, gold and silver coins.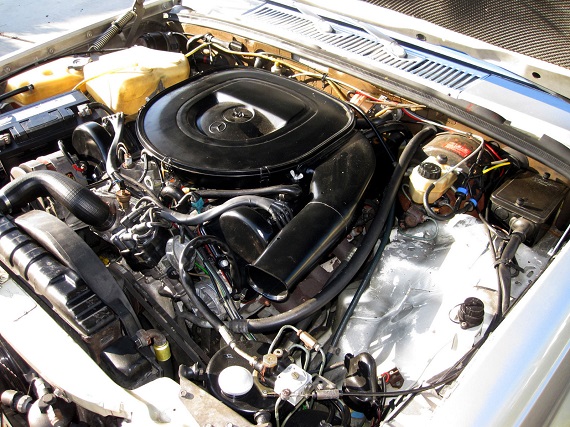 Off the bat, I think the paint looks a bit suspect in some of the photos and it's disclosed both that it's a respray and that it's tired in spots. But overall the aesthetic of the European bits on these large sedans is so much better than the U.S. version that I automatically prefer it. Inside also looks somehow fresher than the U.S. model, with brighter wood and richer looking leather though admittedly it may be a combination of the photos and conditioners. Underneath the hotter Euro motor lies, but unlike the U.S. example no work on the expensive hydraulics is disclosed other than that it works properly….for now. While it's an honest appraisal I'd probably give to my own cars too, it's not exactly confidence inspiring. You're left with a very similar asking price on a car reported to have much less mileage but also fewer records.
Which is the winner? I'm not sure that I'd gamble on either of these, as I think they're probably both a bit strong for the market. I'd much prefer the Euro version, but the lack of records would have me worried at the lofty asking price. The 450SEL 6.9 is a great example of buying the best car you can afford, but in this case if you can't afford close to perfection you might be better off passing.
-Carter