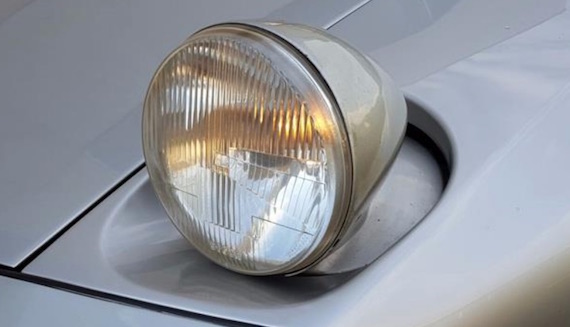 Last month, I had the pleasure of stopping by the 19th annual 928 Frenzy in Sterling, Virginia. In all the years of being a car enthusiast, rarely have I come across a more tight knit and dedicated group of enthusiasts devoted towards one model of vehicle. I've learned a lot about these V8 GT cars through fellow enthusiasts over at flüssig magazine and from Jim Doerr at 928 Classics. If you are a fan or owner of the 928 and haven't checked out either of these sites, you would be well advised to do so. These are people who are helping keep the dream alive when it comes to Porsche's beloved V8 coupe.
The 928 is a special car and really stands apart from both its contemporaries and modern sports cars of today. While some of the 911 set deride it, the 928 was the first clean sheet design from Porsche. So good was this design, it would last almost 20 years, still looking strikingly current at the end of its production run in 928GTS form. Taking a cue from Carter's 924 Roundup earlier in the week, let's take a moment to pay homage to this great GT car and take a look at the different variants throughout the years, staring off with this 1978 928 for sale in Italy.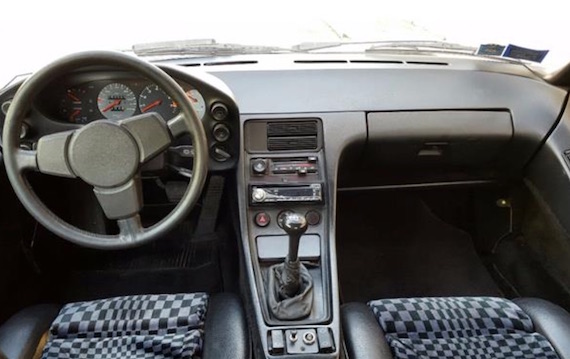 Year: 1978
Model: 928
Engine: 4.5 liter V8
Transmission: 5-speed manual
Mileage: 83,525 km (~ 51,900 mi)
Price: €11,950 (~ $13,414 USD)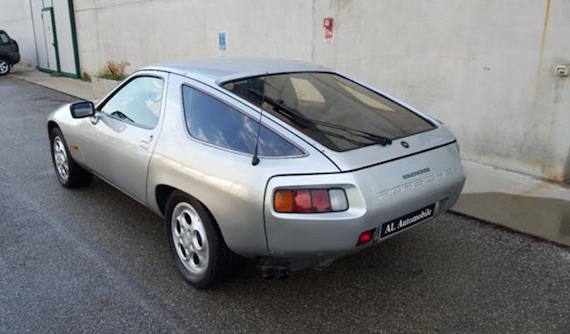 Year of production 1978 – First registration 1978 (year in which this vehicle won the "Car of the Year")

Certified 83.525km. Fabulous mechanical condition. Several bills available

Exterior Color: Beige Kashmir
Interior Color: Woven checkered black / white and black leather
Full black plastic dashboard

Original vehicle, complete, no rust that point to possible accidents.

Options:
. Alloy wheels "Telephone"
. Speed ​​controller
. Central locking
. Climate control
. Board computer vintage
. Glass eletrici
. Fog light
. 3 Keys

A must see, hear and feel!

Appointment welcome.

We speak French!
We speak English

Leta Alexandre +39345917 21 82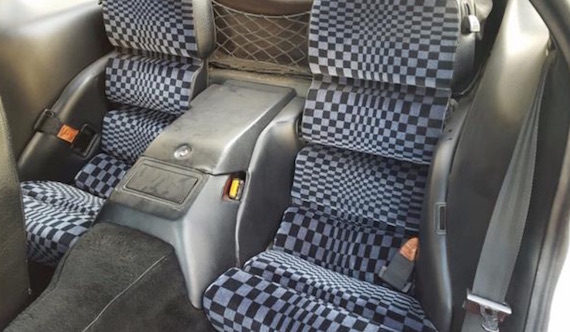 This 928 isn't perfect, but the mileage is reasonable for such an early car and ohhhh that Pascha interior! The two 928s right now that are increasing steadily in value are the early 928s and the 928GTS. Back in February of this year, we saw a very nice 1978 928 5-speed with just under 70,000 miles sell for $17,700. Considering this one has slightly less kilometers on the odometer, it might be worth the hassle for those stateside looking to grab a bargain on a clean 928 while they can.
Moving on, let's take a look at the next development in the 928's history, the 928S. This 928S for sale in Missouri is for sale from a dealer noted for its exquisite Porsche inventory and is equipped with the 5-speed manual gearbox.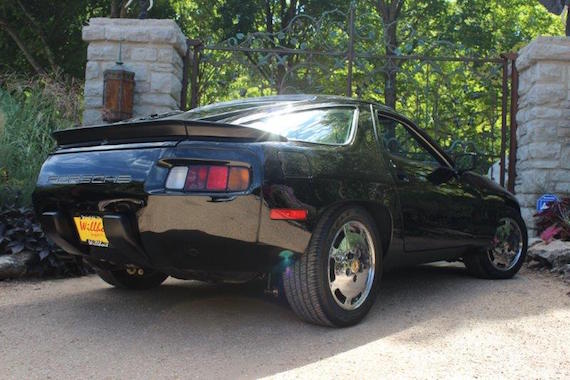 Year: 1985
Model: 928S
Engine: 5.0 liter V8
Transmission: 5-speed manual
Mileage: 29,000 mi
Price: $29,900 Buy It Now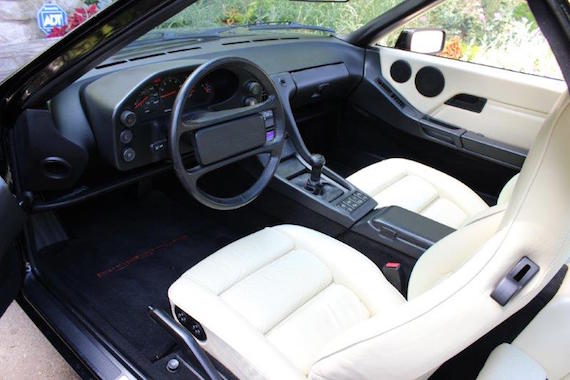 WHAT ELSE WOULD YOU CALL THE CAR THAT WAS SO OFFFFFFFFFFFFFF THE WALL FOR PORSCHE AT THE TIME,
WHEN THEY DESIGNED AND BUILT A FRONT ENGINE "WATER COOLED" EXAMPLE…
WE HAVE FOR SALE A "PRISTINE 1985 928 "S"
5 SPEEEEEEEEEEEEEEEEED
#WP0JBO925FS861402
WITH "ONLY" 29K EXCELLENT SERVICED MILES!
AN EXAMPLE THAT TOOK DESIGN AND AUTOMOTIVE TECHNONOGY TO NEW HEIGHTS!!!
WOW, WHAT A CAR!!
AFTER DECADES OF DEVELOPING EXPERIENCE IN ALL FIELDS OF THE AUTOMOTIVE INDUSTRY, THE 928 DESIGN WAS BORN!!
DRIVING AT IT'S MOST BEAUTIFUL FORM!!
TODAY PORSCHE DRIVERS CONTINUE TO BE ENTHUSIASTIC ABOUT THE REAR ENGINE MODELS, WHILE SHOWING A GREATER DEDICATION
TO THE NEW TRANSAXLE MODELS!!
SINCE VERY FEW MODELS WERE EQUIPPED WITH A 5 SPEED MANUAL TRANSMISSION LIKE THIS ONE, THESE ARE THE SOME OF THE
MOST SOUGHT OUT EXAMPLES EVER MADE BY PORSCHE!!..
RAVEN BLACK WITH BLACK AND LINEN LEATHER APPOINTMENTS MAKES THIS CAR TRULY ONE OF A KIND!!
SOOOOOOOOOOOOO RICH LOOKING INSIDE AND OUT AS IT SHINES LIKE "BLACK "GLASS!!

EQUIPPED WITH AN 8 CYLINDER 302 CI ALUMINUM MOTOR PRODUCING A WHOPPING 288 HP THAT WILL MOVE THIS MACHINE TO 152 MPH AS LONG AS YOU WANT TO HANG YOUR TONGUE OUT, PLUS POWER ASSISTED RACK AND PINION STEERING, VENTED POWER ASSISTED DISC BRAKES, INDEPENDENT SUSPENSION FRONT AND REAR, WEISSACH REAR AXLE, 16" LIGHT ALLOY WHEELS, VERY COLD A/C, FULL POWER SEATS AND AN AM/FM STEREO SYSTEM WITH 10 SPEAKERS!! WOW!!
WHAT A CAR!!..
THIS CAR COMES WITH ALL BOOKS, RECORDS AND RECEIPTS FOR A PASSED 100 POINT PPI INSPECTION AND FRESH OIL SERVICE AS WELL!!
IF YOUR DAD HAD ONE WHEN YOU WERE A KID OR YOU HAVE ALWAYS WANTED ONE, NOW IS THE TIME TO BUY!!
WITH 5 SPEEDS HARDER AND HARDER TO FIND EACH YEAR, DON'T WAIT TO BUY, BUT BUY NOW AND WAIT!!!!
YOU CAN'T LOSE ON A 5 SPEED EXAMPLE LIKE THIS ONE!!
MONEY ISN'T WORTH ANYTHING IF YOU DON'T INVEST IT IN SOMETHING YOU REALLLLLLLLLLLLLLLLLLY WANT!!
WOULD LOVE TO ADD YOU TO OUR 40 YEAR SATISFIED CUSTOMER BASE AS WELL SOOOOOOOO WE WILL MAKE EVERYTHING
EASY AND PAINLESS WITH A MONEY BACK GUARANTEE IN WRITING!!
YOU HAVE NEVER BOUGHT SOOOOOOOOOOOOOOO MUCH CAR OR HAD SO MUCH FUN DRIVING FOR SO LITTLE MONEY IN YOUR LIFE!!!
YOU WILL LOVE IT!
BUYYYYYYYYYYYYYY THE CAR!!!!…
WILL TRADE AS WELL!!
PLEASE CALL MICHAEL PERSONALLY
AT 417-869-7000 OR CELL 417-839-1258
OR E-MAIL HIM AT : TURBOBOOOST@AOL.COM
WILL TRADE AS WELL!!!

Nationwide Delivery – Finance/Lease Options Available.
Contact Michael at 417-869-7000 Office
or 417-839-1258 Cell for more information.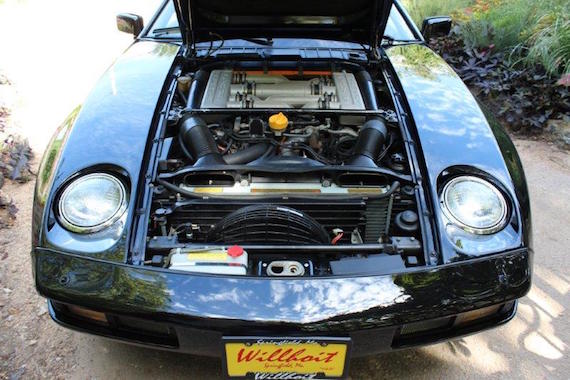 After years of involving myself with GCFSB, one piece of advice I might solicit to prospective advertisers and sellers is TO STOP WRITING IN ALL CAPS. Now that I've got that bit of venting out of the way, let's examine this 928S. Considering what some of the later 5-speed manual equipped 928s are pulling these days, this 928S is a relative bargain. With just 29,000 miles, this would be a good one for those collectors out there. Or, for those wanting to enjoy a 928 without spending a whole lot at the outset, it's conceivable one could use this without diminishing too much of its value.
Next up, we have a 1987 928S4 for sale in Miami. White is a popular color for cars at the moment, so this on in Grand Prix White is sure to have passers by scratching their heads and wondering if perhaps Porsche has introduced a new model.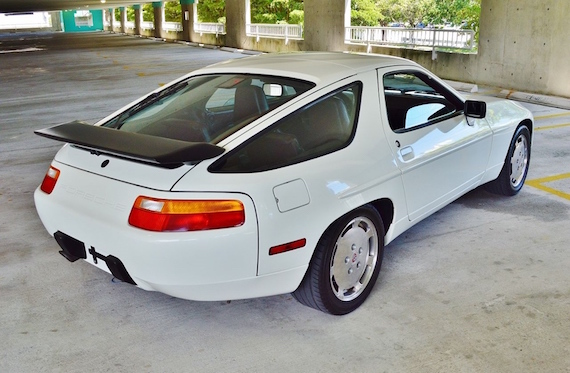 Year: 1987
Model: 928S4
Engine: 5.0 liter V8
Transmission: 4-speed automatic
Mileage: 138,000 mi
Price: $15,500 Buy It Now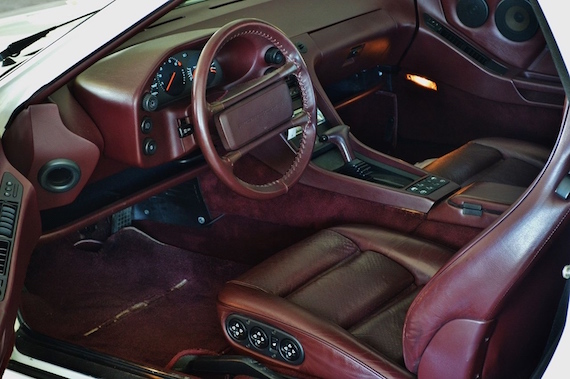 1987 PORSCHE 928 S4 32 VALVE MINT!!

100% ALL ORIGINAL GRAND PRIX WHITE PAINT
CLEAN TITLE WITH A PERFECTLY CLEAN CARFAX

ENGINE: 5.0L V8 FI DOHC 32V
ACTUAL AND ORIGINAL DOCUMENTED MILES
DRIVES LIKE A DREAM / SMOOTH AND TIGHT
A/C IS PERFECT JUST SERVICED
EVERYTHING WORKS AS IT SHOULD
TIRES AND FACTORY POLISHED WHEELS FLAWLESS.
UPGRADED PANASONIC STEREO
LEATHER IS SOFT AND FIRM (NO TEARS RIPS ANYWHERE)

Tons of Documentation and Manuals, Serviced Records, Extra Parts
A Complete Binder Full of Porsche Receipts and Stamps

1987's 928 S4 was fastest non-turbocharged production car in the world.

SERIOUS INQUIRIES PLEASE CALL:
TONY 305-988-3092
PETE 305-772-8635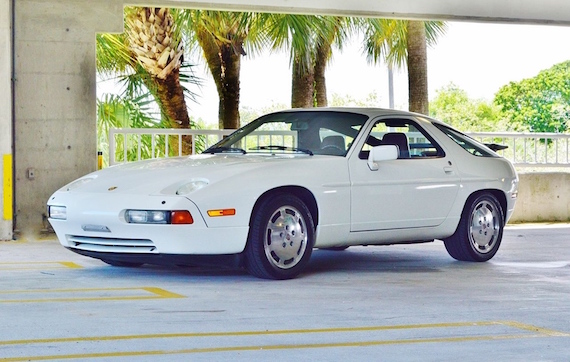 As I've been considering a second car for some time now, an air-cooled 911 has been on my mind. But its this very 928S4 that has me thinking different. While this S4 is far from perfect, it does come with documentation and the Grand Prix White looks great over the contrasting burgundy leather. All I'll need from here is to set aside a separate fund for maintenance and repairs. We saw a 1988 928S4 with 126,000 miles sell for $7,600 at the end of last year. That car happened to be a 5-speed manual, as well. If the seller gets his price here, it will be a signal that S4 prices are on the move.
In 1989, Porsche would divide the 928 model range into two variants: the 928S4 and 928GT. The GT version would be the more sporting model offered with the RDK tire pressure monitoring system and the 5-speed manual gearbox, while the S4 would retain the 4-speed automatic that we saw in the 1987 example above. This particular GT for sale in Pennsylvania is also finished in Grand Prix White and has but 61,000 miles on the clock. It was originally ordered by Holbert Porsche in Warrington, PA, the dealership associated with famed racing driver Al Holbert.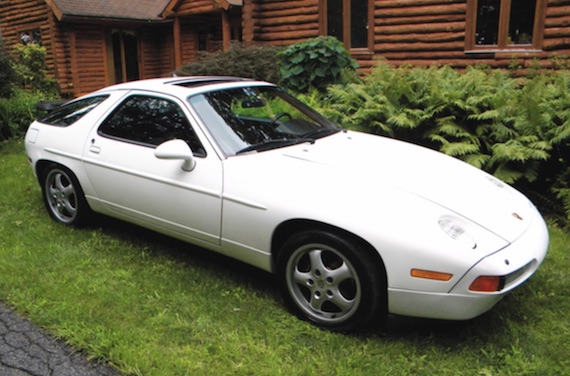 Year: 1989
Model: 928GT
Engine: 5.0 liter V8
Transmission: 5-speed manual
Mileage: 61,000 mi
Price: $46,900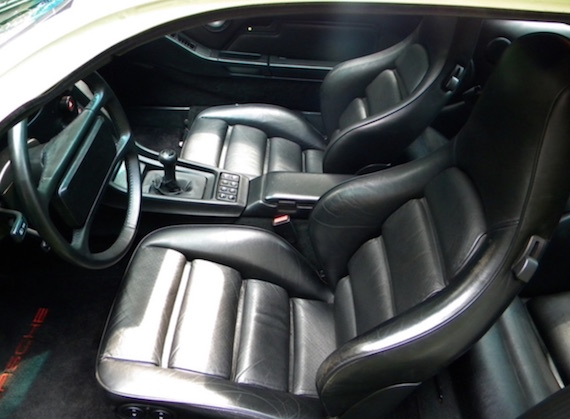 The GT was introduced late in the '89 model year. This one, ordered by Holbert Porsche in Warrington, PA, was delivered late August of 1989. Built to special M-639 GT specs., it was equipped with the M-28/47 5.0 liter 32v engine with revised cylinder heads and intake, special GT cams, and a lighter exhaust with dual outlets…Rated at 326hp and 317 ft. lbs. of torque, it was matched up to the Getrag G-28/55 5 speed close ratio transmission with a ZF M-220 40% locking differential and a 2.73 final drive. The suspension also was upgraded to Porsche's Sport Suspension package, rolled fender arches front and rear, short shifter, and 16″ light alloy wheels. This particular example has been upgraded to 17×8 front and 17×9 rear wheels like the later GTS cars, wearing 225's in the front and 255's in the rear!

It's a three owner car who's owners have all resided in the same Porsche Club Region, and serviced it diligently at their local dealer, or import service center. It's had the water pump. timing belts, rollers & tensioners replaced about 14k. miles ago, and we have just completed a thorough service, replacing brake rotors, air conditioning upgrade & charge, and four new tires, inspection & Emissions certification.

Truly a fine collectable Porsche to drive, or hold. With an original MSRP of about $76 grand, it's quite a value today! Still wearing all of it's fine original paint, it comes complete with tool kit, spare tire, tire air pump, jack, lug wrench, plastic gloves, tire bag, drop cloth, touch up stick, window sticker, all books, service records, and quite a few articles of interest.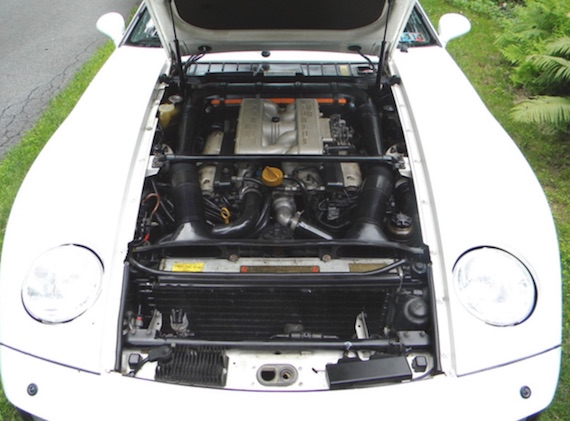 At the end of last year, a 1998 928GT with similar mileage sold for $24,300. The GT is one of the rarest 928s and given how prices are on the upswing for all 928s to varying degrees, the price here doesn't seem outrageous for a car that is well documented.
We've saved the best for last with this 1995 928GTS for sale in Belgium. This year was the end of the road for the 928, a rather amazing run for a car that was so ahead of its time and still looked right up to date the day the last one rolled off the line.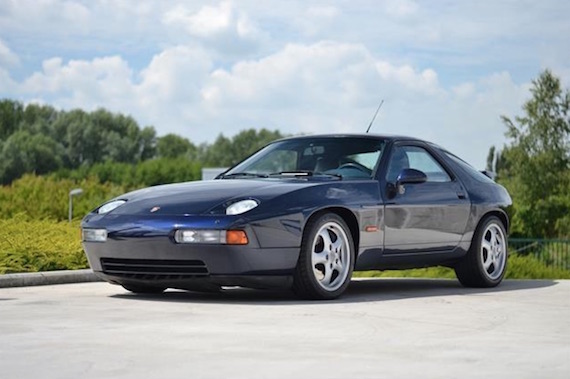 Year: 1995
Model: 928GTS
Engine: 5.4 liter V8
Transmission: 5-speed manual
Mileage: 29,000 mi
Price: 65,000 (~ $ USD)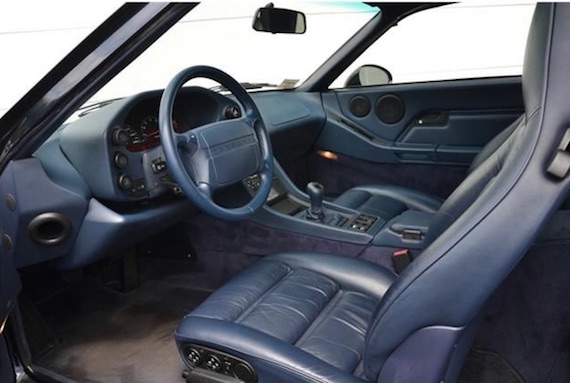 The Porsche 928 was intended to follow the 911 in the 80's when the crowd fanbase of 911 found this out, there was loud protest, and went two models coexist. The 928 was an engineering feat for its time. Through a complicated rear axle construction, the rear wheels were most hours so as to provide a better handling! This version in Midnight Blue metallic with blue leather interior, is equipped with a manual transmission, a rarity in the 928 GTS, as most were supplied with an automatic transmission. Originally delivered in Italy, and as always maintained by Porsche centers came the car in 2015 in Belgium. What distinguished it from other GTS 928's the widened rear wings, rear spoiler in body color, 17 'Cupvelgen and side mirrors in Cup Design.

L39C Midnight Blue metallic
LK Leather Midnight blue

139 Seat heating left
340 Seat heating right
418 Side protection moldings
567 Top tinted windscreen
935 Seat covers rear, draped leather
980 Draped Leather seats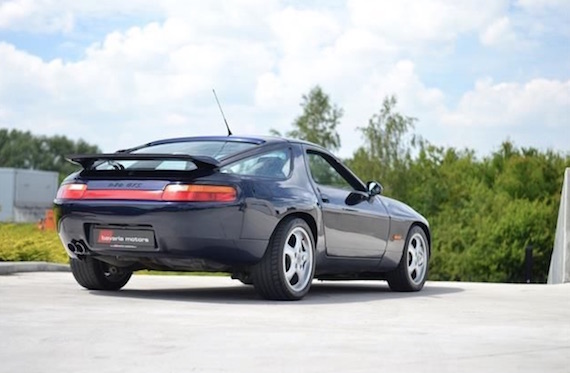 From a value perspective, I'd have to give the award to the 1987 928S4. These seem to be the optimal choice for those looking for a (relative) bargain. While this one has well over 100,000 miles, it comes with records and is in well-kept, original condition. Keep up with the maintenance and care of this car and you could certainly have an appreciating asset in the near future. If I had my choice of any of these 928s, though, it would have to be the GTS. This model is the penultimate expression of this GT car. Given this one is a final year example with the manual gearbox, it adds to the air of exclusivity. These cars are finally getting their fair shake in the collectors market. These cars were never affordable from a running cost perspective, but at least you could get into one if you were brave.
-Paul