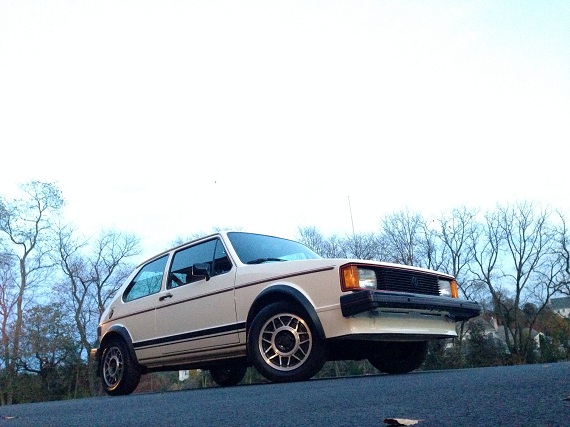 There are plenty of internet tire kickers who comment on how much a vehicle is or isn't worth. Heck, it's what we do every day! And while the market tends to be pretty well defined on most models, there are occasionally outliers who throw us a curve ball we just weren't expecting. Such was the case with last month's low mile 1983 Callaway Turbo Volkswagen GTi I wrote up. I have to admit, I was pretty excited when I originally found it (though, probably not as much as the new owner's description below!). Why? Well, when I came across it, I had mixed feelings – with 18,000 miles on the clock and being a rare Callaway Turbo model, this GTi was drawing very strong bidding despite having a somewhat poor description and photos. While it was fascinating, it didn't quite add up – but it was sure to draw attention. It turns out I wasn't alone in that feeling.
I paid particularly close attention to this GTi because I thought it was heading towards being the highest selling A1 GTi I can remember seeing. As the bidding increased, we here at GCFSB exchanged excited messages such as "unreal" and "that's crazy". I tuned in for the end of bidding, too, just to see where it ended up – an astounding $17,754. To me it sounded like a lot of money for any A1 Volkswagen. Imagine my surprise when the next day in my inbox was a message from the new owner of the car who had tuned in to my post, explaining the purchase. I had to know more – who would pay so much for a 1983 GTi, and what was the motivation? The story was perhaps even more surprising than the purchase amount, and ranks pretty high on my list feel-good stories of 2013. I can't say enough about how enthusiastic the car's new owner, Lance, has been about sharing his story and time. People like Lance are true car enthusiasts and the story of his GTi purchase is a great reminder of why we all love this hobby. As I can't do it any more justice, I'll let Lance tell the tale: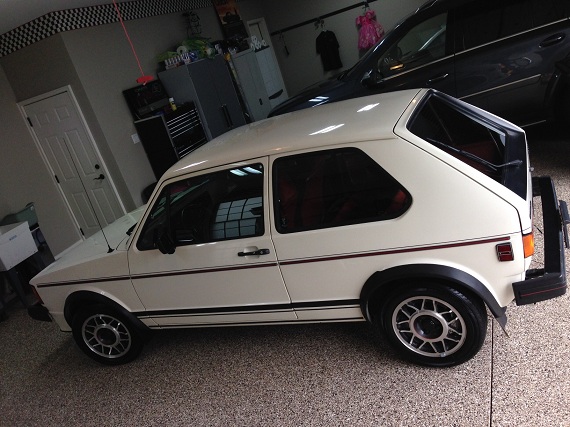 GCFSB: How long have you been looking for a GTi, and was the Callaway GTi your goal or a bonus?
Lance: I have a fond memory of when my father used to drive our 1st Generation GTI when I was about 12 years old and just a kid. We had a long cul de sac driveway that was approximately a quarter of a mile which seemed like a mile when I was a kid. My father who was my best friend and mentor used to flat shift from first to second on our driveway and I'd continually ask him to stop the car & do it again – over & over again… it was a blast when I was a youngster. Nevertheless I looked for 8 long years to find a good representation of a stock VW GTI that was identical to the one I remembered. My mission was to surprise him with it. Unfortunately he passed away in 2004 from a rare disease called amyloidosis, in his honor we started the Chip Miller Charitable Foundation – more at http://chipmiller.org. I discontinued my hunt for the GTI due to his passing. However my friend, Tim Scanlon, remembered that I was looking for a black GTI and shot me an email with pics of the car in 2009 (5 years from his passing)- needless to say I purchased it without hesitation.
I'm certain my father would be proud of the black GTI purchase, it's a pretty sweet little car, it drives perfect and even has functional AC, lights & etc. Life is good was his motto and I do my best to live by it! I guess for me the memory from when I was a child is what really strikes me. The GTI was a badass little street rocket and I was lucky enough to have a cool father that wasn't afraid to bang through the gears on our driveway!
Fast forward 4 years…
I woke up early one morning and decided to look on ebay through my cell phone without waking up my wife. I searched for "Renntech" and was checking out a few cars that popped up, nothing really grabbed my attention. Next I did a search for "Callaway" and the first thing that popped up was a 1983 Volkswagen GTI Callaway with 18,000 miles. I about fell out of my bed! I read the advertisement and was excited as can be. I actually woke my wife up at this point and told her I'm going to buy a new car! I bid on it first and quickly became the high bidder. Irony has it, I really wasn't looking to purchase a car – I was more just looking to see some neat rides. It never hurts to dream, right?!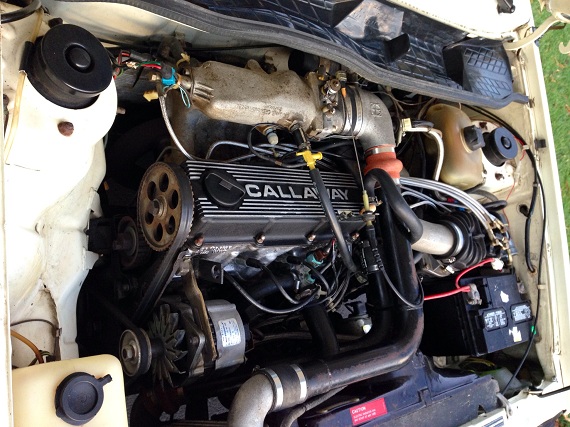 GCFSB: Tell us a bit about your pre-purchase inspection – how did it go, how was it arranged, and were there any surprises?
Lance: It worked quite well asking on VWvortex.com if someone with knowledge lives close by where the vehicle is listed for sale. There were a couple of details that concerned me about the ad on ebay. 1) the images were terrible and didn't show enough details of the vehicle being sold 2) the seller had zero (0) feedback 3) the engine bay looked older than an 18,000 mile car 4) I sent out some questions pertaining to the vehicle and never heard back for the first 48 hours 5) the ad was written oddly, meaning it was an original owner car but didn't appear to be written by the owner. I decided the safest thing for me to do was have someone go do a pre-purchase inspection of the car. This would allow me to know if the car is what the ad states it is and potentially get some much better pictures sent my way without having to drive 5 1/2 hours each way. When roaming on VWvortex.com I decided to search for the '83 Callaway GTI to see what people were saying and sure enough it was on the site. I decided to post a quick question to see if anyone would bite knowing if they are on that forum they will most likely know what they are looking at. Sure enough within a few minutes I had a private message from one of the members stating that they lived approximately an hour away from Millford, WV where the car is located. His name was John and I asked him what I could do in order to get him to look at the car – simple enough, he just wanted to see it himself! He said, cover my fuel cost and I'll go. We had a deal!
Low and behold I received an answer from the owner after about 48 hours of my questions being written on ebay. Her message stated that she was having technical issues with her computer and didn't answer any of my questions. Obviously, this scared me to death! I immediately fired another message to her on ebay and asked for her to call me and provided her with my cell number. Sure enough she called me. The owner turned out to be a super sweet older woman that explained to me she never used ebay before. She told me her computer has been giving her problems off and on. We finally got down to business where I could ask the questions I had for her. She nailed every one! She was selling the car because it was her husband's baby and unfortunately he had recently passed away. She no longer had a need for the vehicle. She then told me that he logged all the miles driven in the vehicle along with keeping any and all paperwork regarding the car. She said it was stored inside every day of its life and it was only used for joy rides. In fact only three people ever drove the car – her husband, her son and her! Her handle for ebay was also a tad scary "junkid1" – my interpretation was "Junk Kid". However after speaking with her… her name was June Kidd. Another relief!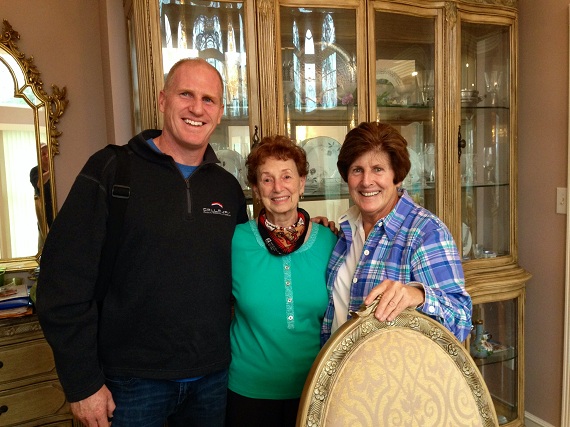 Lance: At this point I had arranged for John from VWvortex.com to go look at the vehicle. John went there in the morning prior to someone else looking at the vehicle. He told me he'll text me as soon as he arrives. I was in a long meeting and quickly forgot about the GTI and John. However once the meeting was over about 3 hours later I realized John never texted me. So I started texting him and as I was typing he called me. He told me his cell phone didn't work at her place, so he was calling from her phone. He told me that with being a stickler in every capacity that this car was a 9.5 out of 10. He also told me it would be easy and fun to make this car a 10 out of 10, stating it only needs some minor updates to really make it perfect. He kept telling me how blown away he was with the incredible overall condition. Needless to say I was excited and couldn't wait to see the images he took which he assured me he'll post later when he returned to home. John was awesome in every capacity! His images and his raving review were exactly the information I needed in order to pull the trigger. The only surprise was that the car was stronger than I initially thought per the inspection and images.
GCFSB: Midway through bidding, it was obvious this car was going to be expensive. Were you concerned at all watching your bids get higher?
Lance: I really wanted the car. How often do you run across a low mile, original owner, all documentation & records with a Callaway Turbo stage II installed at Callaway Cars?!? After having John look the car over and send me some great photographs I knew I had to own this incredible car. I'm a total sucker for low mile, original cars that are well documented – I'm just thankful to be the next caretaker of this beautiful little rocket! When John told me this car was near perfect in every capacity I knew I wasn't going to let this car sell to somebody else. However I knew there would be other people wanting the vehicle just as bad as I did, especially the ones that were able to see it firsthand. My only hope was that there wouldn't be strong action for the car at the end of the auction. Well, my only hope didn't come to fruition! There were some serious buyers on this Callaway GTI and I wasn't about to let it get away. I've done this in the past and knew I'd be kicking myself if I didn't pull the trigger.
I was on the road with my family headed to North Carolina when the bidding was ending. I decided to use esnipe to take care of my bidding on the GTI. I decided to place a 'crazy' high bid in on the vehicle of $25,550 to ensure I would be the high bidder unless someone was even more insane that me. You might ask – why $25,500 – simple, because to me that's what I felt the car was worth in today's market. Some people out there might say I'm insane, but I challenge you to find me another one like it… original owner, no rust, low miles, Callaway Stage II installed at the Callaway Cars Factory, all documentation, fuel miles logged by the owner since new and the list goes on… Needless to say I'm confident Mark I GTI's are at their infancy in collectability. I'll go out on a limb and claim in the next 20 years a GTI of this caliber will fetch in the six figure territory. Although that's not the reason I purchased this car, it won't surprise me if it happens. Just read various forums and talk to passionate VW Mark I GTI owners – passion drives the market and so does money. As the generations that really loved these GTI's get higher paying jobs and etc. they will go back to their childhood favorite cars and they will be willing to pay whatever it takes to get them. I see this over and over again in the line of work I'm involved with today – car events; Carlisle Events. Needless to say I won the car, but it came with a steep price tag in today's market.
I feel strongly that if you purchase a vehicle it should be one that you are truly going to enjoy, whether it be on the road or simply to look at in your garage. For me, I love the car and will certainly enjoy driving it on various occasions. I'll also showcase the car so others have the opportunity to see this rare piece of history.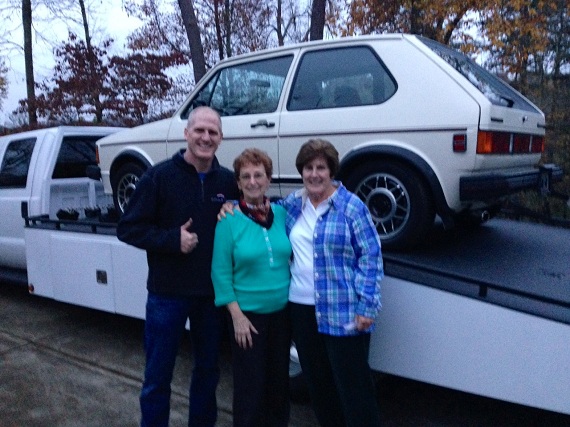 GCFSB: Now that you have the car you've wanted, what are the plans for it?
Lance: Enjoy it! I'm one of "those" people that sleep better at night knowing I've got another car in my collection that fits well – strange, but I believe "car people" get exactly what I'm talking about… it's simply a passion and I'm thankful I have it! Now time for the shameless plug… If you're interested in seeing this beauty firsthand, I'd encourage you and every other German car lover to come out to enjoy the Carlisle Import & Kit Nationals held annually in May. More information can be found by visiting our website: http://CarlisleEvents.com.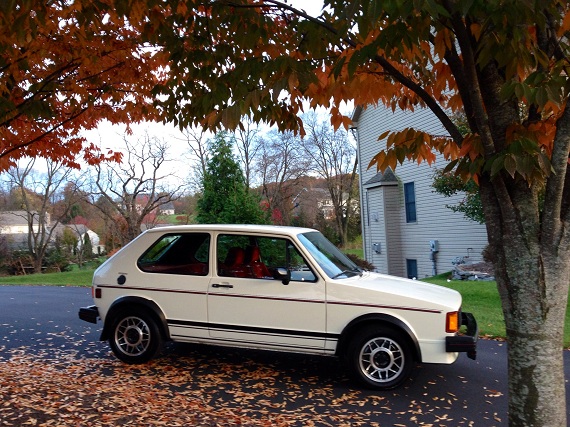 GCFSB: What else do you have in the garage, if anything?
Lance: I'm a car guy at heart, but Corvettes are typically at the top of my list. All cars that made history due to design, power, race results and so forth really get my blood flowing. With this said, I've got the only Callaway Twin Turbo Corvette race car that ran in the World Challenge Series. The 2005 Test and Development Callaway Corvette dubbed the Carlisle Callaway Corvette is another favorite of mine – it was in every Corvette magazine and accomplished a mid 10 second run at over 130 mph back in '05 along with big brakes, Callaway suspension and etc. Recently a purchase from overseas called the Callaway LM is one of my latest additions, it ran in the 24 Hours of Le Mans three consecutive years and won the SCCA World Challenge S2 Class here in the USA. Another one of my favorites is the '84 GTI that resembles the one my father used to bang gears in when I was a child (black/blue interior). My all time favorite vehicle is a '60 Cunningham Corvette that won its class in Le Mans back in 1960 which we took back to Le Mans 50 years later for a reunion along with the original driver John Fitch, check out the Quest Documentary – there was a film written and produced by Michael Brown – http://questdocumentary.com. Another couple vehicles that I "had" to have is the '06 Ford GT Tungsten and an '94 Porsche Turbo last of the air cooled turbo's of that generation. I also have a few other cars with the details I look for in a vehicles as well.
GCFSB: Thanks, Lance! It's an incredible collection for sure. Lance was also nice enough to share a correspondence with the original builder of the car, the legendary Reeves Callaway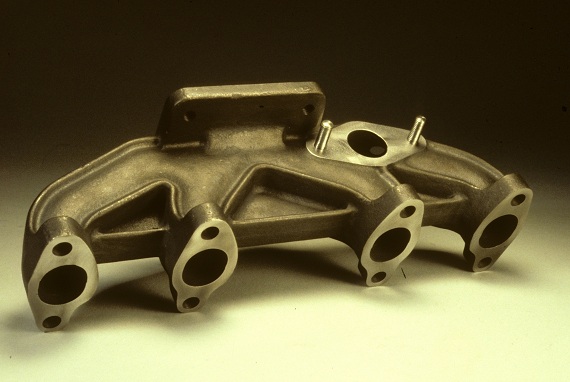 Reeves: Lance, as promised, a short history of the Callaway turbo GTI.
Remember that Callaway turbo systems was the company started in the back of my house in old Lyme Connecticut around 1977.
It was a point to choose only cars that could stand a substantial increase in power and still remain reliable. This pretty much defined the small German cars: BMW Porsche Mercedes and VW
The VW rabbit series and the subsequent GTI series, had a good enthusiast following in the sport hatchback segment. They became a good candidate for some substantial horsepower increasing.
We had good success in turbo charging the BMW 3,5, 6 and 7 series. So we decided to translate some of that philosophy to the VW productline.
The idea was to sell a very complete kit so that the advanced do-it-yourselfer in his garage had everything that he needed to wind up to turbocharging the VW reliably, quickly, and with a great feeling of more power.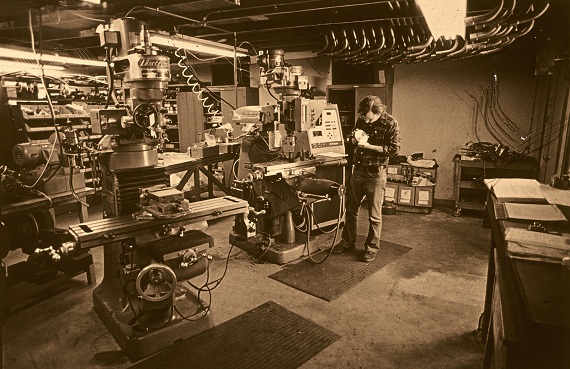 Reeves: We manufactured all of the components, the exhaust manifold, the tubing, the intercooling, the exhaust system, and the fuel enrichment system, and placed them all in boxes on Friday afternoon and UPS would come and pick up the entire weeks production. We shipped them all COD direct to the owners. There were five of us working out of the house, and those were the days. Beany had just been born. Pete was on the way. the shop was in the middle of being expanded and the reputation in the marketplace was good. the money was rolling in, no accounts payable and no accounts receivable.
There were 2 hp levels: stage one I believe was about 120 hp & stage two was 175 hp. The stage two cars with front-wheel-drive and the tires of the day, were a quite amusing torque steer proposition.
Very glad that you have what appears to be a good example of the vintage. Thanks for your continued enthusiasm. I'm sure dad is proud.
Best regards,
E. Reeves Callaway
Founder
Callaway Cars Incorporated
2441 Pullman Street
Santa Ana CA 92705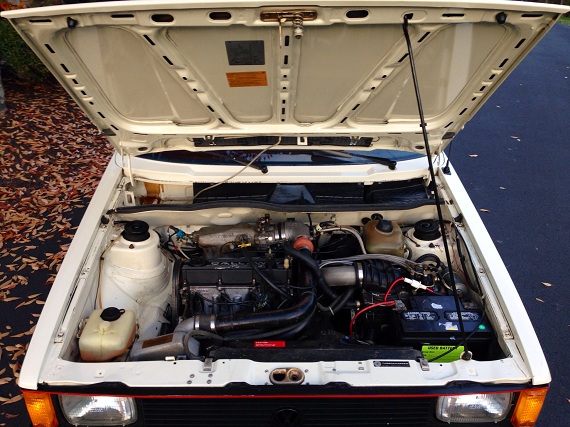 Do you have a success story you'd like to share with us? Send us an email at web@germancarsforsaleblog.com. If we select you we'll feature your car on Facebook!
-Carter