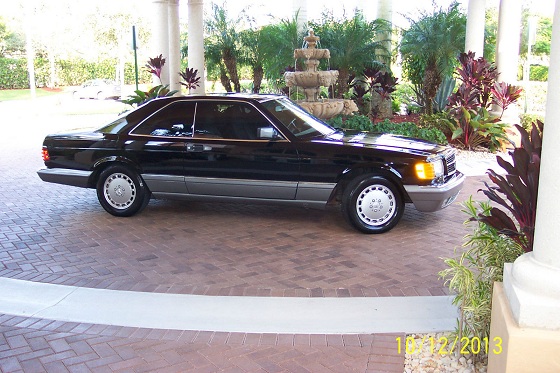 Today we're going to have a slightly different flavor for 10K Friday – big coupes. All three of today's cars represented the peak of their respective brands when they were new and all three have achieved cult followings and collector status. Yet all three do their jobs in very different ways. We've got a last of the breed 1991 Mercedes-Benz 560 SEC, a beginning of the run European-model Porsche 928 5 speed, and a middle of the run E28 switch-over 1983 BMW 633 CSi. Which would be your Coupe du Jour? Let's start with the Mercedes-Benz: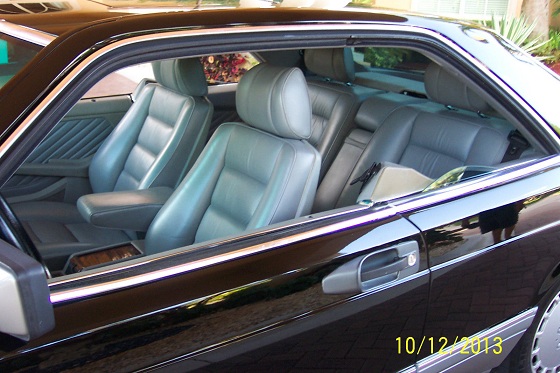 Year: 1991
Model: 560 SEC
Engine: 5.6 liter V8
Transmission: 4-speed automatic
Mileage: 138,122 mi
Price: $9,000 Buy It Now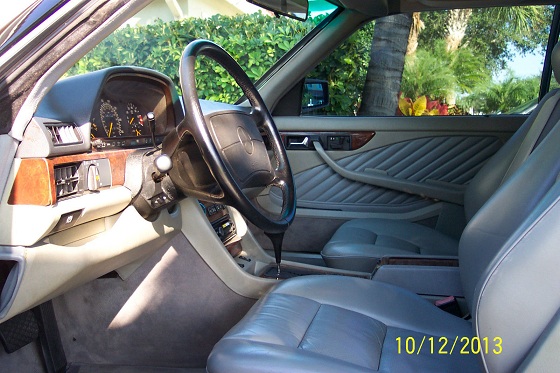 Great Looking Vehicle!
Last of the lifetime W126 Models, last seven off the assembly line in absolute museum quality. This car has always been garaged kept. It also has new front & rear disc brakes, new calipers, new front & rear ceramic pads, and a completely new AC system. It runs & drives flawless with no issues. No dings, dents or scratches. Absolutely no rust, with a very clean interior, no rips or tears and the leather is in pristine condition. Perfect wood work with no cracks in the dash and the carpet is in excellent condition. The new high end Sony radio provides features such as: Pandora, USB, Ipod, remote. Please take a close look at all pictures and enjoy the beauty of this car!! Any questions call before bidding – Andy 561-714-6355.

BID WITH CONFIDENCE!!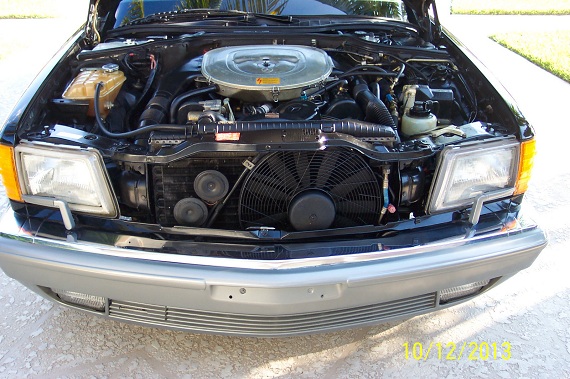 This car certainly looks pretty clean in the photos, and miles are right about where you'd want them. Price seems to be really great for the condition and claimed "museum quality" status. While that may be an exaggeration, the car does appear well kept. In out last executive sedan shootout, the Mercedes-Benz 560 SEL was pretty soundly defeated by the newer Audi S8 and BMW 740i; but in this case, the 560 is the newest of the three and in the best condition. I love the pillar-less design of these coupes, black is an appropriate color (though probably not what I would have chosen) and aside from the radio, it appears all original. It sure looks like a lot of car for your coin – but will this "German Corvette" sway your decision?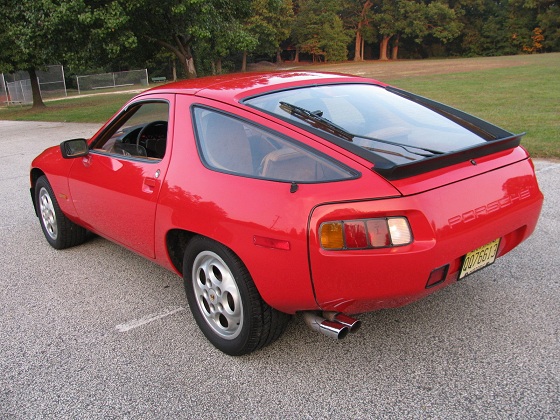 The early 928s, like the early 6 series, are the cleanest of the designs, especially in Euro-trim. While they're not the most aggressive looking, it's amazing how fresh the design still looks now 35 years later. This particular model is one of the better ones to look at for enthusiasts, with a 5 speed, red exterior and that crazy psychedelic interior: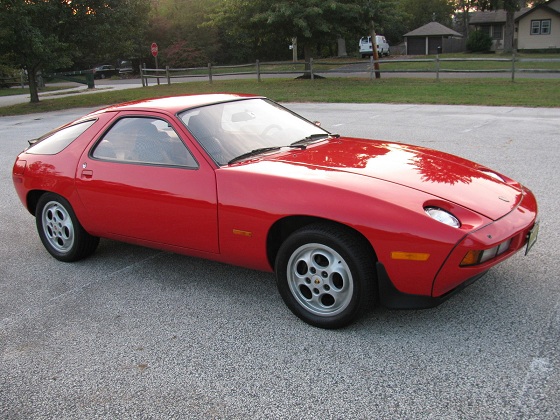 Year: 1978
Model: 928
Engine: 4.5 liter V8
Transmission: 5-speed manual
Mileage: 38,866 mi
Price: $ 9,800 Buy It Now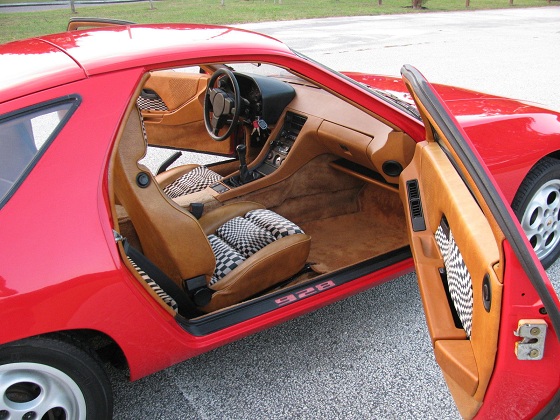 Almost 40 yrs old and only 38,000 orig miles on this beautiful 1978 Porsche Euro Edition! This was the 1st year for the 928 and this low serial no. car is sure to increase in value! 5-speed manual shift, 4.5 V8 engine, top speed of 150 mph the euro edition had more HP then the standard 928.

Porsche Indian Red paint and camel interior with retro MOD black and white seats and door panels this car turns heads! adult owned and garage kept, just passed inspection right before we purchased it and regular service was done.

Never wrecked or altered still has the orig Alpine radio/tape deck and Porsche phone dial wheels with goodyear high speed tires. Yes the orig tool and first aid kit is still tucked away in the back! (see pic) Power windows, locks and antenna all work as do the kool pop up headlights! Equipped with AC that will need recharging as this has been in storage for awhile. We have many service records, books and manuals that go with the car along with a new battery and car cover! car is in driveable condition but does need some minor work. Fan bearing is worn and left valve cover is leaking oil so we would recommend trailering this vehicle.

Email with any Q's, or call 856 261 9999 and we will be glad to answer. We are in southern NJ not far from Phila. Pa. and you are welcome to come see the car. We are selling this car AS IS with no warranty and have described it to the best of our knowledge but we are not Porsche experts and this is a vintage automobile!

paypal down payment due within 24 hours and balance due in three days by cash or certified check or money transfer to our bank. thank you

we reserve the right to end auction early as this is also for sale locally, thanks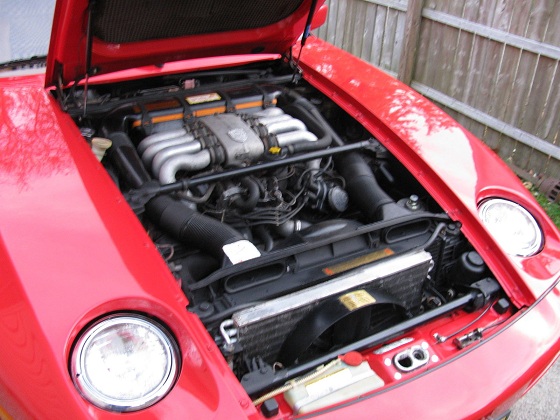 While it sounds like it needs a mechanical freshening, the condition this car is presented in is impressive and the miles look believable. If you want an early 928 that would be collector status, I think this one fits the bill perfectly. The 5 speed coupled with the European motor gave a lot more motivation than the U.S. market saw until the end of the run. Yes, it has needs, but I feel the price appropriately reflects those needs and this one surely is the looker of the group. But if Porsche repair bills are a little too scary for you to contemplate, how about this BMW?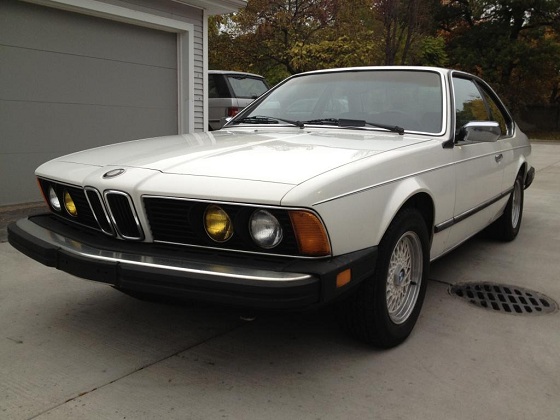 The 6 series is on an upward tick in value, following the steadily appreciating E30 and newly rising E28 models. While I think the early Euro-cars are the best looking of the run, without a doubt the best drivers are the later E28-derived models such as this one. White over blue probably wouldn't be everyone's first choice, but this car is presented as an all-original 1 owner car: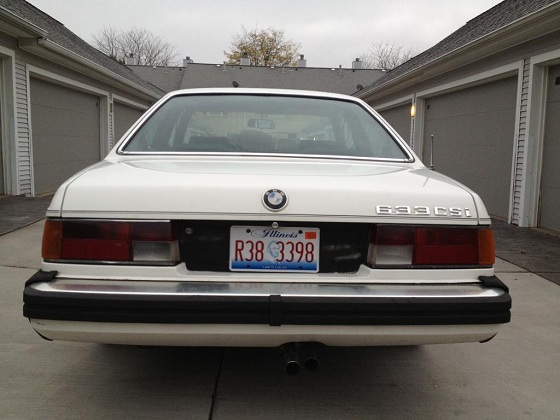 Year: 1983
Model: 633 CSi
Engine: 3.2 liter inline-6
Transmission: 5-speed manual
Mileage: 134,000 mi
Price: $ 8,500 Buy It Now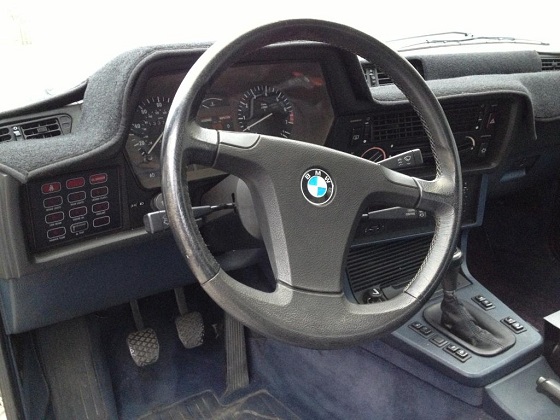 Up for Sale is My 1983 BMW 633CSI in factory original Alpine White paint with original Pacific Blue leather interior. This car is a true survivor and is all original, no accidents or damage EVER. This is an estate 1 prior owner California Car. This car has no rust, no re-spray and factory original under coating. Perfect under carriage. I bought this car from a car broker that got it from the estate. I have a copy of the original California title and original California plates. Along with the car comes the original books and cassette cleaning kit (cool). Factory tool set intact but missing a pliers. You can get in this car and drive antwhere…..

This car is an amazing RARE Alpine White over Pacific Blue 5 Speed California Model. Up until now the car has been off the road since 2005. Appears it would not pass smog and was garaged. I have gone through this car and it is back on the road and running great. I have spent dozens of hours and over $3000 in parts/service alone in the past 60 days. Receipts included. Car is now smog and odometer exempt in most states. Please check your states DMV for its laws.

Here is a list of the items serviced and repaired in the past 60 days.

Fuel Tank removed and professionally cleaned and sealed.
New Fuel Sending unit
New fuel pump pickup
New fuel filter
New fuel pressure regulator
New Fuel injectors
New Water Pump
New thermostat
Coolant flush and bleed
New CTS (coolant temp sending unit)
New ICV (idle control valve)
New ICM (idle control module)
New Battery
New center shaft bearing and support bracket (for drive shaft)
New Guibo (center shaft bearing)
New Clutch Slave Cylinder
NOS Wagner Amber head lights
Oil Change

The car starts right up and runs very smooth. No smoke or leaky valve guides. Very strong engine and trans and shifts very smooth. Car drives tight and handles very well. These cars are the European muscle cars of the 80's only way more smooth and solid. The original Alpine White paint is in excellent original condition with only a few minor dings. No rust or peeling of any kind. All trim in good shape. Factory matched basket wheels are in great shape. Factory under coating intact and no issues under the car. Power sunroof works great. Power windows go up and down. Cabin heats well and blower fans work. Dash has a few cracks from the California sun and has a dash mat in place. Door panels are excellent as well as carpet.

Here is what I feel still needs to be serviced at some point in the near future.

Front end alignment
New muffler
New tires
AC service
New rear speaker pods
Repair driver seat leather
Replace speedo gear
Dye interior all back to deep rich Pacific Blue
Buff and wax

This car is a great investment and will only go up in value in the very near future. You just don't see time capsuls like this very often. I wish I could keep the car but I have to many projects going right now and don't have the space.

Please ask all questions before bidding. All sales are final. Paypal deposit as soon as auction ends. Full payment due in 3 days. No monkey business. Buyer responsible for all transport cost's.

Please call me to discuss 773-562-3925
Thanks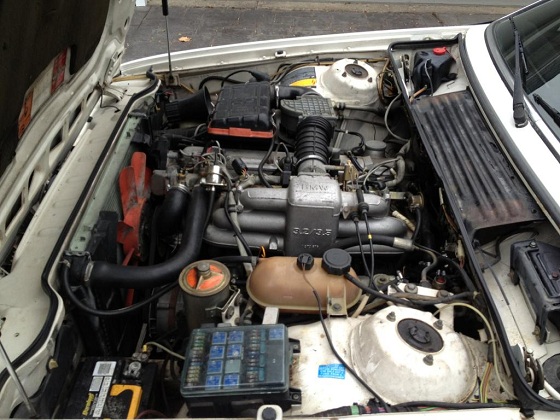 So unlike the 928, lots of service to get it back running, but also some time needed to finish sorting the details. For me, the mid-range 6s in the 1980s are the least appealing of the run, but they're nice drivers, pretty reliable and long lived, and certainly will appreciate if maintained over the coming years. Though this car looks rough in the photos, I think with some time and attention the exterior would really sharpen up quite a bit, though the interior also needs attention. As with the 928, the price in part reflects the need for work, though while I think the 928 price is more or less spot-on, I think this price may be a little high still considering the work needed, overall condition and miles on the car.
Were it my money, it's down to the Mercedes and Porsche. The 560 looks pretty immaculate, especially considering the price. The logical side of me says "STAY AWAY" from the 928, but I love the color combination, the interior, the manual transmission, and European build. Those details would just be too much for me to overcome and enough to push the better Angel off my shoulder.
Which would you choose?
-Carter