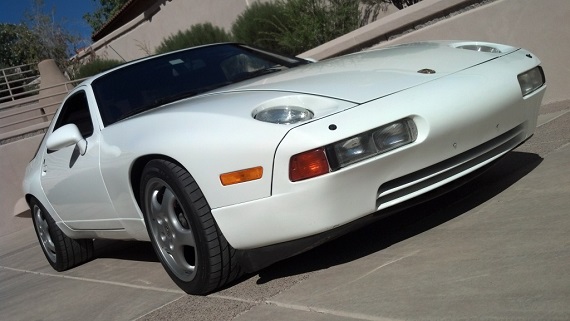 Here's something we don't come across every day: a 1993 Porsche 928 GTS with a Vortech supercharger capable of producing 600+ hp. Tuned Porsches are not uncommon, nor is it uncommon to come across base model cars that have been modded to mimic their much more powerful production rivals. In almost every case, however, those cars possess an equal amount of 'show' to go along with their 'go'. Some of the tuner cars are downright wild! This 928 GTS, on the other hand, is almost boring. From the outside, it looks like any other stock Grand Prix White 928 with a stout 345 hp coming from its 5.4 liter V8. Open the hood and the potential of this car is revealed. With a supercharged built motor, the seller claims 450+ hp at a fairly easy going 5.5 psi and over 600 hp if we crank it up to 11. It's difficult for any Porsche to truly qualify as a sleeper but if there ever was one, then a car like this would probably be it.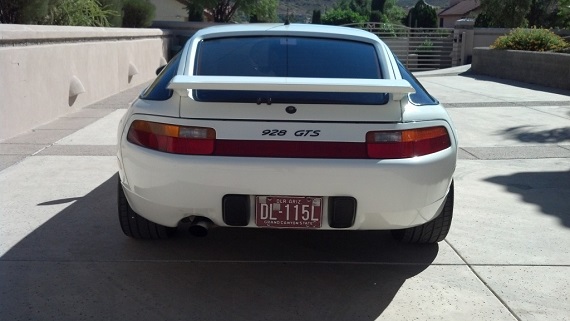 Year: 1993
Model: 928 GTS
Engine: Supercharged 5.4 liter V8
Transmission: 4-speed automatic
Mileage: 85,446 mi
Price: Auction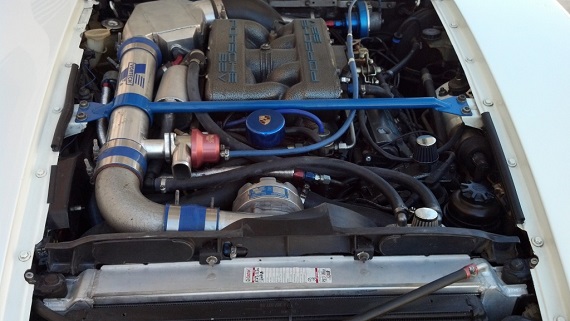 Likely the fastest street driven 928 GTS in the world, listed for $1 NO RESERVE!!

Email or call Alan with questions or offers 602-997-6778

You are bidding on a 1993 Porsche 928GTS Supercharged, 1 of 3 grand prix white automatics built in 1993.. Carfax certified, no accidents, no rust, dry climate car.. 85k on body, 15,000 miles on fully built motor with Vortech T-Trim supercharger running at 5.5 psi 450+ rwhp.. at 11 psi car makes 600+ rwhp.. built by Devek Porsche out of California, $37,000 for engine build alone.. rebuilt automatic transaxle and torque tube.. PCA member having owned 928's for the past 25 years, this is my second GTS.. the car is in nearly immaculate condition, factory white paint shows excellent, no scratches, no dings or dents, interior is also spotless, only with a few hairline cracks on pod, dash is clean with no cracks, factory leather seats show nearly new.. car drives like new, tight, just a whole lot more power, this car is an animal, she is shockingly fast!! not your normal 928.. AC, Cruise, Heat, power windows, power seats, lights, everything works as intended.. includes books and records..

1993 Supercharged Porsche GTS
Automatic Transmission
85,000 Miles on Chassis
Only 15,000 miles on New Engine

• White with Blue leather
• 85k miles on odometer
• 15k miles on new engine, rebuilt automatic transaxle and torque tube
• Heads opened (intake and exhaust)
• Vortech T-Trim supercharger running at 5.5 psi
• Air-to-water intercooler
• Devek aluminum radiator, custom fans
• Devek level 3 headers running through single stock cat and Borla muffler
• Externally adjustable Koni's and Devek springs
• OEM wheels
• Fresh cross-drilled rotors with Mintex pads, Super Blue fluid, calipers painted red
• H4 headlights STONGARD covered
• OEM steering wheel, MoMo Jet 350mm steering wheel included in box
• Transaxle WOT bypass switch for sport mode shifting
• Pioneer Supertuner, 4 channel amp, Infinity Cappa speakers
• Fully sorted

T-Trim Vortech kit w/intercooler
Polished aluminum plumbing
Port & Polish
Custom Fuel Management system
Cat By-pass w/muffler & resonator
Engine Gasket Set
Thicker Head Gasket
SETRAB Oil Cooler installed
HD Heat Exchanger installed
Motormounts wrapped in refective tape
Digital Gauge 5-Pak w/10 red LED air2fuel ratio meter
O2 Sensor
Bosch High Volume Fuel Injectors Kit
Vortech High Volume Fuel Pump & Pressure Regulator
Wiring Harness Heat Shield
Custom Steel Braided Lines
Blue and Red Anodized AN Fittings
Blue Spark Plug Wire Set
Intake Manifold Powder Coated
Valve Covers Powder Coated – Machined Letters
Front Wheel Bearings
Front & Rear Main Seals Replaced
Pan Drilled & Tapped for Oil/Temp Sensor & Oil Return Line
Rings, bearings, seals
Hot Tank and clean block
Machine block for oversize pistons
Carillo Rods
Machine cylinders for o-rings
Gasket kit
Coat pistons w/plasma & molybdenum
Drill piston oildrain back holes
Crossdrilled rear rotors
GTS 1 over Pistons
Bellypan
Devek radiator
Vortech oil filter system, with braided, stainless steel oil lines
Smog
Recharge_ AC
Fluids & miscellaneous items
Labor

Email or call Alan with questions or offers 602-997-6778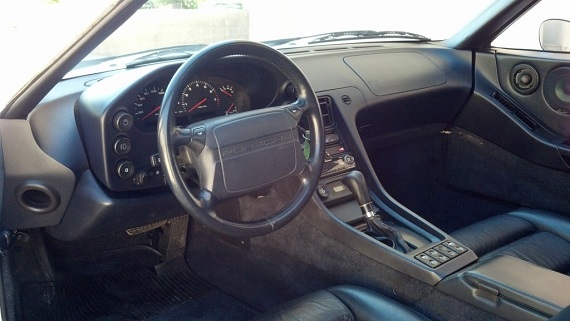 It goes without saying that a car such as this one will not suit everyone. But I'll give the seller credit, it's ballsy to put a car like this up for auction with no reserve. There has been a ton of bidding action so far but the price remains fairly reasonable at $25,001. That's actually a substantial discount relative to the price at which a 928 GTS would typically sell, which frankly isn't too surprising. Regardless, have the car checked out, talk to the seller, and if everything appears in good order, you'd have a car that could surprise quite a few people out on the roads!
-Rob