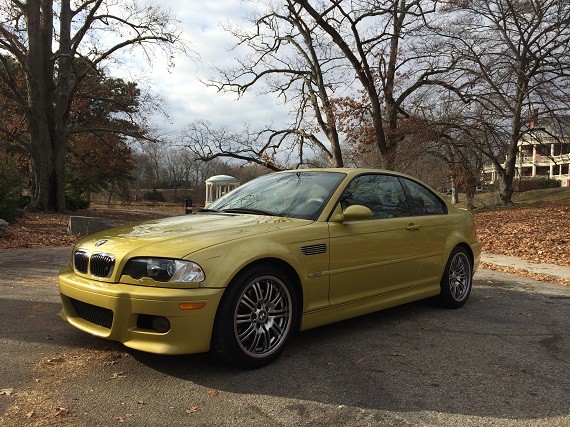 To say this has been a long time coming would be an understatement. You see, a small BMW was very nearly my first car some 20 years ago. As a teenager, I had dreamed of driving behind the wheel of a Roundel through many high school classes and once out, I carefully searched for just the right car for my first foray into the Bavarian realm. I had a pretty well established background, too – having grown up with a '82 633CSi, '85 635CSi, M5 and 735i 5-speed in the family. But, being a teen, I was not particularly well versed nor was I actually careful about what I looked at. What came up was a somewhat green 2002tii, and without being able to drive it or knowing enough to look under it, I put a deposit on it. When a car-dealer friend of mine came along with me to pick it up, the door of the car we arrived it hadn't fully shut before he said "Carter, walk away." The tii was full of rot and while it probably could have been salvaged and would have made a neat car for someone, it was nowhere near my budget level. A few weeks later he turned up with a then-9 year old Audi 4000CS quattro for around the same amount at the BMW, and my two-decade love affair with the Ingolstadt firm began. But BMWs have always been in the front of my mind, and someday I promised that I'd buy one.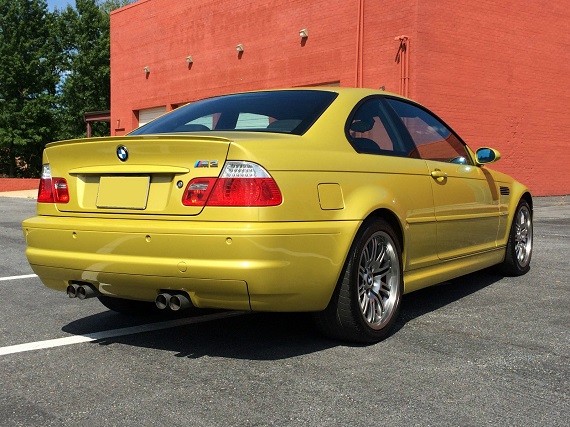 "The one" that I wanted was the one that quite a few people do – I really wanted an E46 model which isn't particularly abnormal by any means. A close friend had bought a convertible around 2006 and even a few short trips behind the wheel confirmed that it was a tremendous amount of fun to drive. I had also been privileged to drive a few (and ride in even more) at the track. While certainly no race car with their 3,500 lb curb weight, the M3s nonetheless always conducted themselves with the utmost poise. I've driven a lot of different Audis on the track, and none of them have been naturally suited there. Sure, you can make them go really quickly but comparing most to BMWs or Porsches on track is a bit like watching a bulldog trying to race some greyhounds.
But I didn't really want a track car. Indeed, in the past few years I've regretted some of the modifications I made to my Audi Coupe GT. Yes, it's lots of fun at the track, and the raw feel of the car is great in short bursts. But for the amount of time that it spends on track these days (read: none), I wish that it was softer, more comfortable, quieter and easier to live with. So over the past several years, my wife and I have discussed getting a M3 as a nice driver to enjoy as a whole family. We looked at a tremendous amount of them and plenty of evenings were devoted to balancing color, modifications and miles. It's become – or at the very least, is becoming – difficult to find clean, unmolested examples of E46 M3s. They hit the point where they were quite affordable to yahoos, and as with the E30 and E36 models the downward spiral began. Maintenance was forgone in the pursuit of modifications of questionable taste, and those that were really good were asking extremely high selling prices. One thing was for sure – the car had to be Phoenix Yellow Metallic, the color both my wife and I loved the most on this chassis.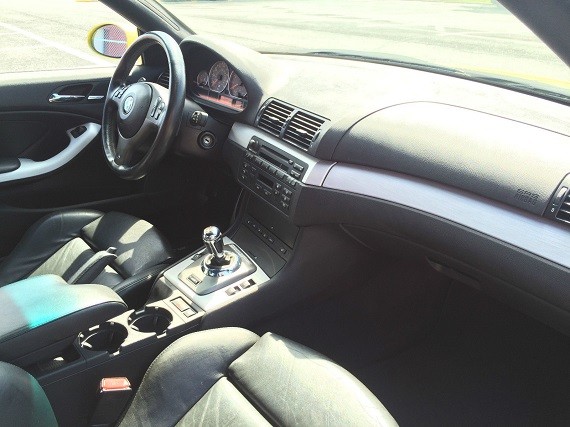 We came close on a few occasions; our editor Paul looked at an extremely rare 60,000 mile 2006 ZCP 6-speed manual in Phoenix for me, but the seller was a touch high on price and I was less than excited that it featured a VF supercharger but ran the stock ECU. We were close, but it was over our budget ultimately. My wife flew out to Chicago to visit some friends, and while there looked at another. With 110,000 miles, it wasn't in nearly as good shape. There were plenty of add-on cheap looking carbon bits, a Schnitzer-inspired spoiler and rust creeping through. That, too, was a no-go. We had spent most of our time looking for the elusive all-original manual, and though I've seen a few pop up, they're a dying breed. One example kept surfacing in my searches though – on eBay several times, it was a 39,800 mile example that was all original, looked impeccable but was a SMG. Off the bat, I was not excited about the transmission, but after talking at length with my E46 owning friend, the conclusion was reached that we needed to purchase the best example possible.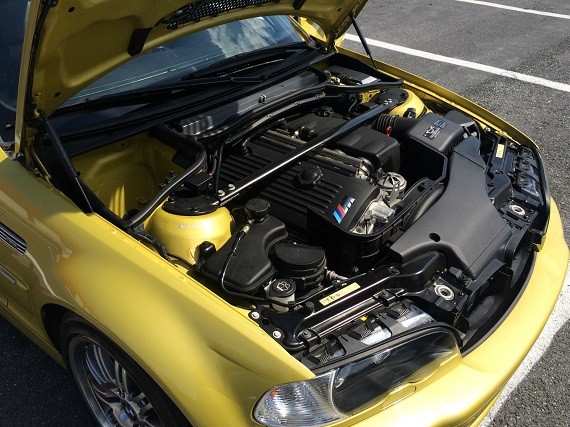 I hemmed and hawed. I wanted to find something wrong. The seller had zero feedback and there was no detailed description of maintenance. The Autocheck lacked any real information. So, finally I sent him a message, and we started conversing. A reader of ours was kind enough to run the VIN through Carfax, where it came up with effectively the same info as the Autocheck – namely, little had happened. Of course, as my M3 friend pointed out, not much would have happened in 40,000 miles. I paid a BMW dealer for a PPI, which the seller was kind enough to take the car to. The results were, at first, scary as the dealer came back with $6,500 worth of work that needed to be performed. Of course, it was typical dealer BS, frankly – for example, they wanted $650 to replace the battery. After some negotiation on some potential repairs, the deal came together and I booked tickets to Baltimore to pick the car up.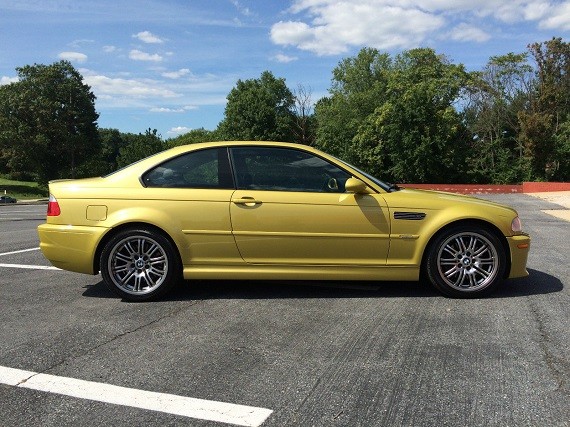 I didn't sleep much before the flight, and even pulling up to the apartment I was concerned the car wasn't going to be as represented. Indeed, as our Uber ride pulled up to the address, there was no M3 in sight. But as we stepped out, the magical sound of the S54 sang behind us, and turning around I saw the beautiful example. The seller had bought the car in 2006, and since then had traveled a scant 10,000 miles in it. Most of the time, it just sat in a garage, and it showed. While not immaculately clean, it was clearly in top condition. Walking around the car it was hard to find fault. Under the hood was clean, the paint – while dusty and in need of a good wax – looked nearly new on every surface. Inside was only very minor wear. In fact, the only real way to tell this was a 12 year old car was that the tires were mismatched and fairly tired. But rolling down the road, it drove tightly and felt strong. The deal was done.
My friend and I then faced a 385 mile ride home. Fueled up on Panera Bread treats and adrenaline, we pointed the nose northward and the journey began. Along the way, my friend read up about the transmission and the various features. Much has been made about the SMG gearbox, but I have to say that over the entire journey it only did one thing I wasn't expecting (which was probably my fault) and shifted wonderfully. In manual mode, it did exactly what was asked when was asked with crisp shifts. In full automatic mode, it was happy to quietly and smoothly change gears. It's not an automatic, and you can tell – so you can't really drive it like one and expect it to be perfect. Conversely, it's also not a manual – but if you drive it almost as if it was an manual without a clutch pedal, it's very smooth. Along the ride, both my friend and I marveled at the condition of the car and the upgraded features from his 2001 example. A 2003.5, it has the dynamic tail lights and a few other upgrades that were added along the production run. It has backup sensors, Harmon Kardon, power seats and sunroof, and the cold weather package. Inside, the black Nappa leather is lovely and after 9 hours of driving through not the best roads I was never once uncomfortable.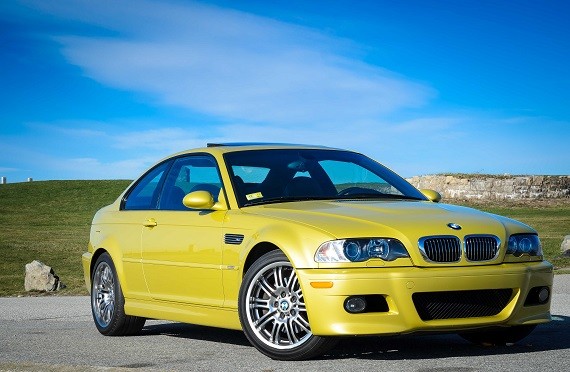 What's the plan? Well, this is a car for my wife and I to enjoy with our son. That's it. It's simply gorgeous, and certainly the best example that we could afford – but maybe one of the better ones in the country. It really is in amazing condition and looks nearly new in virtually every way. Ultimately, you can deride the transmission, but it was the transmission that kept this car stock and made it affordable for me – unlike how many of the manuals come to market. The only upgrade we plan on doing is to the wheels. The shadowline Style 67s are correct, but in my eyes don't suit the design particularly well. Planned for replacement are either the upgraded polished and forged Fuchs 19″ Style 67s or the ZCP BBS wheels with new tires. I spent several hours polishing and cleaning the car when we got home, and there are still a few spots to hit but it's pretty clean overall. Aside from that, this spring we'll do a full fluid flush and some preventative maintenance. Oh, and we have to go for some family drives – because that's what this car is for!
-Carter