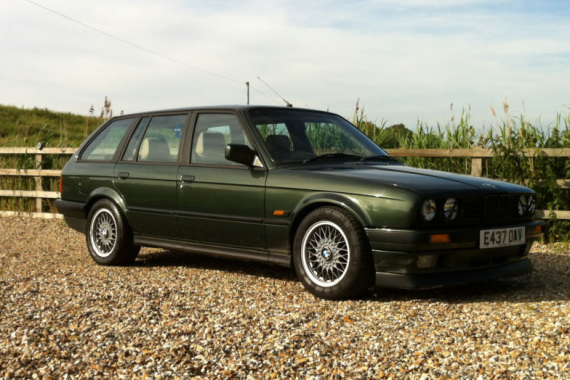 It has begun! The 25-year importation mark has been hit for 1988 cars, which, in my humble opinion, was an absolutely fantastic year for European cars. E30 wagons always get a lot of attention on this side of the pond because of their rarity and damn good looks. Today's is a little rough around the edges, but I love the Malachite Green and the cloth interior. It seems every US BMW came with leather, but the cloth interior has worn better than the ever-cracked 80s BMW leather and looks proper. We may be on the cusp of a large influx of these Euro-only models, but for now they're still rare and getting a ton of bidding attention. If you can deal with driving like a postal worker (or are one), this would be a slick ride.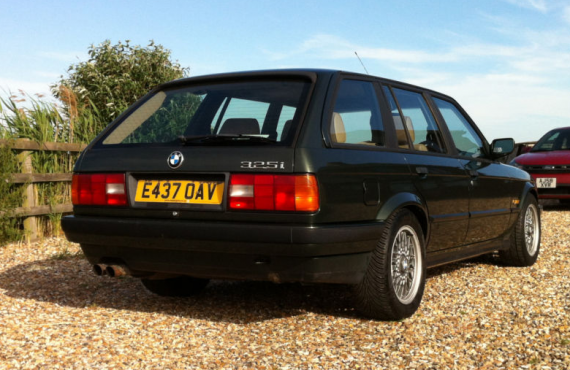 Year: 1988
Model: 325iT
Engine: 2.5l inline-6
Transmission: 5-speed manual
Mileage: 100,000
Price: No-reserve auction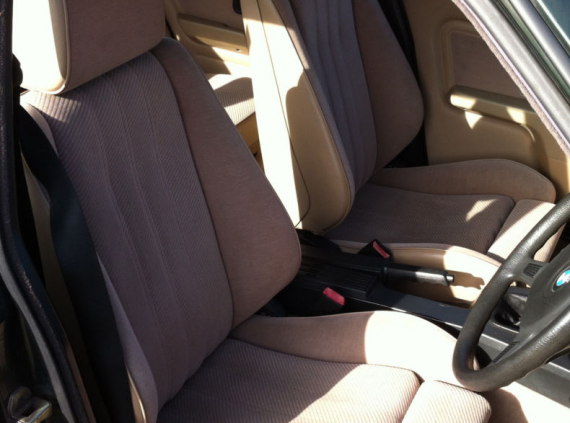 For sale is my 1988 BMW 325 Touring in Malachite Green with right hand drive!

Engine: M20B25 6 cylinder

Transmission: 5 speed manual

Interior: Beige cloth sports seats

Wheels: Nograro Grey Motorsport Cabriolet 15″ BBS "Euroweaves" with 205/55 tires

SE skirts and a iS style fiberglass front lip

If you know anything about E30 BMWs, you know how rare this car is in the US. I owned this car for about 2 years while living in the United Kingdom and have recently imported it back. The car has a March 1988 manufacture date and was legally imported under the 25+ year old provision just last month, September 2013. The car is fully registered in Oklahoma with a clear title in my name. I have not swapped the plates out yet, but I have included a picture of the OK plate. I am unsure how I would want to mount the plate so I will leave that up to the new owner.

Overall, the car is very solid, but not perfect. It is 25 years old after all. The paint has a couple of issues. There is a scratch down the right (driver's) side of the car. The sunroof has some scratches. The hood has a scratch and an area where the clear is peeling. One of the rear quarters also has a small area of clear peeling as well as a ding in a couple of scrapes. There is rust in the lower portion of the drivers front fender. The wheel arches and corners of the windshield are all rust free as can be seen in the pictures. I have tried to picture all the blemishes, no matter how minor. Please take a good look at them. If you need a picture of anything else, please let me know.

Mechanically the car is spot on. I have not had any issues in the time I've owned it other than the starter needing replacing. I would not hesitate to drive it on a cross country road trip. It has been lowered slightly, I'd say 15-20mm. Looks good and doesn't ride rough. The headlight wash/wipe doesn't work. There is a common problem with the motors needing taken apart, cleaned and re-greased. Everything is there though.

The interior is clean and damage free. The seats work as they should. The metal rod that holds the load bay cover has separated from the cover, so it cannot be closed. It just needs putting back in and the cover glued back together. This is how it was done at the factory, just needs redoing.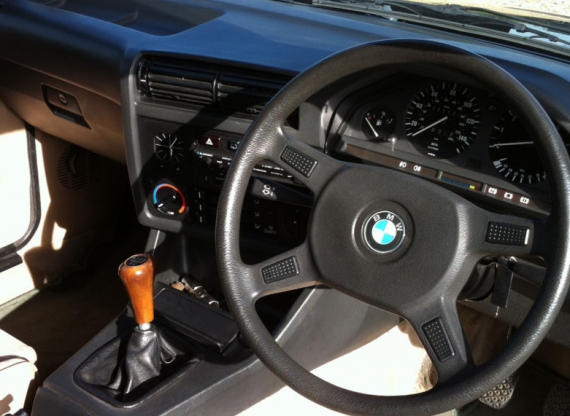 Very unique combo with the color, lower valences, wheels, and right-hand drive. The driving position may throw some people off, but at the same time a fresh coat of Malachite and taking care of some of the details could make this a very unique car at your local BMW show.
-NR