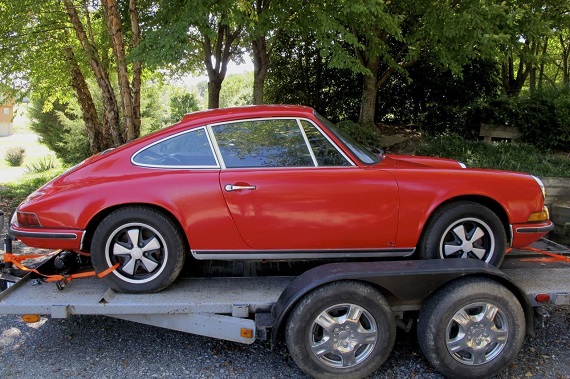 We've shown a couple of cars like this one recently: Porsches from the '70s that are in need of a lot of love so that they can be enjoyed again. The Heap of the Week I featured a couple of weeks ago would have been more suited for a full restoration seeking collector status. That car is remarkably similar to the car featured here and this one should probably be approached with a similar ideal. Here we have a Red 1971 Porsche 911T located in Maryland, just outside of Washington, DC.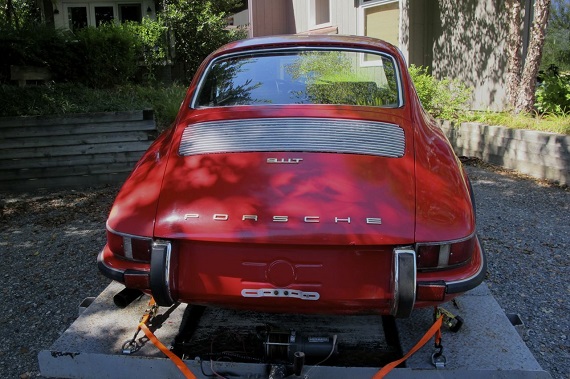 Year: 1971
Model: 911T
Engine: 2.2 liter flat-6
Transmission: 5-speed manual
Mileage: 71,395 mi
Price: No Reserve Auction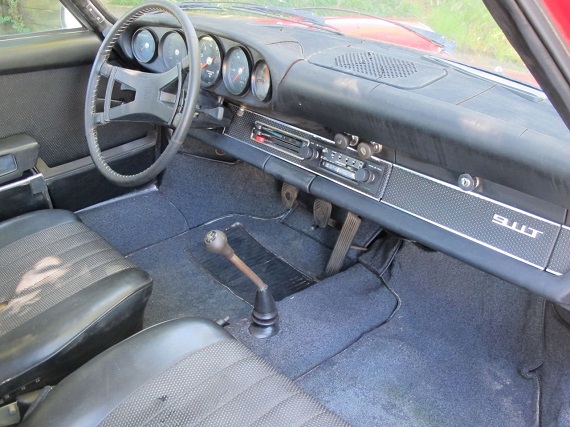 You are bidding on a 1971 911T 5-speed coupe w/o sunroof. It was manufactured 10/70. This is a "behind-the-barn" find that shows the results of being left out in the elements for too long. The car is all original and intact with 71,395 miles with matching numbers. Original color was Pastel Blue #2020 but now has a poor repaint to red. This car will require extensive restoration. The lower portions of the front pans have extensive rust. Full replacement of the front pans, right and left battery boxes, gas tank (?) and forward portion of the floor pans is required. The structure and pans to the rear of the mid-point, torsion tubes, shock mounts, etc. are clean and rust-free. Rockers show some minor rust, but seem to be intact. Rocker trim is S type. Door jambs, hinge mountings and surrounds are intact and still serve up that Porsche "ping" when closed. Headlight bowls are intact and are not rusted. All glass is original and present with some slight delamination showing in the front windshield. Some rust is present in the body panels as shown in the photos; the underside trailing edge of the rear deck lid is the worst. Original front seats will require recovering; rear seats are in good condition. Radio is not original. Door panels and hardware is all present. Top of the dash and rear deck panel will require replacement due to sun damage. Headliner is intact with original visors. All trim is present.

This is a roller (not a driver) with working steering, clutch, trans and emergency brake (main brakes are not operational). Forward mounts for front torsion bars are weak so some care in moving the car is required. Car can be easily loaded onto a flat bed or trailer. Engine does not run but turns over easily and is fully intact. Engine is stock 2.7, no AC and has original Weber carb setup and original air filter box. Wheels are original Fuchs (5). Body serial # is 911 112 0880 and engine # is 6115054.

The photos and the details outlined above present as best I can the present conditions of this car. Further photos and info can be provided on request and the car is available for inspection. There is a clean and current title for this car issued by the Commonwealth of Virginia. Willing to sell to buyers in Canada, Europe, Germany, UK and USA on the condition that payment is received in full and all shipping arrangements are made by the buyer prior to release of the car.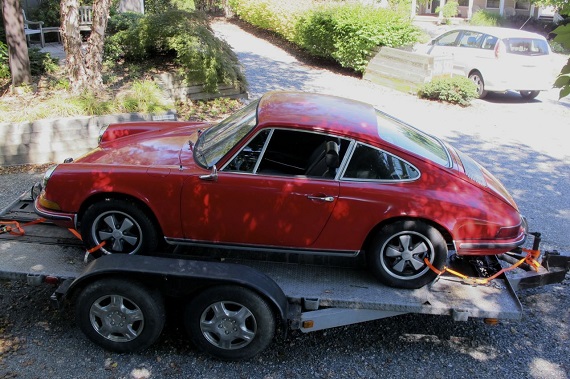 This car isn't in as good a condition relative to the car I posted for the Heap of the Week. There's quite a bit of rust on the body, the dash is shot, and this is only a roller, rather than a driver. But for a barn find those "features" aren't necessarily unexpected. There also appears to be some confusion over the engine. The seller states that the car has a stock 2.7 liter engine, which of course is not the standard 2.2 of a 1971 911T. I would presume this is merely a typo, but it's certainly worth investigating just to be sure. This car is offered on auction for No Reserve and ideally it could be had at a discount relative to the $21,000 price of the Heap. We shall see. These cars command very good prices when restored to excellent condition so even a car in this shape won't come cheaply. With bidding currently at $4,500 this is surely something to keep one's eye on, and while we're likely to see that rise quickly, for someone interested in a project this could make for an interesting investment.
-Rob