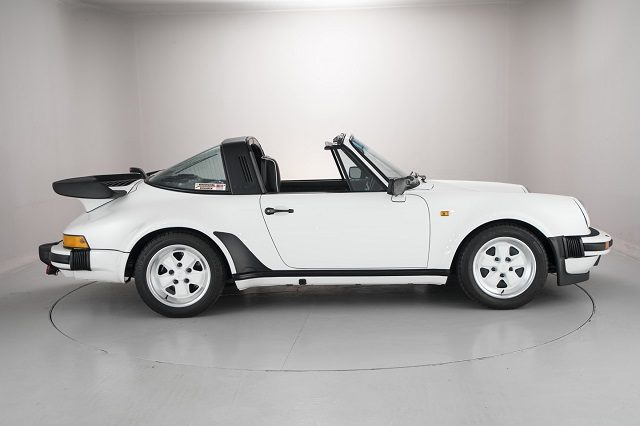 As should be clear by now, we're looking at cars from across the pond this week. Especially those that are right-hand drive. I'm going to follow a slightly different tack from the direction Carter and Andrew have taken us so far. They've shown a few interesting and quite reasonably priced models that weren't available in the States. As is not atypical of the 911, mine will not be so reasonably priced, but I do think they are just as interesting. Some even more so!
I will start with this: a Grand Prix White 1986 Porsche 911 Carrera Targa Supersport with Black interior and just 29,250 miles on it: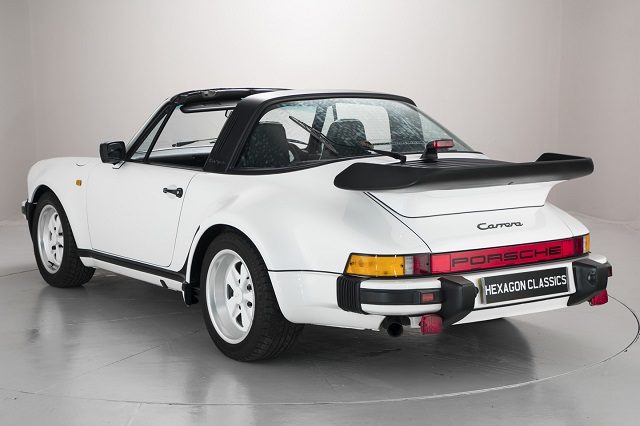 Year: 1986
Model: 911 Carrera Targa
Engine: 3.2 liter flat-6
Transmission: 5-speed manual
Mileage: 29,250 mi
Price: £119,995 (~ $155,600)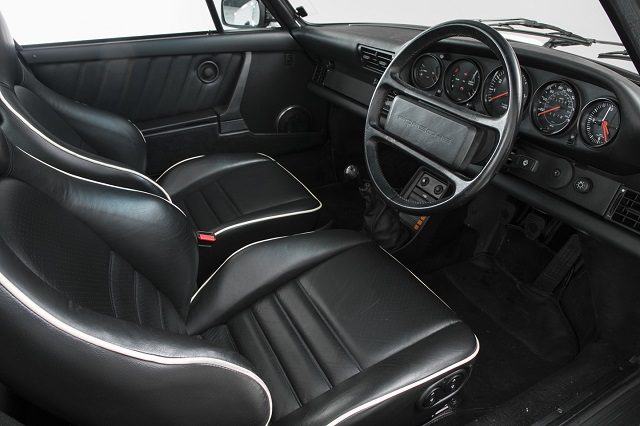 PORSCHE 911 3.2 CARRERA TARGA SUPERSPORT, 1986
MILEAGE: – 29,250 MILES, UK SUPPLIED
GRAND PRIX WHITE WITH BLACK LEATHER SEATS, PIPED WHITE
FACTORY SPECFICATIONS INCLUDE:- SUPER SPORT EQUIPMENT (TURBO LOOK), LEATHER INTERIOR, LEATHER STEERING WHEEL, FRONT SPORTS SEATS WITH ELECTRIC ADJUSTMENT, CENTRAL LOCKING, TOP TINTED WINDSCREEN, 16" FUCHS WHEELS WITH PAINTED WHITE CENTRES, HEADLAMP WASH, LUGGAGE COMPARTMENT CARPET TRIMMED IN BLACK VELOUR, REAR SEAT BELTS.

This is a real opportunity to own probably the best 911 Super Sport Edition coupe. It has an extremely low mileage, with its first owner enjoying the vehicle for the first 30 years. The last-of-the-line in traditional Porsches, these Carrera 3.2's are the best way to deliver the famous air-cooled old-world Porsche driving experience. Evoking a time before power steering and other driving aids altered modern Porsches forever, this Porsche offers today's lucky driver the authentic driving experience that made Porsche 911's legendary.

The 911 3.2 had a redesigned engine inlet and exhaust system, along with the fitment of a service-free Digital Engine Management ignition system (DME), in conjunction with Bosch L-Jetronic fuel metering. This resulted in a significant increase in engine performance but a significant reduction in fuel consumption, through better engine efficiency and fuel cut-off when coasting. With a capacity of 3.2 litres, and a high compression ratio of 10.3:1, the air-cooled 6-cylinder, horizontally opposed engine produces an output of 230 bhp, at 5,900 rpm. Maximum torque is 284 Nm at 4,800 rpm, and the maximum speed, limited by electronic fuel cut-out, is 152 mph. Acceleration to 60 mph was achieved in under 6 seconds. This Super Sport Equipment or SSE model, is the popular Turbo-look variant, which combined the normally aspirated air-cooled 6-cylinder engine with the Turbo's looks. The style that resembled the Porsche 930 Turbo with wide wheel arches and the distinctive "tea tray" tail spoiler also featured the stiffer Turbo suspension and the superior Turbo braking system as well as the wider Turbo wheels.

Supplied new by Swinford Motors (Midlands) Porsche, Stourbridge, the vehicle is as complete as one could imagine, with a wonderful service history file and its original sales invoice for £37143.88 The file includes its original book pack, service invoices and original paperwork. An ultra-low mileage example of the classic SSE that will be a genuine pleasure to own and show. A comprehensive 12-month warranty will also be included.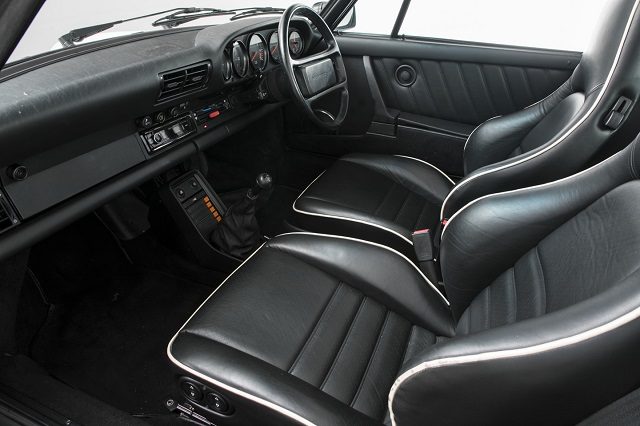 While the Supersport moniker never adorned any of the U.S. Carreras the package itself should be familiar to us under its option code: M491. Otherwise known as the Turbo-look package, these were made available, at least for U.S. buyers, as a substitute of sorts during the years the Porsche 930 was not sold in our market. You get the wider rear of the Turbo, along with front and rear spoilers, suspension and brakes. These were 911 Turbos, but without the turbocharging. Hence the name. So the model itself isn't entirely unique to the U.S. market, but that doesn't mean they aren't rare and a Targa certainly is the model we see the least often.
This particular example sits with quite low mileage and shows long-term original ownership (though we should note it doesn't sound like it is for sale by the original owner). It is said to be well documented and to come with its original paperwork. The condition also looks very good. The only thing I note is that the dash doesn't look as pristine as we might hope. That could be just some effects of the lighting, but it looks a little scuffed. Otherwise, everything looks in very nice shape.
I'm far less familiar with the U.K. market, but the price asked here (around $155K) definitely is much higher than we'd see for a similar model in the U.S. market. Given the additional cost to import you're looking at a seriously expensive Carrera and one that likely would cost you quite a bit more than an actual 930. So unless you really wanted to have a RHD Carrera, I'd imagine we'll do nothing more than look at this Supersport. Still, it ain't bad to look at.
-Rob