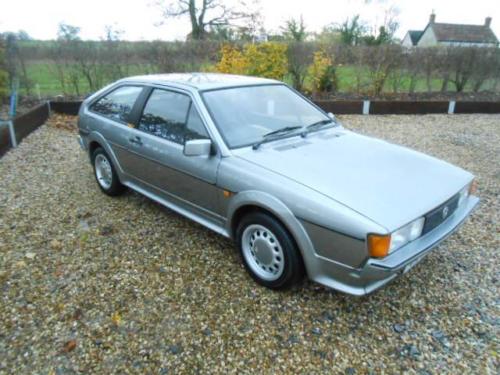 Okay, enough Audi dreaming. Are there any interesting VWs over in England? You bet! While production of the U.S. bound Scirocco was long over, Volkswagen continued to produce the second generation Scirocco right through the 1992 model year. This particular model, the GTII, was the model which finally wrapped up production a decade after it began in mid-1992.
The GTII was the mid-range model in the Scirocco lineup. Top of the range was the Scala [née GTX(née GTi)] with its 112 horsepower 1.8 liter motor borrowed from – you guessed it – the GTi. Below that model lay the GTII [née GT(née CL)], which shared the bodykit and 1.8 liter displacement, but only had 90 horsepower and steel, rather than alloy, wheels fitted. While not as sought as some of the range-topping models like the GTX or special "Storm" models, this GTII offers classic looks on a modest budget: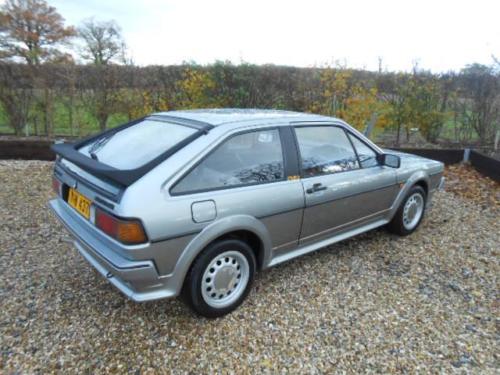 Year: 1991
Model: Scirocco GTII
Engine: 1.8 liter inline-4
Transmission: 5-speed manual
Mileage: 137,061 mi
Price: GBP 2,750 ($3,570 Buy It Now)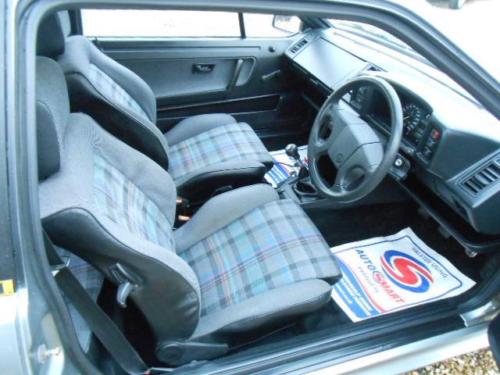 I INITIALLY PURCHASED THIS CAR TO KEEP BUT JUST DONT HAVE ANY ROOM THE CAR HAS BEEN DRY STORED FROM AROUND 2005 TO PRESENT IT COMES WITH THE ORIGINAL BOOK PACK AND SERVICE BOOK WITH STAMPS AT 10K IN 1991 21K IN 1992 31K IN 1992 40K IN 1993 50K IN 1994 51K IN 1995 54K IN 1995 75K IN 1997 87K IN 1998 AND 101K IN 1999 AND MOTS FROM 1994 TO 2004 LOTS OF RECEIPTS AND OLD TAX DISCS FROM 1993 TO 2004 AS FAR AS WE CAN SEE THE CAR IS IN ORIGINAL CONDITION WITH NO PAINTWORK HAVING BEEN DONE THERE ARE SOME MARKS AND PAINT BLISTERS AND SOME SLIGHT DAMAGE AROUND THE DRIVERS DOOR HANDLE (OPENS AND CLOSES AND LOCKS WITHOUT FAULT) THERE IS NO STEREO FITTED AND THE ORIGINAL FRONT DRIVING SPOT LIGHTS ARE SUPPLIED WITH THE CAR.WORK CARRIED OUT BY US RECENTLY INCLUDED OIL AND FILTER,AIR FILTER,FRONT DISCS AND PADS,REAR BRAKE CYLINDERS AND SHOES AND HANDBRAKE CABLES AND BRAKE FLUID CHANGE,NEW RADIATOR AND COOLANT CHANGE,PLUGS,LEADS,DISTRIBUTER CAP AND ROTOR,STEERING RACK GAITORS AND NEW TIMING BELT A NEW MOT WILL BE DONE ON SALE. THIS WOULD MAKE A GREAT STARTER CLASSIC AND A GREAT CAR FOR VW SHOWS AND MEETINGS.A GREAT CAR THAT ATTRACTS GREAT COMMENTS FROM PEOPLE WHEN THEY SEE IT PLEASE CALL BEFORE TO ARRANGE A VIEWING (no warranty due to age of car)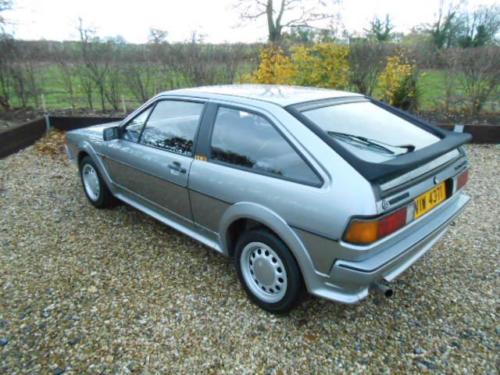 It appears that between the old records and recent maintenance, a decent amount of work has been performed to keep this Scirocco ticking. I especially love the interior fabrics available to customers; they make the large amount of 80s angular plastic dash a little easier to live with. General condition looks to be quite good outside of some paint loss on the lug covers, but it's strange to me that sellers in the U.K. seem to rarely provide images of the engine bay. If you're a Scirocco fan, this is a nice alternative to how many of the U.S. spec cars come to market. It's not as powerful as the 16V models, but you get the host of Euro equipment and you get to shock VW fans at the local show when you tell them it's newer than their Corrado.
-Carter