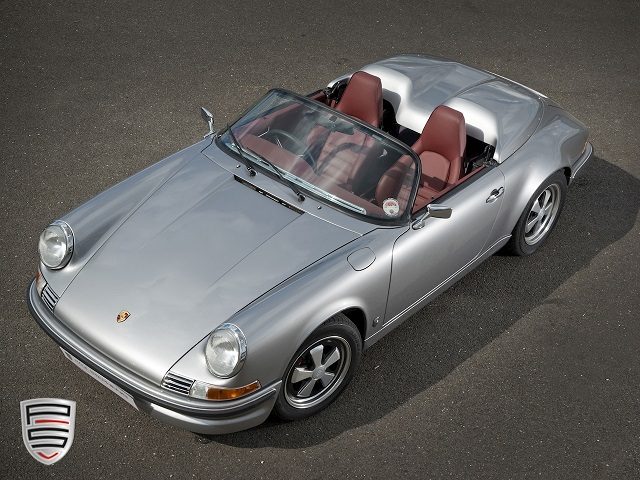 Back for more RHD British action. This time I'm not going with an actual production model, but rather a retro build to produce a 911 that never actually existed: a long-hood 911 Speedster built by Paul Stephens Autoart. I will not pretend to be intimately familiar with the PS Autoart designs; I've seen some previously and generally liked what I saw. When I was looking for cars for this theme week I knew that I should take a look at what Paul Stephens had to offer. The plan wasn't actually to feature one of the PS Autoart builds. I was looking for a neat RHD 911 and knew they'd have some available. Then I saw this Speedster and my decision was made. It's a beautiful car that marries vintage and modern 911 design to provide the look of a classic 911, but with modern performance and useability.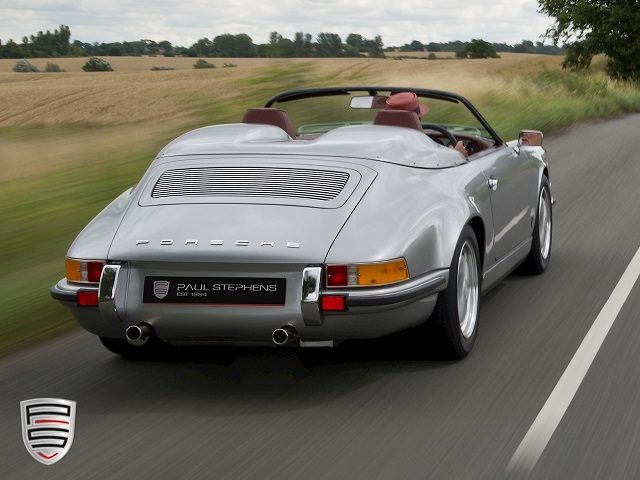 Year: 1973
Model: 911 Retro Speedster
Engine: 3.6 liter flat-6
Transmission: 5-speed manual
Mileage: 10,000 mi
Price: £195,000 ($250,870)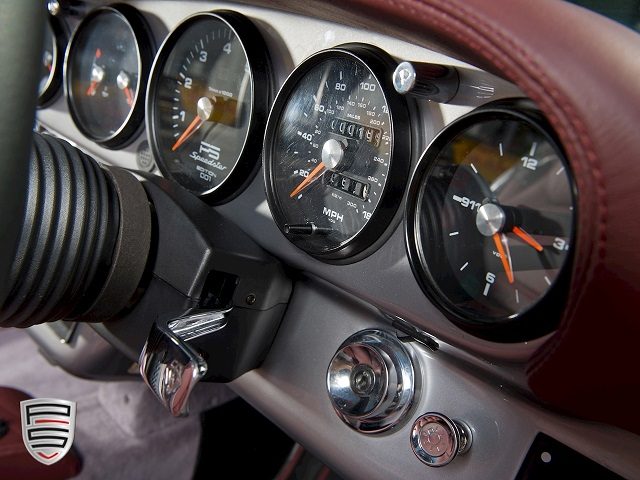 The Paul Stephens Retro Speedster is a unique interpretation of the Speedster theme, that was created to a client's personal specification in 2014.
An owner of many Porsche models from 356 to current models, our client wanted to create a unique car that took inspiration from the various eras of air cooled Porsche.
He particularly wanted to combine the Speedster style with the delicate appearance of the 1970s 911s, something Porsche never manufactured in period and unlike original air-cooled Speedsters, provide a comfortable and sure-footed driving experience for cross continental tours in all weather conditions.
The 964 Carrera 4 Targa was chosen for the platform, as our client wanted secure handling together with a compliant suspension set up to ensure the car is extremely comfortable on all types of roads.
The car was stripped to a bare shell before being converted to Retro Speedster configuration which like our Retro Touring Coupes, incorporates styling details from the early 70s cars.
Genuine Porsche items were used for the Speedster conversion which incorporates the unique doors, windows and roof assembly from the 964 Speedster and the colour chosen was Porsche GT silver. The rear spoiler still extends and retracts for high speed stability but now features a 70s-style engine grill and the twin outlet exhausts are a nod to original Speedsters gone by. The wheels are PS Classic Fuchs style with original anodised and black finish.
However, with the clients request for an all-weather car, the roof fabric and rubbers were redeveloped to provide probably something unique, which when erected is a watertight Speedster!
The interior is unique too, as it takes inspiration from the 356 Speedsters with its sculptured metal dashboard incorporating the radio and lockable glovebox finished in body colour, whilst the controls are machined from solid brass with a high -quality chrome finish. The dashboard top, doors and seats are trimmed in the finest classic red leather with grey carpets bound in leather and a matching classic red mohair hood. The instruments are finished in a classic style as per our Retro Touring models, whilst the electric sports seats are slightly wider for increased comfort.
LED headlamps, electric windows, power steering, central locking, ABS, air conditioning, cruise control and a retro styled sound system are all modern features, that when combined with a surprising amount of storage space, make this Speedster a friendly companion on long continental journeys.
Rebuilt standard 964 mechanical components were retained underneath allowing it to be serviced by any Porsche centre in the world, but like original Speedsters, the Retro Speedster offers a reduction in weight and lower centre of gravity that completely transforms the way the car performs. The typical understeer that can plague the 4wd 964 has gone, whilst the nimble handling, strong performance and production car quality surprise all that have driven it.
Having covered just under 10,000 miles in 3 years, our client now has another project in mind, so this unique Retro Speedster is now available for its next lucky custodian.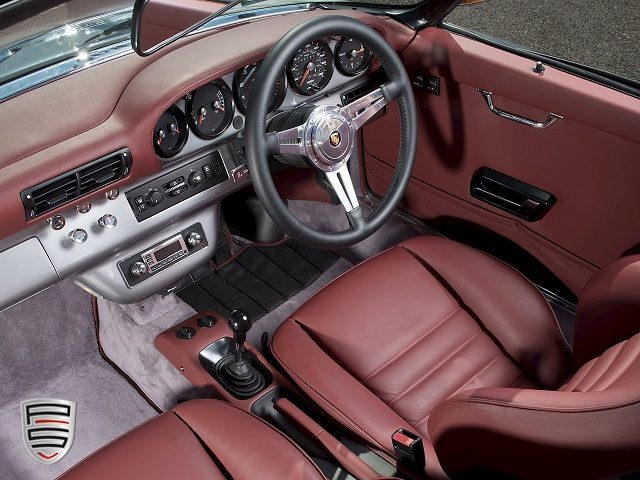 I've listed the date of this car as 1973 because that is how the ad has listed it, but this is in no way a 1973 911. The build utilized a 964 Carrera 4 Targa as its foundation and borrowed bodywork from the 964 911 Speedster to produce some of its shape. So properly speaking it's perhaps a 1994 model year 911, though the actual year of the C4 Targa isn't stated.
With that out of the way, just look at how pretty it is! The exterior is basically what we'd expect if we were to think about what an early 911 Speedster would have looked like. It looks pretty great and kind of makes me wish Porsche itself had extended its Speedster/Roadster production from the 356 into the 911 line. But it is the interior that I really love the most here. There are so many little details from the metal dash that nicely matches the exterior, to the liberal use of burgundy leather to provide both luxury and beauty, to the metal switchgear. It all comes together quite nicely. This isn't a spartan, no frills, Speedster like the original 356 Speedster. It's a modern design that while not luxurious still provides plenty of what you need to remain comfortable on a longer drive. In that regard it stays true to the 911 Speedster itself.
From a mechanical standpoint it sounds like everything remains in a mostly stock 964 configuration. It has retained its all-wheel drive and the engine and gearbox are standard 964 units. Still, there are weight savings to be found so performance should be pretty good should you really want to take it out and put some harder miles on it.
I don't suspect that will be the goal of most owners, but it's there if you need it. With an asking price of £195,000 (~$250K) this is by no mean inexpensive. It's pricier than just about any 964 Speedster I've come across. I'm also not sure if it can be easily imported. Perhaps that will depend on the original model year of the 964, or perhaps importing something like this just isn't feasible if you want it to be street legal. But if you really desire something unique, and you've got the funds, it should be worth pursuing.
-Rob