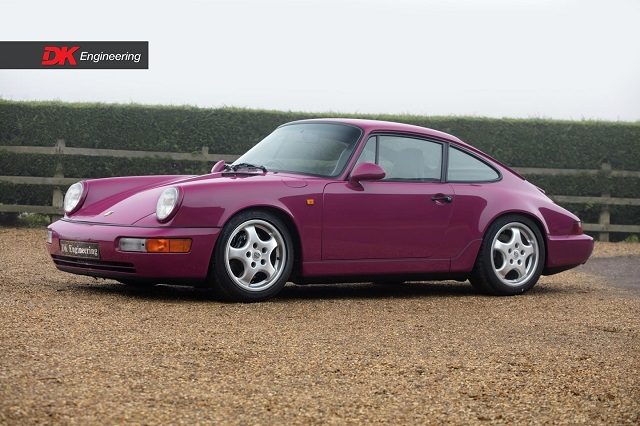 Truth be told I wasn't sure if a right-hand drive 964 Carrera RS actually existed. I was pretty sure I'd seen one previously, but couldn't be sure I hadn't just imagined it. But here one is: a Rubystone Red 1992 Porsche 911 Carrera RS with triple-tone Recaro seats and 58,900 miles on it. That's a decent number of miles for a RS, yet its condition still looks quite good. Of course, the Carrera RS was never made available in the States, but they can now be imported. Sure, there are plenty of LHD examples available, but if you really want to take things to their extreme, why not just get a RHD one and really wow people?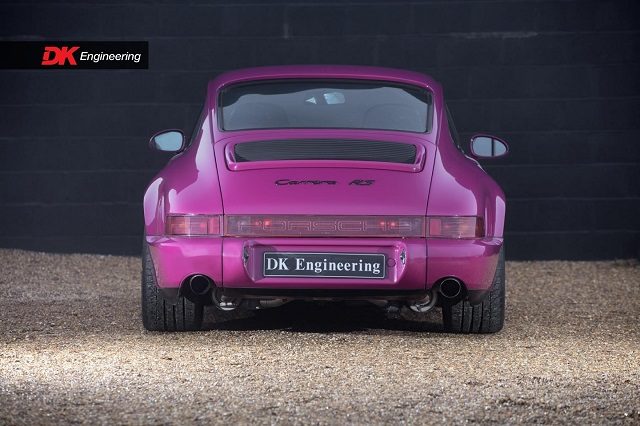 Year: 1992
Model: 911 Carrera RS
Engine: 3.6 liter flat-6
Transmission: 5-speed manual
Mileage: 58,900 mi
Price: £199,995 ($257,461)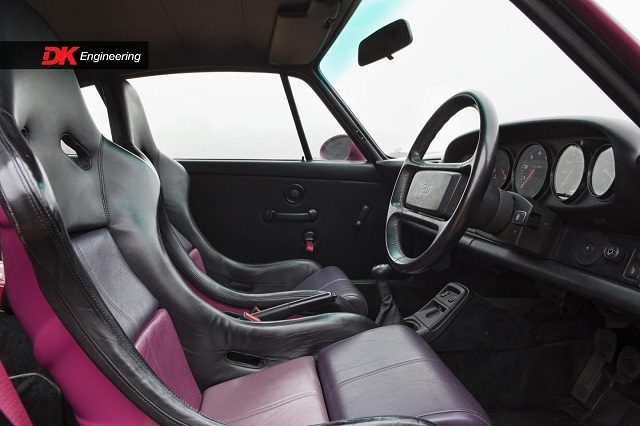 The Porsche 911 964 Carrera RS was launched in 1992 and was considered a lightweight version of the Carrera 2 that could be used both on the road and the race track. Arguably, this was the most dynamic and agile 911 since the original version was launched in 1973. The engineers behind the project utilised the philosophy of removing weight and adding power when designing and engineering the car. Remarkably, nearly 175kg of weight was removed from the standard version as a result of using aluminium for the bonnet and doors as well as thinner glass for the windows.
All of the weight-saving measures added up and resulted in a vastly reduced overall mass. Luxuries such as back seats, power windows and armrests could all be disposed of and the increase in power came from a brand new lightweight flywheel and some other minor modifications. The flat-six engine produced 260 bhp and also fitted to the car was a limited-slip differential, modified suspension (with a 40mm lower ride height) and stiffer springs. In another weight-saving move, Porsche chose to remove all the sound deadening and manufactured the wheels from magnesium.
This RHD example was delivered to its first owner Mr Clifford of Worthing, West Sussex in June 1993 via dealer Rivervale Porsche. Finished in the rare 964 RS signature original combination of Rubystone Red over optional Triple-Tone Rubystone Recaro Bucket Seats, the following options were also applied from new, UK LUX Spec and Tinted Windows.
With no less than 14 stamps in the original service book, many from the main dealer who supplied the car, it has been maintained with a no expense spared approach from new, resulting in a superb condition to be expected throughout.
This 964 RS is presented in excellent and original condition having covered just 58,900 Miles, with just 4 prior owners. Accompanied by its original book pack as well as tools, spare wheel, supporting history file and Porsche Certificate of Authenticity confirming the car's matching engine and gearbox numbers. This RS is ready to be enjoyed by its new owner immediately with viewings available at our showroom, which is based just outside London.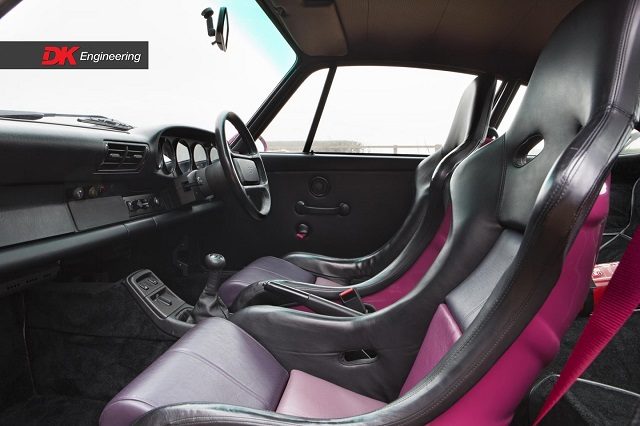 Rubystone is not everyone's favorite color. You're probably going to love it or hate it, with little in between. But like it or not it's become almost an iconic color on the 964 RS. It might even be the color I see most often. The interior is equally as divisive. I'm a fan. I'm not going to say Rubystone is my favorite Porsche color by any means, but I do love the look on the RS. Here it actually looks somewhat subdued. I'm guessing that's down to the foggy/cloudy lighting conditions. But it's a fun color on what should be an amazingly fun car.
Everything here looks about as we'd expect of a RS, even with the higher miles. Though I am curious about the exhaust. The ad makes no mention of it being added on, but I'm pretty sure the standard RS has a single exhaust outlet. The 3.8 RS had dual exhaust, but not the 3.6. That's probably worth inquiring about. The price of just under £200K (about $257K) seems fairly typical given the mileage. We certainly see lower mileage examples priced significantly higher.
Given pricing like this for a Carrera RS that's already been imported, this one may be downright reasonable. It definitely has a few more miles and that dual exhaust may not be original, but the asking price here is a long way from $400K and if that is what it's going to take to get one that's already Stateside then perhaps going through the hassle yourself is the way to go. And heck you'd even have a RHD version!
-Rob