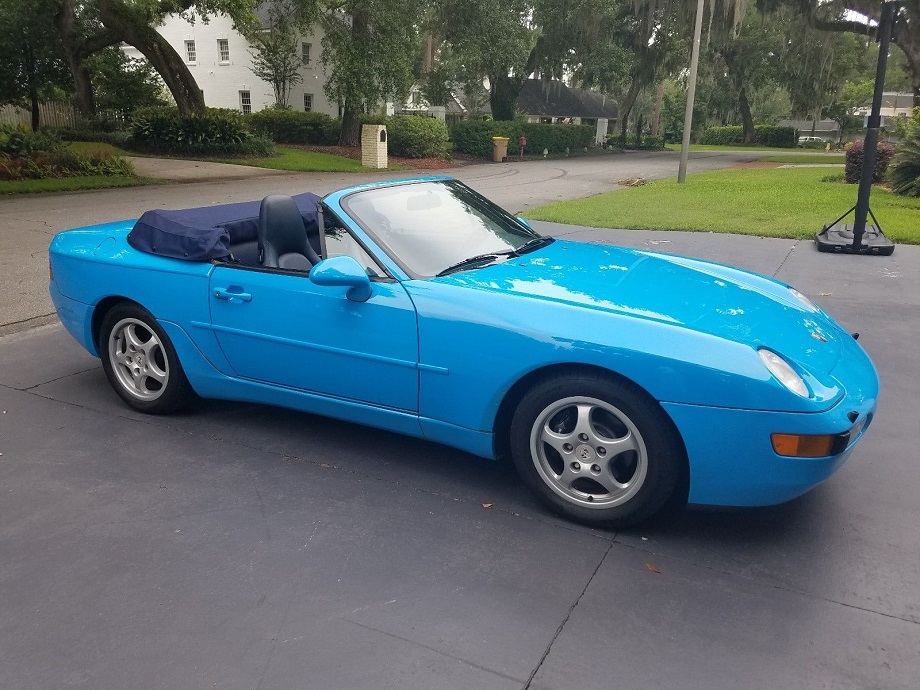 I don't feature the 968 all that often. I do, however, tend to feature just about anything I come across in Riviera Blue. I simply can't turn away from them. Here we have a 1994 Porsche 968 Cabriolet painted in that bright blue. This one also has the very desirable 6-speed manual transmission. Riviera Blue often is associated with the 993 and we rarely think much of it when it comes to other Porsches. But this 968 shows the color off almost as well and even if its sporting pretensions are not quite elevated to the same level as the last of the air-cooled 911s, I'm sure this one will have no trouble attracting attention in a crowd of Porsche enthusiasts. It looks in very good condition and the mileage even is pretty reasonable when we consider it is nearly 25 years old.
The 928 gets the vast majority of the love when it comes to Porsche's front-engined machines and there's very good reason for that. The 968 provides its own unique appeal and definitely creates quite an ardor among its fans. And relative to a '90s 928 prices tend to be much more attainable.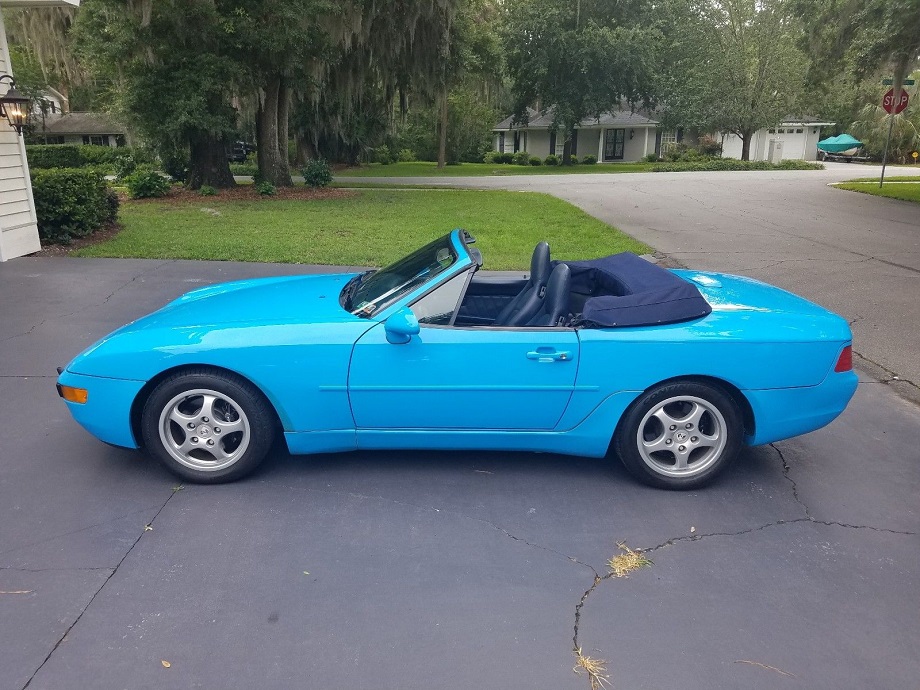 Year: 1994
Model: 968 Cabriolet
Engine: 3.0 liter inline-4
Transmission: 6-speed manual
Mileage: 89,591 mi
Price: $32,600 Buy It Now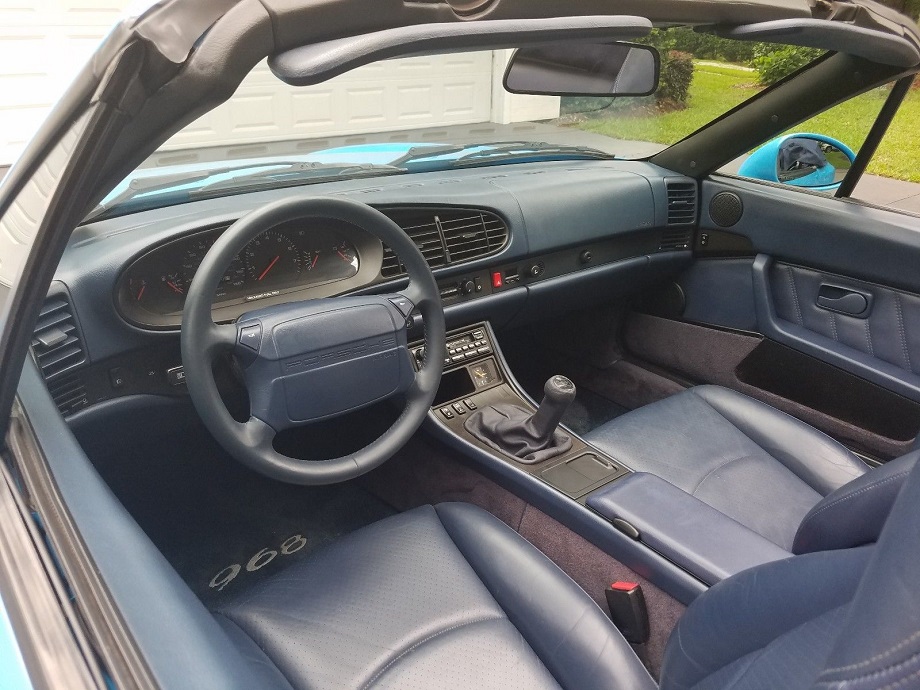 1994 Porsche 968 Cab in Rare Riviera Blue

Collector Quality

Listing for a client – this unbelievable survivor 968 cab in very rare Riviera Blue – This car is truly for the Porsche 968 collector/enthusiast. Owned by a very picky client – freshly rebuilt 6 speed manual transmission – new top – recent timing belt and water pump service. The factory radio was sent out and repaired. New top and everything works but for some pixels in the exterior temp screen. Please call for details and to schedule a private showing. I can share a very extensive photo pack that gives great detail on the car. Text your email address for file. Please call and ask questions. Joe Frazar 912-667-1704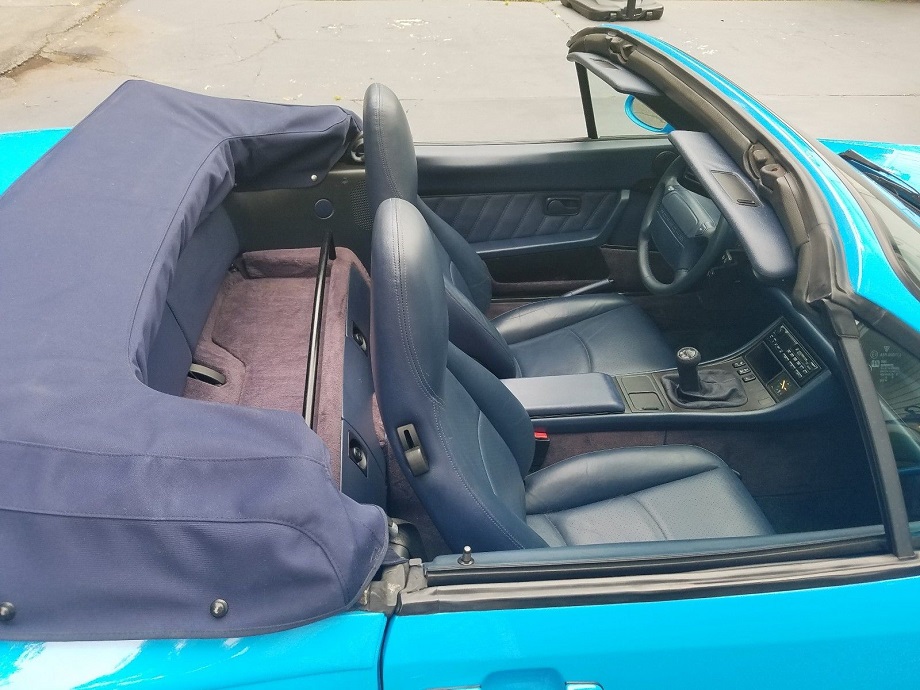 Perhaps it's just a regional thing, but the 968 tends to be the front-engined Porsche I see the most frequently. That still isn't very many of them and I see 911s from that era much more frequently, but perhaps it tells us a little about their level of desirability as well as cost to keep them running. The design holds a similar level of freshness as that of the 928 though perhaps with a little less appeal. Of course if you want a Cabriolet, the 928 will be of no help to you. So if you're looking for a '90s Porsche to stand apart from the crowd a 968 Cabriolet surely will fit that bill. Add in the Riviera Blue paint on this one and you definitely have something unique.
From what we can see this has been a well cared for 968. We aren't told whether it still wears its original paint (and you will of course want to see some documentation supporting Riviera Blue as its original color), but its current paint looks in good shape. There's not much in the way of blemishes and that bright blue really pops. The interior shows a similar level of care with little noticeable wear. I won't say everything is perfect, but it all looks very good. The engine bay looks very well detailed.
The asking price is quite high for any 968. This one combines a very desirable color with a manual transmission, but this is still probably more than most would want to spend. I suppose this also forces us to ask just how collectible a 968 might be in the first place. Still at $32,600 there isn't much else from the Porsche lineup from this era that you're likely to find. It surely comes in well below the cost of a similar 928 or 911 (and with far less potential upside, of course).
Riviera Blue can command quite a premium on the 993. I have no idea how many 968s there are in this color, but if the combination of that color, the manual transmission, and open-top motoring are what you are seeking then the condition of this one should make it well worth your further investigation and likely worth a decent premium over other such examples.
-Rob