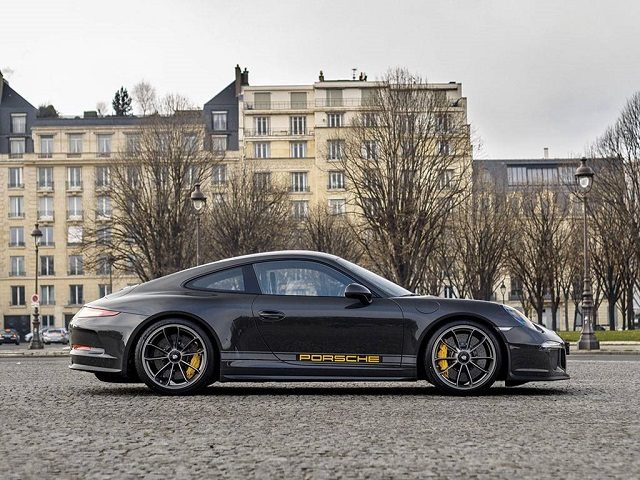 The 911R has started popping up here and there for sale. All with very high prices as owners look to capitalize on a model that should have very good long term value potential. We featured one a few weeks ago, one of the more basic examples (meaning it was produced in one of the two standard colors), but still very high priced. This one is a bit more unique as it is one of the few (I've seen the number quoted as 50) paint-to-sample 911Rs that were made. The owner wanted something as a tribute to Steve McQueen who famously preferred Slate Grey as his exterior color of choice so that's what we have: a Slate Grey 2016 Porsche 911R with light grey stripes and yellow lettering to be auctioned at the RM Sotheby's Paris auctions on February 8.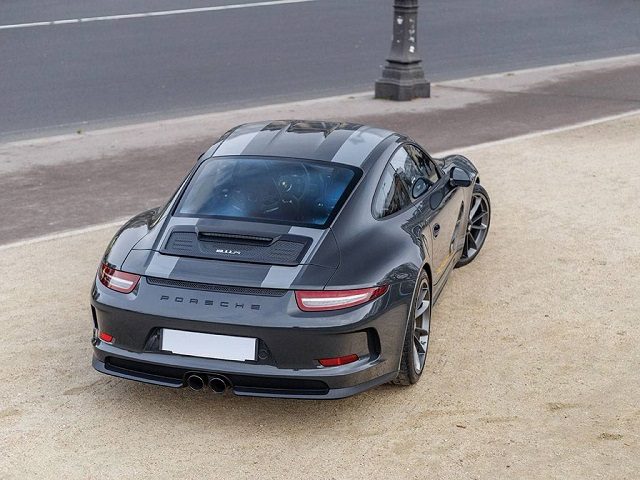 Year: 2016
Model: 911R
Engine: 4.0 liter flat-6
Transmission: 6-speed manual
Mileage: 600 km (~ 372 mi)
Price: Reserve Auction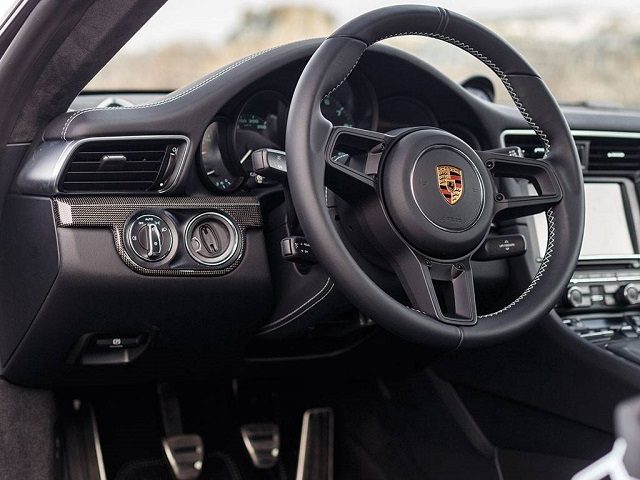 To be OFFERED AT AUCTION at RM Sotheby's Paris event, February 8, 2017. Estimate: €450,000 – €650,000 Type 991. 500 bhp, 3,996 cc DOHC horizontally opposed six-cylinder engine with direct injection, six-speed manual transmission, front and rear independent suspension, and four-wheel carbon-ceramic brakes. Wheelbase: 2,457 mm

The only PTS 911 R delivered to France
PTS Slate Grey with numerous Exclusive options
A one-off 'Tribute to Steve McQueen'
The 967th example of just 991 examples produced
The most anticipated 911 of the 21st century
Just 600 km from new

The introduction of the 991-generation of the 911 GT3 RS caused quite the fanfare amongst Porsche's most faithful customers. Gone was the long-adored six-speed manual transmission, replaced with Porsche's Doppelkupplungsgetriebe transmission in the relentless pursuit of performance. While some enthusiasts favoured the PDK transmission for its lightning-quick shift times and smooth gear changes, others saw the departure of the traditional six-speed manual as the departure of the true driver's car. Porsche heard its customer's calls and promised something that would be truly incredible: a limited edition 911 with the drivetrain of the GT3 RS but catering to the temperament of the enthusiast driver by fitting a manual transmission. While the car was just rumoured, customers began begging dealerships to take their deposits and give them an allocation in sheer anticipation for what would be an incredible car. The 911 R was finally introduced at the 2016 Geneva Motor Show. Mechanically similar to the GT3 RS, the 911 R enjoys numerous changes to the suspension, steering, and most notably, the custom-built six-speed manual. However, unlike the GT3 RS, the 911 R is not about the fastest possible lap time, it is about involving the driver with the car and creating the most enjoyable driving experience possible.While only made available with two standard colours and stripe options, a handful of clients requested Paint to Sample (PTS) colours and were approved, instantly making those examples the most desirable and unique. This particular 911 R benefits from a host of Porsche Exclusive options and remains as one of the most unique examples seen to date. Delivered new to Paris, it is finished in Slate Grey with contrasting silver bonnet stripes and yellow Porsche lettering, and a Black leather interior and bucket seats with houndstooth inserts. Built as a tribute to Steve McQueen by its original owner, the car features personalized illuminated door sills inscribed with McQueen's famous quote as Michael Delaney in the film Le Mans: 'Racing is life. Anything that happens before or after is just waiting.' Furthermore, it is outfitted with the single mass flywheel, Bi-Xenon headlights in black, Bose sound system, Sport Chrono pack, personalized interior with custom floor mats, and the front nose lift, amongst other options. At the time of purchase, the original owner was told that there would not be another 911 R with the same colours or options. The original owner also specified number 967 to celebrate the original 911 R built for racing in 1967. Finally, 25% of the car's hammer price above its reserve (with a minimum of €25.000) will be given towards research for curing cancer in children, financed by the Gustave Roussy foundation. Located in Villejuif, just south of Paris, the Institut Gustave Roussy is one of the world's leading cancer research institutes investing in cutting-edge technology and medicine, with the aim of making major advancements in the fight against cancer.Tastefully specified with many unique features, including PTS, perhaps Porsche's own slogan sums up the 911 R best: there is no substitute.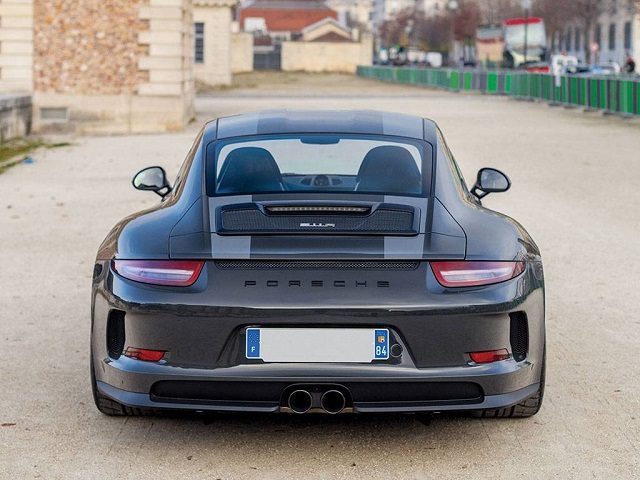 I've always liked Slate Grey so it's a pleasure to see it make an appearance on the 911R, though I this is Slate Grey Metallic rather than the original non-metallic Slate Grey of which I am a bigger fan. That said, I prefer that earlier version of Slate Grey when contrasted with a bright interior, e.g. Red, and I don't think that was an option on the R no matter how much money you threw at Porsche. So the metallic may work better overall with the R's sleeker lines and darker interior. It's a pretty car regardless.
I'm mostly curious how this auction will play out more than anything else just because it's a cool car with some interesting touches. I don't know that the McQueen tribute will really have much meaning with regard to this car's value since McQueen never owned it. People do like McQueen and some of his cars have sold for significant prices, I just don't think it will matter much here. What should influence the auction price is that 25% of the sale price above the reserve will go toward charity. I hope that means they've set a reasonable reserve! Charity auctions, even when they are of a somewhat limited fashion like this one, always attract some extra value and I imagine once the reserve is met for this 911R then we may say bidding rise a bit. To give us some idea of what kind of price to expect, there currently is a Racing Yellow PTS 911R on eBay with an asking price of $799,980. Otherwise known as almost 3.5 times the sale price. Nice ROI. Frankly, that seems very unrealistic to me and I don't expect the reserve here to be that high especially given the charity component, but we shall see. That's the fun of an auction!
-Rob