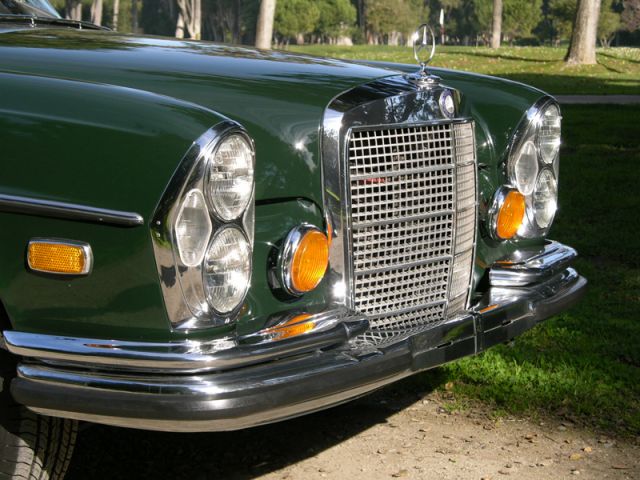 We take the sport sedan for granted these days, as there are plenty of four-doors on the market that give purpose built sports cars a run for their money. One of the first sedans to offer a bit of fire in an otherwise staid package was the Mercedes-Benz 300SEL 6.3. Unlike the present day, the S class was an uncommon luxury car choice for buyers in the US in the 1960s, one for real connoisseurs who appreciated the craftsmanship and advanced engineering that went into these cars. The 300SEL 6.3 came about when Mercedes engineer Erich Waxenberger decided to have a bit of fun and stuff the 6.3 liter V8 from the 600 limousine under the hood of the 300SEL. This was a tried and true formula employed by the Big Three automakers: stuff a big engine!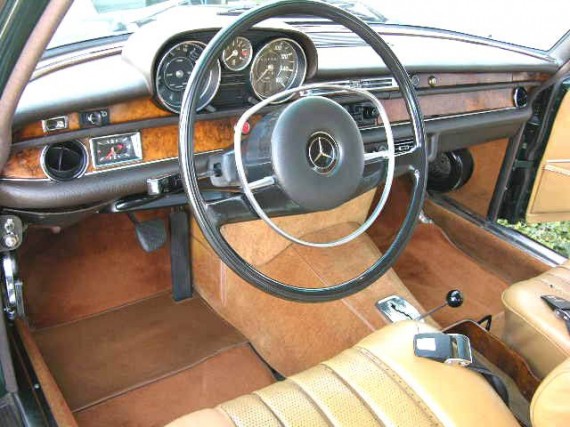 Amazingly capable by today's standards, the 6.3 was out of this world when it was introduced in 1968. Road & Track famously took a 6.3 to the drag strip and found the car immensely capable. In fact, the subtitle of the car read "Merely The Greatest Sedan in the World." While most owners would refrain from such brash behavior at the drag strip, just the fact that this car could show up and give others a run for their money was impressive. This 6.3 for sale in California looks sublime in Dark Olive, giving it an understated air that would throw anyone off who witnessed the wrath of its sheer power.
Year: 1969
Model: 300SEL 6.3
Engine: 6.3 liter V8
Transmission: 4-speed automatic
Mileage: 143,000 mi
Price: $27,900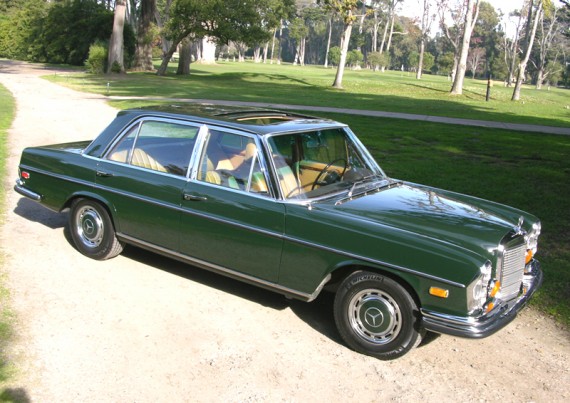 Dark Olive(291)/Bamboo Leather(249)
Factory sunroof. Correct AC.
The 999th 6.3 constructed.
Handbooks including service booklet filled with service stamps.
Delivered new 1-28-69 from European Motors in San Francisco.
Single owner CA car.
Original black/yellow CA license plates.
Aftermarket radio. Correct power antenna.
Factory data card.
Later series cruise control (inop)

Just re-commissioned by MercedesHeritage.com. Serviced, inspected, fuel injection pump reconditioned by Pacific Fuel Injection, valve adjustment. Radiator out and cleaned and fluids and filters taken care of. Steam cleaned,throttle linkage bushings done.
Rear brake calipers/discs and master cylinder and front/rear shocks replaced 3,500 miles ago.
Hood/fender/door/trunk hinge bolts never disturbed!
Bumpers never re-chromed and retain their original 158 white-grey undersides.
Original date coded trunk seal.
Original hood spring rubber buffers.
Superb shutlines and panel fit. Careful cosmetic preparation resulted in excellent paint depth and gloss.
Above average brightwork. Bumpers dimpled where we removed overrides.
98% original Bamboo interior. Perfect original door panels and dash pad.
Excellent wood. Perfect headliner.
Excellent shift quality. Suspension behaves correctly with negligible bleed-down.

Mercedes Data:

Engine: 100981-12-001032
Transmission: 000938
291- Paint, Dark Olive
249- Interior Trim, Bamboo Leather
401- Single seats
410- electric sliding roof
461- Instrument, in English
491- U.S. Version
503- Outside rearview mirror, on the left
519- Becker radio
524- Paintcoat preservation
531- Automatic antenna
598- Heat-insulating glass
641- White-wall tires
669- Mode of packing VE IV
306- Air conditioner
Front right and left axle- 488
Rear axle- 1027
Steering box- 553

A turn-key single owner CA 6.3 in one of the best color/trim combinations and fitted with a factory sunroof.

Call Roy Spencer @ 650-343-7980 for more details.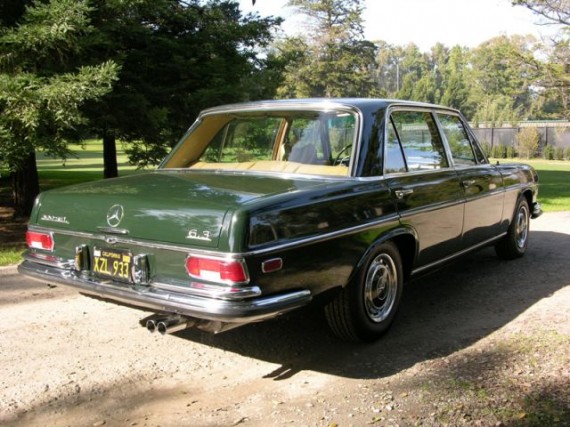 The 6.3 has been steadily increasing in value over the years, as the buzz from the 500E/E500 and subsequent AMG models has had people looking for the nub when it comes to the final word in Mercedes-Benz performance. A restored 6.3 like this will run you somewhere in the $25,000 to $35,000 range, with exceptional, concours examples stretching close to $40,000. So this car is priced just about right. When you consider how few of these were built and how revered they are, it seems like a bit of a bargain, considering the value of other rare, vintage Mercedes-Benzes.
-Paul