In 1999, Porsche revamped the 911 with the new 996 model. This new model was the biggest departure yet from the original 911 formula. Gone was the air-cooled flat six engine, in its place a water-cooled flat six developed to meet noise and emissions standards. In addition, the headlights were transformed into a more ovoid shape with integrated signal and fog lamps. Derided to this day by hardcore Porschephiles, they have never escaped from the shadow of the almighty 993, the last of the air-cooled Porsches. Resale values have reflected this sentiment.
The 996 lasted for six short years in various iterations, replaced by the 997. While the 997 was still water-cooled, it went a long way to address the quality, appearance and performance issues that die hard Porsche enthusiasts had been banging on about since the demise of the 993. One of the more overlooked examples of the 911 these days is the Targa. Originally, Targas had a removable roof panel with a folding rear convertible section. The folding rear top eventually gave way to a fixed glass window. For 1996, Porsche changed the Targa formula by introducing a sliding glass roof panel that would slide inward parallel to the rear window.
Here is a 997 Targa 4S on offer from EuroWerkz LC in Pleasantville, Iowa. This particular model features Porsche's all-wheel drive and 380 horsepower from a 3.8 liter engine.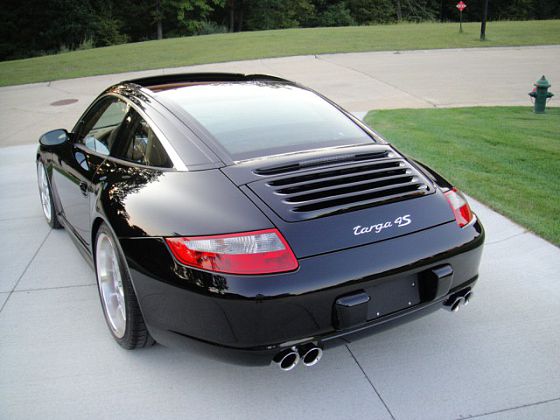 The Gentlemans GT! A very nice and very rare combination of 911 here. This is low mileage, southern, one owner Porsche 911 4S Targa that is equipped right and has some nice modifications to make it a great combination of style and function. Finshed in Beautiful Jet Black over optional Sand Beige Extended leather. The car is equipped with all the right and desirable 911S options including Bose sound, Chrono plus, Navigation, power seats, and optional thicker sports steering wheel.

The car has aftermarket Champion Porsche lowering springs, beautiful Champion Porsche 19″ motorsports wheels with colored crests and is wearing the Porsche approved Michelin PS2 Super Sport N1 tires, clear corner lenses, and GT2 side rocker flares for a really aggressive look. For some extra go the car has the complete $8000 Fabspeed 911S power kit including headers, mufflers, cats, and exhaust with the cold air kit and special custom software. It sounds great and will rock your world at the tickle of the pedal. It's a very nice car in superior conditon with an agressive presense. We love it and know you will to. Offered at $69,900.
I'm a big fan of these Targas. While they are a tad heavier than a standard Carerra, the roofline and rear window styling is a neat departure from the usual 911 silhouette. This particular Targa has some nice modifications from Champion Porsche that are subtle yet aggressive at the same time. For those seeking a 911 with a little bit of an edge, and would like to enjoy open air motoring with the practicality of a roof, your ride has arrived.
-Paul