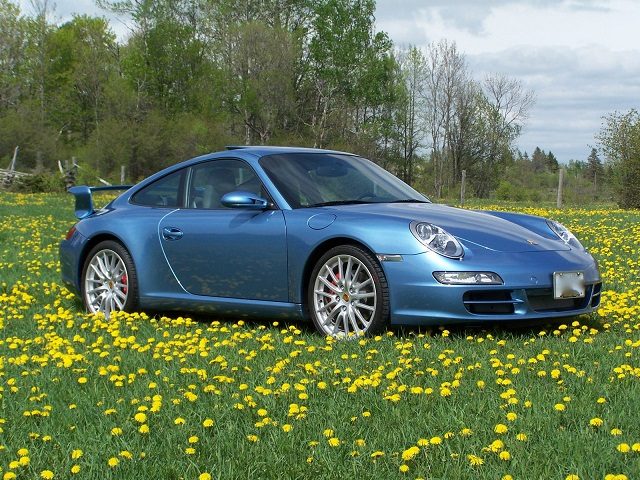 Earlier this week I featured one of Porsche's classic 911 special editions. This time we'll turn to one of the modern versions. I'm not sure if we've ever featured this edition so it makes for a nice treat. This is a 2006 Porsche 911 Carrera S Club Coupe, located in Ontario, with just 3,044 miles on it. The condition looks superb and with only 50 such produced it is one of the rarer editions out there. The seller definitely is trying to capitalize on that rarity with an asking price that strikes me as insane, but given that I can't ever recall seeing one come up for sale I suppose some premium is warranted. Add in the very low miles and surely we have a valuable 911. But this valuable?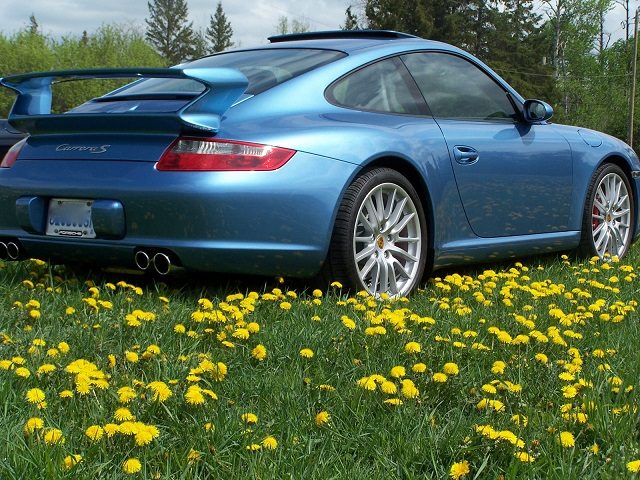 Year: 2006
Model: 911 Carrera S Club Coupe
Engine: 3.8 liter flat-6
Transmission: 6-speed manual
Mileage: 3,044 mi
Price: $230,000 Buy It Now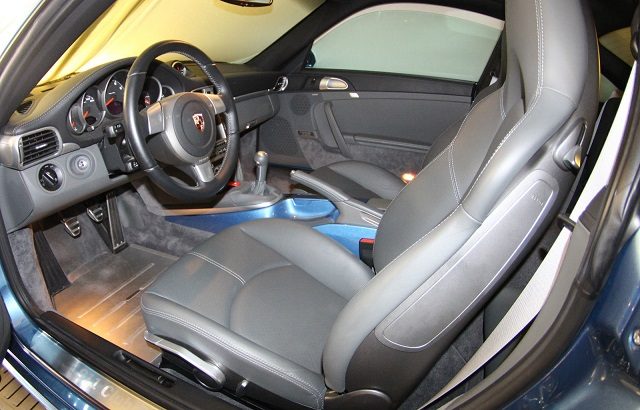 2006 Porsche 911 Carrera S Club Coupe
Number 39 of 50 Produced

Price: $230,000.00 USD

—————

Year: 2006
Model: 911 Carrera S Club Coupe
Body Style: Coupe
Milage: 3044 Original Miles
Transmission: Manual
Condition: Used, like-new Condition
Location: Ontario, Canada
Exterior Colour: Azurro Blue
Interior Colour: Stone Grey & Black Factory Two Tone Interior
Vin Number: WP0AB29916S745039
Fuel Efficiency Rating – City: 16
Fuel Efficiency Rating – Highway: 24 (Actual rating will vary with driving options, driving habits, etc)

This 2006 Porsche 911 Club Coupe is number 39 out of 50 made.

This car has been stored in a climate controlled glass box that was specifically made in the garage for the car, hidden from sunlight and any elements, stored under its cover and on tire cradles to prevent the original tires uneven tire wear from storage. While in storage, the car has a constant battery charge on the original battery. This car has never seen rain, let alone a cloudy day. This car has every service record and document since it was ordered in 2005. It is meticulously clean.

In recognition of the 50th Anniversary of the Porsche Club of America, Porsche created an exclusive distinctive colour, unique interior styling and commemorative touches, and a more powerful and higher performing engine. Limited to an exclusive run of just 50 cars initially made available to PCA members.

The first production model of this vehicle was returned to the Porsche Museum in Germany and one lucky PCA member won the 15th model in a sweepstakes drawing. The remaining 48 models were offered to randomly chosen PCA members who applied to purchase this extremely rare car. The Porsche 911 Club Coupe, which was available only in the unique Azzuro California colour, comes equipped with a more powerful 381hp engine with the X51 Power Kit. Other features unique to this special model include a vehicle identification number (VIN) which ends with the production number and special commemorative badges and door sills which adorn the interior. Additional exclusive options were available to customers and this one has the Aero kit Other exclusive options include Storage Compartment Lid with Model Logo and the Porsche Crest in the Headrests.

The 911 Club Coupe's most visual exterior feature is its distinguishing Azzuro California Blue colour. This paint colour is a modern interoperation of azure blue, a colour mode popular on Porsche 356 sports cars when the PCA was founded 50 years ago. The rear portion of the standard centre console and the rear of the drivers and passenger seats is also painted in Azurro California.

In addition to the sport series seats, the 911 Club Coupe's standard interior features include black instrument dials and a sort steer in wheel and gear shifter. Stainless steel door sills incorporate the 911 Club Coupe logo, and each car bears a badge on the drivers side door trim indicating its individual number in the series of 50 cars. The interior also features the Sport Chrono Package Plus which enhances vehicle performance through a system that simultaneously alters elements of chassis, engine, and transmission. In addition to the ability to take performance to new heights, the Sport Chrono Package equips the vehicle with performance display, digital and analog stopwatches, and the Sport Plus button.

The Club Coupe was the first in the current generation of Porsche 911 Sports cars to be equipped with the X51 Powerkit. This feature increases the output of the 3.8L, flat six cylinder Carrera S engine from 355hp to 381hp and peak torque from 295 to 306 ft. lbs., making it, at the time, the most powerful non-turbocharged engine offered in a Porsche 911 production car in North America. Distinguished by its carbon finer air cleaner housing, the X51 Powerkit boots performance through a series of engine enhancements including a larger throttle body, optimized intake airflow, cylinder heads and exhaust manifold modifications, changes in the control unit, and the inclusion of a sport exhaust system. The result produces a 0-60 mph time of 4.4 seconds, and a top track speed of 186mph.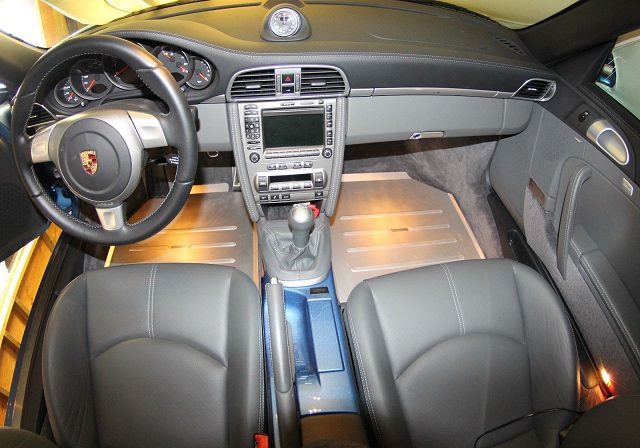 The Clue Coupe was produced to celebrate the 50th anniversary of the Porsche Club of North America. Now, you might be thinking: didn't Porsche just release a special edition Club Coupe in commemoration of the PCNA? They did! That was for the 60th anniversary. Look for the next one in 2026. The 50 year version came with a variety of cosmetic enhancements to set it apart from every other 911: the exterior came only in Azurro California – a lovely shade of light blue metallic that reminds me of Iris Blue from the '80s – and the interior came in Stone Grey leather with sport seats and the center console painted to match the exterior. It's a really nice color combination that appears to show well in a variety of lighting conditions. Unlike some of the earlier commemorative editions the Club also came with a bit more power in the guise of the X51 powerkit. Not too bad all around.
This particular Club Coupe has been pampered somewhat beyond reason and basically hermetically sealed in a glass box. Though it appears the owner has been gracious enough to allow it the freedom to romp around among some flowers every now and again. Very nice. Is it worth $230,000? I'd be very surprised. I suppose my interest lies in where it actually sells. I'm sure it's one of the better examples out there given that it is more or less unused, but the buyer of this car will have to care for it under similar white glove conditions. Where's the fun in that?
-Rob