Growing up, my father drove a green 1967 Volkswagen Beetle, one in a series of the original "people's car" that he owned. He sold it for a brand new 1987 Volkswagen Golf GT, but even almost 25 years later, I have lingering memories of the air cooled engine clatter and simplistic mechanicals. That's not to say I was ever a huge fan of the original Beetle. While I don't hate it as much as the presenters of Top Gear, they never lit my fire, either. Until I spotted this one on eBay this week. There are certain cars I come across that have just the right color/wheel/trim combinations and this is a perfect example of one. A 1967 Beetle with the famed "Cal Look."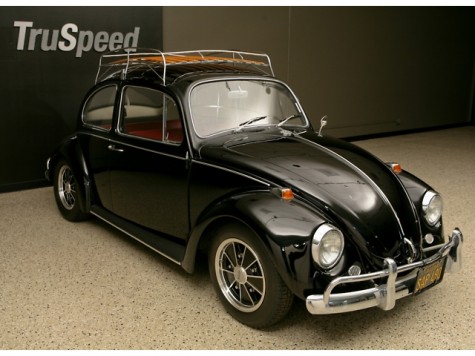 If you were to look for a classic VW Beetle to collect or enjoy the 1967 is the year to look for. It's the last year of the small bumper and the first year of the 12 volt system. This is a very well documented car, a California car all along. You could not restore the car for the asking price, the receipts far exceed that. Looking at this car there isn't anything you would want to change, it's done with the utmost skill and taste. It's easy to assume that these are the future collectable cars that are going to escalate in value.
I'm not sure I agree with the seller that the price of classic Beetles will escalate in value any time soon, especially given the economic conditions. Also, at almost $25,000, you have to really love classic Volkswagens to seriously consider purchasing this. With the California black plates, the EMPI style wheels, the roof rack, this is one Bug I would love to have in my stable. But there's one big problem. At this price, there's something I'd rather have even more. A clean original or restored Mini Cooper S of the same vintage.
-Paul