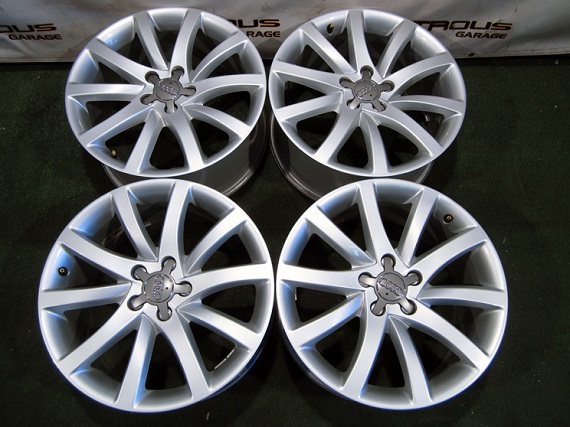 Time for another wheel roundup, and as I'm just in for winterizing the Audi and swapping the snow wheels onto the Subaru, I've got the chunky winter tires on my mind. Just because you're swapping on the winter duds doesn't mean you can't still be in style on a budget, and today I've got a few sets that look like a great deal. The Audi B8 wheels are awesome looking – factory wheels aren't the lightest, but they're well made, well finished and look great on a number of newer Audis. For only $650, this set with caps looks awesome. The Tiguan wheels are the only non-stock wheels here, being made by Sport Edition. It's a popular Tire Rack winter brand that looks reasonable and gets the job done. With few miles on that set of tires, it looks like an awesome deal at under $500. The Beetle wheels fit a bunch of the Mk.4/A3/TT models, and the brand new factory wheels and new tires mounted for under $800 seems like money well spent. Then BMW wheels are a bit more pricey but look overall to be in good shape. Then there are the factory 8″ Mercedes wheels, off either a 500SL or 500E. With some chunky looking rubber and no reserve, at the current bid of $250 they're an absolute steal.
Price: $645
You are bidding on a set of 4 18″ Factory OEM Wheels For Audi A4. Front and rear 18×8. Wheels have a Nice Silver finish that looks great. Tires Are Not Included. Please Contact Us If You Need Tires For These Wheels.

CALL THE SHOP PRIOR FOR DETAILS. (909) 784-1766

This set of wheels is pre-owned. As the pictures show they are in great condition however. 4 center caps will be included.

Fitment:

2008+ Audi A4

PLEASE BE ADVISED – Because these wheels are USED, they may have some cosmetic scratches, dings or chips in the finish. HOWEVER, free of charge prior to shipping we make a BEST EFFORT to fix MOST of these imperfections as BEST as possible. We've been doing this for 10+ years and have very high positive feedback for mostly used wheels. BY BIDDING OR BUYING THIS ITEM, YOU AGREE TO AND UNDERSTAND THESE CONDITIONS.

No TPMS With These Wheels. If Your Car Has TPMS Then They Can Be Transferred Over By Any Tire Shop.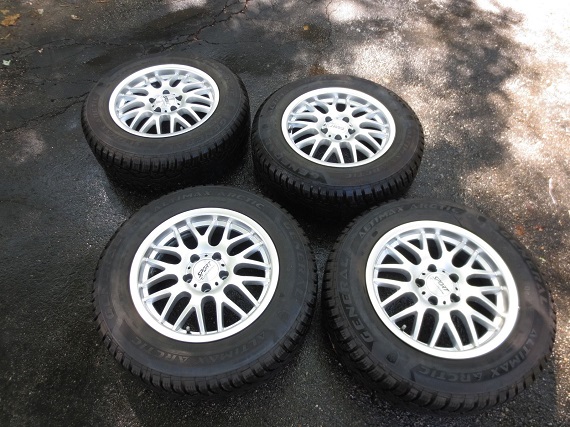 Price: $425
Up for sale is a set of 4 very gently used (less than 1000 miles) snow wheels and tires that I purchased for our now sold 2009 VW Tiguan SE. These may fit other vehicles, but buyer is responsible for researching proper fitment. I purchased the set in 2011 from Tire Rack and the details are as follows:

-16X7.5 5×112 ET35 Sport Edition CE wheels with centering rings
-215/65R-16 General Altimax Arctic Tires
-No TPMS sensors
-Used for 2 winters, but only approximately 800 miles (Tread depth 12/32)
-Stored indoors during the warmer months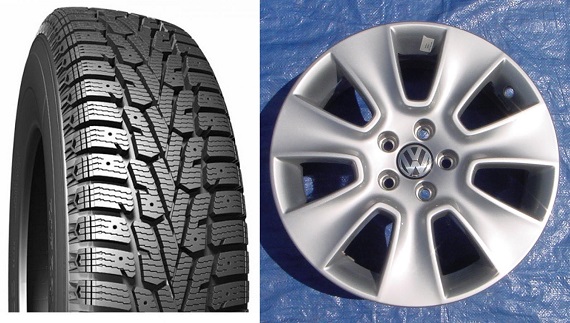 Price: $759
Set of 4 Factory Volkswagen Beetle alloy wheels with new Winter Tires. Mounted and balanced and ready to bolt on. See full vehicle fitment list below. [click to see more photos]
Set of factory OEM VW wheels with brand new Snow tires.
This buy it now price if for the following:

Set of 4 factory OEM 16″ VW Beetle alloy wheels. VW calls this wheel style "Mali". The wheels are new takeoffs (factory wheels that were removed from new cars for dealer upgrades) and are in excellent condition.
Set of 4 205/55r16 Nexen Winspike snow tires. The tires are brand new.
Wheels and tires are mounted and balanced and ready to bolt right on.
4 VW center caps, as shown

Please note:

Tire pressure sensors are not included, but are available for $80/set installed.
Lug-bolts are not included, but are available for $30/set. Your original lugbolts will work with these wheels.
Other tires are available.

A partial list of other available snow tires:

205/55r16 Firestone Winterforce
205/55r16 Firestone Winterforce STUDDED
205/55r16 Bridgestone Blizzak WS80
205/55r16 Nokian Hakkapeliitta R2 premium studless ice and snow tire
205/55r16 Nordman 5 value priced Nokian snow tire
205/55r16 Nordman 5 STUDDED
205/55r16 Nokian Hakkapeliitta 8 premium STUDDED snow tire

These wheels and tires will fit the following vehicles:

New Beetle – 1998-2010 (sorry, the 2012+ Beetle has a different bolt pattern)
Jetta – 1999-2004
Golf – 1999-2004
GTi – 1999-2004
Dodge/Chrysler PT Cruiser – all years
Pontiac Sunfire – all years
Pontiac Grand Am – 1992-1998

Please note: These wheels will also fit the 2005 old body style Jettas, Golfs and GTi's. With shorter tires, these wheels will also fit the 6-cylinder Jettas and Golfs from 1992-1998. Email for details and prices.

Wheel dimensions: 16″ x 6.5″
Offset: 42 mm
Bolt pattern: 5 bolts on 100 mm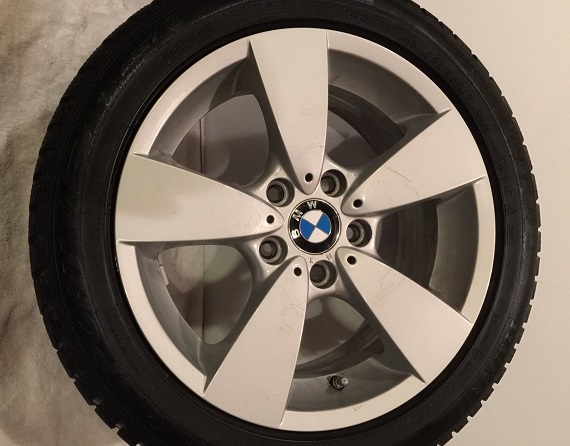 Price: $899
A VERY NICE SET OF 17″ factory wheels with tpms and snow tires(p225/50r17) run flat snow tires. They are Dunlop winter sports with 8/32 tread on the tires
Price: No Reserve Auction
You are viewing a set of 4 tires and wheels that are off of a 1992 Mercedes Benz 500 Series.
Wheels are Factory and Tires are made by Nokian.
Size – 23560R16 104R XL
Email any questions.
-Carter