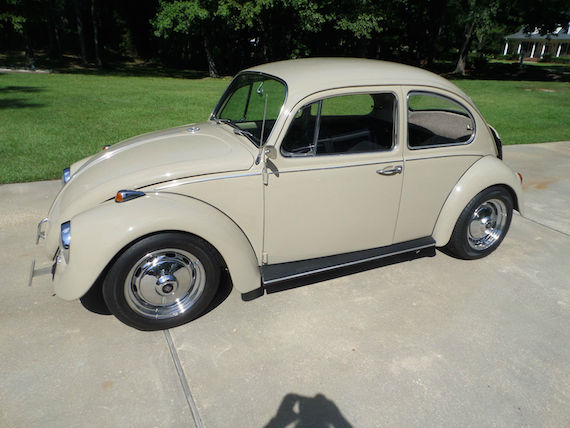 During the first few years of my life, there were two cars in my parents' garage. My mother's 1978 Fiat 131 2-door and my father's commuter workhorse, a 1967 Volkswagen Beetle. This was a big year for the venerable People's Car, with a number of upgrades on tap. For starters, a new 12 volt electrical system replaced the old 6 volt system. A larger engine with more horsepower could be found under the hood and a few refinements such as rear backup lights, two speed wipers and a external passenger side mirror were included. If one looked closely, they would notice a slightly different face on the Bug, with sealed beam headlamps to meet ever tightening US regulations.
The green 1967 Beetle I grew up with wasn't my father's first Bug, nor was it his first 1967 model. He was a fan of this model year and often waxes poetic about the '67 Beetle he had when he was a bachelor, with a bored out engine, painted white with the chrome trim blacked out. It was a purposeful looking little thing, but sadly after he got married and moved to San Francisco, that locale wasn't the best place for my mother to learn how to drive a manual gearbox. I'd like to think if he had to do it all over, a 1967 Bug like this one for sale in South Carolina would be at the top of the list.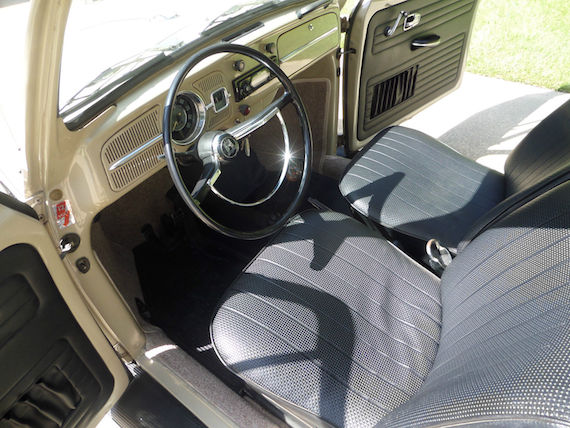 Year: 1967
Model: Beetle
Engine: 1.5 liter flat-4
Transmission: 4-speed manual
Mileage: 77,425 mi
Price: No reserve auction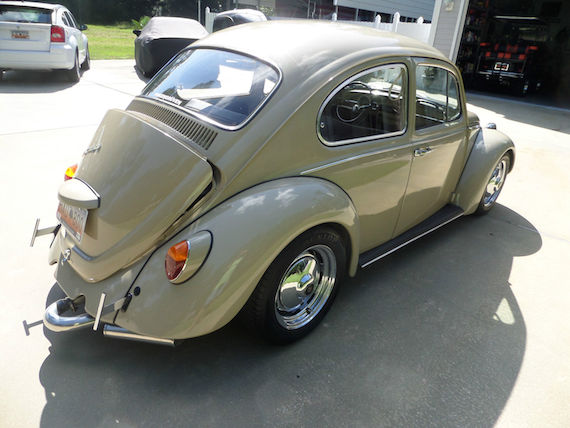 Up for your consideration is a 1967 VW Beetle. This car is a classic show car. I am selling this for a friend and I have been around this car for 3 years. I can answer any questions you may have. This car has a new paint job on it. New seats, front and rear. It has a totally rebuilt engine with only 4000 miles on it. It has been beefed up to over 150 HP. There is no rust on the car. The engine has been rebuilt from the Crankshaft to the fuel line. This baby is fast for a VW. Runs perfect and sounds great with the new exhaust. Has a new Sony stereo system with CD player. Also speakers mounted in boxes at the rear of the car giving it awesome sound. Up – graded transmission done by Rancho Performance Trans axles. Gear ratio 4-12. They are out of California where this car spent all of it's life in a garage. The rims look great on this car with new rubber. It also comes with 2 new tires and matching rims as well as the original Jack. Please see photo's. This is a true classic beauty that has been lowered for appearance. You could drive it everyday of take it to shows. A real head turner. Every thing on this bug works as it should so bid with confidence. I will be glad to answer any questions you may have. I can be reached @843-997-7378. Please if you don't have any feedback on your eBay account or negative feedback don't waist your time bidding. Serious bidders only. This will be a great addition to your collection of cars or your first classic. She is beautiful. Thanks for looking, Alan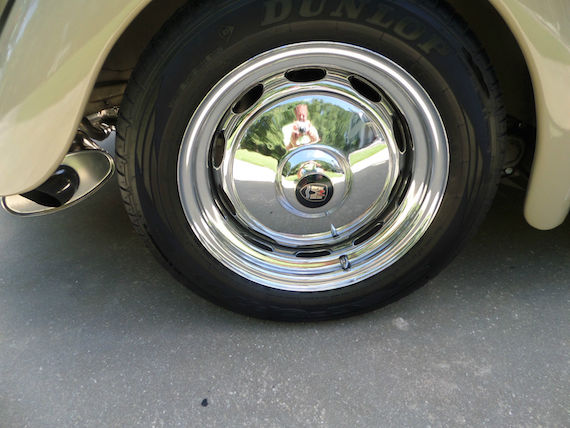 Like a hot rod from the 1930s, there's plenty of ways to modify a vintage Bug. This one really suits my tastes. The color may be a bit drab, but I think it suits the understated nature of this build. The Porsche-esque hubcaps with the Wolfsburg crest, propped open engine cover and deletion of the bumpers add up to give this one a nice Cal-look without being too overstated. A stock 1967 Beetle in show condition can pull $20,000 and upwards these days. I'd suspect with the modifications, we're probably somewhere in the $17,000 to $22,000 range. There a bit of bidding interest already, so I'll be curious to see where the classic modified Beetle is hovering at the moment.
-Paul