Like any good car fans, we love the Mk1 GTI. And what makes cars better? Turbos. Aaron posted a Callaway Turbo GTI earlier this year that Brian revisited after it got a great repaint. At $14,500, it was a bit extreme. Today, however, we have a recently-restored Callaway GTI that has recently acquired some beefy implants to the fenders. The seller leaves a bit to be desired with the description, but the basic arithmetic adds up: amazing driver's car + quality turbo + beefy looks = fun. Add a much more reasonable price (5 bids are up to a reserve-off $4,600) and this could be a solid buy.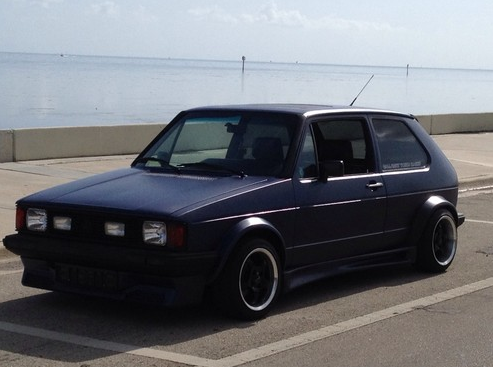 From the seller:
I have a rare 1984 Callaway Turbo VW Rabbit GTI for auction. It runs and drives great. it has just gone through a resto. It has neuspeed sway bars front and rear. upper and lower front and rear strut braces by eurosport, Miller-woods microfueler,Peloquin's Differential, complete rebuilt engine and head was ported and polished with 3 angle valve job,Audi 5000 WUR, new injectors,, new water pump, ABA alternator conversion, corrado G60 Metal headgasket, Tial EVO Wastegate, complete respray of the car inside and out(interior and trim all removed), widebody kit, Hella Grille, B&G coilover kit, Rims are Borbet Type T, 14-7″ Front, 14-8″ Rear, under carriage was re-under coated, turbo rebuilt, poly all over, Buschur Racing battery and battery relocation kit, Rare VWMS Steeringwheel. This is from what I can remember. also included in the sale will be all my spare VW parts and Rial Mesh Rims w/Tires.

I have every receipt from the Resto and alot of callaway literature.
The Car also won 3 awards at DUBJAM 2010 which will go with the car.
Personally, I'd see this as a good starting point rather than a finished car, though someone else may like it as is. I really like the fenders and wild plaid headliner. The quad-rectangle grill is an interesting take, but a car this cool deserves some more tasteful side skirts and a paintjob that doesn't look like primer. Much more information is also needed on the mechanicals before a purchase is made. Nitpicks aside, this looks like a well-priced and unique take on a Callaway GTI that could quickly be made awesome.
-NR