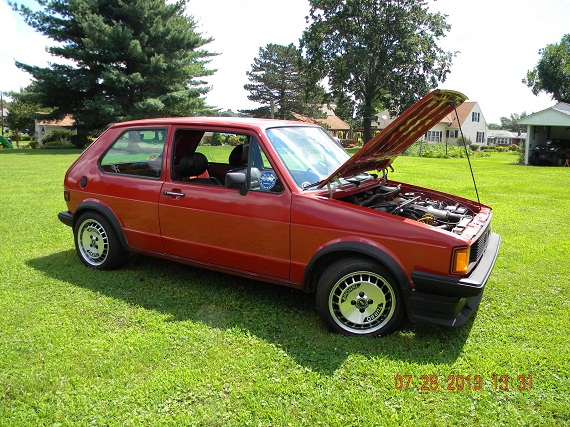 As Yogi Berra once famously said, "It's like deja-vous all over again". What are the odds of two 1983 Volkswagen GTi Callaway Turbos coming up for sale within a week of each other 30 years later? Not good. But perhaps it's time to play the lottery, because here we go again! If last week's stunning $17,750 1983 GTi wasn't the right color to peak your interest, perhaps today's example can color you a bit more red. Today's example is not nearly as pristine as the earlier example with the best part of ten times the miles, but it still looks like a pretty slick package overall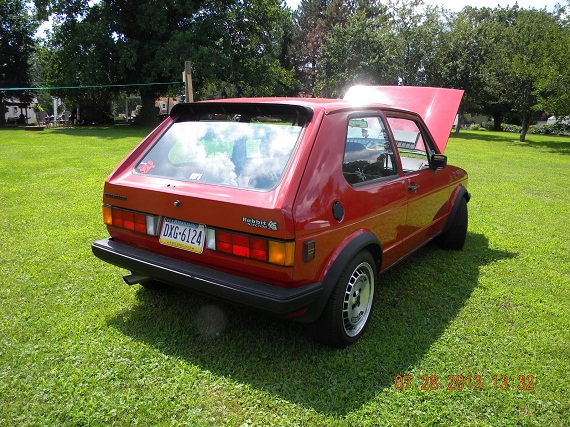 Year: 1983
Model: GTi
Engine: 1.8 liter turbocharged inline-4
Transmission: 5-speed manual
Mileage: 156,103 mi
Price: Reserve Auction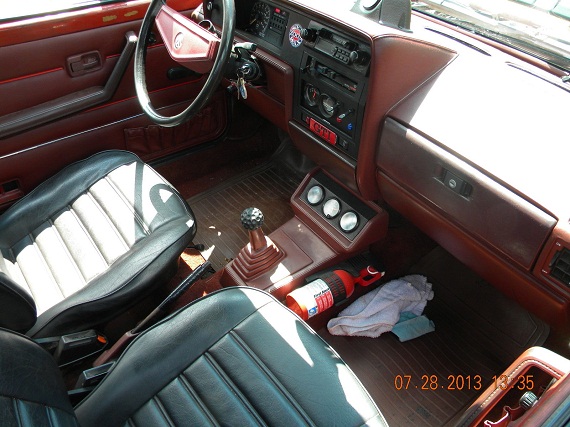 VOLKSWAGEN RABBIT GTI 1983 WITH CALLAWAY TURBO

UP FOR SALE IS MY 1983 RABBIT GTI…1.8 8 VALVE WITH 2H CLOSE RATIO 5 SPEED TRANSMISSION..MOTOR WAS COMPLETELY REBUILT ABOUT 10YRS. AGO…AT THIS TIME MOTOR MAY HAVE ONLY 3500 MILES, THE TRANSMISSION WAS REBUILT AND HAD HEAVY DUTY RING GEAR BOLTS INSTALLED BY THE PREVIOUS OWNER..(TRANSMISSION MAY HAVE 5K MILES) IF THAT…

NEW PARTS THAT WHERE PUT ON AT TIME OF ENGINE REBUILD… ARP HEAD STUDS..ARP BOLTS IN BOTTOM END..COPPER HEAD GASKET..OIL PUMP..WINDAGE TRAY..REBUILT CALLAWAY TURBO.. TECHTONICS ADJUSTABLE CAM GEAR..CYL HEAD WAS RESURFACED AND NEW VALVE SEALS WHERE PUT IN..K N AIR FILTER..SACHS STRUT INSERTS..FEBI STRUT CAPS..WITH NEUSPEED FRONT AND REAR SPRINGS, REAR STRUTS ARE KONI ADJUSTABLE ( THEY WHERE USED AND ON THE CAR WHEN I PURCHASED IT)..EUROSPORT UPPER AND LOWER STRUT BRACES..NEUSPEED REAR SWAY BAR..NEW FACTORY MOTOR MOUNTS..POLYURATHANE BUSHINGS IN FRONT CONTROL ARMS..NEW BALL JOINTS..WHEEL BEARINGS..HALF SHAFTS..CAR ALSO HAS POLYURATHANE BUSHINGS IN REAR AXLE THAT WHERE INSTALLED BY PREVIOUS OWNER..

NEW FACTORY VW DOOR PANELS..NEW FACTORY VW GRILL..MARKER LIGHTS..TAILLIGHTS..( FACTORY VOLKSWAGEN PARTS NOT JAPANESE JUNK) EUROPEAN BUMPERS FRONT AND REAR..

CUSTOM 2 1/4 EXHAUST WITH STAINLESS STEEL BORLA MUFFLER

15X7 TURBO RONAL WHEELS ( 2YRS., OLD IN MINT CONDITION)..195/50/15 TIRES..FRONTS HALF TO 3/4 TREAD..REAR NEAR NEW

USED PARTS INSTALLED INCLUED.. OLD SCHOOL FRONT SPOILER (VASTATEC)..IS THE NAME THAT'S ON THE SPOILER , I WAS TOLD THAT IT WAS AN AFTERMARKET KAMI SPOILER..

CAR ALSO HAS REAR KAMI SPOILER ON TRUNK LID..KAMI HOOD SCOOP..THE FRONT SEATS ARE OUT OF A 1975 A1 SCIROCCO..REAR SEAT IS FACTORY GTI RED..THE STEERING WHEEL IS FROM A 1980 RABBIT..HAS OIL PRESSURE GAUGE, BOOST GAUGE, AUTOMETER AIR/FUEL GAUGE, FACTORY VOLT GAUGE, CLOCK, CELS GAUGE IN FACTORY SHIFTER CONSOLE..AUTOMETER SHIFT LIGHT WAS INSTALLED ON THE STEERING COLUMN..

THIS A LIST OF STUFF THAT I KNOW THE CAR COULD USE..THE ODOMETER, TACHOMETER STOPPED WORKING ABOUT 2YRS., AGO..FRONT END NEEDS ALIGNED..HEAD LINER SAGS..NO REAR WIPER..MISSING CARPET IN TRUNK..ALSO MISSING PLASTIC SPEAKER TRAYS IN TRUNK..WINDSHEILD WASHER BOTTLE AND HOSES..MISSING PLASTIC ROCKER PLATE ON PASSENGER SIDE AND MISSING PLASTIC GRILL PIECES IN THE BOTTOM OF BOTH DOOR PANELS..THERE IS ALSO NO HEATER IN THE CAR..

WHEN I BOUGHT THE CAR IT WAS IN A MINOR FENDER BENDER AND WAS HIT LIGHTLY IN THE REAR..THAT WAS ALL FIXED..THAT IS THE ONLY ACCIDENTS THAT I KNOW OF THE CAR TO BE IN..

THE CAR IS IN MY OPINION IS IN ALMOST PERFECT ORIGINAL CONDITION.. THE ONLY NEW PAINT ON THE CAR IS ON THE REAR END..THIS CAR HAS BEEN GARAGE KEPT PRIOR TO ME BUYING IT AND SINCE I HAVE BOUGHT IT IN 2002, IT'S ONLY SEEN WATER WHEN IT WAS WASHED.. THE UNDERNEATH IS IN AWESOME CONDITION..INSPECTION EXPIRES THE END OF THIS MONTH..

THE REASON FOR ME SELLING THE CAR IS I DON'T HAVE THE TIME TO SPEND DRIVING IT.. I HOPE TO FIND SOMEONE WHO WILL LOVE THE CAR AND ENJOY IT AS MUCH AS I HAVE..

PLEASE LOOK AT ALL THE PICTURES AND ASK ANY QUESTION BEFORE BIDDING, IF YOU NEED ANOTHER PICTURE OF SOMETHING TAKEN PLEASE LET ME KNOW..THE LONGEST I'VE EVER DRIVEN THE CAR WAS MAYBE 100MILES TO A SHOW AND I DIDN'T HAVE ANY PROBLEMS..

I'M SURE THERE ARE THINGS THAT I'VE FORGOTTEN DO TO NOT HAVING THE TIME TO DRIVE THE CAR MUCH THEREFORE IF IT WAS ME BUYING THE CAR AND KNOWING THAT IT HAS NOT BEEN DRIVEN MUCH IN THE PAST COUPLE YEARS PERSONALLY I WOULD PUT IT ON A TRAILER OR TOW IT…WILL NOT SHIP.. NO RETURNS..CAR IS SOLD AS IS WITH NO WARRENTY..

PLEASE EMAIL ME WITH ANY QUESTIONS, THIS CAR IS IN AWESOME SHAPE..ITS NOT BEEN IN A MAGAZINE, AND CALLAWAY DID NOT INSTALL THE TURBO KIT BUT IT IS ONE OF THE CLEANEST RABBIT GTI`S I EVER SEEN, I HAVE WORKED ON THESE FOR 19 YEARS….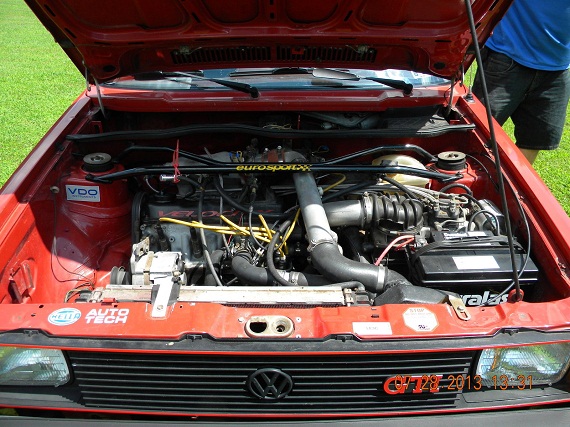 Holy "Caps Lock", Batman. This car has some obvious needs compared with the other two GTis we've featured in the past week. There are pieces missing, the steering wheel and front seats aren't correct, the rear spoiler isn't original but looks clean (similar to the Mk.2 design), and it appears that the interior overall could use a good cleaning. It's not the cleanest build I've seen, but overall presents pretty well and crucially the floors look to be pretty solid, so it could be a great starting point to either further modify or revert the car towards a more-stock state. One thing I'm not a huge fan of is the wheels; I'd probably try to get some of the larger Fifteen52 snowflake replicas on there, or perhaps some BBS RA wheels. Get a set of period Recaros, a GTi steering wheel and some odds and ends, and I bet this is a fun car to drive!
Here are some wheels I found on Ebay: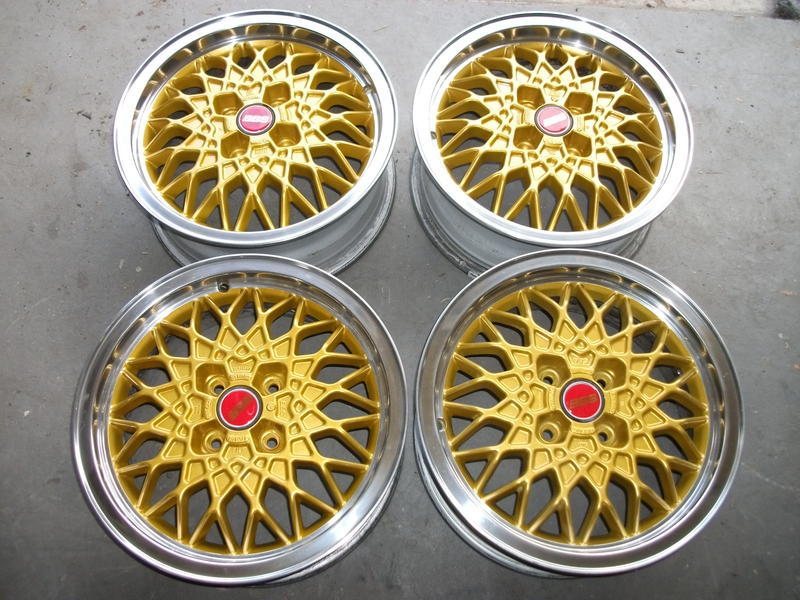 And some seats from a later GTi which could probably work with some modification: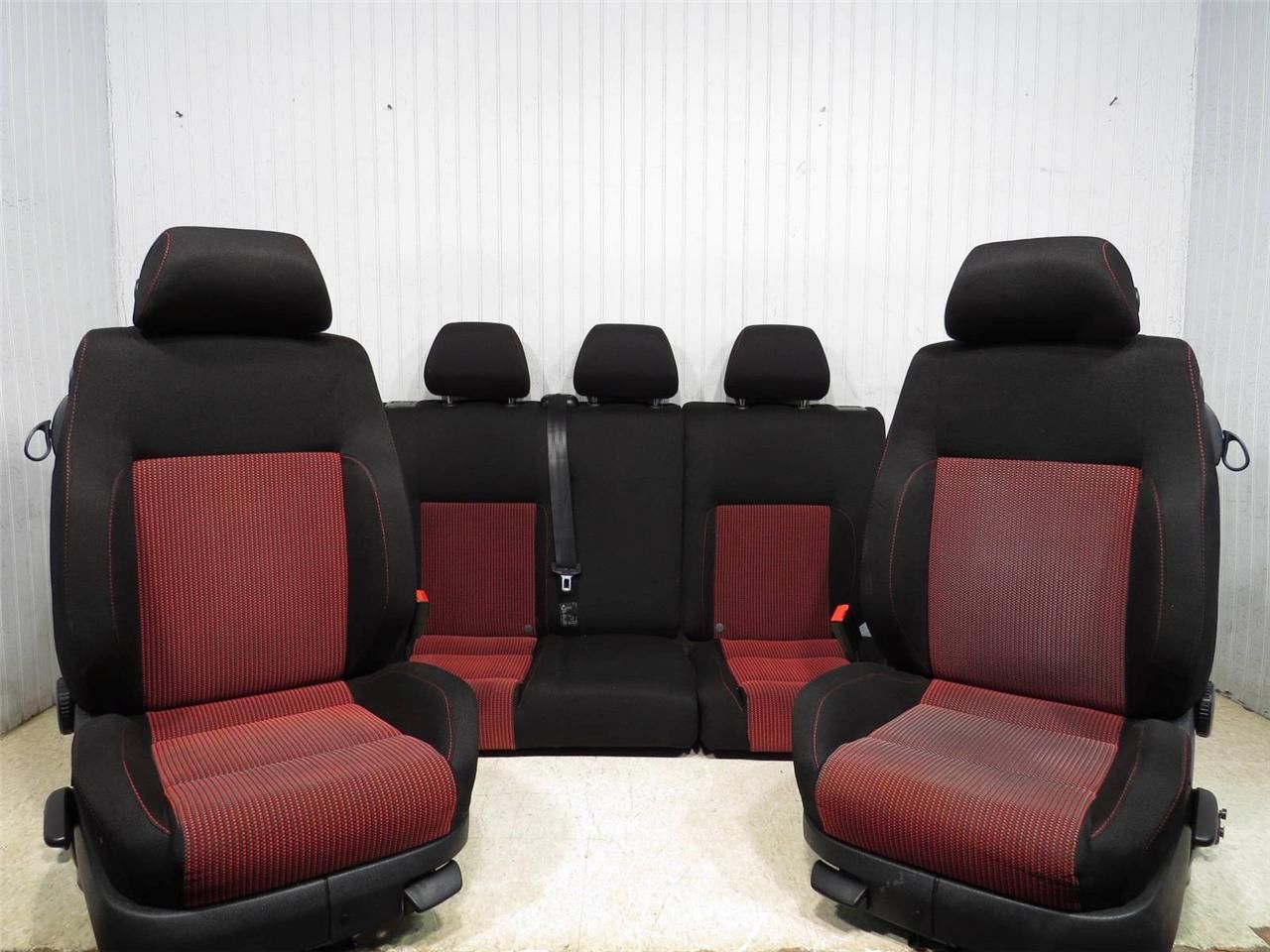 Pricing is no reserve, so we'll have to see where it ends up, but my guess is like the 1984 Barn Find GTi a few days ago it should end in the $5,000 – $7,000 range.
-Carter