The predecessor to the modern A8 luxury sedan, the V8 Quattro was Audi's answer to the BMW 7-series, and the Mercedes-Benz S-class. The Audi V8 was purpose built to be the 'flagship' offering for Audi, and served to elevate the image of Audi to that of a serious luxury contender.
With top of the line amenities, and V8 power this well preserved 1990 V8 Quattro is a pristine example of the gentleman's sedan.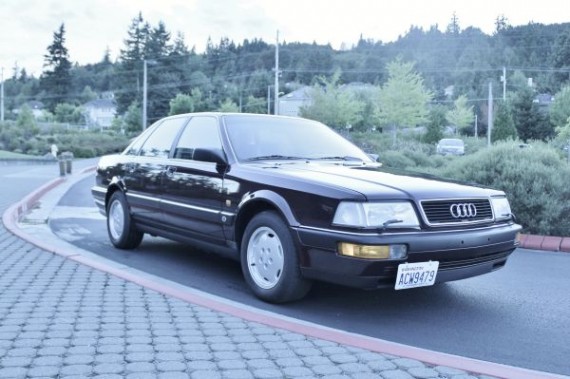 This is an opportunity to own a rare Audi V8 Quattro. This car is unique because it is over 22 years old but still looks and drives like it is brand new. This car only has 34,800 miles on it! I am the second owner of the car and have taken excellent care of it. This car has been dealer serviced its entire existence and I have the records to show it. The car had a complete timing belt service done about 5k miles ago at the local Audi dealer. The car also got new tires all around 5k miles ago. This car is very powerful and is comfortable and quiet. With the legendary Quattro all wheel drive this car is extremely stable in any road condition. You will never again be stranded when it snows it Seattle. Last winter I drove it through 8 inches of snow and the car never lost traction. The car had a professional exterior detail 3 months ago so the paint shines like new. There are not any dents on any part of the body. The engine purrs and doesn't leak a drop of any fluid. I would like to see this vehicle go to an Audi enthusiast who will continue to take excellent care of this vehicle. With the extremely low mileage and recent timing belt service this car could be a reliable vehicle for many more years.
Call, Email, or Text 206-227-4759
These cars are the definition of a tank for the roads. The combination of V8 power, Quattro AWD, and an almost 2 ton curb weight, there was little that mother nature could throw at it that would phase it. The rarity and relative obscurity of these cars means that you hardly ever see them around, they just were never as popular as their German counterparts. These cars are valued in the $5,500 to $6,000 range making the $8,500 asking price tough to swallow, but in this condition, with such low miles, a premium must be paid. If this car were in the $7500 range, I'd be more apt to buy, and if it were the rare 5 speed, I'd already be on a plane.
-Brian