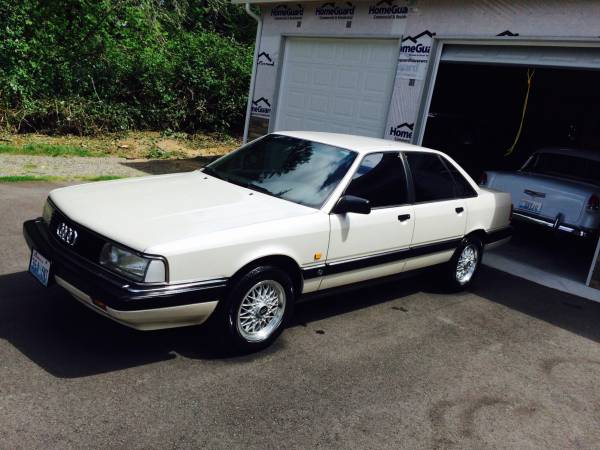 For the best part of two decades, Audi's signature color was one of its most expensive options. On some models, in fact, Pearlescent White Metallic was the only optional extra you could select. From the original Quattro to the top tier S8, Audi bathed its most expensive models in the multi-stage dynamic paint color. As with most used older Audis, they're all fairly affordable and offer – generally each in their own way – good value for the initial investment they represent. If you want to maximize the amount of German car you get for your money, look no further. Today I've arranged to look at a series of them, ranging from nearly the beginning to the end of the run. Which is your favorite and why?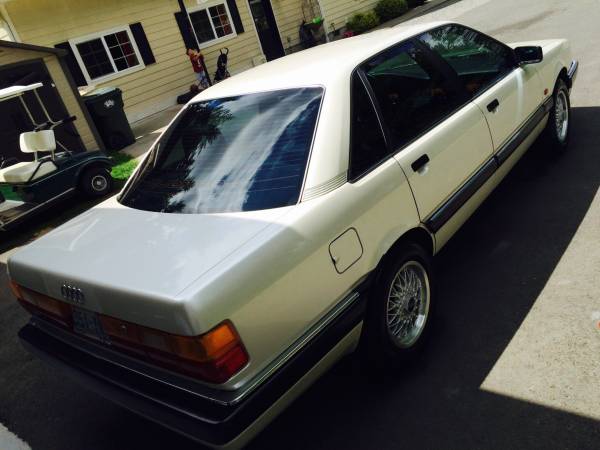 Year: 1991
Model: 200 quattro
Engine: 2.2 liter turbocharged inline-5
Transmission: 5-speed manual
Mileage: 188,000 mi
Price: $4,600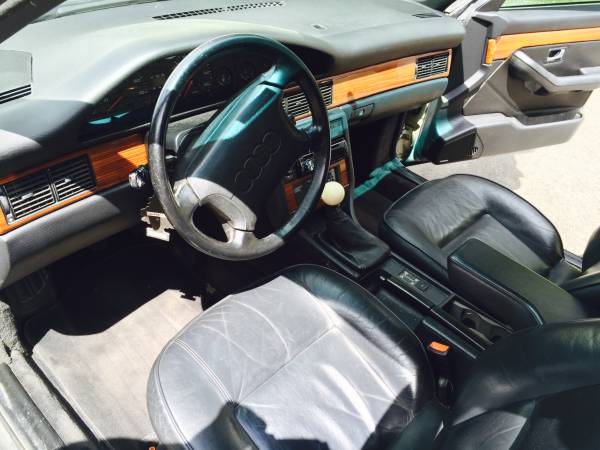 **Price Reduced** 1991 Audi 200tq (Turbo Quattro) 2.2l inline 5 cyl turbo 20v. Extremely rare option, only 1,000 of these sedans and 200 Avants were shipped to North America in 1991.

Car is in immaculate condition. 188k miles on the 20v 2.2l. These are 300k engines, same engine as the UrS4. Manual transmission, black leather is flawless. You will not find a cleaner example of this car. This is a rare piece of Audi history. Locally owned and serviced, all records kept. I am the second owner.

Willing to trade for Jeep Wrangler, prefer a YJ (87-95).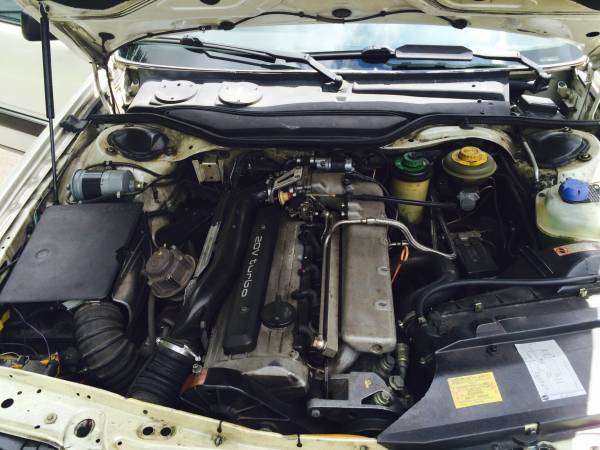 Not much information is provided mechanically about this car, and these fairly complicated top-tier sedans from Audi can have a habit of nickle and thousand-dollaring you to death if not properly maintained. However, this example does appear to be one of the nicest that has popped on the market in recent memory. Generally, a tell-tale for how the exterior of the car was cared for are the forged BBS RG 15×7.5 wheels specific to the 200 and 91-up V8, which require constant cleaning to look good. The clearcoated, machined outer lip, if left unattended for any length of time, will fail and oxidize – but these are shiny and look near perfect from the provided photos. That level of care seems to continue in the interior, where the typically tired leather looks fresh and supple in the photos. Additionally, it looks to me as though the car has European headlights installed, generally considered another sign of more careful ownership and necessary if you enjoy driving older Audis after dusk. All in all, even if this car had some minor mechanical or electrical faults it still looks well bought at $4,600.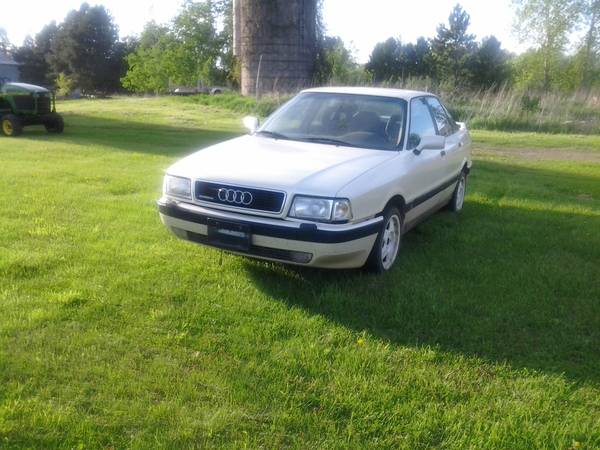 Year: 1990
Model: 90 quattro 20V
Engine: 2.3 liter inline-5
Transmission: 5-speed manual
Mileage: 212,000 mi
Price: $3,500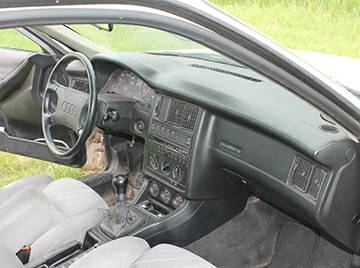 1990 Audi 90 Quattro
2.3 liter inline 5 cyl. 20 valve
5 speed manual with differential lock.
All new ignition, coil,plugs,wires and cap
July 2014 installed new 034 motorsports fuel injectors
Comes with a set of very good General Arctics 15 inch
Recent timing belt
All fluids changed
Flow Pro exhaust
Runs very strong 3500.00 o.b.o
New Interstate battery
New Bosch starter

do NOT contact me with u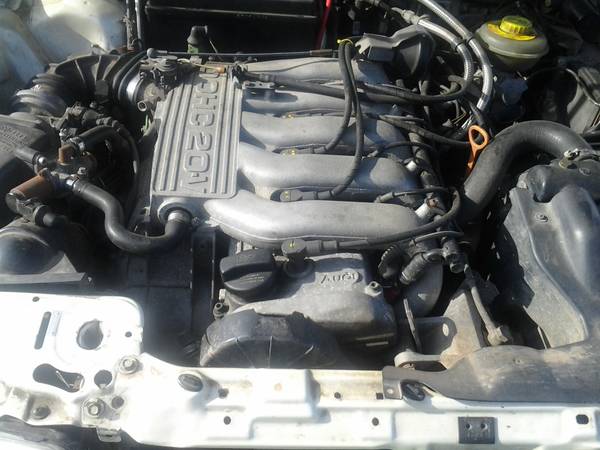 These 90 quattro 20Vs are one of the rarest Audis from the period; any of the B3 chassis 20Vs are rare, but less sedans were sold than their Coupe counterparts. While mechanically they are effectively identical, the sedan had smaller brakes and specific wheels – 14″x6″ BBS RZ wheels like the normal 80/90 quattro, or ET45 offset 15″ Speedlines if you optioned the sport package. Although the original wheels are gone and replaced by the later Ronal sport package 15×7, ET37 wheels found on the 90 Sport, quattro Sport and Cabriolet, the Jacquard quattro-script seats are generally associated with the sport model. Condition overall seems to be pretty good, this example having undergone a B4 hood transformation which updates the look slightly. While not the best or lowest mile 90 quattro 20V that has popped on the market, it seems pretty appropriately priced at $3,500. I'm not sure that history will ever look back at these 90s are particularly collectable, but those that have owned them absolutely love them. As it's been for sale for some time, I bet if you showed up with $3,000 cash you'd drive away with a neat old warhorse.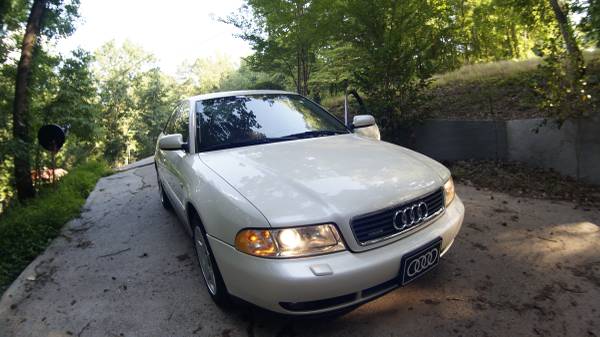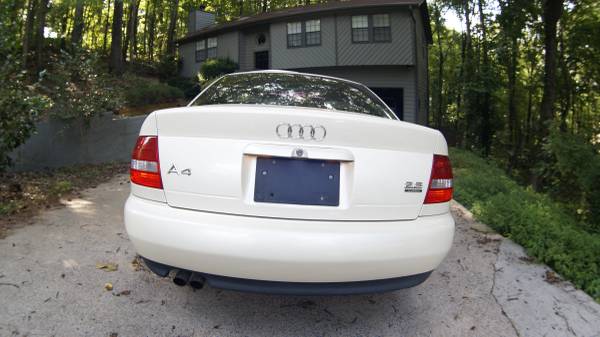 Year: 2001
Model: A4 quattro
Engine: 2.8 liter V6
Transmission: 5-speed automatic
Mileage: 140,000 mi
Price: $6,500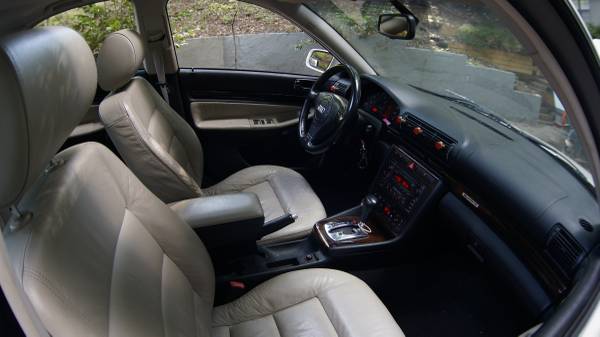 Title says it all. Affordable pearlescent foreign at its finest! 140k which is normal for age. Needs nothing. Oil service performed. Timing belt has been done. Tires and brakes are good. No leaks. Everything works. Turn key and GO. Has light blemish on left front of bumper otherwise body is 9 out of 10. Has tiptronic controls to shift from steering wheel, has xenon headlamps and heated seats. A/C is ice cold! Quattro all wheel drive. Drives strong and shifts smooth! You can't get closer to this without it being NEW! Original retail $38k, this was the best A4 you could buy at the time. Think of it as an over 80% discount! Garage kept, well maintained. Original owners manual and sticker price tag! Can't get better bang than this for your buck! Bought it for my wife but now she wants something different. Clean title on hand. Thanks for considering.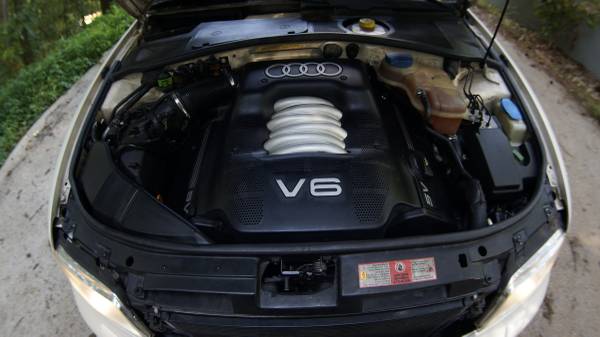 Not many consider the A4 a classic model, and certainly they're still quite plentiful in the market. But finding a clean, well maintained and all-original A4? That's a more difficult proposition. If Pearlescent White was selected as an option, you can bet it was a pretty heavily optioned example, and this 2001 is just that. Unfortunately, two options stand out that I find unfortunate for different reasons; the buyer selected the tiptronic option and didn't select the sport package. That robs this car of the real appeal of the B5 chassis, and while it's a lovely example with below average mileage in well above average condition, I think the seller will be hard pressed to find a buyer at their $6,500 asking price. That amount gets you into a much newer A4, or if you look you can find some nice S4s for about the same amount – though one in Pearl will be hard to come by.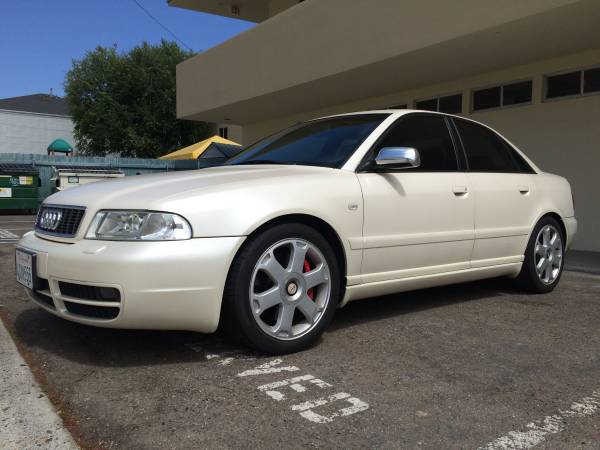 Year: 2001
Model: S4
Engine: 2.7 liter twin-turbocharged V6
Transmission: 6-speed manual
Mileage: 143,000 mi
Price: $9,000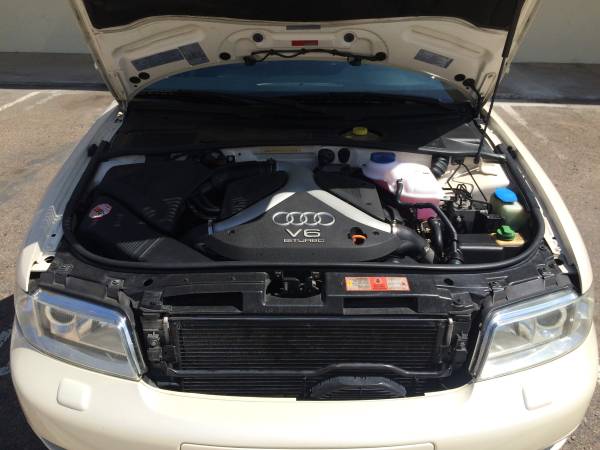 For sale is a 2001 Audi S4 with a 6 speed manual transmission. It is pearl white with black leather interior. This car is bone stock with a few minor upgrades. Never been chipped or abused. The current odometer reading is 143k. Averaged 22-23mpg for my commute. Clean California title on hand. Registration good through July 2016. Smog test complete May 2015. Located in San Diego. Mobile 0W-40 every 3k. Here is a run down of recent maintenance:

143k – Blauparts enhanced timing belt, water pump, thermostat, all camshaft seals(front+back), valve cover gaskets, aux water pump and hoses, intake gaskets, all pulleys, front crankshaft seal, snub mount, aux fan switch, fan controller, coolant temp sensor, lower and upper radiator hoses, thermostat hoses, serpentine belt, front drive shafts (outer boots), oil cooler upper and lower hoses, brake booster hose, new OEM spider hose, silicone F-hose, new coolant reservoir, new NGK plugs (gapped to OEM spec), new ignition coils, new side auto dimming mirrors, and a few other bells and whistles I am forgetting. The car will come with the stock radio. Call/text show contact info

Upgrades:
ST Coilovers
Slotted Rotors
Silicone F-hose
B6 Auto dimming compass rear view mirror
35% Tint
Sport all-weather mats
LED fog lights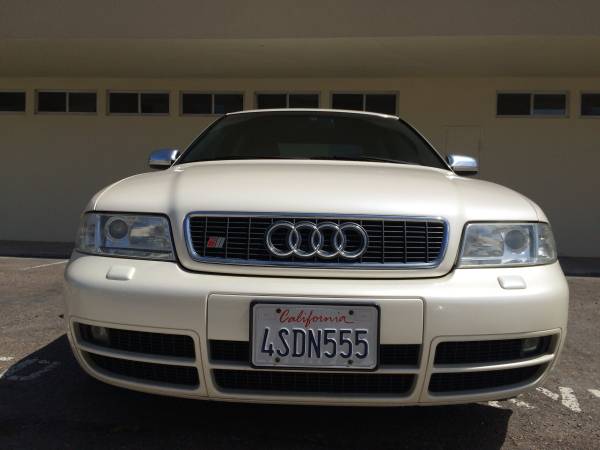 Just kidding, I found one. The market is warming slightly to the B5, especially considering that the natural replacement – the B6/7, now has the ominous threat of imminent explosion as soon as you turn the key. Of course, that's how most non-Audi owners view all Audis, so take that with a grain of salt. Will you pay more to maintain one of these complicated, twin-turbocharged and electrical dependent Audis than…say, a radio flyer wagon? Sure. But, this example has a large amount of the recent heavy lifting maintenance done with an engine refresh, and in mostly stock, original form it appears to be very nice overall. Is it worth a premium over the previous A4? Yes, you better believe it. You can find a S4 cheaper than this, but that doesn't necessarily make it a better proposition. This one is towards the top of the B5 S4 market, but it looks better than a majority of those that come up for sale and I like the mostly-original status.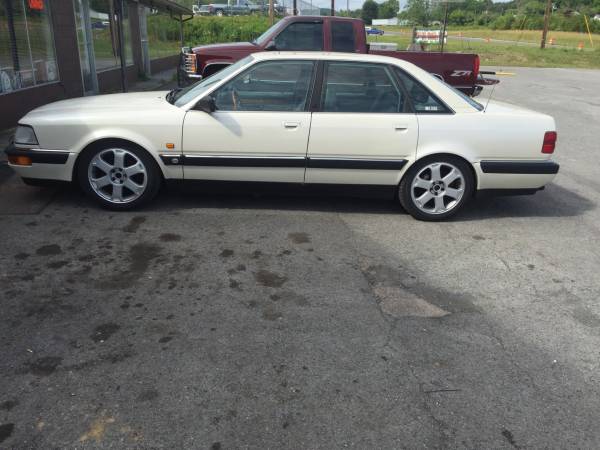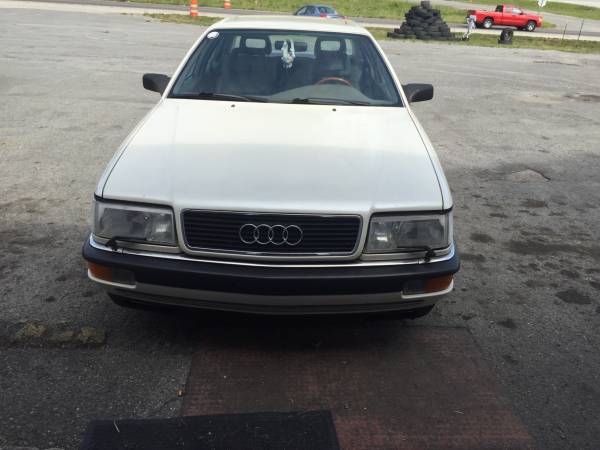 Year: 1992
Model: V8 quattro
Engine: 4.2 liter V8
Transmission: 4-speed automatic
Mileage: 171,000 mi
Price: $3,000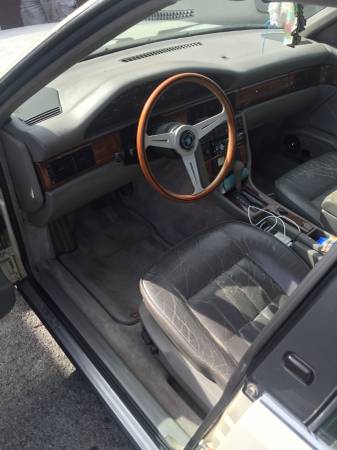 92 Audi v8 was owned by 129 euro so all maintenance has been up to date and done by an Audi certified tech
Shows 171xxx miles runs good drives good
Has adjustable suspension with custom welded in camber plates
Has borla exhaust with 3in tail pipe
Brand new tires on s4 wheels
Heated front and rear seats
Heat and ac work very good
for more info call or text
Looking to trade for a boat or jet ski
Any other info call or text show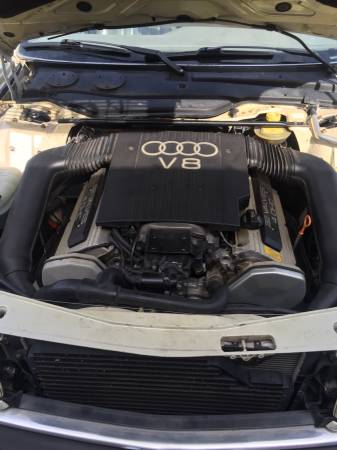 Having previously gone the cheap V8 quattro route, it's something that I would recommend only to people I really had it in for. However, this example does have some neat items if you'd like a modified V8 quattro – the camber plates and coilover suspension, for example give the car a much more sporty look than standard, and the 17″ Avus wheels – while the wrong offset for the model – are a popular look. The Borla exhaust should make the V8 sound pretty mean, and it's claimed to be in good mechanical and electrical shape. Put it this way – you can't buy a lesser example and make this car for less money. But, as with all V8 quattros, you're getting into a rat's nest of potential repairs, plus the Connolly leather never seems to age particularly well and this car sports what appears to be a Nardi wheel in place of the airbag. Perhaps it was crashed at some point and repaired or maybe they just changed the wheel, which often shows premature wear when non-black (as it would have been originally). $3,000 seems like a reasonable amount for this V8 that's been floating around a few owners for the past couple of years – just be ready to pay to fix it in the future, as no timing belt service is claimed and it should be due.
Which is the winner? For me, it's hard to look at any of these options as a better value than the first listed 200. While it's priced in the middle, the originality coupled with a desirable and upgradable chassis are married with excellent condition at a reasonable price point. Classic Audis aren't currently much of an investment outside of some really special examples, but to me that's a car you could buy, drive and enjoy and if your mood changed in a few years get your money back or even a slight return on investment if properly cared for. Which is your favorite?
Thanks to our reader John for the V8 quattro spot!
-Carter