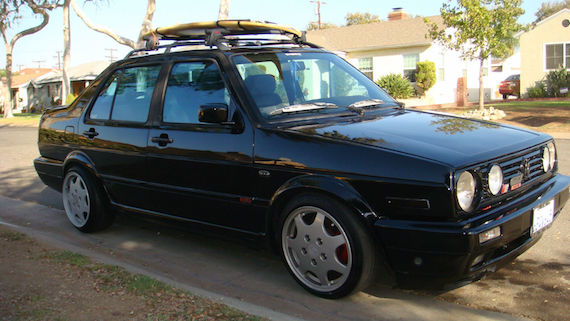 Many of us car fiends rationalize the purchase of an older car in need of work by repeatedly telling ourselves that we're saving a piece of history from the crusher – keeping a worthy example of automotive art on the road for all to enjoy. I'm certainly guilty of this myself and will continue feeding myself these lines as long as I can, even as the devil's advocate says that no one cares about your silly old car and you're sinking good money into a project that would be better spent elsewhere – perhaps even just on a nicer example of the exact same car.
But, as I said, I'm still a believer, and appreciate that this seller took a beat example of a cool car – the Mk2 Jetta GLI definitely counts as a worthy entry in the book of notable German special-edition sedans – and worked hard to bring it back to life. The salvage title means it will never sell for market value, but the seller clearly knows his VWs (note the collection in the background of the pics) and he put some serious time and energy into making this a decent car. Nothing here is perfect, but a lot of it is really cool. Quad headlamps – check (but that S4 badge – booooo). Porsche 928 wheels – check (but "stretched" tires – lame). Decent roof rack – check (but permanently mounted?! What'd you do?).
On the path of keeping misfit examples of cool older cars on the road, I've learned that we must be accepting of imperfections. Overall, I like the gist of this car, and believe it can continue making VW fanboys smile for years to come.