It's interesting to consider how enthusiasts today view the E36 M3. Generally speaking, you're either a completely devoted fan who insists that the E36 is not only the best M3, but perhaps the best BMW ever made. Why stop there? Why not go straight for best car in the history of the world, ever? On the other side of the coin, detractors love to point out that the second M3 was softened up for the U.S. market, that it wasn't as potent, as pure, as Motorsporty as the original curb-hopping, box-flared legend.
Arguably, they're both right. It's certainly true that BMW made the decision to tone down the M3 for North American consumption. That was a really good thing for two reasons: one, that we got it at all, and two, that it remained affordable. Consider, for a moment, that the E30 M3 had grown quite expensive to sport all of that motorsport heritage. By 1991, the base price of the M3 was $35,900. Of course, it was competing against even more expensive cars like the Porsche 944S2, which was a further $10,000 more dear. While we can talk about driving spirit all day long, if we look at the fact sheets what you got was a bit soggy in comparison to today's cars. Inflation corrected, the M3 would be around $62,000 – pretty much spot on the entry price for today's M3. The new car has more than double the horsepower of the original and enough tech to launch all of the Apollo program missions.
So what was really exciting when the new M3 was launched in late 1994 was that price point; $36,000. That was some $14,000 less expensive than the European model, and yet performance was within a few clicks thanks to a revised version of the 325i M50 engine. In fact, many – including notoriously BMW-savvy Car and Driver – suggested that the U.S. spec M3 was a better choice than the more exotic Euro model for our roads.
Today, the E36 M3 remains for many the smart choice within the lineup. Long overlooked as the obvious choice, prices have remained low relative to its predecessor and even its replacement. Modern comparisons often skip the E36 entirely. But that doesn't mean you can't get exotic performance and looks from the middle child: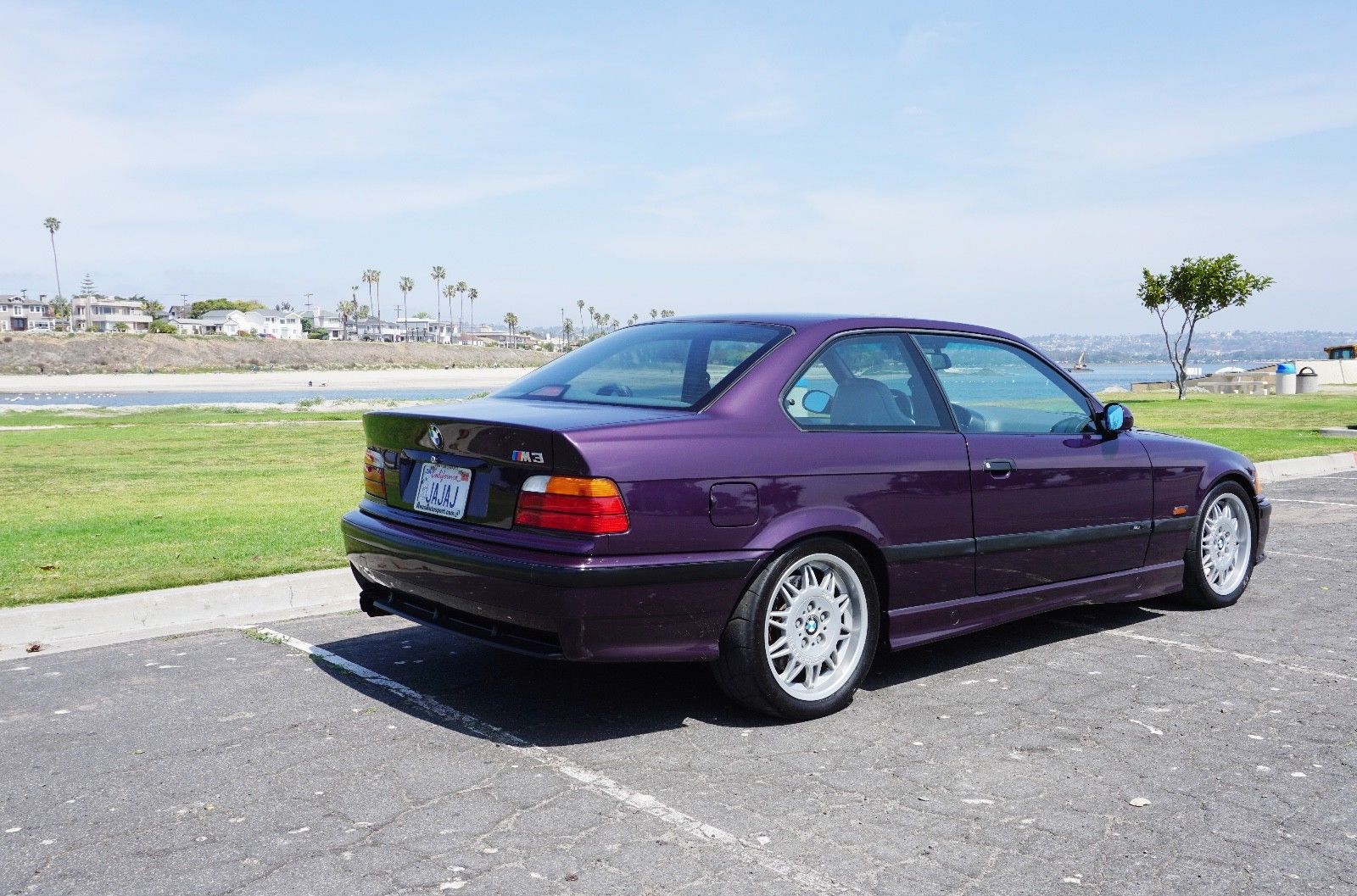 Year: 1995
Model: M3
Engine: 3.0 liter supercharged inline-6
Transmission: 5-speed manual
Mileage: 109,000 mi
Price: $19,500 Buy It Now
1995 M3

Daytona Violet paint in incredible condition

109,000 original miles

Manual Vader seats

4/1994 build date

Dinan Supercharger kit with RMS air to water intercooler

Runs Dinan stock 6psi boost reliably

Dove gray interior in excellent condition (some creasing in the seats)

AC blows ice cold.

This car is fully carb/smog compliant and legal.

Perfect headliner

All rubber seals and gaskets in incredible shape

all electrical functions perfectly

Kept indoors most of its life

no curb rash on the wheels

All body VIN numbers match

California car

Clean carfax and service records that date all the way back to 1996.

This car has all of the Dinan parts to be considered an S3 package. In 1995 was before Dinan did numbered plaques attached to the vehicle and before

the Dinan parts kept original Bmw warranties. You would have to ship your car to Morgan Hill, Ca to have the work done(before they had a network of Dinan authorized service centers). It is not an official S3 but would qualify on the Dinan points scale.

Mechanically the car is extremely sound

Dinan Supercharger with RMS air to water charge cooler

Dinan intake

Dinan software and 42lb fuel injector kit

Ported and polished cylinder head

Turner shorty headers (carb legal)

Dinan exhaust system

Dinan tuned adjustable koni shocks and eibach springs

Dinan adjustable sway bars

Older style UUC short shift kit

Jt under panel kit includes radiator baffle with functional brake ducts

Front Dinan top camber plates and rear camber arms (fully adjustable suspension if you want to fine tune the car to your driving style)

BMW motorsport X-brace

Rear reinforced shock towers

Dinan front strut brace

Brembo cross drilled rotors with pads (stock calipers)

Stainless steel brake lines

Recent maintenance includes:

Fresh oil change (liqui moly)

Recent Supercharger maintenance, stack of service records

Brand new OEM catalytic converters

New Nitto Nt01 D.O.T. compliant competition road course tires

New spark plugs

New oil lines (feed and return) for the Supercharger

New Supercharger belt

New fluid for the charge cooling system

New throttle position sensor

New exhaust gaskets front to back

Zionsville "Fat Boy" Aluminum radiator and expansion tank

Spal fan delete kit (thermostat and fan switch also)

New Stewart heavy duty metal water pump

VDO and leather Z gauge kit

LTW door sills

full size DS1 spare tire

New samco silicone hoses

Just passed smog April. 2, 2018

Upgraded stealth stereo (it looks 100% oem) It has custom Rockford Fosgate amplifiers and JL audio subwoofers in the rear deck.

Original window sticker and all manuals and documents. Original BMW new owner introduction cassette tape and working Glovebox flashlight.

2 original keys with working original BMW alarm key fobs

Complete original BMW trunk toolkit

I am located in San Diego California about 5 miles away from the San Diego airport (SAN)

Vehicle information

VIN WBSBF9320SEH00482

Type Code BF93

E Series E36 (2)

Series 3

Type COUPE

Model M3 (USA)

Steering LL

Doors 2

Engine S50US

Displacement 3.00

Power 176

Drive HECK

Transmission MECH

Colour DAYTONA-VIOLETT METALLIC (283)

Upholstery (0641)

Prod. Date 1994-04-07

Available upgrades

Vehicle options

S243A Airbag for front passenger

S401A Lift-up-and-slide-back sunroof, electric

S530A Air conditioning

S540A Cruise control

S676A HiFi speaker system

S686A Antenna-Diversity

S694A Provisions for BMW 6 CD changer

S710A M sports steering wheel, multifunction

S818A Battery master switch

S900A Electronic immobilizer

S925A Dummy-SALAPA

https://youtube.com/watch?v=tCuqVwcesSU%3Frel%3D0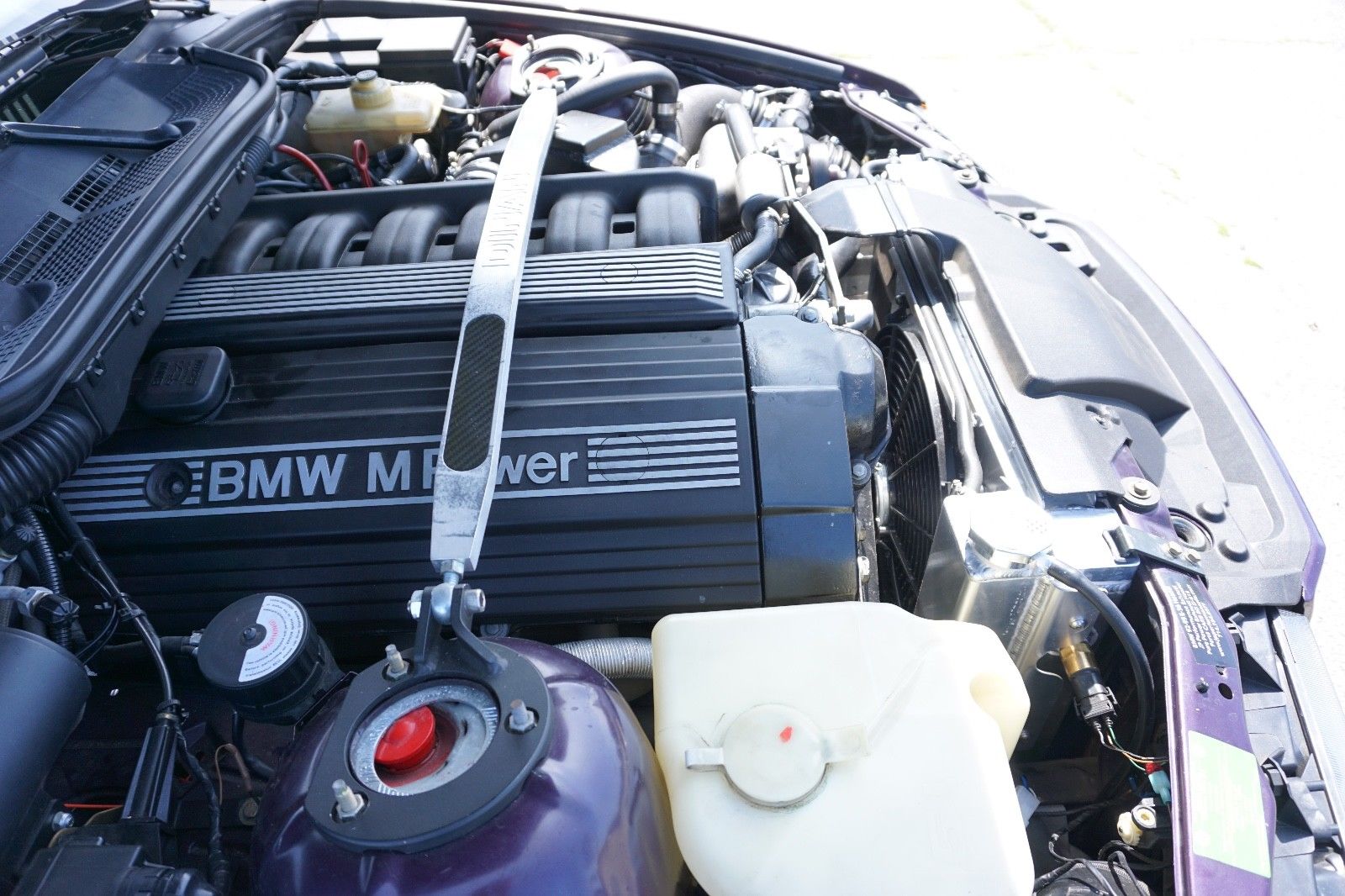 This 283 Daytona Violet Metallic over 0641 Light Grey Nappa leather Vaders has really become my preferred look on this chassis. When they originally launched, it was Dakar Yellow that grabbed my imagination – and my wall. I still have the original dealer poster in the model's signature color. But Daytona is so unusual and so pretty. It's offset well by the DS1 wheels that were unique to the '95, and all look to be in great shape. But the discrete upgrades are the added bonus here, and they're great – with a full compliment of Dinan gear bringing power up over 300. Yet this car remains California legal and discrete, with few clues outside of a giant intercooler behind the grill indicating that there's additional performance on tap.
This car comes from the same seller of the upgraded 335d we recently featured. As with that car, the modifications are tasteful, well executed, and not overdone. The result is one of the best presented '95s I've seen in some time, and in a very cool color which will help you stand apart from the crowd. Many continue to peg the E36 – especially the clean early versions like this – as a potential collector down the road, and prices for really nice examples have been creeping up steadily – some
-Carter