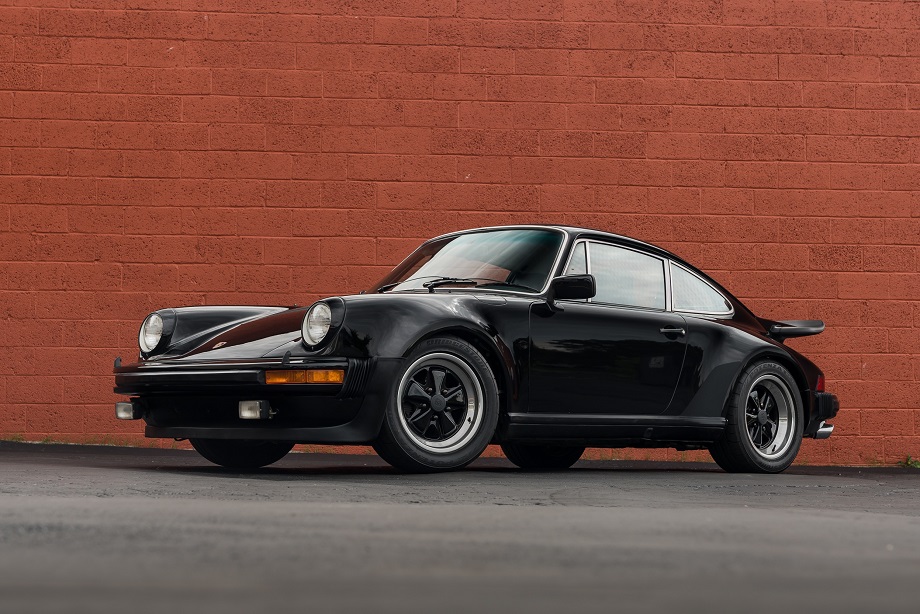 I like a certain degree of completeness so why not go ahead and bookend things? This Black 1977 Porsche 930 Turbo Carrera resides at the other end of the 930 spectrum from the 1989 930 I featured on Monday. It isn't from the first year of 930 production so this isn't the perfect comparison, but since it is from one of the first two years when the 930 utilized a 3.0 liter turbocharged engine without an intercooler it still provides a glimpse into the model's early days.
Looking at them both you could easily mistake one for the other. Their dimensions are the same even if the '89 has gained a couple hundred pounds so you won't notice much there. The most obvious difference is the rear spoiler. Porsche modified the 930's spoiler in '78 so as to accommodate the new intercooler that would feed air into the larger 3.3 liter engine. It has much more pronounced wings, which has garnered it the name tea tray compared with the whale tail of the 3.0 liter models. The fog lights too are different as they became integrated into the front bumper. We notice the same difference when comparing the 911SC and 3.2 Carrera.
While the outside is quite similar, the differences in the interior are much more apparent and show the evolutionary changes of the 911 in general over this time. We find a similar evolutionary development under the skin. Naturally power increased and with it came larger 4-piston ventilated disc brakes. The 930 now could stop as well as it could go. And, of course, in 1989 Porsche fitted the 930 with the G50 5-speed transmission, the biggest change these cars had seen since their displacement increase in 1978.
Comments closed