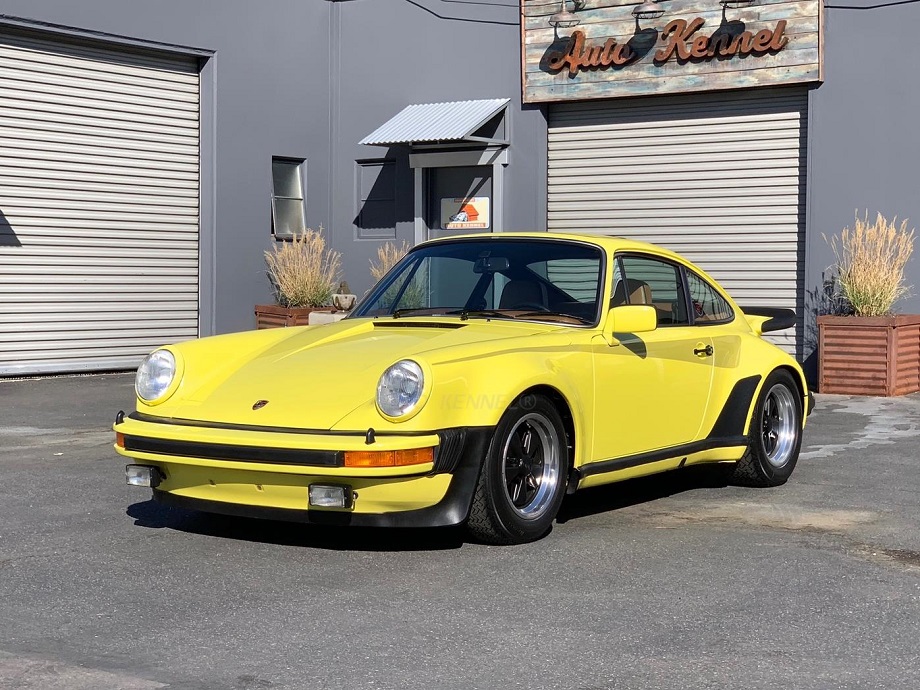 I feature yellow Porsches frequently enough that you might begin to think they were a common color. They aren't, though there have been periods of time in which we did see them more frequently. In the early years of the 911 they were pretty rare and that brings us to this car: a Light Yellow 1976 Porsche 930 Turbo Carrera, located in California, fitted with a Cinnamon leather interior with tartan inserts. Speaking to its rarity this is said to be 1 of only 52 930s produced in Light Yellow in the first two model years, i.e. prior to displacement being increased to 3.3 liters, and of those 52 this is the only one to feature tartan seat inserts. It's a unique and interesting combination that really speaks to the period in which this 930 was built. Seat inserts have come back into fashion to some degree on the 911, but very few match the tartan inserts we saw in the '70s. Boring these are not.
Oh and do I need to mention that this 930 comes from perhaps the most desirable model year? Yeah, this one is worth a serious look.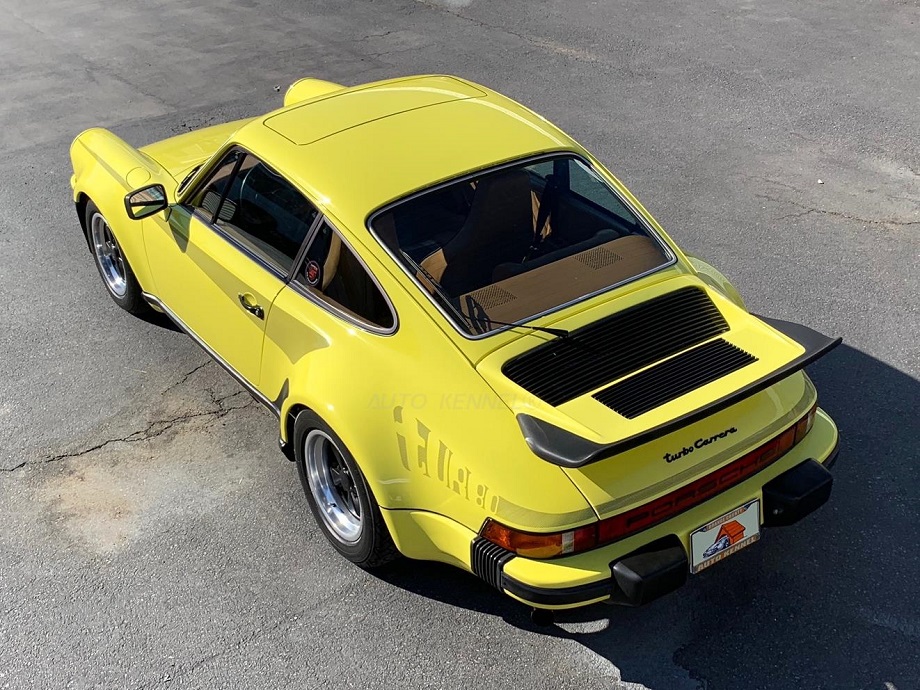 Year: 1976
Model: 911 Turbo
VIN: N/A
Engine: 3.0 liter turbocharged flat-6
Transmission: 4-speed manual
Mileage: 55,300 mi
Price: $189,990 Buy It Now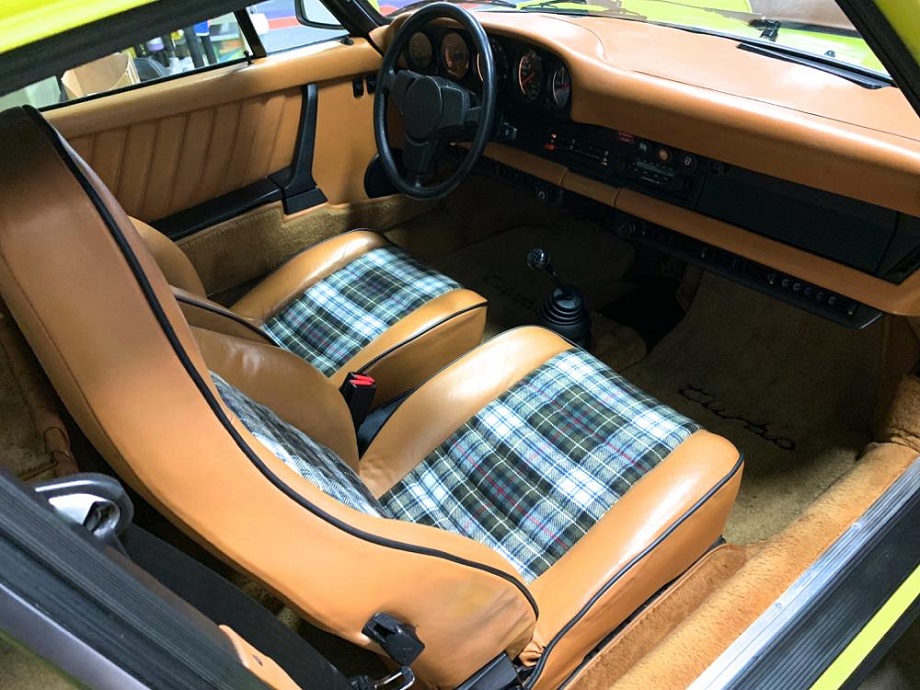 1976 Porsche 911 Turbo Carrera Coupe
Top End Engine Rebuild by Andial
Numbers Matching/ Very Original Survivor
Original Paint
Low Documented Miles

VIN # 930680xxxx
ENG# 686xxxx (930/51)
TRN# 76xxxx (930/30)
Numbers Matching
55,300 Original Miles
5,000 Miles on Top End Engine and Transmission Rebuild
Light Yellow (117) on Cinnamon Leather w/Beige Tartan Dress Cloth (87)
4-Speed Manual Transmission
Clean and Clear Texas Title
Straight and Dry Chassis
Porsche Certificate of Authenticity
PCA Member Owned
Well Documented Example

The Porsche 911 Turbo Carrera was the first production turbo charged sportscar in the world. It was referred to as the internal code name of 930. 530 of these first year 3.0L Turbos were delivered to the U.S.. Many of these cars did not survive, let alone remain mostly original.

This Turbo was built in February of 1976 and was special ordered for tourist delivery by Mr. Alfred Zantzinger of Devault, Pennsylvania. He ordered it with the following factory options:

U.S. Equipment
Light Alloy (Fuch) Wheels (7×15 and 8×15)
Pirelli CN36 Tires
Aluminum Trim in Anodized Black
Electric Sunroof
Tourist Delivery for Export

This was 1 of 52 3.0L Turbos built in light yellow and the only one optioned with tartan plaid seat inserts.

Mr. Zantzinger also specified the tourist delivery option. He picked up his new Turbo at the factory and drove it around Europe for a month on vacation. He returned it to the factory on April 12th, 1976 with 731 miles. Porsche performed a routine inspection and service before exporting the car back to the U.S. via Holbert Porsche of Warrington, PA. This first owner moved to Pompano Beach, Florida about 10-years/15k-miles later. He continued to service the car at his local Porsche dealer until he sold it in 1996 with 21k-miles.

This 3.0 Turbo has had 4-owners from new. Ownership history is as follows:

Mr. Zantzinger of Devault, PA/Pompano Beach, FL 1976 to 1996 (0k to 21k miles)
Mr. Coyle of Delray Beach, FL from 1996 to 2000 (21k to 49k miles)
Mr. Helfer of Columbia, SC owner from 2000 to 2016 (49k to 54k miles)
Current owner of Austin, TX from 2017 to current (54k to 55k-miles)

Significant services over the past 20+ years by Coyle and Helfer include:

Engine out service and seal (@54k-miles on 3/13)
Crank pulley and seal
Reseal motor
Engine mounts
Valves adjusted/valve cover gaskets
Engine sound pad
Clutch cable/drive belts
Oil service
A/C service
Bosch ignition coil
Rebuild and balance upgraded K27 turbo (@53k-miles on 11/10)
Replace oil cooler and oil lines (@51k-miles on 3/05)
Replace both axles (@50k-miles on 7/02)
Major engine out work (@49k-miles on 12/01)
Clean engine block
Install case savers
Bellcrank bushings
Turbo sump tank, wastegate, and hoses
Clutch kit and flywheel
Refinish fuel tank
B&B 2-in/2-out muffler and headers exhaust system ($2,600)
Reseal chain boxes and cam towers
Chain rails
Rebuild A/C system
Machine trailing arms
Upgrade to 930 brake calipers/rotors
Top engine rebuild by Andial (@49k-miles on 3/00)
Valve job
Install PR/SC cams
Sand blast cylinder heads and machine surface
Head studs
Transmission rebuild by Carquip (@49k-miles on 2/00)
Synchro rings
Carrera tensioner kit
Ring gear and seals
Installed Blaupunkt radio (1/00)
Restore Fuch wheels (@50k-miles on 1/00)
Replace headliner (@48k-miles on 4/99)
Warm up regulator/rebuild intake system (@25k-miles on 1/97)
Replace 2-fuel pumps (@22k-miles on 2/96)

Shortly after receiving this Porsche, the current owner had a top local independent Porsche specialist go through the car and perform nearly $5k worth of services, which included:

Reseal turbo oil pump and air pump
Replace left side window regulator
Turn signal/headlight switch
15k-mile service
Oil service
Air and fuel filter
Spark plugs
Waste gate gasket
Repair light wiring
New fuel lines

Furthermore, just before listing the car for sale, another $3,600 was invested on the following services:

New Pirelli CN36 tires
Factory correct Turbo vinyl graphics
Adjust hood and deck lid

Over the years, this Turbo has competed at several PCA Zone and Parade Concours events under the preservation/unrestored class. It won this year's PCA Los Angeles/Zone 8 Unrestored Class (see pic).

This Turbo Carrera is in excellent survivor condition and is clear that it has always been in the hands of the right caretakers. The exterior looks fantastic considering it's 42-years old and original. The paint is all original and verified with a paint meter with the exception of a tiny area of touch up/blending on the right rear quarter panel near the tail light. The rest of the fender is original like the other panels on the car (see pics for paint meter readings). The wheels are in great shape with no curb rashes and are wearing new correct OEM Pirelli CN36 tires as it wore when delivered new. All the glass is original including the windshield. There are some minor paint chips here and there which have been professionally touched up. The lower front valance has some paint crazing (see pic). The rear spoiler has a couple tiny cracks near the vent (see pics). The original anodized trim is in very good condition. The upgraded 930 brakes/rotors have near full life.

The interior is equally as tidy and also very original. The leather seats are good shape with some typical cracking primarily on the driver exit bolsters (see pics). The headliner is perfect as are the rear seats. The carpet is in excellent condition with no stains or heavy wear marks. The door panels are in good shape with some slight distortion of the door pockets. The leather dash has some wrinkling and slight discoloration, but no cracks. All the gauges work properly including the clock. The power mirror, windows, and sunroof all work great. All the interior and exterior lights work including the glove box. The radio does not power up. The A/C system has just been charged and it blows cold.

This Turbo Carrera drives fantastic. It starts easily with the first twist of the key and does not smoke and holds an even idle. Power is quite strong as it rips through the rpm range effortlessly. Shifting is smooth and easy with no slipping of the clutch or grinding of the gears. The upgraded brakes are a welcome addition. Initial bite is excellent with no fade. These are not boosted brakes and take a bit more leg, but the braking power is even with no pulling. It definitely inspires confidence over the stock units. The steering is incredibly light and reminiscent of the early long hood 911s. Turn in is quick with excellent mechanical grip and it tracks straight.

This Turbo is obviously at home on the local concours circuit, but could easily be used for vintage touring events. Or, you can simply use for weekend cruising.

This Turbo comes with an extra key, original owner's manuals/maintenance pages, 1976 Playboy magazine Turbo article (see pics), Porsche Certificate of Authenticity, tool kit, jack, space saver spare, air compressor, original alternator (needs rebuilding), PCA Concours glass award, and decades of records.

**Note: VIN and other numbers withheld to protect against fraud. All numbers including VIN, Engine, and color will be provided to serious buyers.

If you have any questions, please do not hesitate to contact Paul at 714-410-0223 or
For tons of photos, go to:

This vehicle is sold "as-is" with no warranty, written or implied. In some cases, the vehicle does have the remaining factory warranty still in place and will be described above if that is the case. All taxes and fees are the responsibility of the buyer and are not included in the listed price. All vehicle sales will require a $65 document fee. The vehicle listed is described to the best of our ability. The information is based on our own research and statements made to us by the previous owner(s). To the best of our knowledge, the above information is accurate. We are not responsible for errors in our description of options or any other details. The above-mentioned vehicle is used and can be expected to show some wear and tear. It is not a brand new vehicle. We do welcome all local pre-purchase inspections on vehicles in order to verify condition.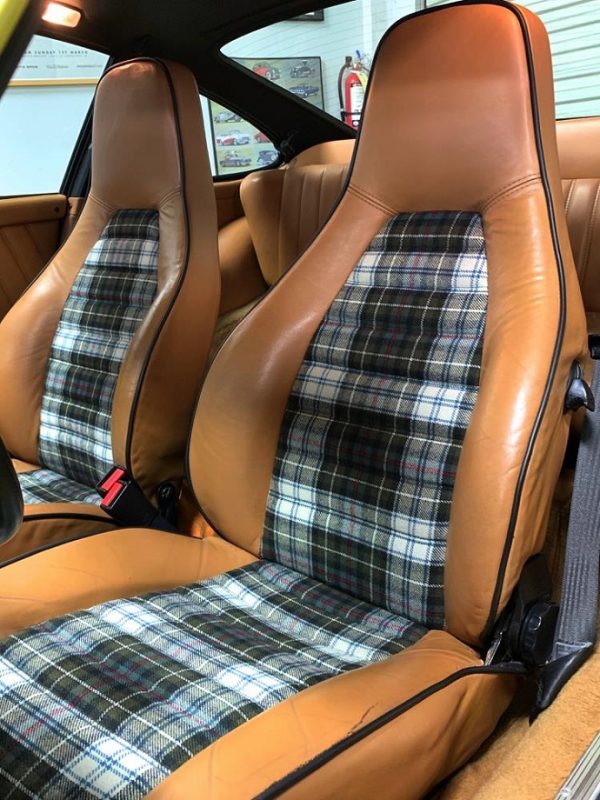 I say that '76 is perhaps the most desirable model year only because I think you can make good arguments that the final 1989 models are equally and possibly more desirable. Among early 930s though I don't think there is much question. They also happen to be my favorites.
This one looks solid throughout. It's far from perfect, but possesses a high degree of originality and while not perfect the condition still remains quite good given this 930 is more than 40 years old. It looks like we have a full ownership history and service records covering the past 20 years. So while not an exhaustive history much of the major work is covered and we should have a good sense of where this 930's condition stands at present.
The body panels and glass all are original as is the Light Yellow paint. Given its age the paint looks in very nice shape as it still shows the color quite well. Light Yellow, as the name would suggest, isn't as bright and bold as some of Porsche's modern yellows, but it certainly isn't dull. We're told of a few blemishes here and there, but nothing too egregious. The interior is where we find the most "major" issues though even there the wear to the seating isn't significant. The leather and tartan inserts remain original and everything is said to work well other than the radio.
All in all when we hear about "survivors" this is the sort of example we like to see. It hasn't been sitting in a barn all of its life, nor does it show with high mileage. It appears to have been well cared for, but also isn't a restoration. To a degree this is largely how we'd expect this 930 to have looked in the late-70s. No 3.0 liter 930 in good condition will be inexpensive and this one is no different, but given its originality and rare configuration I don't think the price is too bad. According to Hagerty it comes in at a price between conditions 2 and 3 and that seems about right. This is one that you should be able to derive plenty of joy out of just as it is.
-Rob