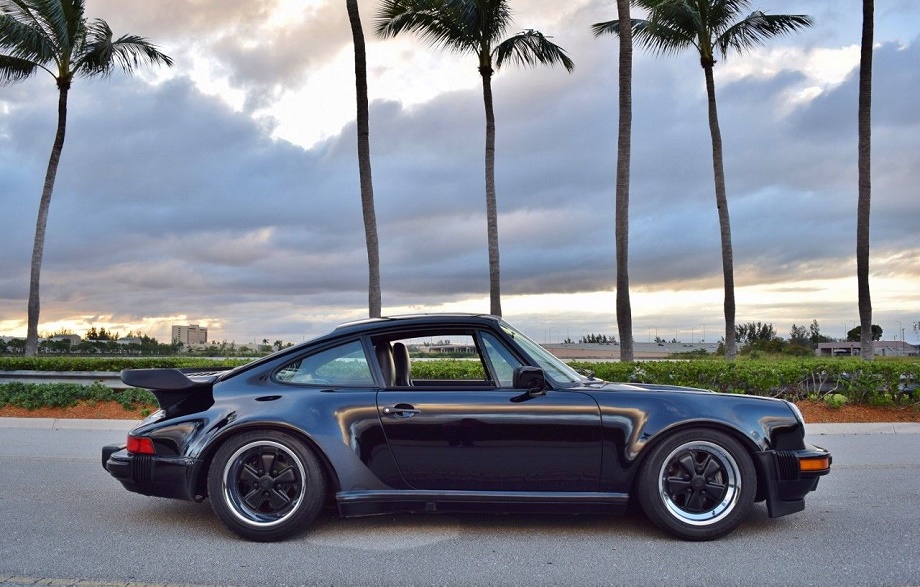 How do we explain the 930? It's appeal seems both undeniable, but also uncertain. It's raw and powerful and appeals to all of our childish sensibilities. It's kind of a Hot Wheels car come to life. In some cases you might really think that's what has happened. But we're grown now and not everyone wants a car with a massive spoiler and bulging rear fenders. All of that power requires your full attention in a world where paying attention has become a novelty. But there are times when I look at one – and I'm sure some of you do as well – and can't think of why I might want something else.
Here we have a triple black 1989 Porsche 930 Coupe with 80,457 miles on it. This comes from the final year of 930 production, a significant point for those in search of one of these turbos since it was the only year Porsche equipped them with a 5-speed manual transmission rather than the previously utilized 4-speed manual.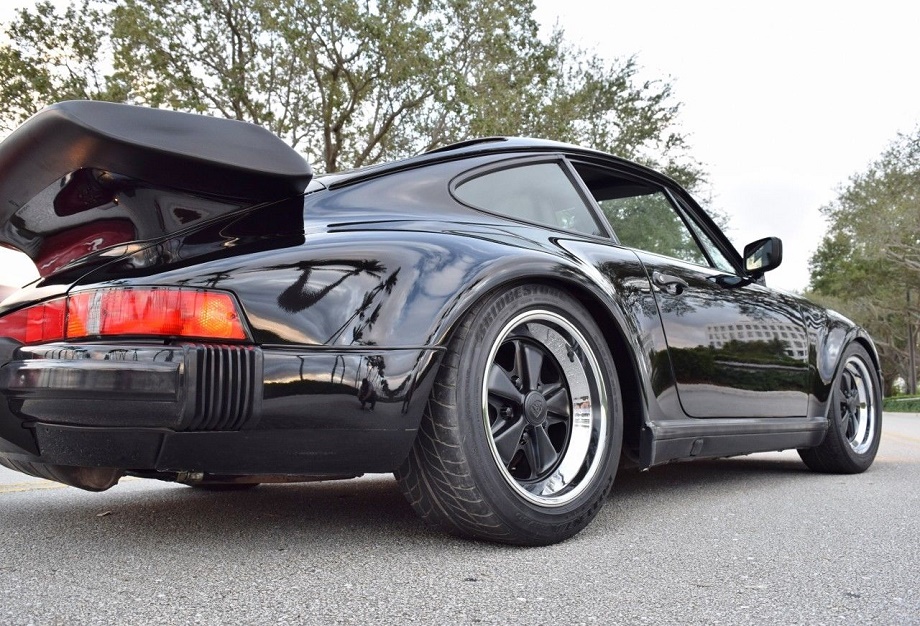 Year: 1989
Model: 911 Turbo
VIN: WP0JB0938KS050423
Engine: 3.3 liter turbocharged flat-6
Transmission: 5-speed manual
Mileage: 80,457 mi
Price: $119,500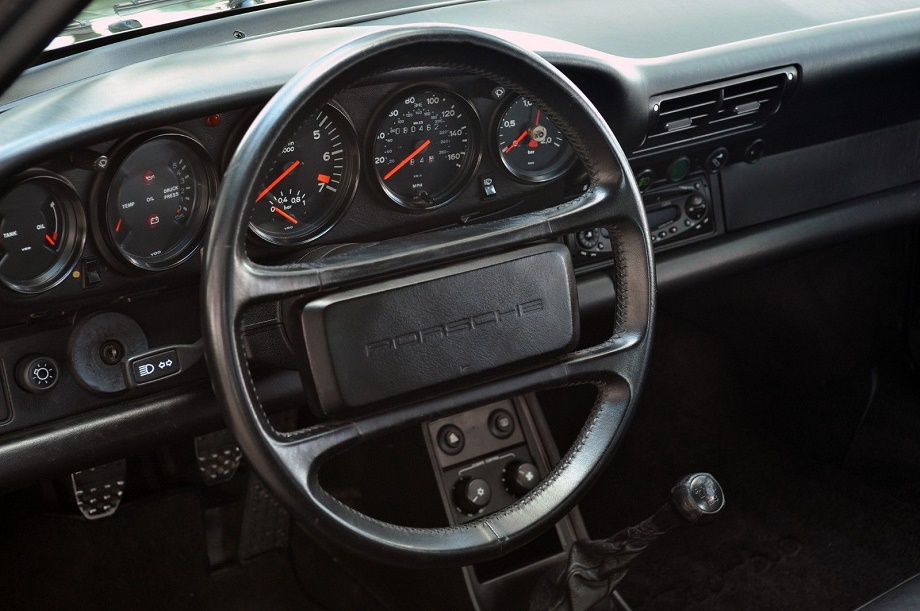 1989 Porsche 911/930 Turbo Carrera Coupe 5 speed #'s matching 3.3 liter

This 930 turbo is a highly sought after ONLY YEAR FOR THE 5 speed g50/50

Black on black with light but tasteful upgrades, service history, and a clean carfax. From top to bottom car represents like a 25k mile car.

Paint looks wet, in excellent condition very minor rock chips in the front bumper otherwise super clean
No dents dings presents well throughout. Interior of the car in un restored and in excellent condition little to no wear on the seats
.All electronics function as should including windows sunroof lights and gauges.
Door panels and headliner are all in great shape as well the dash which has no cracks and is not warped

Mechanically the engine starts first try with no smoke, no major oil leaks, pulls nicely through all 5 gears with no issues
.Recently serviced at a cost of $10k this 930 is turn key. The clutch and g50 perform exactly how they should. The undercarriage of this car looks like the top excellent shape, original cosmaline is still present…
Original turbo fuchs 9 INCH wrapped in bridgestone tires all around.

These items improve the reliability and overall driving experience of the car.

Recent ppi performed with leakdown numbers..perfect leakdown…

Factory options include

– Steering with elevated hub
– Short Shifter Lever
– Amplifier
– Blaupunkt Radio
– Limited Slip Differential
– Sunroof

This 911/930 is the complete package. Clean Carfax never been in any accident and needs nothing
but a new caring owner to add to their collection.

PPI WELCOMED BUT NOT NEEDED DUE TO RECENT SERVICES THAT ARE DOCUMENTED

SERIOUS INQUIRIES CALL BERNARD 305-443-7626 OR EDDIE 786-377-4331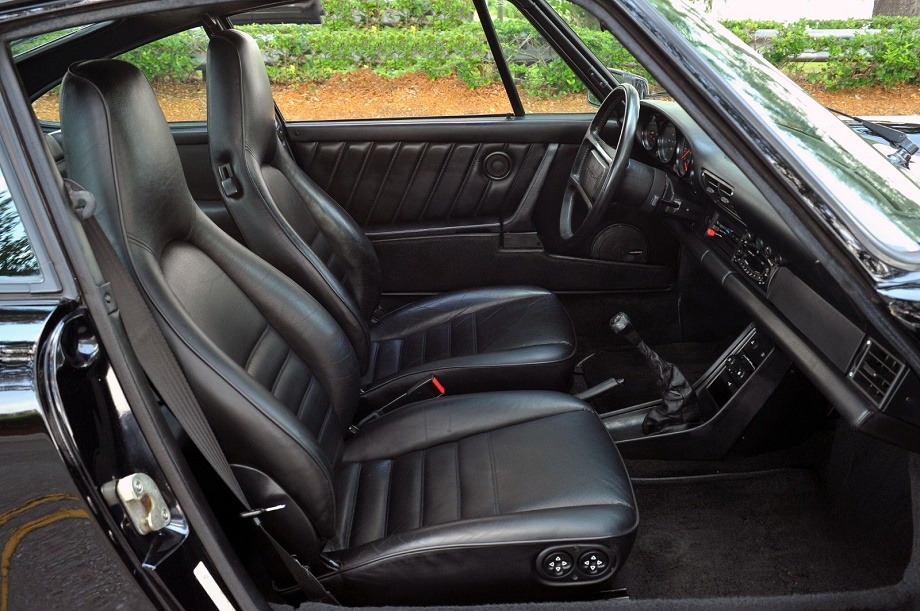 With a '89 you're getting the full evolution of these cars. By modern standards they are still pretty raw, but they're still more refined than the early 3.0 liter models. You get the best luxury Porsche could throw at a car along with the most power. It's a combination that has made the 911 Turbo a very desirable car over the decades since the 930 departed. This one looks in really nice shape and shows little wear given its age and mileage.
I'm not sure if it's been repainted at any point, but the black paint looks in excellent condition and shows beautifully. The interior is said to be unrestored and the seats still look quite crisp with very little creasing in the leather. The rear seats looks barely touched. The steering wheel perhaps shows the most wear, but even that still looks pretty good. Other than the radio the interior appears to be original. The exterior appears original as well, though it's perhaps a little low. We are told there are "light but tasteful upgrades," but not what exactly those upgrades might be. We're shown a few service records, but hardly what would be comprehensive. There may be more than what is shown, but you'll have to ask about that. The tires don't look like they have a ton of tread remaining so perhaps factor a set into the cost.
Overall this is an excellent looking 930 and for me really shows what I love about these cars the most. It's menacing and beautiful at the same time. The price isn't too bad either for a '89. A little searching shows it's been listed for a little while with the price gradually coming down so the seller may be open to offers. You'll obviously want to do all the usual due diligence, but this seems like a very nice option and one that you can approach with some confidence.
-Rob