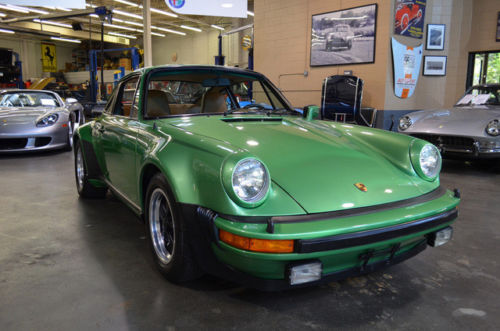 The former seller of this car has informed us that the listing is not legitimate. A good reminder to always do your homework before bidding!
I don't typically like to do this – feature two identical models back to back – but I thought this might make for an interesting data point and comparison with the Light Yellow 930 I featured on Wednesday. And let's be honest this is a very attractive 930 in its own right so it's worth our attention.
So here we have an Emerald Green Metallic 1976 Porsche 930 Turbo Carrera, located in New York, with Cinnamon leather interior and 49,000 miles on it. I actually featured this car around this same time last year and while the pictures are the same I don't think it actually is in the hands of the same seller. It now is up for auction and the reserve has been met so it should be passing on to a new owner. The curious part of me wonders for how much it will sell. The rest of me just loves the color!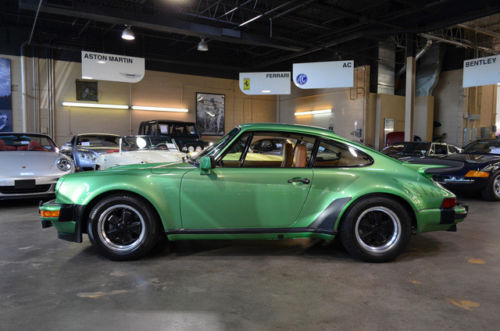 Year: 1976
Model: 911 Turbo
VIN: 9306800472
Engine: 3.0 liter turbocharged flat-6
Transmission: 4-speed manual
Mileage: 49,000 mi
Price: Reserve Auction (reserve met)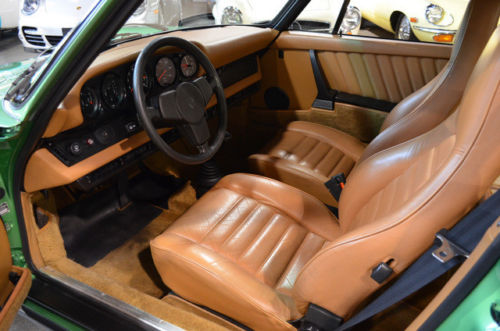 Emerald Green Metallic with Cinnamon leather interior and Cinnamon carpeting, 4-speed, 49,000 miles from new, Porsche Certificate of Authenticity, Original colors.
The turbocharged 3.0 liter engine in road trim developed 260bhp with propelled the Turbo Carrera from and standstill to 100 mph in 14 seconds and resulted in a top speed of 155mph. Porsche's first road going super car, this meant it was on par or faster that its contemporary's in the day, the Aston Martin's V8 Vantage, Ferrari's 512 Berlinetta Boxer and Lamborghini's Countach, certainly excellent company. Legendary racing driver Paul Frere stated "It offers the finest blend of ultimate performance and refinement I have ever come across."
Porsche factory options included: US Equipment, Full leather, Air conditioning, Electric Windows, Electric Sunroof, Blaupunkt radio, Limited Slip Differential, 1,5 PS Starter, Electric Sunroof and Pirelli tires.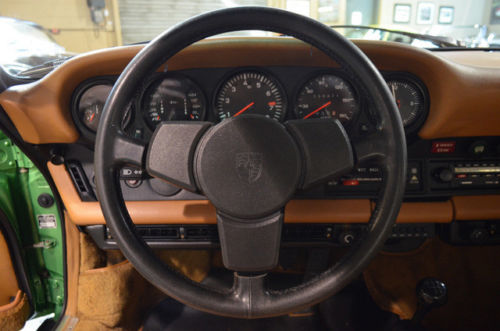 I don't want to spend too much time comparing these two 930s, but we can view them in some sense as a tale of two ads. With the Light Yellow 930 we're provided nearly everything we'd need to know. AutoKennel always presents their cars very well, thus eliminating most guesswork. They're upfront about any flaws and gaps in a car's history. And the cars themselves tend to be top notch. Here I do think we have another top notch car, but we're left with a good bit more legwork to suss out the details. Of benefit, the seller was kind enough to comment on our previous post to provide additional details. The paint is mostly original with only a few touchups here and there. While it isn't told to us here the history of this 930 is available and was under long term ownership in Alaska. I can't imagine there were many bright green 930s roaming the streets of Alaska so this must have been quite the sight. It is said to be in excellent mechanical condition.
Of course, you will want to verify all of those details as well as inquire with the seller to fully understand its history. In truth, the same goes for the 930 from AutoKennel. It's just a little easier to work out the specifics. For me personally, I'd actually love if we could combine attributes of these two 930s. Take the beautiful Emerald Green exterior from this 930 and pair it was the tartan interior of the Light Yellow 930 and you might have the perfect car. Maybe one like that exists.
As for my curiosity about the selling price, bidding on this auction sits currently at $68,500 and as I noted above the reserve has been met. That's a pretty low reserve for a 930 like this, but I'm not going to complain. I'll have an eye on it to see where it sells.
-Rob