Warning!
This post is in our archives. Links in this post have been updated to point to similar cars available to bid on eBay.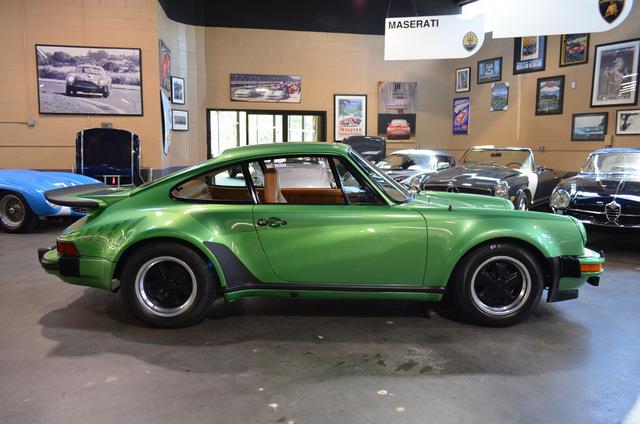 We've shown a couple of interesting green coupes so far this week and I'd like to add another to the mix. Strictly on color this Emerald Green Metallic 1976 Porsche 930 Turbo Carrera looks similar to the Mercedes-AMG GT R Andrew posted yesterday. The similarities mostly stop there, though there is a certain spiritual kinship between the 930 and most any AMG machine. The performance of either can be brutal – in the most positive sense of the term! – with dynamics that require your full attention any time you want to accelerate or brake hard. The technology helping direct the power of course differs markedly as do the levels of refinement. But if you want something you've got to grab by the scruff of the neck and then hold on for dear life I'd imagine either one of these could provide those thrills. So if this sort of green is your color, then here's another option. And it'll probably even be cheaper! It's not often I get to say that about any 930, let alone a '76.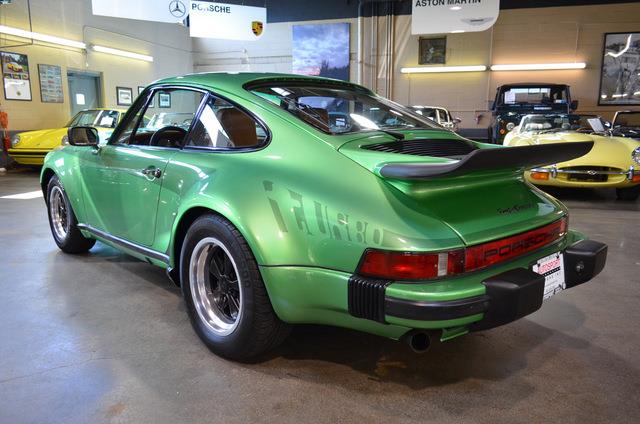 Year: 1976
Model: 911 Turbo
Engine: 3.0 liter turbocharged flat-6
Transmission: 4-speed manual
Mileage: 49,000 mi
Price: Inquire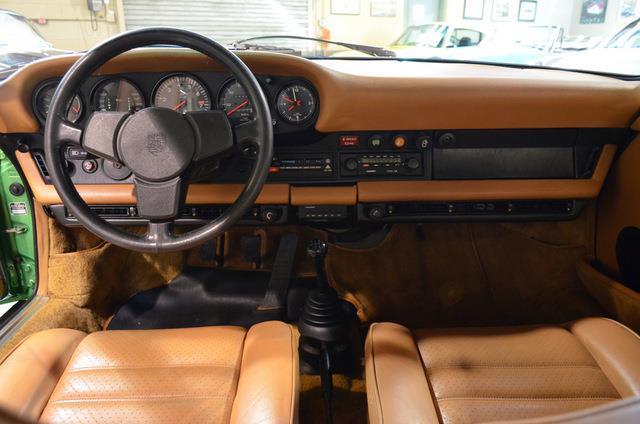 1976 PORSCHE 911/930 TURBO CARRERA COUPE
–Emerald Green Metallic with Cinnamon leather interior and Cinnamon carpeting, 4-speed, 49,000 miles from new, Porsche Certificate of Authenticity, Original colors, Matching numbers.

Much of the Porsche 911 Turbo Carrrera's development had resulted from the factory's racing program. The rules for FIA Group 4 homologation required 400 road cars to be built, which spurred the development of 'Project 930' – the legendary 911/930 Turbo. The turbocharged 3.0 liter engine in road trim developed 260bhp with propelled the Turbo Carrera from and standstill to 100 mph in 14 seconds and resulted in a top speed of 155mph. Porsche's first road going super car, this meant it was on par or faster that its contemporary's in the day, the Aston Martin's V8 Vantage, Ferrari's 512 Berlinetta Boxer and Lamborghini's Countach, certainly excellent company. Legendary racing driver Paul Frere stated "It offers the finest blend of ultimate performance and refinement I have ever come across."

This is the first year of the Porsche Turbo in the USA. This extraordinary Turbo Carrera is the 472nd example of 590 car model run for the 1976 Porsche model year.

Porsche factory options included: US Equipment, Full leather, Air conditioning, Electric Windows, Electric Sunroof, Blaupunkt radio, Limited Slip Differential, 1,5 PS Starter, Electric Sunroof and Pirelli tires.

This Turbo Carrera was purchased several years ago from long term ownership in Alaska, Alaskan seasonal use was undoubtedly responsible for its limited mileage to date. It was found and purchased by well-known Porsche enthusiast-dealer Paul Hageman. Subsequently and with the help of Porsche broker Dirk Layer, this Turbo Carrera was sold to a Canadian gentleman, Mr. Matt Paris and shortly thereafter to a friend of Mr. Paris, a Los Angeles based collector.

Combining the unmistakable looks of a classic Turbo Carrera, this 911 Turbo Carrera is superb in every respect. As the first Porsche road going super car, it offers the collectability and investment potential that goes hand in hand with its low production figures. This extraordinary Turbo Carrera will not disappoint in any way.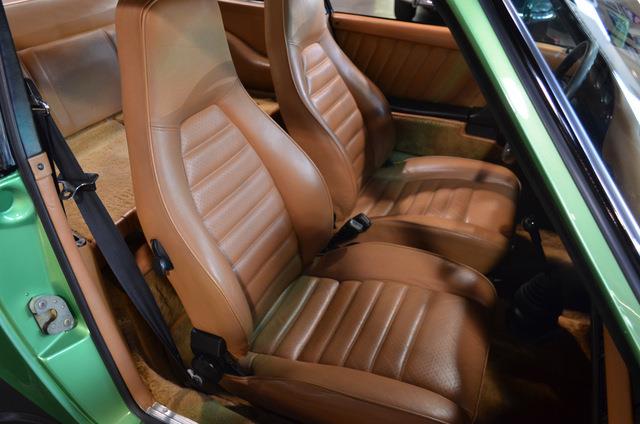 Paired with that flashy green exterior is one of the better tan/brown interior color options: Cinnamon. I especially like it when paired with a lighter shade of green and it looks really nice here. Let's get to our usual questions though as the general condition of this 930 looks just fine. We're told that it's numbers matching and these are its original colors, but left unsaid is whether the paint and interior material itself is original to the car. That mostly only affects value, though either may raise other questions. It does sound like the current seller has a good grasp on this 930's ownership history though, which provides a nice place to start and is somewhat suggestive that further documentation is available.
These early 930s always are in incredibly high demand, especially one in such a nice and rare color combination. While most probably won't think of these as the best 930s to drive and live with, a '76, along with an '89, does make for one of most collectible model years and the low miles and apparent excellent condition of this one should attract plenty of notice.
So: classic supercar or modern supercar? It's always nice to have a choice.
-Rob