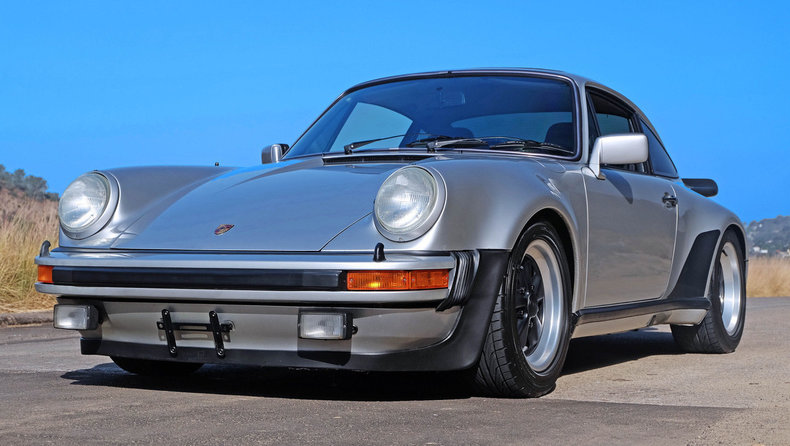 I have somewhat of an obsession with these cars. There's obviously a certain degree of obsession that applies to all of us here at GCFSB – whether writers or readers – but I mean this specifically in reference to the 3.0-liter 930. I can't even really say why that is. I've never driven one or sat in one; I'm not sure if I've ever even seen one, at least, not any time recently. By all indications from those much more familiar with them than me, the later 3.3-liter 930 is better. It's more refined, more powerful, and just a generally all around better performer. There also are a lot more of them so prices are much lower for all but the final year model. Yet here I am: show me a '76 or '77 930 and I will stop in my tracks to go over the whole thing.
The only thing I can say for sure about this obsession is that I definitely think the earlier whale tail Turbos – rather than those with the tea tray – are better looking. Functional or not, I've never really liked the look of the tea tray spoiler, whereas I think the whale tail fits the 930's lines just about perfectly. The tea tray makes the 930 look clunkier while the whale tail makes it look lighter, which of course it is! If you add the Turbo graphics available at the time, then I'm completely on board. Perhaps someone else will understand this obsession. I don't know. Either way, here we have another one up for sale and it looks quite good: a Silver Metallic 1977 Porsche 930 Turbo Carrera, located in San Diego, with black interior and 40,035 miles on it.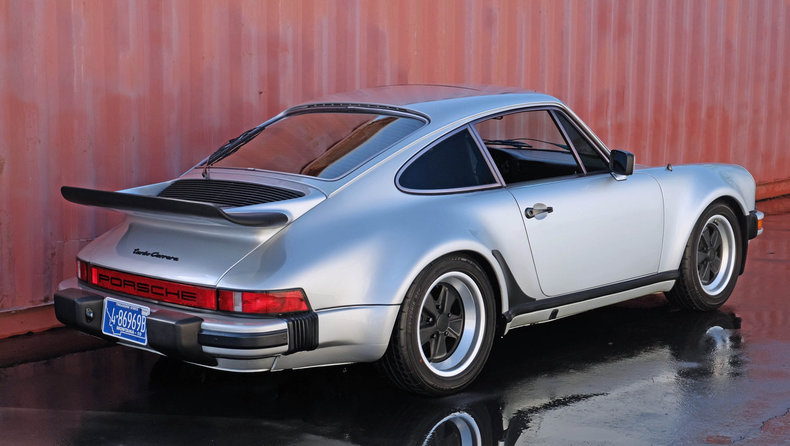 Year: 1977
Model: 911 Turbo
Engine: 3.0 liter turbocharged flat-6
Transmission: 4-speed manual
Mileage: 40,035 mi
Price: $175,000 Buy It Now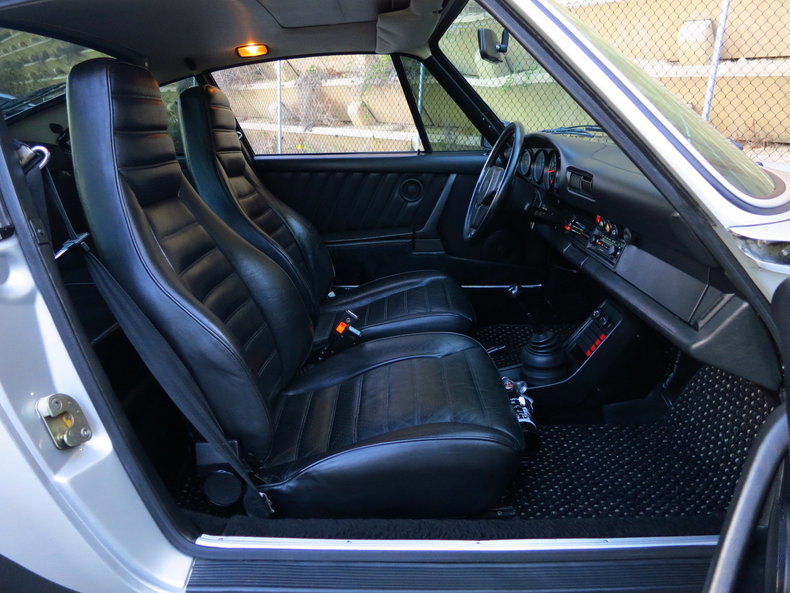 1977 Porsche 930 Turbo Carrera 3.0 Pristine, completely original, matching numbers, rust and accident free, ultra-rare original "Silver Metalic" exterior color. A preservation example without equal! Year 1977 Make Porsche Type 930 (M781) Model Turbo Carrera Chassis No 930.780.0182 Engine No 687.0190 Engine Type 930/51 Gear Box No 770.393 Gear Box Type 930/30 Exterior Color Silver Metallic (Code Z2) Interior Color Black Full Leather (Code 68) Mileage 40,033 Miles This particular 930 Turbo Carrera was "Special Ordered" new in September of 1976 by Porsche Audi, Ltd., North America on behalf of the Garden Grove, California official Porsche agency, Don Burns Prestige Porsche Audi, Ltd. The order was completed on speculation and not for a specific client. The order specified: -One Typ. M781 (930 Turbo Carrera 3.0 North American Market / California Version) -Exterior Color Silver Metallic -Interior Color Black Full Leather -Pirelli Tires The order included the standard options of: -Electric Sliding Sunroof -Blaupunkt Bamburg Stereo Cassete Radio, Amplifier -Hirschmann Power Antenna -Headlight Washing System -Rear Window Wiper System -Air Conditioning -Power Windows -Sport Seats Left and Right The vehicle remained with the dealership, Don Burns Porsche Audi as a personal vehicle of the owner for nearly a decade before finally being sold in the late 1980s to Vito Labbate, a sometime resident of Southern California and avid Porsche enthusiast. Labbate's ownership continued until 1999 when the vehicle in pristine original and un-restored condition was sold to AutoSport Designs in New York. It was then purchased by word-famous Porsche collector and specialist dealer, David Mohlman that same year and then again purchased back again by AutoSport Design in early 2000. In the Spring of 2001 AutoSport Design sold this Porsche to Bentley of Long Island. In the Fall of 2004, Cary I Scharlat, the owner of Bentley of Long Island sold this Porsche back to AutoSport Design who then sold it almost immediately to the well known New York Porsche collector, Nat Lanza. In 2009, Lanza sold this Porsche to fellow Porsche collector, Christopher Provo. Provo retained the vehicle until 2016 when it was sourced by Symbolic International on behalf of Jim Powell who was seeking to assembly the world's finest collection of original and limited production speciality Porsche Models. In October of 2017, Mr. Powell liquidated his entire collection to Symbolic International where they were then offered for public sale. This Porsche has been meticulously cared for and preserved in a manner and state never seen before on such a model. A large documentation album documents the history going back to new. It is completely preserved as well as carefully and fully serviced. The paint remains beautifully persevered other than a single hand touch up spot that was carefully blown in near the front bonnet badge. All of the original delivery item one of these rare early Turbo Carreras would have been sold with new, books, manuals, tools, compressor, space-saver spare tire and rim are complete with the vehicle today. This rare first generation Turbo Porsche is completely matching numbers with all date coded items showing appropriate dates and stamps as delivered new. Here are the cold engine compression test numbers: Cylinder No Pounds per Square Inch 1 125 2 130 3 120 4 125 5 130 6 125 All services and safety checks are completely current and up to date. This vehicle is without question one of the all-time most beautiful original "First-Generation" Turbo Carrera Coupés left in existence. If such a vehicle has been on your "wish list" look no further… you have found a true automotive treasure without equal! Please contact me if I can assist further in arranging for inspections and test drives of this Porsche. I can also assist with any manner of world-wide delivery.
Contrary to our modern expectations, a silver 930 from the '70s is a pretty rare thing. Given the wide array of colors made available at the time we can perhaps understand why few would choose silver. So I guess we might be better served calling it unpopular rather than rare. Nonetheless, a silver Porsche clearly has a lot of fans given their prevalence on our roads now. Does that make this one retroactively more desirable these days versus the past? I'm not sure. It does mean finding one isn't very easy.
This seller is quite effusive with their praise of this 930 and while I'm not sure it's the greatest ever example, it does look quite good. It's also said to be entirely original – paint, interior, equipment – and numbers matching. We're also provided with what appears to be a comprehensive ownership history (it's changed hands back and forth quite a bit!) and it is said to come fully documented with service history and all original books and other material. In itself that level of documentation does set this 930 apart from many others and serve as a testament to how special it is. Are there others out there I like more? Certainly. Is there much to find fault with here? No, not really. The only point I see is the seats. The ad says this 930 originally was equipped with sport seats, but these don't look like sport seats. I could be completely mistaken on that point, but they do look like the standard seats to me.
The final part of the equation is price and here we really see the hit the air-cooled 911 and 930 market have taken. With an asking price of $175K this is not, by any means, an inexpensive 930. But if we compare that with the last two 930s we've featured from this same seller – both of which seemed in almost equally as good condition – we'll note the much lower asking price here. Granted, those both were '76 models and the '76 definitely is the more valuable model year, but the price difference still is pretty staggering. I'm sure this one will eventually sell given its level of documentation. Until then, I'll have my eye on it. At least until the next one comes along!
-Rob