Welcome to another installment of German SUVs for sale…I think? I guess this really isn't an SUV, as it's more like an agricultural, or military vehicle than road car, but either way it's awesome.
Originally designed as an agricultural vehicle after WW2, the Unimog's combination of utility, and off road capability, found it many more uses, like construction, and military use. As the Unimog became more widely used,  Mercedes-Benz developed the model with more powerful engines and better drive-train technology, and later on as the vehicle's popularity increased, so did its model range. By the 1960s Mercedes was selling all types Unimogs in different sizes for different purposes. The tall, flat-nosed vehicles came as pickup trucks, tractors, industrial vehicles and other configurations.
This model 406 for sale in Hayward, CA is a clean example of a go anywhere SU…whatever it is.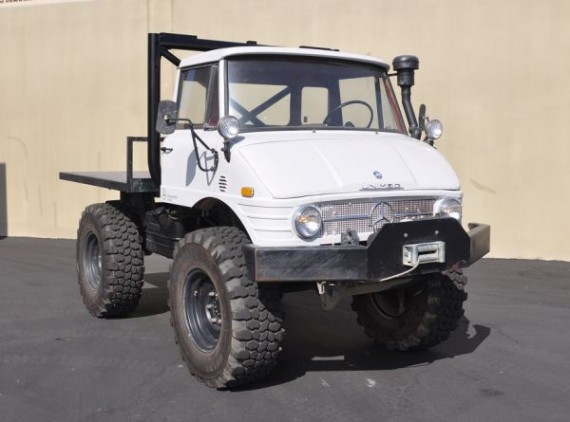 1979 Mercedes Benz Unimog 406- $25,000. firm

Runs fantastic!!

Mileage: 24,000
Trans: 8 Speed Manual
Engine: Diesel
Color: Light Grey
Drive Train: 4WD
Tires: Fairly new 365/80 R20 tires (42″) w/ matching spare
Current CA Registration and Valid Title
12000 LB Warn Winch w/new controller
PTO front and rear.

Serious Inquiries only- 510-376-6579
This is one of those things that I've always had a fascination with. From the immense ground clearance to the center articulation of the chassis, it's on my "I need to at least drive one of these" list. Priced at $25,000, it's a bit out of my league, but it seems like the clean examples are commanding that sort of money. With newer tires, front and rear PTO, and a winch, this truck is ready for just about anything.
-Brian