Swedish cars have always been a more esoteric choice in the United States. I feel that many of the models produced by Saab and Volvo over the years have that same Germanic DNA and build quality in them, if, sometimes, they are a bit more staid than their southern counterparts.
In the 1980s, Volvo was straining to get away from its literally square image and branch out into new and exciting projects. The 480 hatchback, which was never sold here, was a major departure for the company. Introduced in 1986, this four seat hatchback/coupe featured the all glass rear door made famous by the P1800E, the first transversely mounted engine in a Volvo and on top of that, was built outside Sweden at the DAF plant in The Netherlands.
One year earlier, Volvo also unveiled a very different take on the two door formula in the form of the 780 Coupe. This was a Volvo in the traditional sense, with a longitudinally mounted engine driving the rear wheels and had more boxy styling, if tailored smartly by Bertone. This model became available in the US by 1987 and featured the 2.8 liter Peugeot-Renault-Volvo V6 engine. Later on, Volvo introduced turbo four cylinder engines and by 1991, this was the sole powerplant offered. The 780 nomenclature was dropped as well, as the car was now known simply as "Coupe."
These are rather rare cars and if they do come up for sale, it is rare to find one sorted quite as well as this particular example for sale in Philadelphia.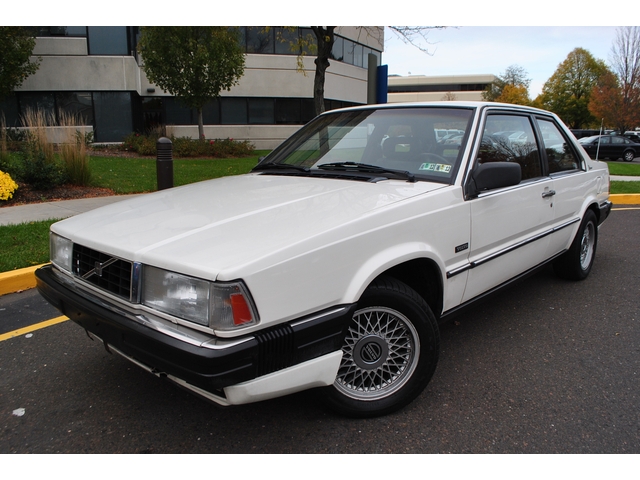 RARE 780 Coupe Bertone! ABS and AIRBAGS! RUNS and Drives Great! Power EVERYHTING! CD Changer! Last production year of this model! THIS IS A TRUE COLLECTORS ITEM – ONE OF A KIND! The car has been inspected by our mechanic!

You are looking at an extremely rare fully loaded luxury coupe that has been well kept; it's an all around great looking vehicle, great looking exterior in white with black leather interior makes this car look great! It's obvious from the condition of the car that it's been highway driven and garaged its whole life. This great vehicle combines superb Sweden engineering combined with Italian design and luxury with the versatility to accomplish almost every job!

This car is equipped with a very strong 2.3 Liter engine! The engine sounds, runs and feels smooth and provides abundant power. This engine is very economical (and with the rising gas prices, that's no small deal) The automatic transmission shifts smoothly, no slips or skips. The interior is in great condition. The front seats lean all the way back to the rear, so you can actually sleep rather comfortably in the car! No electrical problems, while the engine compartment clean, and void of any leaks

This Volvo (Like most other Volvos) rates very high in safety, it's not a light car, and has a lot of specially engineered alloys along its frame to dampen any possible impact. A very good climate control system is present in this car and the AC blows ice-cold. As you can see from the pictures, the rims look good while the excellent tires on this auto have been rotated, balanced and still have plenty of tread wear left.

The trunk has many functions, one of which is obviously the superior cargo capacity. The trunk is very clean and roomy as you can see from the pictures. The previous owner used it sparely and it looks as if it were new. The car is equipped with original Volvo CD Changer. This is a unique hard to find automobile!
This is another one of those hard to put a price on vehicles. It's certainly clean and is in a color that is neutral and I think, frankly, looks smart. However, almost $10,000 seems rather dear for a car with a small following that is little known on these shores. If it was around the $7,000 mark, I think I could stomach it more. Still, it is great to see one of final model year Coupes in great shape and even if it looks a little staid. I'm a big fan of the crisp lines and understated look, and I imagine it would be the choice for those would wanted to be contrarian and not buy a used 3 series coupe.
-Paul