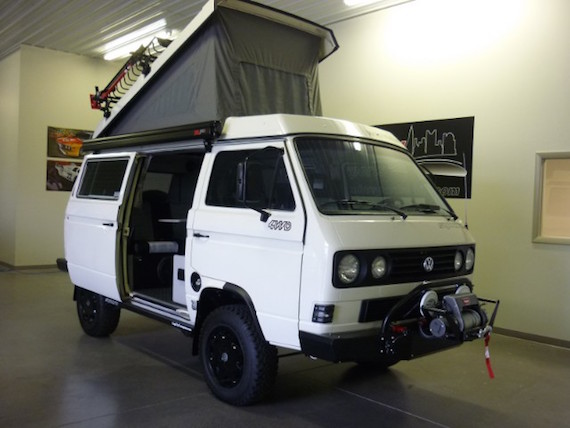 It's been a while since we've seen the kind of Syncro Westy that can command the better part of a hundred thousand dollars. We've seen some nicely restored and modified examples, but even then they've struggled to break $40k. Well, folks, we caught a big one. Let's see if we can haul it aboard.
Inside out and top to bottom, this Westy is mega. Starting with the mechanicals, there's no Subaru imposter or rebuilt wasserboxer here – it's a like-new, $35k 1.8T conversion putting out a very healthy 255hp with custom cooling and exhaust systems. Underneath you also get new suspension and a big brake kit, along with a rebuilt front differential and Porsche 930 axles. I especially like the dual fuel tanks for removing any range anxiety when you're way out in the woods.
From there, we're just looking at a no-holds-barred interior and exterior. Inside, there's an entertainment system with a back-up camera surrounded by a custom houndstooth interior. It has everything a Westy lover dreams about, from the solar system connected to twin auxiliary batteries to an on-board air compressor and front-mounted Warn winch, though I'm rather confused as to why they put the Hella lights in a position where they're blocked by the winch.
This van goes well beyond what is necessary to live the Van Life. It's an exercise in how far you can go and how many dream-boxes you can check, but the resulting price tag is similarly fantastical.