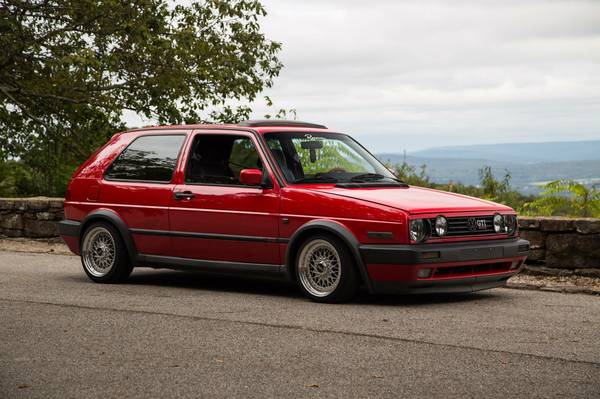 There's something that's just so right about the 1990-1992 GTis. The bigger bumpers gave a chunkier, more menacing look than the 85-89 cars had, and the swap to the 4-headlight grill worked so well. More power and bigger, better BBS wheels made these the best GTis in the eyes of many VW faithful. By 1990, the GTi 16V had gotten fairly expensive so Volkswagen reintroduced a more budget-conscious 1.8 8 valve version. It wasn't a total poseur, though – Volkswagen made an attempt to differentiate the entry level GTi from the standard Golf. With 105 horsepower on tap (5 more than the standard Golf) and a 5-speed close-ratio gearbox, they channeled a bit of the original A1 GTi even if they didn't sing up high like the 16Vs did. There were other subtle differences between the 16V and 8V; externally, they looked very similar except that the 16Vs wore appropriate 16V insignia front and rear and on the slimmed down side moldings. The 16Vs also got the larger and wider BBS RM multi-piece wheels with wider flares, while the 8V model wore the 14″ "Teardrop" alloys that had previously been the signature of the 16V. Both now wore roof mounted antenna and integrated, color coded rear spoiler with 3rd brake lights and color coded mirrors, along with the aforementioned 4-headlight grill, deeper rocker panels and integrated foglights. The 16V got beefier Recaro Trophy seats, while the 8V was equipped with the standard sport seats. Both wore the same sport suspension. And, both models now had the passive restraint "running mouse" belts. Today we've got one of each to look at, so let's start with the big brother: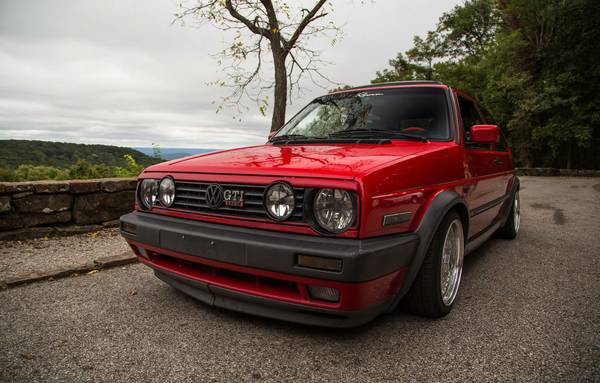 Year: 1991
Model: GTi 16V
Engine: 2.0 liter inline-4
Transmission: 5-speed manual
Mileage: 173,010 mi
Price: $6,800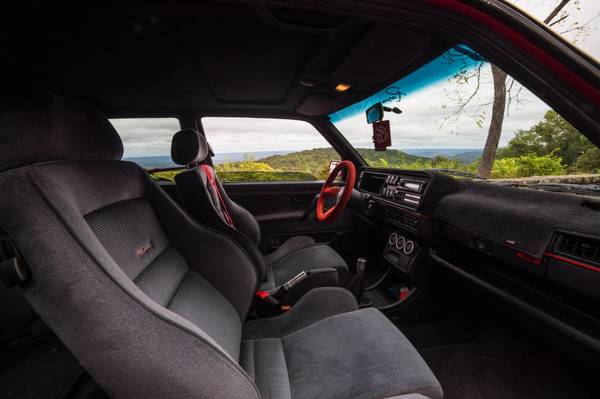 Well, it's for sale! It's time to let my real Mk2 Gti 16v go. Found another car I want.

1991 VW Golf Gti 16v
-173,010 miles on the odo
-2.0l 9a 16v
-Recaro interior, velour seats and doorcards in great shape
-Original paint shows age but presents well 8/10
-15×7.5 et18 BBS RS's (rs001's) with new 195 45 r15 Nexens
-Wired for euro taillights
-Mk4 blue cluster lights with silver gauge overlays
-VDO gauge pods for oil temp, coolant temp, and oil pressure
-Poly bushings pretty much everywhere possible except for strut bushings
-AGB code 020 5 speed transmission, sachs clutch (replaced 11k ago)
-Timing chain, head gasket, and valve cover gasket done 11k ago
-New starter, alternator, and drivers side CV axle
-Cold AC (has been converted) and Hot heat
-Plenty of rare and euro parts.

Known issues:
-Damage to passenger side rear quarter panel, should be fixable with PDR
-Other small dents and dings
-Takes a good minute to warm up and run happily on cold days

Im forgetting some stuff, but I'll answer any questions.

Ad keeps getting flagged with more information, unsure of why, so if you have any more questions let me know, I will be happy to answer them. Price is $6,800 obo with the RS's if I sell it without them, price is $5,850 obo. Able to send more pictures as well!

Thanks!

I do NOT need help selling this vehicle.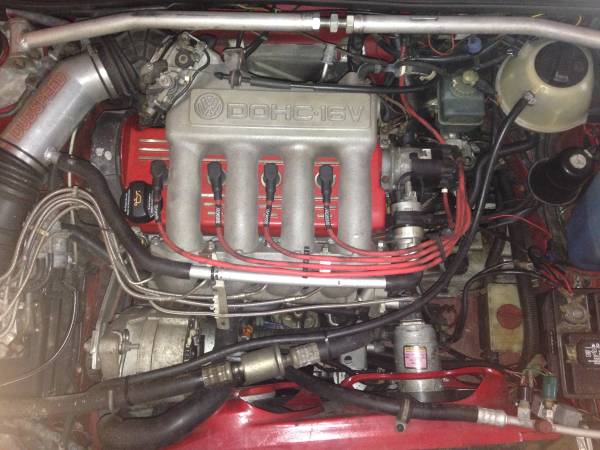 Generally this car looks to be in very good shape; better, certainly, than most turn up for sale and it hides the 170,000 miles pretty well. The BBS RS wheels are a tasteful and expensive upgrade; if you're not a fan, drop them off and you save a grand off the price. But, keep in mind that sourcing original RM wheels won't save you much money in the long run and you'd likely pay more. Unlike the previous example, this car has some modifications which work and some that I could do without, but it's a pretty tasteful example in a nice color for a not-outrageous asking price overall.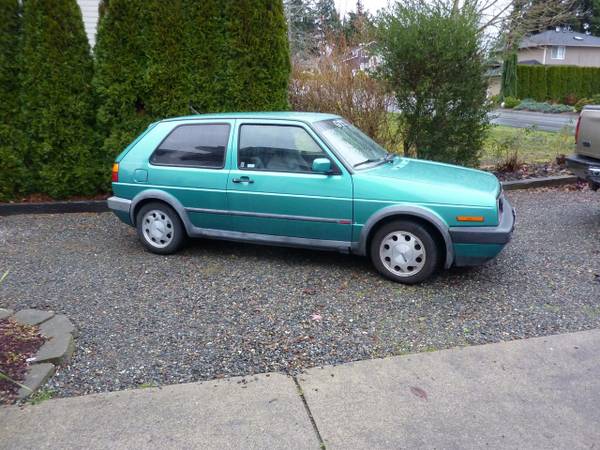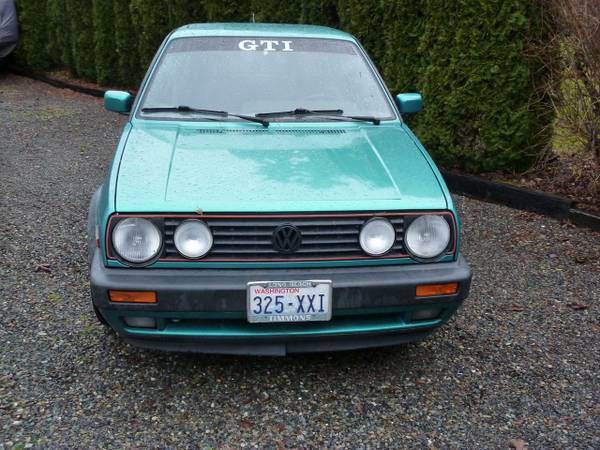 Year: 1992
Model: GTi
Engine: 1.8 liter inline-4
Transmission: 5-speed manual
Mileage: 76,370 mi
Price: $4,000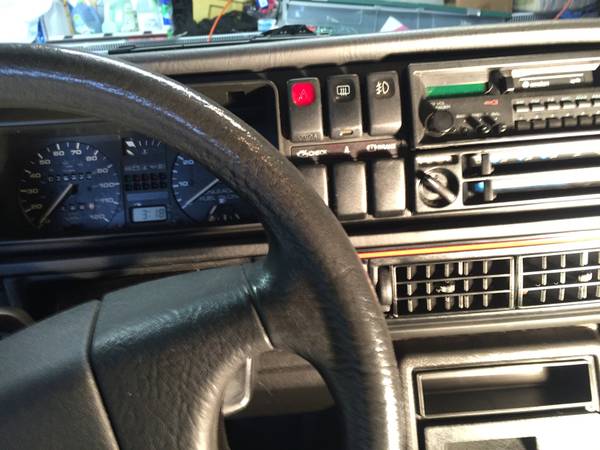 1992 VW GTI Mark II
76,370 miles
105 HP, 4 cylinder gasoline
All stock/original
Montana Green
1 Owner

Please call and leave a message for Jim.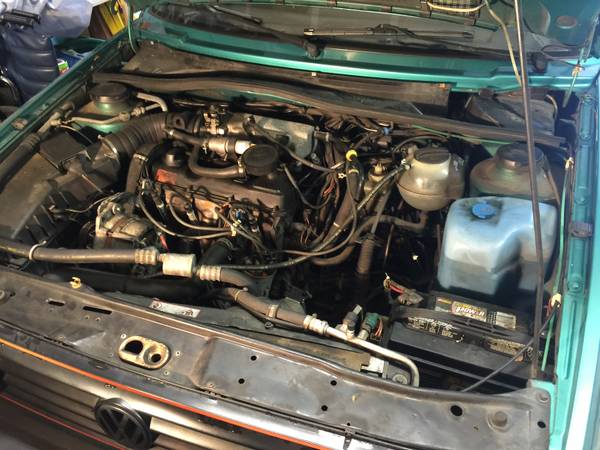 As when new, the 8Vs offer a fair amount of the 16V performance but at a more affordable rate. They don't have the mystique of the 16V and the interiors aren't as special, but you could get the signature color of the late run GTis in either configuration. Montana Green looks as great today as it did when new on these cars and really stands apart from the normal Volkswagen shades. 1990-1992 GTis only came in 4 colors – white, red, black or Montana Green, so it's always nice to see the splash of color. Miles are much lower and this one is completely original, including even the owner. It doesn't gleam quite as much, but offers a blank slate for someone to make a special hot hatch of their own.
I'd have to say, as much as I love the 16V models I'd probably opt for the 8V here. A Northwestern car, it should be rust-free, and the all original aspect is so infrequently seen on these cars that it's fun to imagine owning a stock one. Hagerty's valuation on these second generation GTis has been rising, with average 1989 pricing now just over $4,000. If you like them, get one a decent one before prices start trending the way of the A1.
-Carter