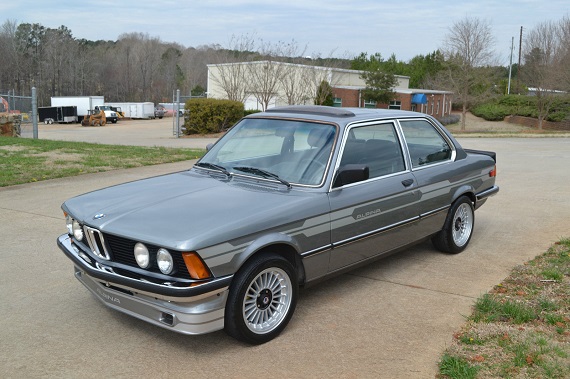 Provenance is something very important to many consumer goods; slap a brand name on any good and it increases the value of an otherwise ordinary product exponentially even if it's the same formula as the budget no-name product. People are attracted to names that they recognize, and of course therefore more likely to buy those products even if they are more expensive. And in the BMW world, if 1980s BMWs were increasing in value that takes a backseat to the microscope on Alpina models. Yet, as with many tuners of the 1980s, not only is it possible to buy replica parts today, but even in period you could buy all of the pieces and slap them on just about any car. In those cases, though outwardly they look identical at times to the "real" cars that were assembled at the factories, they don't tend to hold the same value. That's why today's European-spec 1982 320i is an interesting case – is it an Alpina?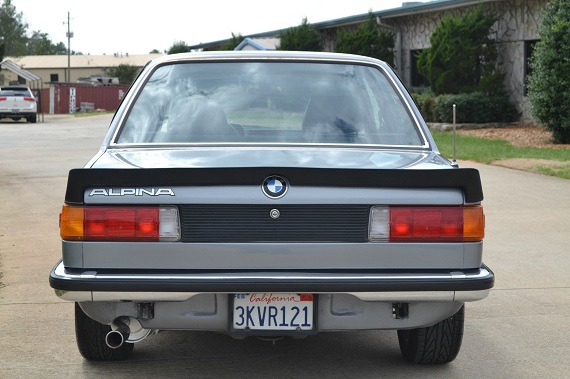 Year: 1982
Model: 320i
Engine: 2.0 liter inline-4
Transmission: 5-speed manual
Mileage: 267,000 mi
Price: $24,000 Buy It Now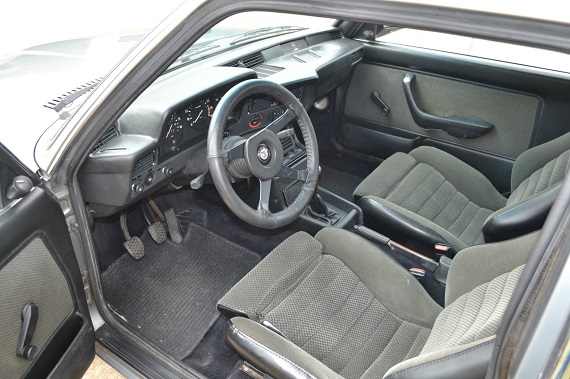 320i Alpina

This is a EURO car with a current California Title.. I bought this car in 2008 and placed it in my warehouse now I need the space..I recently replaced the stripes and had a full engine service/ tune up. RUNS GREAT!

I know there is debate about 4 cylinder ALPINA'S after 1979..It is my understanding, 4 cylinder editions were sold in Europe in 1982 and as such this car is one of those examples. I bought this car as a real ALPINA and I'm selling it as such.. ( please see photo of rare Alpina differential) That said I don't want to nor will I engage in the 1982 4cyl ALPINA debate.. BTW if you google ALPINA E 21 This car shows up a lot lol..If you don't think they exist please move on ..This is obviously not the BMW for you

It has all the standard ALPINA option's..Dash Badge..Recaro Seats..Steering Wheel..Shifter Knob..Rear Diff etc..

The car runs great.. everything works.. but not the worlds coldest AC

Wheels recently reconditioned.. will need frt tires.. great dependable appreciating classic..

The Bimmer is for sale locally and I may end auction early…PLEASE DO NOT BID IF YOU HAVE LESS THAN 10 POS Ebay FEEDBACK

Man you have to love wienie 'know it alls ' that are in all of our clubs…Even though I specifically asked not to debate the Alpina 4 cyl question..I had an BMW expert Email bombed me.. So here is the facts of this car PER the Original Owner.. An American soldier. While stationed oversees wanted an Ascot Gray car.. BMW didn't do 3 series in that color.. luckily his upstairs neighbor dated a girl at the BMW factory she worked out the details of the color and shipment to Alpina who converted the car except retained the higher ride height and 4cyl engine which were both retained for ease of importing when the soldier returned to the states.

The color combo and 4cyl make this a one of one Alpina

Enough Said..Thanks for all the interest and complimentary emails
At first glance, the right boxes seem to be ticked; Euro model, the correct colors, stripes, though it must be said the wheels look slightly large. We'll come back to that, though – step inside, and yes – the Alpina wheel is there and there's a dash plate as well, though not the normal one you'd associate because there is no model designation. Along with that, the Recaros – while wonderful looking – do not sport the typical Alpina colors. What's going on? How about a look under the hood, where we find what appears to be a completely stock M10? Surely, this is just a replica car – yet, that badge and many of the details seem to be too right. From the seller's description, they've had a hard go of it too; right down to BMW experts who claim the car is not legitimate. Indeed, there are some questions because by the 1980s Alpina had abandoned the 4-cylinder cars in favor of the C1 2.3 and the later B6 2.8. Now, there were earlier 4-cylinder engines – a reported 5 variants (labeled A1/3-A5/3) that varied in cam and compression specs from 120 horsepower through 190 horsepower. Yet all of them had Alpina details including the cam cover which this car is missing. And the A series had a different rear spoiler and smaller wheels. So, it's not an Alpina? Well, that doesn't seem to be right either, since the build data supports the existence of this car. Indeed, popping over to the Alpina Archives reveals a similar serial number 3-1870, which nearly matches the 3-1897 of this car. Outwardly, it appears this car may have received all of the modifications of the C1 2.3 except the motor, lowered suspension and Alpina decor cloth. That makes it pretty unique, though some actual documentation rather than internet theory would certainly help. Now, is it a $24,000 car? The last real-deal C1 2.3 from January sold for a touch over $20,000 but was better documented than this car. It's a bit unique in that it's missing some of details that one would normally associate with a C1 or B6, but that "one of one" factor – at least to me – doesn't make it more valuable.
It sure is quite pretty, though!
-Carter