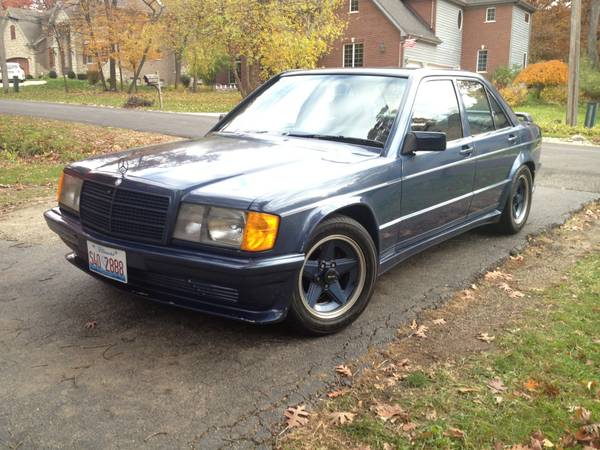 If you want a fast tuner small sedan from the 1980s, you basically have two options: Alpina is the go-to favorite, and if you're a bit different you find a Hartge. That's it, really, because while companies like Abt modified Audi 80/4000s and occasionally you might run across a Callaway Turbo Jetta GLi, there just wasn't much else out there. For Mercedes-Benz, you could of course buy their in-house tuned Cosworth 190E, but AMG seemed to focus on the larger W124 and W126 chassis instead of the W201. That is, of course, except for their 911-fast 190E 3.2 and 3.4 – cars seldom seen. Before we go any farther, this isn't one of those mega-motored cars, from everything I can tell. What it appears to be, though, is a clean and tidy looking 190E in a quite rare color with some pretty awesome period AMG details; in this case, the ultra-rare widebody kit from Affalterbach: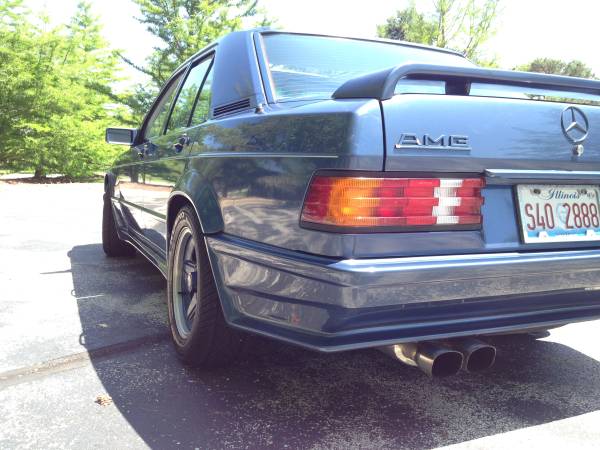 Year: 1985
Model: 190E
Engine: 2.3 liter inline-4
Transmission: 4-speed automatic
Mileage: "35,000" mi
Price: $9,000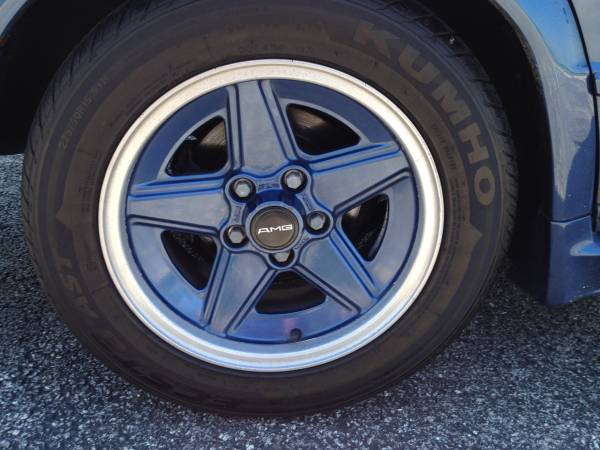 Widebody AMG tuned 190e. Supposedly 1 of 18 in Nautical Blue imported to the US. This car is rare, cracked dash. The car does have A/C but the compressor does not work, all windows and the sunroof open like they should. Aftermarket radio, automatic transmission, Custom exhaust, tires with under 5k miles,

Texting is best for me show contact info and I can send you more pictures. I am not in a hurry to sell. I might be interested in a trade, just let me know.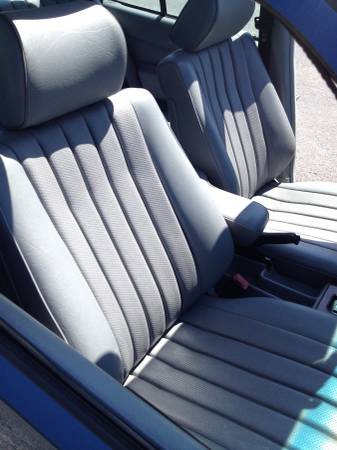 If the seller doesn't have any documentation, proving the history of this car is going to be pretty difficult. Since most of the AMG pieces are available as replica bits, this car could have been built pretty much at any point. But the widebody bits are lesser known, and the seller's inclusion of one particular photo – the close up of the "ATS" on the wheels – lends a hand to some legitimacy that this car was built in period. Notably, nearly all of the exterior details are correct to match the actual period car, with one exception – the rear spoiler is wrong. The AMG kit seemed to include one of two spoilers; the non-widebody early 201s had a stick on spoiler similar to some of the early 80s BMW units, while the widebody had a angular tack on to the back of the truck that was similar to what I associate with the W124 AMGs. This one is neither of those, obviously, and it's also somewhat strange that the interior was left untouched on what was likely an expensive conversion. I did find a photo of a near identical W201 AMG Widebody, and you'll note the AMG details inside and the trick Recaro power seats. Also, critically no engine details are provided here so I'd have to assume it's a stock M102 under the hood. Since the AMG bits were available effectively a la carte, that wouldn't be an outrageous claim. And comparing the car to the stock AMG photo below, it appears mostly correct even right down to the blacked out grill. There are some fit and finish details that are less than ideal here; the rear bits seem out of place, the exhaust seems like a cheap throw on and the dash is cracked. Mileage is listed as "35,000", but again why no mention of such low mileage in the description? There's plenty of research left to do here if this is the 190E you'd want, and at $9,000 you could find a pretty reasonable Cosworth model. But if you love AMG and being a bit different, this looks like a great way to stand apart from the crowd and look really special doing it. If there's no documentation and this car is a blank slate, I'd consider throwing in a later 3.4 and have some fun surprising the BMW crowd; but if there is information to back up the build on this car, it might be one of the most rare W201s in the U.S. and is certainly a collector-status car. Either way, the asking price for such a rare bit of kit doesn't strike me as terribly outrageous – especially in comparison to what the BMW faithful believes their limited versions are worth.
-Carter