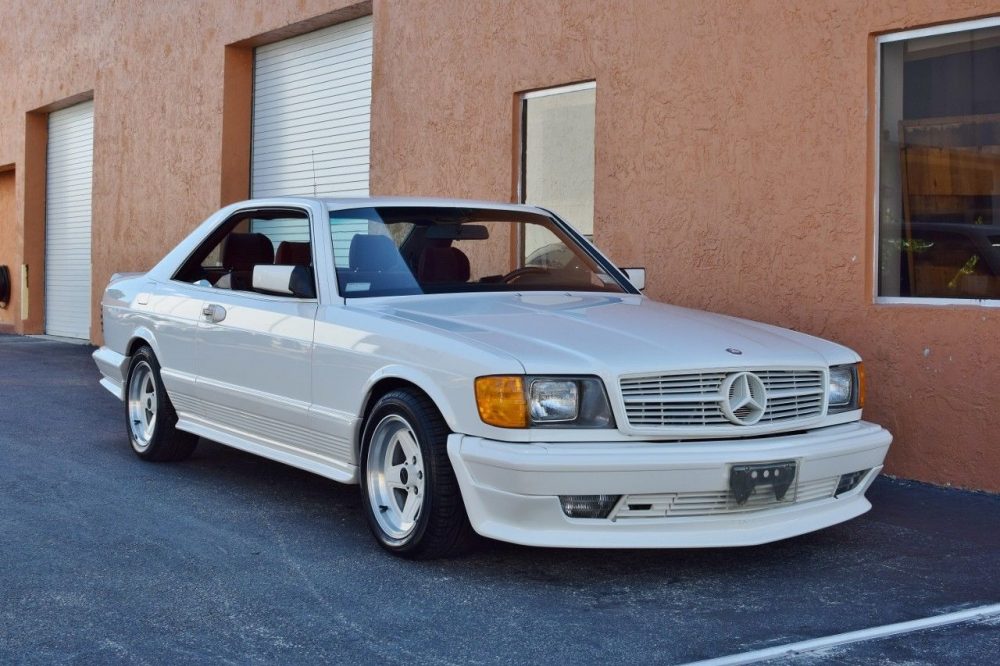 A few weeks ago I looked at an absolutely pristine 1986 Mercedes-Benz 560SEC with just a little over 10,000 miles. As you might expect, the car was nearly perfect and carried a hefty price tag of $65,000. If you still want it, the car is still for sale and the price has been lowered to $59,000. Personally, I wasn't a huge fan of the car simply because I think the Champagne gold isn't very attractive at all, but other than that, the car looks like a real winner.
If you are like me and hated the gold but still want a SEC with 10,000 miles, you are in luck with today's car. This 1985 500SEC up for sale in Miami comes in with 10,726 miles and if you might have noticed by the photos, has some extra little goodies attached to it. What kind of goodies? None other than a nice helping of AMG parts, of course. The price? Well, you won't be saving any money by picking this car over the 1986, that is for sure.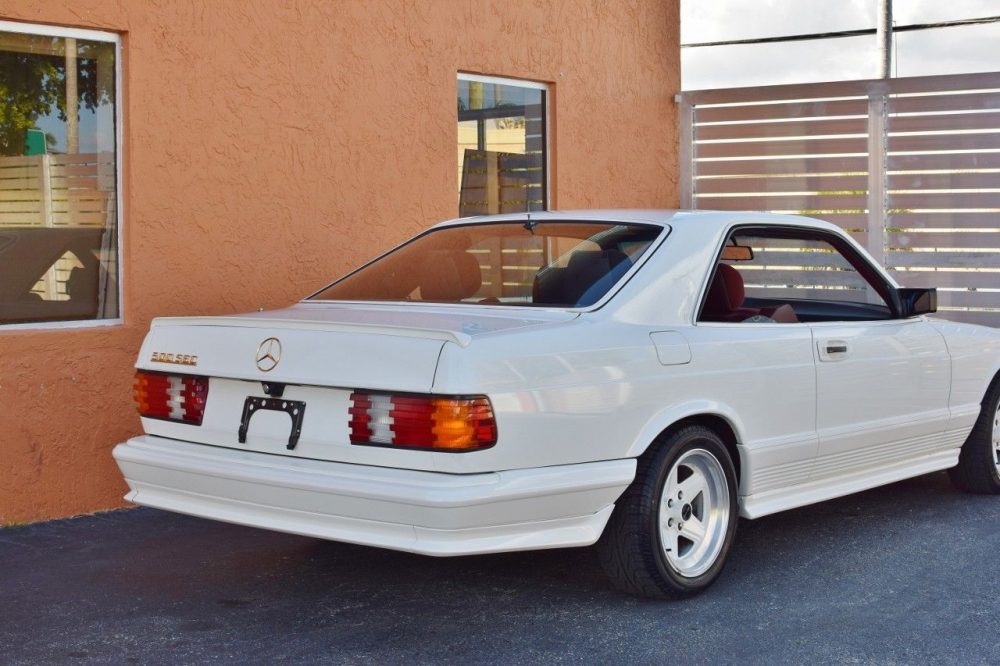 Year: 1985
Model: 500SEC
VIN: WDBCA44D3FA174113
Engine: 5.0 liter V8
Transmission: 4-speed automatic
Mileage: 10,726 mi
Price: $57,900 Buy It Now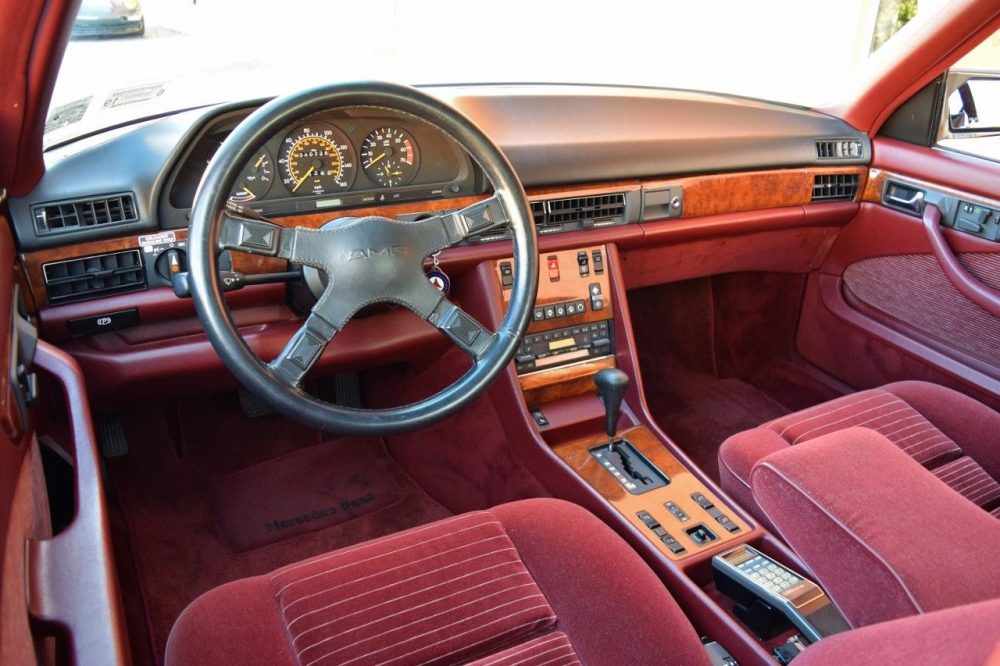 1985 Mercedes Benz 500 SEC Pre Merger AMG

RMC Miami is now offering for your consideration this Beautiful and original 500 SEC AMG with ONLY 10k MILES!!

Purchased from the original owner who had it since new garaged in New York this car is incredibly original car
is vintage 1980's. The white paint is in excellent condition very few imperfections, (Great shine), and very straight.
Car has never been in any accident and has a clean carfax. All the AMG panels are in excellent condition and have AMG branding.
Wheels are factory AMG wheels color matchedand wrapped in older Pirelli P6000 tires.
Suspension is AMG optioned Bilsteins with white springs as seen in the photos.

The uber rare Red cloth interior is excellent and original condition with no rips or tears.
The dash, burl wood, headliner, carpets, door panels, and authentic AMG steering wheel are all in great, original condition.
Everything seems to operate as it should, for example, the automatic seat-belt extenders, power seats sunroof, heated seats,
and original radio. The medkit is still present in the medical bag in the rear deck.
As a bonus even the Cell phone on the center console is still on and functioning.

Our AMG is unmodified in anyway and has a strong 5.0L V8 engine. Car turns on and idles perfectly. No check engine lights
or error lights of any kind displaying on the cluster. The 230 Horsepower V8 mated to the automatic transmission makes
this car a fun driver. Having only 10k Miles obviously the car runs and drives like new the suspension is stiff and driver feel is tight.

Undercarriage of the car is very nice. All of the gold plating is still present and the floors are in good condition.
See photos for reference to undercarriage. There is no visible oil leaks or fluid leaks on the engine transmission or rear end.
The SEC is the coupe version of W126 S-class, which is probably the best S-class of all time.
It inherited the W126's solid build quality, bullet-proof reliability, tasteful and roomy interior.

Purchaser will receive clean car fax books manuals and tools

SERIOUS INQUIRIES CALL EDDIE 786-377-4331 OR PETE 305-772-8635

Follow us on Instagram for live updates! @rmcmiami
Can Ship (Insured) Anywhere Worldwide if Needed.
Located in Miami, Florida 33126
Financing Available with Approved Credit
Trades Always Welcomed (UP or DOWN)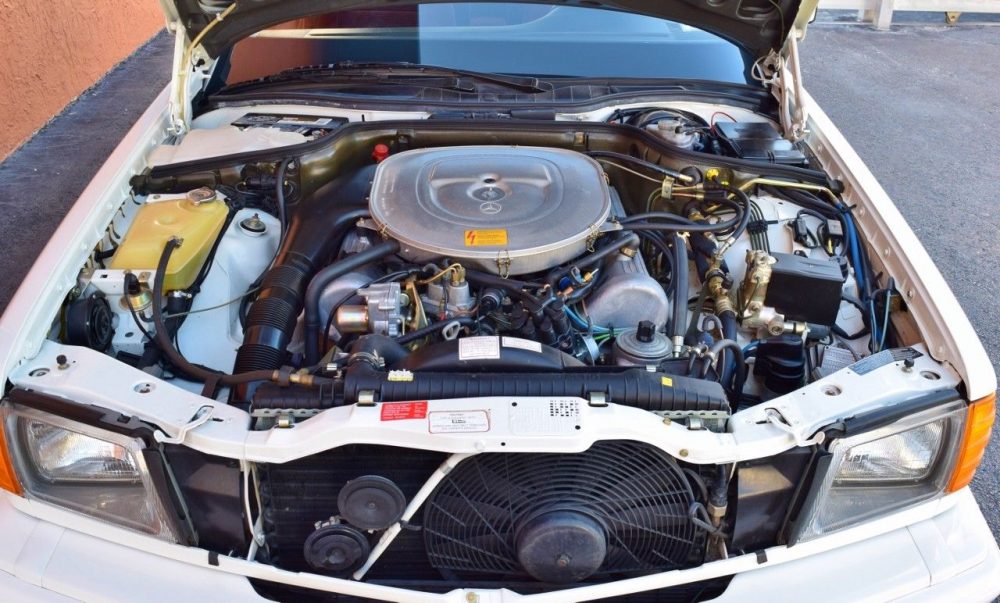 This is probably one of the coolest W126s I've ever come across. The AMG bits on the outside are great but it is the interior that really steals the show for this car. This was actually ordered in factory red velour and it just looks perfect. The little white lines complement the rest of the car so well and just fits right in with the 1980s vibe this car has. The rear seats are just as cool with the high side bolsters and headrests to match the front seats. The four-spoke AMG steering wheel is a nice touch that replaced the non-airbag steering wheel that actually was phased out the next year in 1986 in favor of an airbag. Under the hood, everything is flawless as you might expect but it is just a tad disappointing that this 5.0 liter didn't have any AMG modifications done to it. My guess is that this car was bought here at a dealer, sent to one of AMGs branches in the US and all these modifications were added on à la carte style. None the less, this car is outstanding in every single way and is now a true classic instead of being look at as "old and dated" as we looked at a lot of cars from the 1980s.
As you might have guessed, all this perfection doesn't come cheap. Like I mentioned, this car is priced almost exactly as the 1986 from a few weeks ago at $58,500. Is it worth it? Well, I think it is tough to argue against it. The only real difference outside of the modifications is that this car is a Gen 1 C126 vs a Gen 2 as the 5.0 vs 5.6 suggests, but at this point it really doesn't matter all that much. I think this car actually has some investment potential, which is a term I don't say all that much, thanks to the AMG bits that are nearly impossible to find in excellent condition like this. I don't think this car will have trouble find a new home at all even with the big price tag and I'm so glad we all got to take a closer look at it.
– Andrew