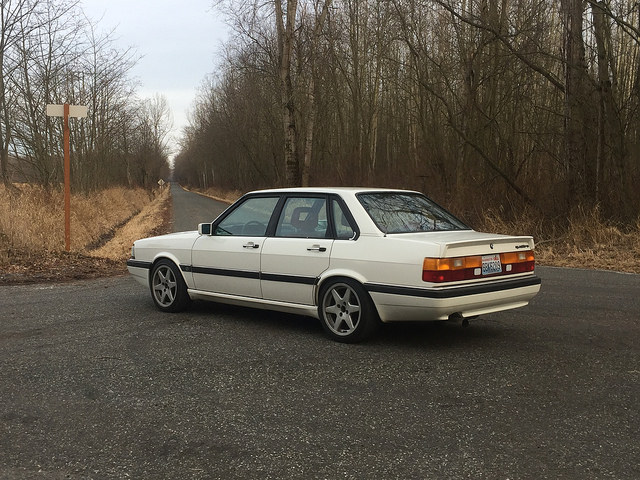 In 1986, to commemorate the 100th year of the automobile, Audi released a series of designs to celebrate the occasion. The consisted of a series of interior and exterior color combinations which were unique to the Coupe GT, 4000CS, 4000CS quattro and 5000CS sedan. Each car had a different interior (with the exception of the GT/4000CS quattro, which both received 'Mouton' red leather) and were available in limited quantities and limited exterior color choices.
Their name, appropriately, was Commemorative Design.
Despite that, the Audi enthusiast world at large insists on calling these cars the 'CE' – Commemorative Edition – models, rather than 'CD' for the appropriate Commemorative Design. Perhaps this stems from some confusion with the Canadian market, where the 5000CS model was marketed as the 5000CD. Does it matter? Not at all.
The two most desirable of this run were the Coupe GT and 4000CS quattro examples with red leather interiors, especially in Alpine White. Though mechanically no different than the standard models, they always make the collective pants of the B2 community a bit tighter when they pop up for sale. However, this particular one might be close to 'Not Safe For Work' level, as in addition to the color scheme it's got a turned up 2.2 liter 20V turbo under the hood. Is this B2 perfection?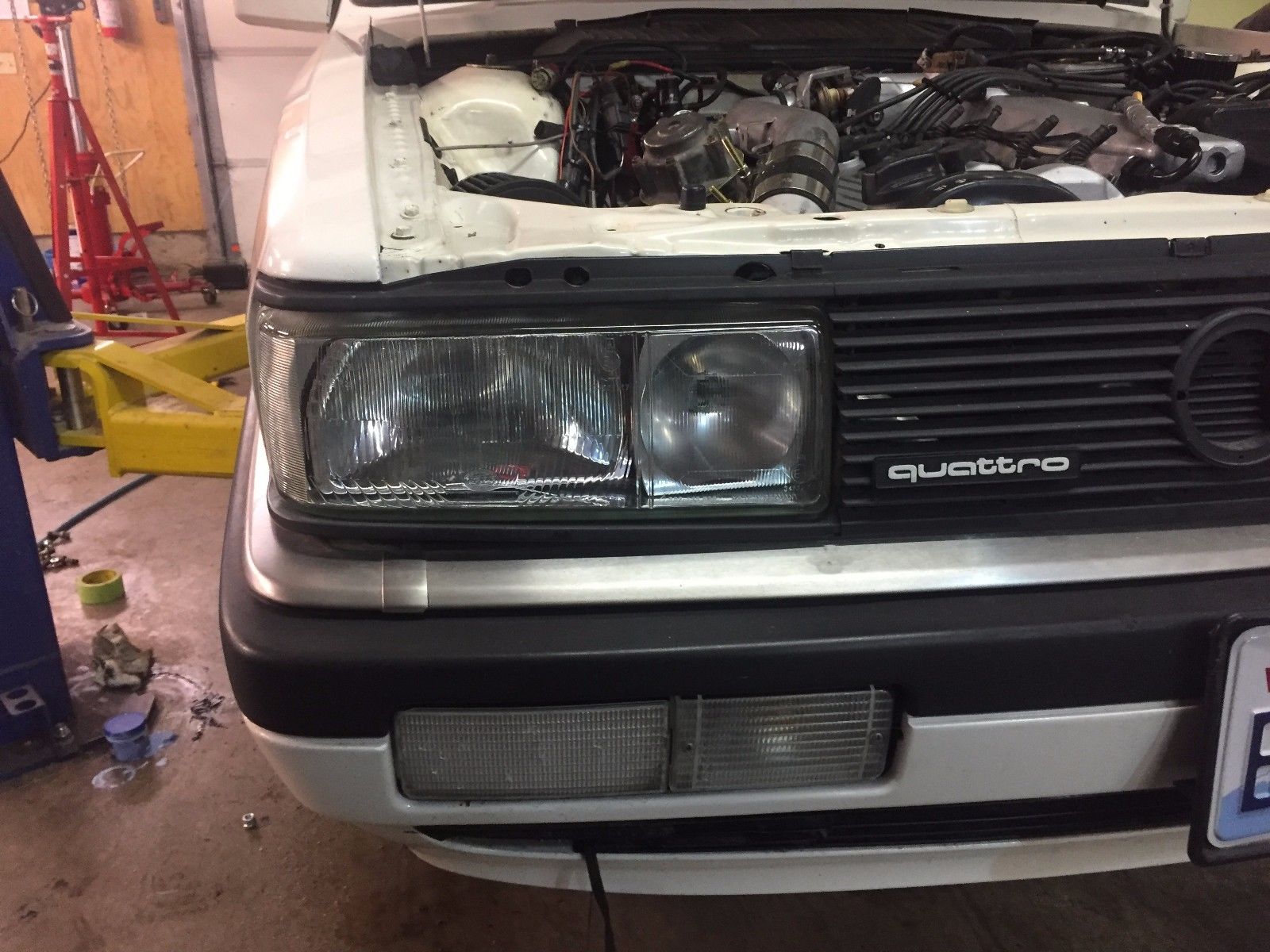 Year: 1986
Model: 4000CS quattro Commemorative Design
Engine: 2.2 liter turbocharged inline-5
Transmission: 5-speed manual
Mileage: 165,000 mi
Price: $10,000 Buy It Now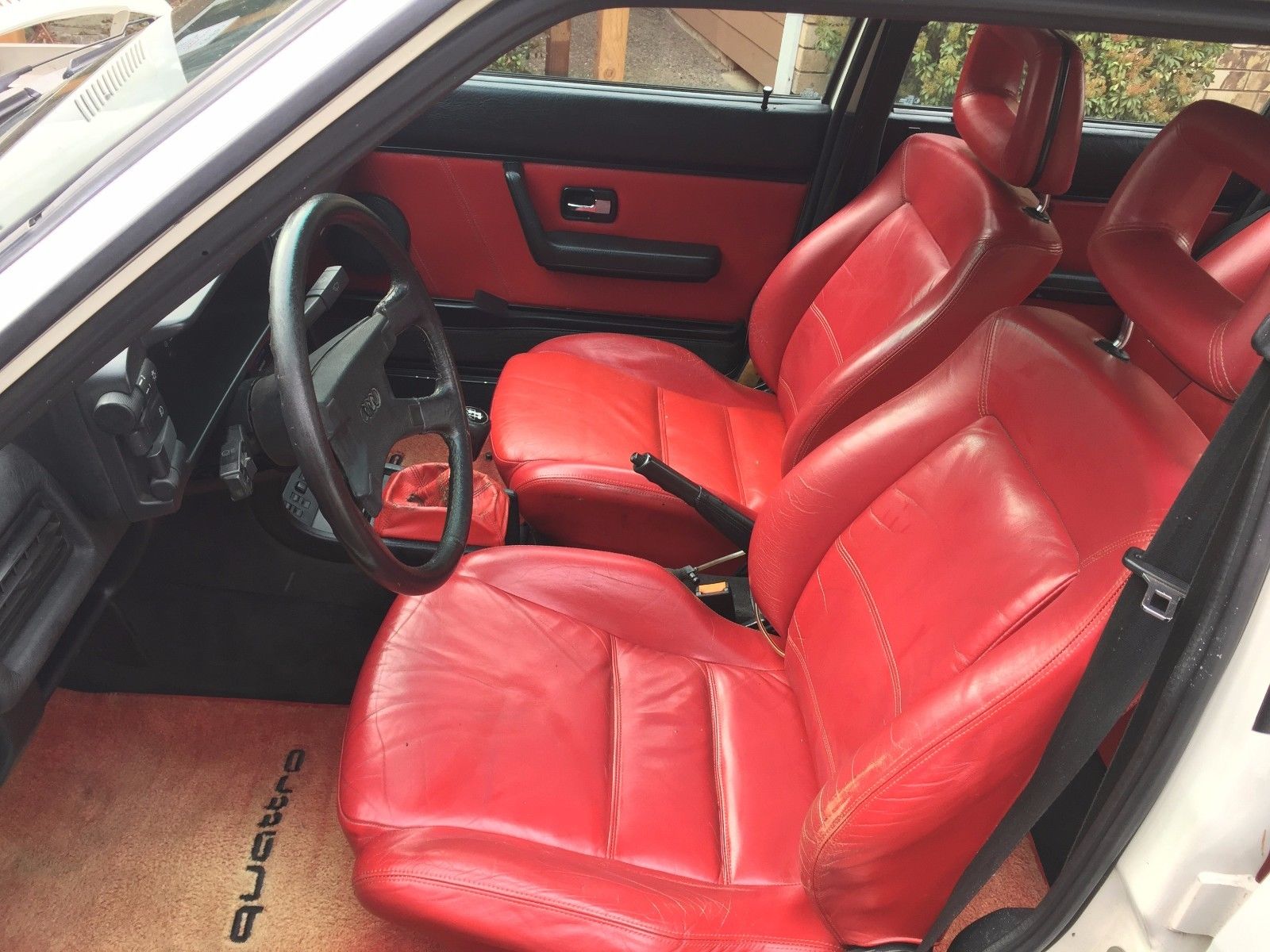 1986 Audi 4000 Quattro Commemorative Edition
2.2L 20V Turbo , 01E 5 speed Manual
Beautiful body, Rust free, originally a California car with records since new

Clean title, Clean Carfax report, Clean autocheck. No wrecks.
Clear Wa title in my name

Details
Approx 165,000 Miles

Engine
AAN Engine code (stock internals) from 1995 S6
Factory AAN engine wiring Harness
440CC "Green Giant" Injectors
034 Motorsports Fuel rail
Aeromotive Fuel Pressure Regulator
3B intake manifold
URQ all metal intercooler
Custom aluminum intake piping with silicone couplers
RS2 Exhaust manifold, stock AAN turbo
3″ Stainless Mandrel bent TIG welded exhaust with V-Band clamps
Magnaflow muffler (one rear)
Bosch Wideband 02 sensor
EGT sensor
VEMS Plug and play ECU that has been custom tuned
EFI Express LS2 Coil harness, LS2 Coils
Upgraded oil cooler, custom large diameter lines with AN fittings

Drivetrain
RS2 replica mounts (unknown brand)
01E "Wide first" 5-Speed transmission
URS6 interior shifter parts to retain reverse lockout
034 Short shift kit
Ground Control adjustable coilovers
Koni Struts

Misc/Exterior
16″ ATS Type-10 wheels
New tires (approx 1,000 miles)
034 Motorsport wheel stud kit
Relayed Euro headlights (much brighter than stock!)

General condition of car

The body is very straight and one of the best looking 4000's I've seen. It lived in California until 2005 and has been in Washington since then. Has 0 accidents, I am the third owner. 2nd owner was an Audi technician and took great care of the car. Only a couple of very small dings.

Interior is very clean and rare red leather. Black carpet is really really clean! Dash is crack and scratch free.

Car was very well cared for and it shows all around

Heat/defrost works fine

Power windows work (rear two are a little slow), power sunroof works, power adjust mirrors work. Door locks work.

This winter the suspension was gone through, rear ball joints replaced with new, front ball joints, tie rod ends, new wheel bearings, and upper strut mount bushings. Everything is tight!

It starts right up, but can require some cranking when it is cold out. Below 30 degrees out I use a block heater to alleviate this. A good VEMS tuner could probably squeeze more power out of the car and get it running better. It had a custom tune on the ECU and I lowered the boost a little and spent alot of time tuning the idle part throttle and cruise areas. It starts, idles well at 950 RPM, runs well, pulls hard. Makes approx 17.5 PSI of boost.

Transmission shifts well through all gears. It takes some effort to get into reverse, because of the configuration of the linkage (4000 linkage with 01E trans)

The radiator fan is wired into a lighted switch inside the car, hidden below the steering wheel. car runs cool (83-85 C when cruising, idling)

As usual the car needs a few things, it is 30 years old.

The engine it consumes some oil. Burns oil when at operating temp during normal driving.

The paint is in great shape everywhere except the hood and sunroof (see pictures) where it is peeling.

The rear view mirror has come loose (included with car)

The aftermarket stereo does not turn on, I have never needed it but it looks like a decent set up. Has crossovers and an amp which is mounted in the trunk. May need a new head unit.

Power steering has a slow oil leak that I have not been able to fix yet. I think it is one of the connections at the rack.

Left turn signal sometimes does not work, seems like maybe something is jammed inside the actual switch.

Due to the AAN harness being spliced, in the coolant temp sensor and oil pressure gauge do not work. I use a laptop or tablet for my gauges, and GPS for speed.

The mileage was accurate until I bought the car last year, but now that the 01E transmission is swapped in, it does not accept mechanical input for the speedo.

Rear passenger door has a small ding right on the body line where the paint flaked off (see very bottom picture below)

No AC!

Recent Maintenance
Relocated battery to trunk 9/2016
New battery 9/2016
Fuel Filter 9/2016
New Tires 9/2016
New front Ball joints 12/2016
New rear Ball joints 12/2016
New front tie rod ends 12/2016
New front wheel bearings 1/2017
New alternator brushes 1/2017
Oil pan gasket 1/2017
Brake fluid flush 1/2017
Trans Mounts replaced 1/2017
Ignition switch replaced 1/2017
New wide band 02 sensor 1/2017
Brake booster check valve 1/2017

PHOTO ALBUM HERE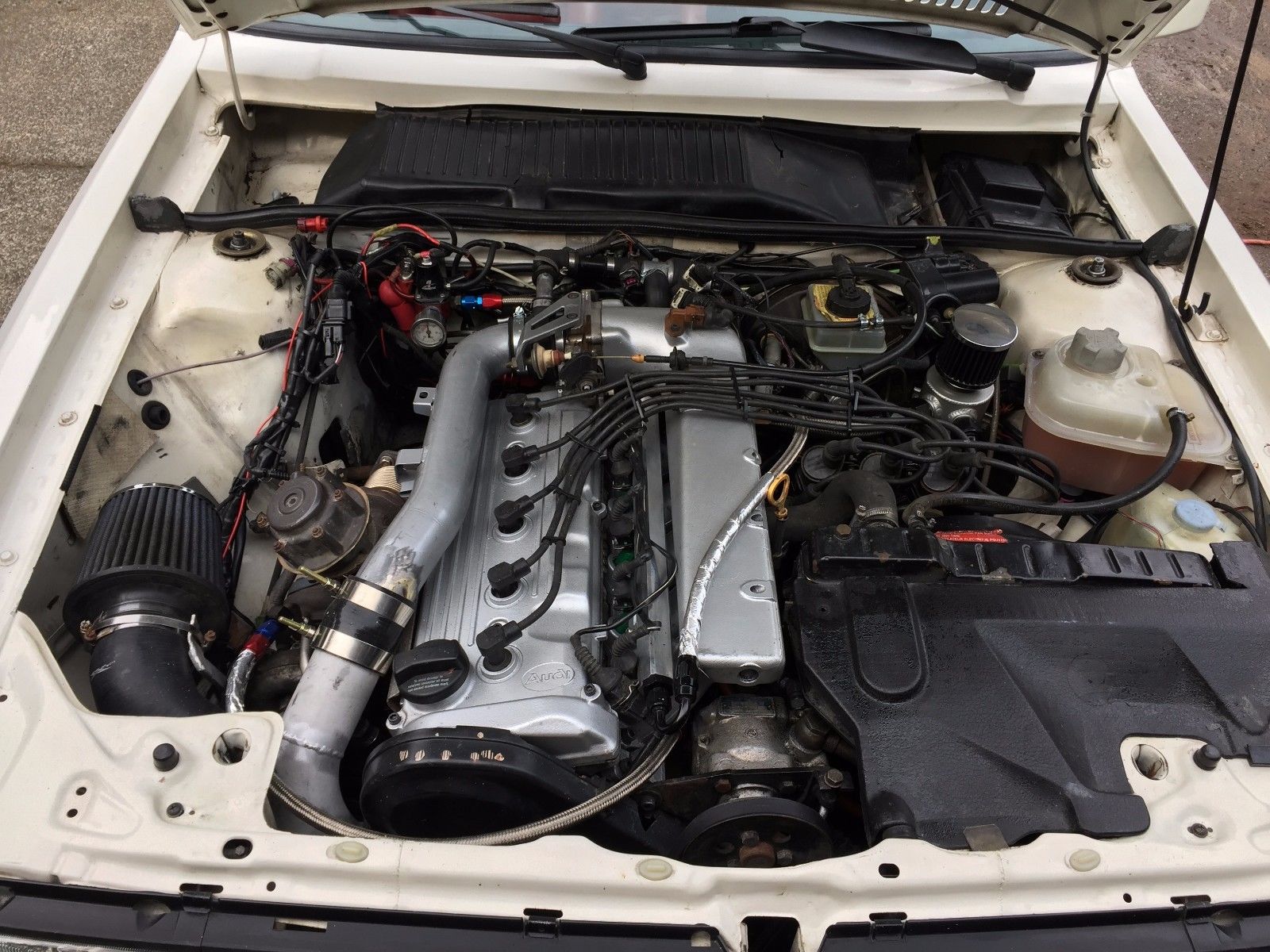 The peeling paint is probably a sign that the car received a light respray at some point, as the original Alpine White is a single-stage paint with no clearcoat applied. Still the car presents very well overall and is set off nicely by the rare ATS 6-spoke lipped wheels which look great. Like the hood and roof, they're in need of a cosmetic restoration, but importantly the bones of the exterior here are excellent and much better than an average Type 85 comes to market given the West Coast life its led. The interior, too, shows much better than most, as the leather still looks great and well cared for outside of some normal wear items. The steering wheel has been swapped for an earlier Type 81 wheel and the shift knob is not original, either, but neither looks out of place. The seller has great documentation of the car which is frankly abnormal, right down to the original sales slip showing the $20,600 sales price in late July, 1986.
It's mechanically where the car separates itself from the norm, with the AAN leading highlights of a recent suspension overhaul and again – no rust. As a New Englander who has repeatedly cursed my bleeding knuckles on the way to re-up my Tetanus vaccination, the pictures of the underside of the car are reassuring. There are certainly odds and ends left to do, but the majority of the heavy lifting is complete. That means you're primed to take this Type 85 to the next level and enjoy the explosive performance the combination of the later turbocharged inline-5 can provide when coupled with the small chassis.
-Carter