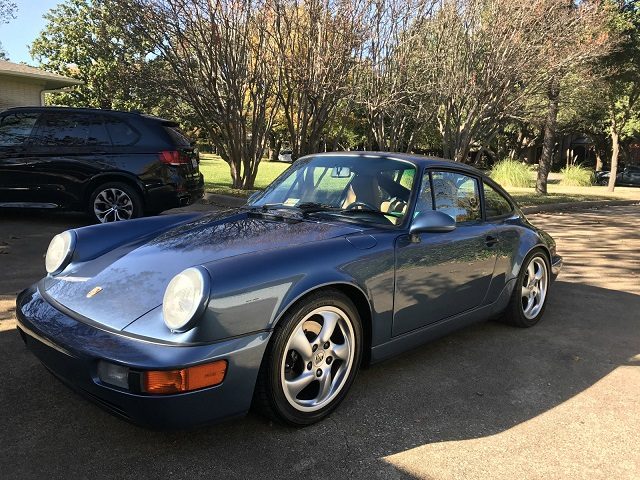 I've posted a few 964s lately and I'm not too upset about that because I've come to like the 964 quite a bit. A decent number of those posts have come from the higher end of the price scale – in some cases the very high end of that scale – but this one will not. That doesn't mean I find it that much less desirable. In fact, it's a really pretty 964 in a great color combination that has a few minor performance modifications. For those less concerned with originality, it might be just the 911 to pursue. Here we have a Baltic Blue Metallic 1990 Porsche 911 Carrera 2 Coupe, located in Dallas, with Tan leather interior and a robust 152,600 miles on it. The mileage is indeed pretty high, but it appears to come with a substantial stack of records and a decent bit of recent work.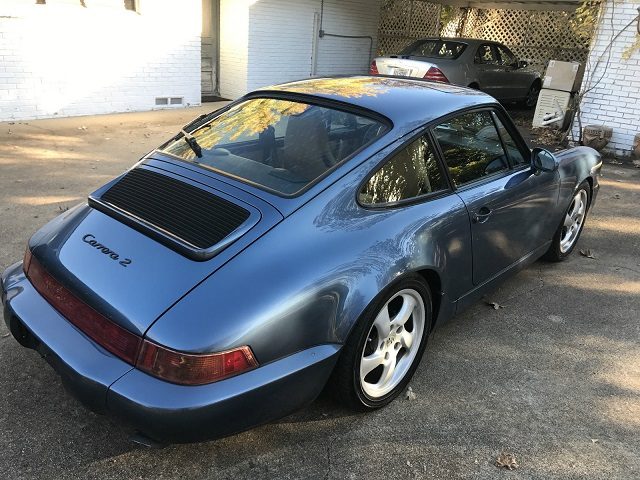 Year: 1990
Model: 911 Carrera 2
Engine: 3.6 liter flat-6
Transmission: 5-speed manual
Mileage: 152,600 mi
Price: $49,000 Buy It Now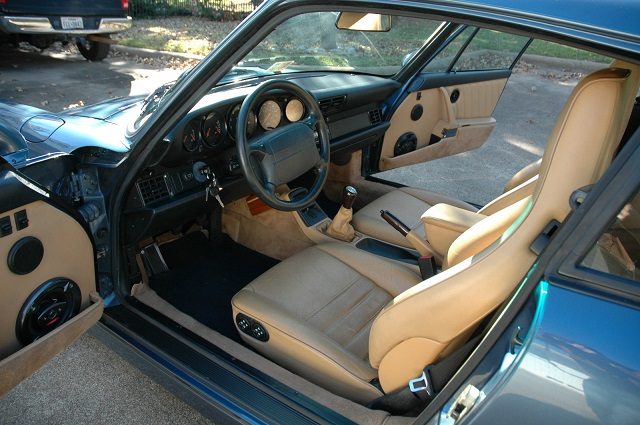 This is 1990 Porsche Carrera 2 Coupe with 5-speed Manual. Desirable Baltic blue metallic/tan. 152k original miles, although it looks and drives like 50k miles. The car looks absolutely stunning with some tasteful upgrades including- performance power chip, Eibach shocks (lowered to correct Euro ride height), Ruf coilovers, sport exhaust, twist wheels, and desirable 94' Turbo exterior mirrors. The original owner (1990-2003) made an incredible log book for the car when sold new with every service/work inputted with the date & mileage logged. The car runs and drives absolutely incredible. Engine runs like a bat out of hell and has lightning fast throttle response. Even on start up after weeks of sitting not a puff of smoke comes out. Idles perfect. Couple drops of oil after sitting as they all do. The car shifts smooth as silk. Never felt a 964 shifts so smoothly as this one. Clutch was new at 130k miles. New front steering rack was installed in 2015. Also major engine service was done in 2015 including valve adjustment, valve cover gaskets, and spark plugs. The exterior of the car is striking. The paint is incredible & gapping is perfect. The right front fender was repainted due to a very minor fender bender on the right front fender 2 years ago and had zero structural damage. I have pics of this I can send. The paint matched absolutely perfect. The body is nearly free of any major flaws with possibly the exception of a couple minor scratches on rear plastic bumper cover. The interior is super clean and all original. Only thing not original is the radio which needs connecting. Car has brand new tires. Comes with original Porsche wallet and paperwork. The car was been well-cared for it's entire life with loving owners. The owners after the original owner have added to the log book whatever work/maintenance was performed. The car is formatted with the ideal setup with all the right upgrades that 964 owners long for. It is the most desirable 964 configuration being a C2, 5-Speed, Coupe. And the gorgeous color combination is just a bonus. Overall this car is a fantastic sports purpose car that will put a smile on your face every time you're behind the wheel. I have a free and clear title. Please feel free to ask me any questions. Car is sold AS-IS with no warranties.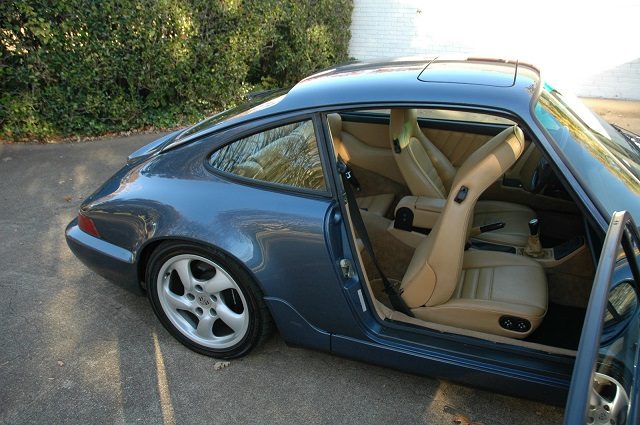 Of course, you'll want a PPI performed given the mileage and modifications this 964 has seen. The seller has a lot of really nice things to say, which we shouldn't be surprised about, and while we can't verify any of those statements regarding its mechanical state, this 911 does present quite well. The seats show a little wear, but nothing significant and the rest of the interior is clean and shows little wear. A bit of time behind the wheel should help confirm if it drives as well as stated.
I got a good chuckle out of the log book. It isn't often that we see handwritten records these days, though old habits die hard and I can certainly remember my parents keeping records like this back in the '80s. Regardless of how they were kept, the records of its early history seem pretty comprehensive and I'd be curious to know how well they've been kept since. The ad says later owners have continued the records, but everything we see looks to be from the '90s. I think it is the records as they relate to its recent service that will have the concern of most. Given the statement about some minor front fender painting, the steering rack being replaced, and a somewhat funny placement of the option sticker I'd want to make sure everything up front is as it should be. Perhaps its fender bender was a little more than that, or perhaps with age and wear things needed work? We'll see.
All of this adds up to a fairly promising 964 with a host positives in its favor, though some potential negatives. As nice as I may find it I don't think it has much chance of selling for almost $50K though. But hopefully someone can investigate, negotiate, and drive away with a very handsome performer.
-Rob