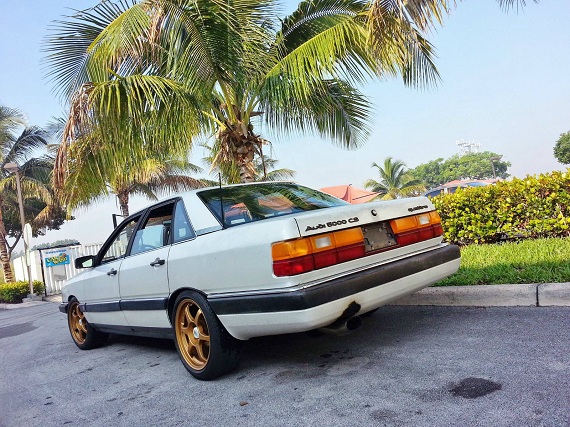 While it's tempting to throw the design laurels for Audi onto the later 200 20V quattro and S4/S6 models as we often do, it's important to remember that they were really developments of the original Audi super-sedan, the 5000CS quattro. That model was, itself, a development of the earlier turbocharged version of the large sedan, as seen driven in by the father in Ferris Bueller's Day Off. The CS quattro brought together the best elements of Audi's designs; the revolutionary C3/Type 44 aerodynamic and futuristic design which provided excellent looks and fuel economy, the robust all-wheel drive system with locking differentials as seen in the World Rally Championship-winning Quattro and 4000S/CS quattro, and the turbocharged inline-5 that also powered the Quattro and had previously powered the front-drive sedan. But 60 Minutes managed to do a number on late 1980s Audi products, creating a scenario where Audi was nearly removed from the American market. That meant low residual values, and by many these 5000s were viewed as throw away cars for some time. It's become rare to find good examples, and while this particular one isn't showroom-fresh it is a reminder that the 5000 was a neat looking and performing package: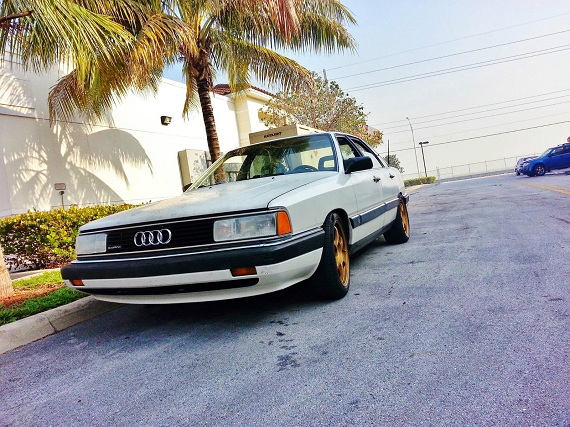 Year: 1986
Model: 5000CS quattro
Engine: 2.2 liter turbocharged inline-5
Transmission: 5-speed manual
Mileage: ~165,000 mi
Price: $3,495 Buy It Now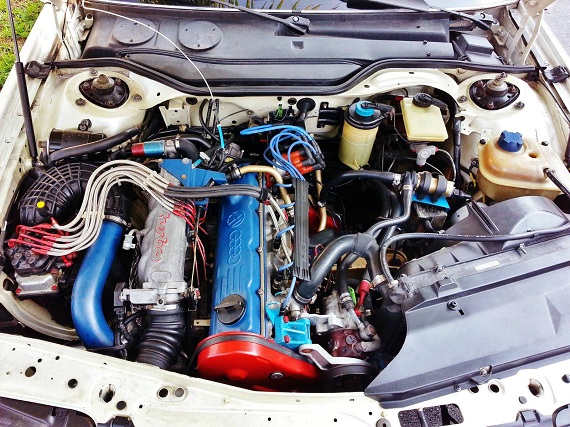 Selling a used 1986 Audi 5000 CS Quattro 5 cylinder Turbo 5 spd manual. Vehicle has absolutely NO rust + body is in excellent conditions with not one heat/dent. Comes with adjustable coilover suspension, SSR lightweight wheels, exhaust work, cross-drilled brakes, brand new power steering rack, timing belt replaced about 5K miles ago, oil change just performed, engine has NO leaks, computer tuned to run solid at 14psi of boost, turbocharger is healthy, engine compression test just done and showed all cylinders to be between 145 and 150. As per Audi, 105 is the min. wear limit so engine is 100% healthy. Custom engine painting. Shifter has almost no play and is very easy to drive. PWR windows, PWR sunroof, PWR seats all working.

The bad: Paint could use some attention. A/C components were removed, interior has no carpet, no headliner and no door panels. Leather on original seats are cracking. Also, everything in cluster works except for the mileage reading. It stopped working at approx. 150K but vehicle has not been driven much after that.

Summary, mechanically vehicle is close to perfect conditions and will trow a box with spare parts (pumps/seals/gaskets/window weather strips/etc). Only reason why I'm selling is because I already have another two project cars and now a baby in the way therefore time is very limited. Here's a video of the car running as a reference:

Buyer is 100% responsible to arrange for transportation and cover such expenses.Vehicle is located in Miami, Fl. 33196. If you have any additional questions you can reach me via email to novillo26@hotmail.com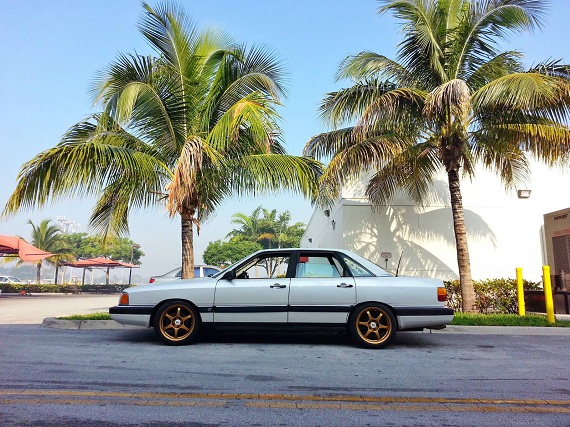 The advertisement doesn't cover engine modifications that have been performed, but the aftermarket exhaust and exhaust stains on the bumper would indicate that it's probably been turned up at least some. The exterior is otherwise understated Pearlesant White Metallic – an expensive option on the car at the time – with not understated gold SSR wheels. While they look neat, I think I'd rather pop on the color-matched Fuchs wheels that were also an option on these cars for a period look, or the V8/200 20V BBS wheels for a stealthy upgrade. It's hard to tell, but I believe to fit the current wheels the rear fenders have been pulled out, so you'd likely want to make sure that didn't introduce a rust point. The engine painting is probably a little much for most but overall the presentation is good, though details on the maintenance that was performed would probably be good to know. Otherwise, you'll need to sort the interior – while that sounds tough, if you were willing to do the work yourself it's certainly possible to grab an interior out of the many 200 20V or V8 models that are being parted out for an upgrade. I hope someone finishes this car off – there just aren't many good condition 5000s left, and with some personal touches this one could be a really good lightly modified example.
-Carter