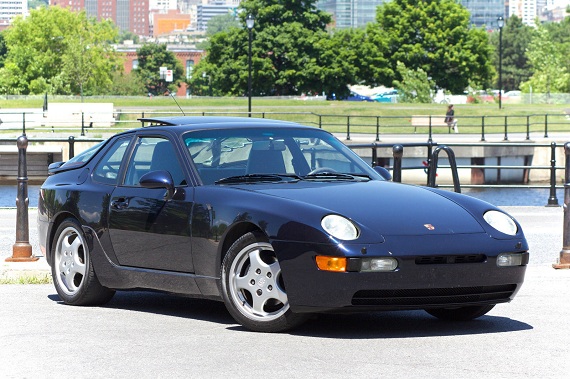 Our lineup has recently been bolstered by contributing author Pablo, a wealth of information on all things front-engined, water-cooled Porsches. One of the models he really touts as the best development of this setup is the 968, and it's easy to see why. With near perfect balance, great looks, daily-driver practicality and a very flexible engine, the 968 was a package that could actually be enjoyed on both road and track. Unlike their rear-engined counterparts from the same time period, values have not yet taken off in a frenzy; this means that you can get one of the best packages out of the box from Porsche for a relative steal. But the 968 is still a Porsche, and as Pablo has outlined as the miles creep up on 968s the potential repairs to the engine can get quite expensive. Therefore, while it's tempting to jump into a $10,000 car with some miles on the clock, that price could easily be doubled quickly in maintenance that was deferred due to expense by the previous owners. Perhaps, then, the answer is the best, low mileage example you can find: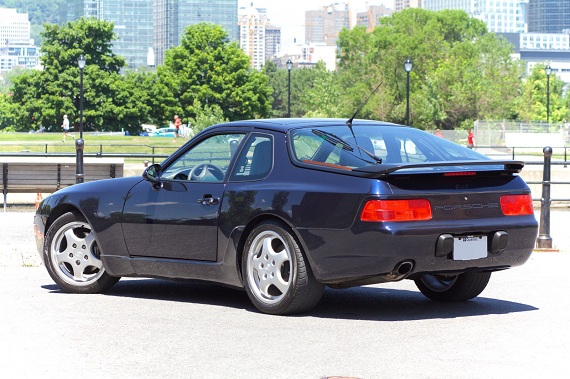 Year: 1992
Model: 968
Engine: 3.0 liter inline-4
Transmission: 6-speed manual
Mileage: 32,183 mi
Price: $24,900 Buy It Now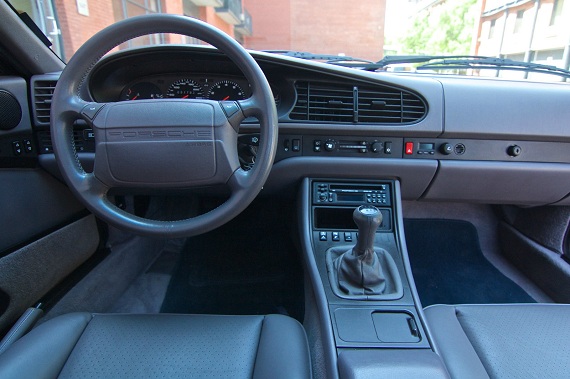 1992 Porsche 968

This 968 is in absolutely mint condition inside and out. It was originally purchased in November of 1992 in Quebec at Lauzon Porsche and was owned by the same person for its entire life. We have much of the original documentation and service records, including the vehicle's sales contract (as seen in the photo gallery). It only has 32,183 miles on it and was never abused or neglected.

This is a rare opportunity to own a Porsche 968 with low mileage and an impeccable history – a truly great collector's piece!

This particular vehicle features a 6 speed manual transmission, heated seats, a power sunroof, a CD player and other convenience features not commonly available in cars of its era. Impeccable CarFax – no accidents.

We can ship the vehicle anywhere in North America and facilitate the delivery process. The buyer will be responsible for all additional costs (shipping, duties, etc.) – these costs are not included in the sale price above.

Technical Information

The 968 was powered by an updated version of the 944's straight-4 engine, displacing 3.0 L and producing 236 hp. The 968's powertrain also included the addition of Porsche's then-new VarioCam variable valve timing system, newly optimized induction and exhaust systems, a dual-mass flywheel, and updated engine management electronics among other more minor revisions. The car's engine was the second-largest 4-cylinder ever offered in a production car up to that time. A new 6-speed manual transmission replaced the 944's old 5-speed. The VarioCam timing system was first introduced on the 968 and would later become a feature of the Type 993 air-cooled six-cylinder engine.

The 968's styling was an evolution on that of the outgoing 944, itself styled evolutionarily from the earlier 924, but elements were borrowed from the more expensive 928 model in an attempt to create a "family resemblance" between models, and the swooping headlamp design, inspired by those of the 959, previewed similar units found later on the 993 generation 911.

Like the 944, the 968 was sold as both a coupe and a convertible. Much of the 968's chassis was carried over from the 944S2, which in itself shared many components with the 944 Turbo. Borrowed components include the Brembo-sourced 4-piston brake calipers on all four wheels, aluminum semi-trailing arms and aluminum front A-arms, used in a Macpherson strut arrangement. The steel unibody structure was also very similar to that of the previous models. Porsche maintained that 80% of the car was all-new.

Thank you for watching/bidding!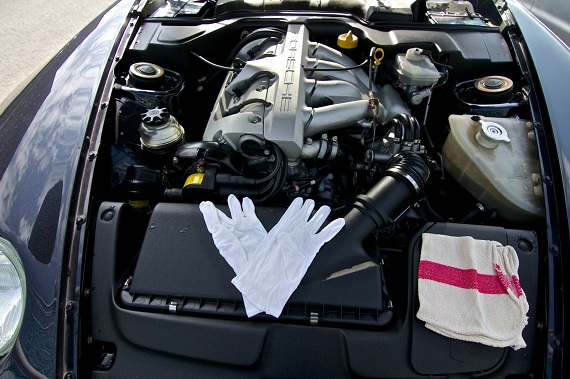 Outside of the many colors that weren't selected for the U.S. market like the greens and blues, this color combination has to be my favorite on the 968. It's a gorgeous car, and the exterior is matched by the upgraded Cup wheels. Our resident water-cooled expert, Pablo, was able to source the options on this car. It's interesting that while the car was specified with the sport options like the seats and wheels, the limited-slip differential was left off:
1992 PORSCHE 968
VIN: WP0AA2963NS820380
OPTIONS
M383 – SPORT SEAT LEFT/VERTICALLY ADJUSTABLE
M387 – SPORT SEAT RIGHT/VERTICALLY ADJUSTABLE
M403 – CAST WHEEL "CUP" 17 INCHES
M058 – IMPACT ABSORBERS FRONT AND REAR
M113 – VERSION FOR CANADA
M130 – CONTROL AND INDICATIONS IN ENGLISH LETTERING
M139 – SEAT HEATING SYSTEM LEFT SEAT
M218 – LICENSE PLATE BRACKETS FOR USA FRON AND REAR
M219 – NO LSD
M236 – YOKOHAMA TIRES
M288 – HEADLAMP WASHERS
M323 – STICKER WITHOUT ECE SPECIFICATIONS
M340 – SEAT HEATING SYSTEM, RIGHT SEAT
M423 – BOX FOR CASSETTES AND COINS
M425 – REAR WINDOW WIPER
M431 – 4 SPOKE STEERING WHEEL (LEATHER), DIAMETER 363 MM
M434 – WORK INSTRUCTIONS (CARS FOR OVERSEAS)
M441 – PREPARED FOR RADIO
M454 – AUTOMATIC SPEED CONTROL
M464 – WITHOUT COMPRESSOR AND TIR PRESSURE GAUGE
M480 – 6 SPEED MANUAL GEARBOX
M490 – SOUND SYSTEM
M494 – ADDITIONAL AMPLIFIER
M548 – FUEL FILLER NECK, UNLEADED FUEL WITH FLAP
M553 – VERSION FOR USA, CANADA
M562 – AIRBAGS DRIVER'S SIDE FRONT PASSENGER'S SIDE
M566 – FOG HEADLAMPS, WHITE
M567 – WINDSHIELD TINTED, UPPER PART
M573 – AIR CONDITIONER
M596 – SPOILER PAINTED MATTE BLACK
M602 – RAISED STOP LAMP (3RD BRAKELAMP)
M650 – DETACHABLE ROOF, ELECTRICAL
M651 – ELECTRIC WINDOW OPENER
M685 – REAR SEATS, DIVIDED
M691 – CD PLAYER "CD-2" WITH RADIO
M912 – VEHICLE WITHOUT IDENTIFICATION PLATE
M932 – SEAT COVERS, REAR
M945 – SEAT COVERS FRONT
What a delightful package overall, and the condition appears to be top notch. It should be, with a scant 32,000 miles on the clock. I really love the white glove image for the engine; obviously a bit of overstatement, but if this car was properly cared for as claimed by the advertisement it would appear to be the one to get. In terms of valuation, the asking price is a tad bit high relative to what the market seems to support; Hagerty places top value for a condition 1 968 at around $20,000 with the market relatively flat. However, we've seen asking prices for extremely low mileage 968s at more than double the asking price for this car. As there are so few truly low mile, excellent condition examples out there, the asking price for this car might not be that outrageous – though it would put you into a quite nice 944 Turbo S if you were looking for a bit more performance. People that have owned both suggest that the 968 was a better all-around car, and if like me you think this color combination is just about perfect this car may be worth the additional premium.
-Carter