Warning!
This post is in our archives. Links in this post may have been updated to point to similar cars available to bid on eBay.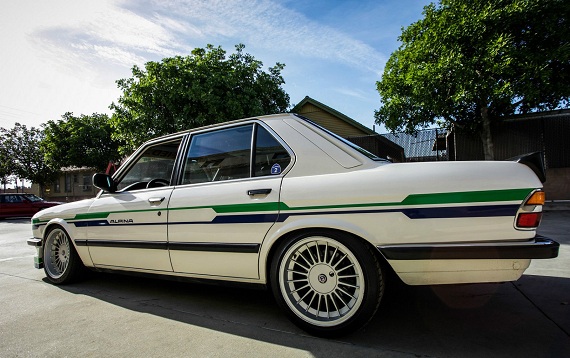 About a month ago, I wrote up a 2002 M20 Turbo built by a company called Manofied. Well, the Manofied folks have been at it again, this time with a 535i. They've fully built the car in the style of the Alpina B9, replete with plenty of Alpina parts, some Euro bits, and what appears to be a fantastic individual throttle body engine. The downside? As with the 2002, the price for this build is quite high for a non-original car. But before you jump to conclusions, take a look: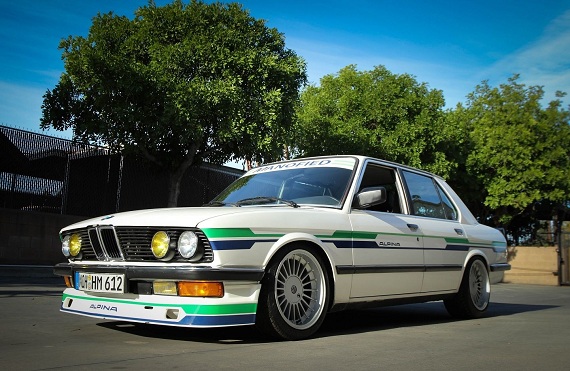 Year: 1988
Model: 535i
Engine: 3.5 liter inline-6
Transmission: 5-speed manual
Mileage: "2,500" mi
Price: $32,500 Buy It Now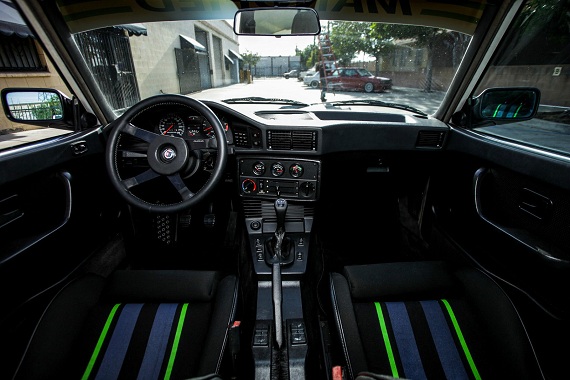 1988 BMW 535i B35 SWAP ALPINA B9 INSPIRED

ASSEMBLED AND TUNNED SERIAL NO: 012 BY MANOFIED RACING LLC.

ENGINE:

B35 SWAP, 3.5LTR. BLUE PRINTED AND BALLANCED.

10.3.1 COMPRESSION WITH ROSSY PISTONS.

H-BEAM RODS WITH ARP HARDWARE.

PORT AND POLISHED HEAD..

STAINLESS STEEL VALVES.

TITENIUM RETAINERS.

ISKI DUAL VALVE SPRINGS WITH 292 CAM.

MANOFIED CORSA BILLET ADAPTERS TO BOLT FACTORY E28 M5 ITB'S

MANOFIED CORSA BILLET VELOCITY STACKS WITH FILTERS.

MANOFIED CORSA INDIVIDUAL COIL PACKS.

MANOFIED CORSA DISTRIBUTOR DELIT KIT.

MANOFIED CORSA STAND ALONE PLUG & PLAY ECU.

VIEW DYNO RESULTS FOR PRODUCED HP AND TORQE.

DRIVETRAIN:

5-SPEED TRANSMISSION.

ALUMINUM FLY WHEEL.

RACE CLUTCH KIT.

373 DIFFERENTIAL.

COOLING SYSTEM:

OEM RADIATOR.

SILICON RUBBER HOSE KIT.

MANOFIED CORSA BILLET THERMOSTAT HOUSING.

MANOFIED CORSA INLINE THERMOSTAT.

MOROSO COOLANT RESERVIOR.

EXHAUST:

MANOFIED MANDREL BENT 3 IN. STAINELESS STEEL PIPING WITH MAGNAFLOW MUFLER.

MANOFIED CORSA HEADERS TIG WELDED SST. TUBING.

SUSPENSION:

MANOFIED CORSA ADJUSTABLE CAMBER AND FIXED CASTER PLATES ( FRONT ).

MANOFIED CUSTOM BUILT FRONT COIL OVERS.

MANOFIED CUSTOM BUILT REAR ADJUSTABLE COIL OVERS AND BILLET TOP PLATES.

FRONT SPRINGS RATE IS 525#

REAR SPRINGS RATE IS 325#

ADJUSTABLE REAR TOE KIT.

ADJUSTABLE REAR CAMBER KIT.

ALL URETHANE BUSHINGS.

25mm. FRONT AND 19mm. REAR SWAY BARS.

BRAKES:

7 SERIES FRONT CALIPER & ROTORS SLOTED.

E28 FACTORY REAR CALIPERS & ROTORS.

STEEL BRAIDED BRAKE LINES.

EXTERIOR:

FACTORY BODY WHITE PAINT.

EURO BUMPERS.

EURO FACTORY ALUMINUM FRONT VALANCE.

ALPINA FRONT SPOILER.

ALPINA TRUNK SPOILER.

ALPINA GREEN/BLUE STRIPPING.

ALPINA BADGES.

INTERIOR:

ALPINA CORRECT CLOTH FRONT SEATS.

ALPINA CLOTH REAR SEAT.

ALPINA STEERING WHEEL.

ALPINA INSTRUMENT CLUSTER IN METRIC Km.

ALPINA FLOOR MATS.

ALPINA DEAD PEDAL.

CUSTOM VDO CLUSTER.

SEPERATE VDO COOLANT TEMERATURE , OIL PRESSURE AND VOLTMETER.

WHEELS:

ALPINA 17 X 8.5'S IN FRONT.

ALPINA 17 X 9.5'S IN REAR.

235-40-17'S FRONT TIRE SIZE.

255-40-17'S REAR TIRE SIZE.

FOR MORE INFORMATION PLEASE CONTACT US VIA EMAIL

OR MANOFIED WEB-SITE.

THANK YOU.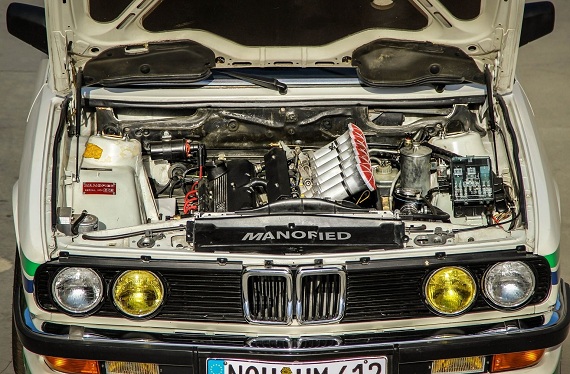 Outside of the basic body structure, it doesn't appear that much has been left alone by Manofied. They is the heavy-duty suspension, 7 series brakes, Alpina wheels and tires to keep the car grounded. Then there's the crazy ITB engine build with stand-alone electronic fuel injection, replete with dyno sheet to show near-M5 levels of power. Top that off with the Alpina interior, spoilers and stripes and this is one great looking build. I think it sits a bit too low, but only a bit – and I wonder what level of driveability has been sacrificed for power with the ITB setup. Outside of that, though, I really like everything here – except the price. For $32,500, with some searching you could find a real Alpina B9 if you were a serious collector, or certainly one of the nicest M5s in the world. However, if you wanted to replicate this build from scratch, you'd likely be better off just buying this one – the parts and labor alone would likely come close to the asking price here. Either way, it's a great looking build and to me much more appealing than the custom turbo 2002 they built.
-Carter