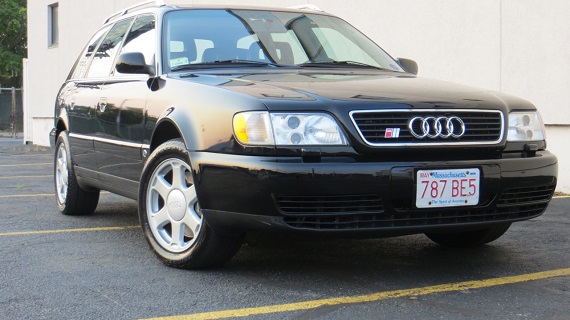 The excellent line of C4 Audis I've had the pleasure of writing up continues today! If you recall my last post about the 1995.5 S6 Avant, you'll remember that I spoke about these cars having a bespoke feel. Here's a great example of what I meant; what we have is a very desirable 1995 S6 Avant. Unlike the 1995.5, the 1995 model got the updates of the S4 to S6 like the bumpers, but retained the early driver-actuated differential lock rather than the ABS-system reliant electronic differential lock. But some of the differences were more subtle than just that; there were changes to the headrests, for example, though the Avants early on kept the open center headrests rather than the solid units found in later sedans and Avants. You'll note, if you look carefully, that the 1995.5 in our other featured listing had the solid headrests. That would place this as an early 1995 S6, but some of the early cars carried over the forged Fuchs wheels associated with the S4, this car has the later Speedline-made Avus wheels in place. You'll also note, again if you look carefully, that the early 1995 S6s retained the infrared central locking system (denoted by a button on the B-pillar) – a system later replaced by the radio frequency system found on newer models. Sure, these are all small items, but they're interesting tidbits that once again make nearly each Avant a unique car – few are identical. This particular car was also specified in the classic color combination of double black; a classic color combination which gives this lovely example a sinister and standout presence: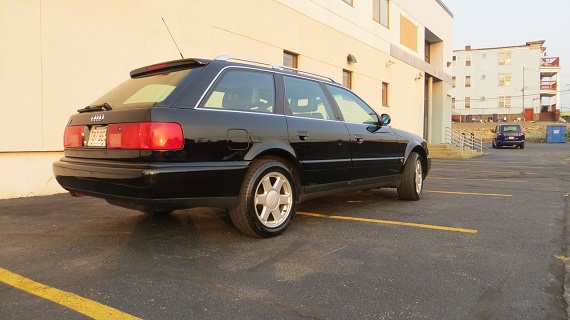 Year: 1995
Model: S6 Avant
Engine: 2.2 liter turbocharged inline-5
Transmission: 5-speed manual
Mileage: 181,423 mi
Price: No Reserve Auction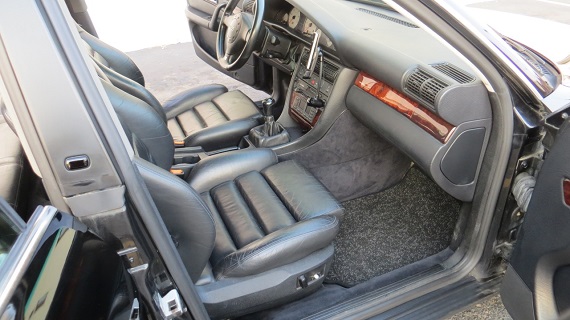 Black exterior, Black interior 181,xxx miles

VIN: WAULA84A1SN111851

$10,000

I have owned this car for 10 years and put just over 90,000 miles on it. Moving abroad forces me to sell it, very reluctantly. Full maintenance records since my ownership, partial records before 2005 / 90K miles. Excellent condition overall.

I am in the Boston area. You can pick up yourself, or, I will work with any commercial car movers you contract and pay.

More information or questions: audiS6avantforsale@icloud.com or six one seven eight 66 89 sixty one

Highlights:
* Big front Brake Kit (black Porsche Boxster calipers, Audi A8 rotors, 034 Motorsport brackets), stainless steel brake lines at all 4 corners
* Stage 1+ ECU tune (034 Motorsports chipset), including 1.9 bar wastegate spring and RS2 replica injectors, new boost hoses: http://store.034motorsport.com/chip-tuning-package-aan-aby-stage-1.html?___SID=U
* European front bumper
* Full body repaint in 2012
* New headliner in 2014
* Apikol rear sway bar and Apikol snub mount
* 8 Avus 16″ wheels included: Bridgestone Potenza RE760 Sport summers mounted on 4 refinished wheels; Bridgestone Blizzak WS60 winters mounted on the other 4 wheels
* FM modulator to original radio for auxiliary input

Photos and maintenance record: http://imgur.com/a/ZnJyJ

Condition:
* 181,423 miles (not exact, still driving)

* Mechanical:
o Excellently maintained condition overall. Engine, brakes, suspension, transmission, cooling, and engine electricals all in excellent condition. Car drives beautifully.
o Tasteful and useful upgrades: brakes, ECU, etc.
o Timing belt et. al. done in 2012 at 152,600 miles.
o Recent major maintenance (30K service performed at 179K in June 2015).
o Full receipts and thorough records of work performed (see pdf)
o Some rattling of passenger rear sway bar link over big bumps (I recommend reinstalling original sway bar)

* Exterior:
o Full body strip and repaint in original black performed in 2012, paint condition still very good
o Full repaint of front Euro bumper in May 2015
o Minor perforation appearing below drivers headlight and at corners of two doors
o Minor dent on passenger rear door; some road rash on front fenders
o 3 touched-up paint chips on hood, and touch-ups on rear bumper
o 4 Avus wheels with summer tires look good, were refinished 2011; 4 winter wheels in tougher cosmetic shape

* Interior:
o Best seats ever in an Audi (I wish one could still get Recaro's this good)
o Leather on all four seats in beautiful condition (yearly Lexol treatment)
o Rear-facing jump seat in excellent condition–This is a Seven Passenger vehicle (if two are kids)
o New Headliner December 2014
o Three of four seat heaters work; Driver's seat heater does not work
o Lloyd mats
o Occasional minor water leak to carpet under accelerator pedal
o No cracks in dash or any plastic
o Missing passenger seat switch cover (switch still works)
o Original wood and door cards in good shape
o Auxiliary input to original radio through FM modulator
o All electrical features work, except for CD changer, light bulb for outside temperature, and driver's seat heater
o Original manuals, maintenance book, folder, etc.
o All maintenance log and receipts for 10 years, and some records from before that
o Original analogue phone (AMPS!) in center arm rest
o Two original keys: each activates a different one of the four custom seat/mirror settings

* Extras:
o 4 Avus wheels with winter tires mounted
o Original rear sway bar and mounting hardware
o New squirrel cage hvac blower motor
o Original ECU chipset and original injectors

Photos and maintenance record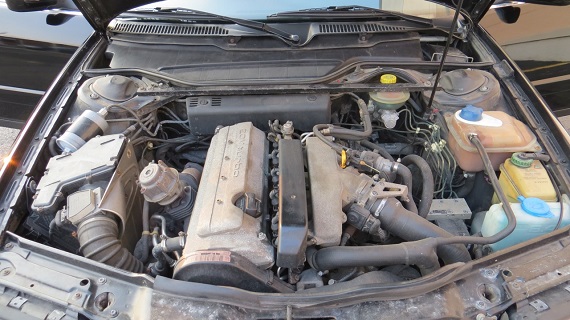 While if I'm honest the black interiors aren't my favorite in these cars, the reality is that they really do show the least amount of wear if cared for as the miles grow. And speaking of cared for, this example has led a well-manicured life; I particularly enjoyed pouring through the owner's records of every bit of maintenance he could track down. This is something I've tried to do with my own car, keeping a running log but also going back before my ownership to try to piece it all together. It's the attention to detail that a prospective buyer really loves to see but is somewhat rare to find on older Audis. The maintenance is really key in keeping these cars running well, and this car has had everything done and is up to date. Modifications are minor but good ones; upgraded chipset along with 034's RS2 upgraded injectors get things moving, while the Porsche brakes discretely bleed that speed off. I especially love the brake upgrades that are able to fit under the stock wheels. Outside, the car retains a mostly stock appearance with the subtle but great upgrade to the European spec bumper with more venting. It's slightly more purposeful, and with a full repaint and refinished wheels this car appears in well above average condition. The seller does an honest job not only of tracking the history of the car, but in describing the current condition – including noting very small imperfections anyone would reasonably expect with a car that has covered 180,000 miles in 20 years. If mechanically these cars shrug off miles when they're maintained, there's no doubt that the exteriors often suffer; clearcoat failure often plagues these cars, but with the refreshed exterior and clean interior this example still looks minty fresh. It also has the desirable 3rd row seat; with a great history, good upgrades and maintenance history and in clean condition, it's no wonder that the asking price is a bit higher than the example we looked at last week. However, that price is very justified in my mind, and this is one excellent example of a well cared for and loved Avant.
-Carter