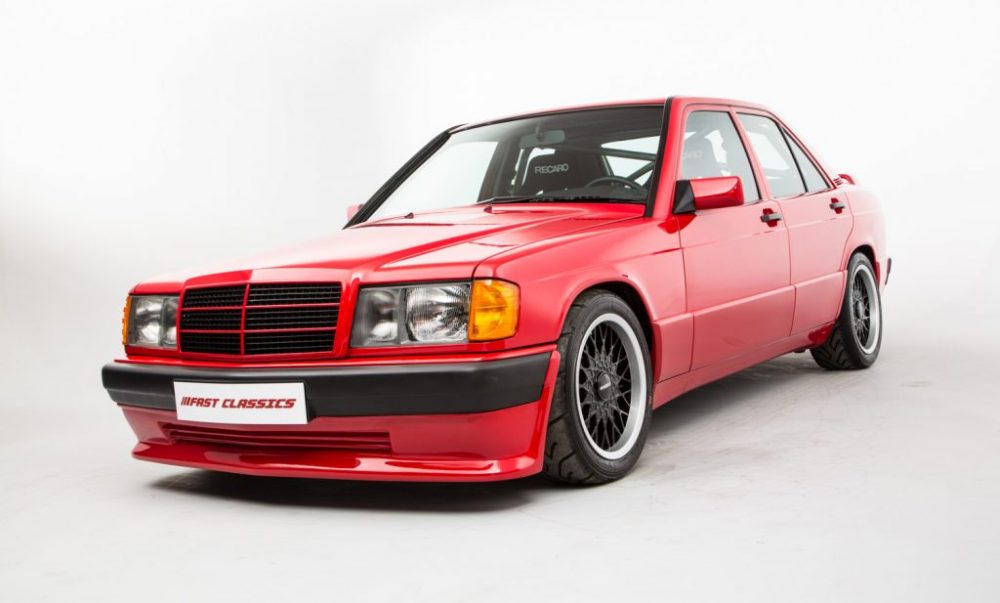 Legendary Mercedes-Benz tuner Brabus has put out a lot of great cars over the years. The majority of the time, they build cars that are like throwing a safe off a skyscraper. Big, powerful cars with giant V8s and V12s that do everything really well, but no one would really call them nimble or lightweight. Today's car, a 1991 190E 3.8S "Lightweight" for sale in England gives you a bunch of power with a manual transmission which maintaining a lighter feeling car.
Based off a 190E 2.6, the PR man for Brabus commissioned the company to build a lightweight example with minimal creature comforts for street and track use. What they ended up with was a 3.6 liter M103 with all upgraded internals, stiff suspension, sticky tires, a half roll cage and seats that hurt your hips just by looking at them. (More on that later.) Although built in 2008, this W201 kept its 80s styling and design themes while toeing the line between street car and track car. For as complete and nearly flawless as it is, the price is even more amazing.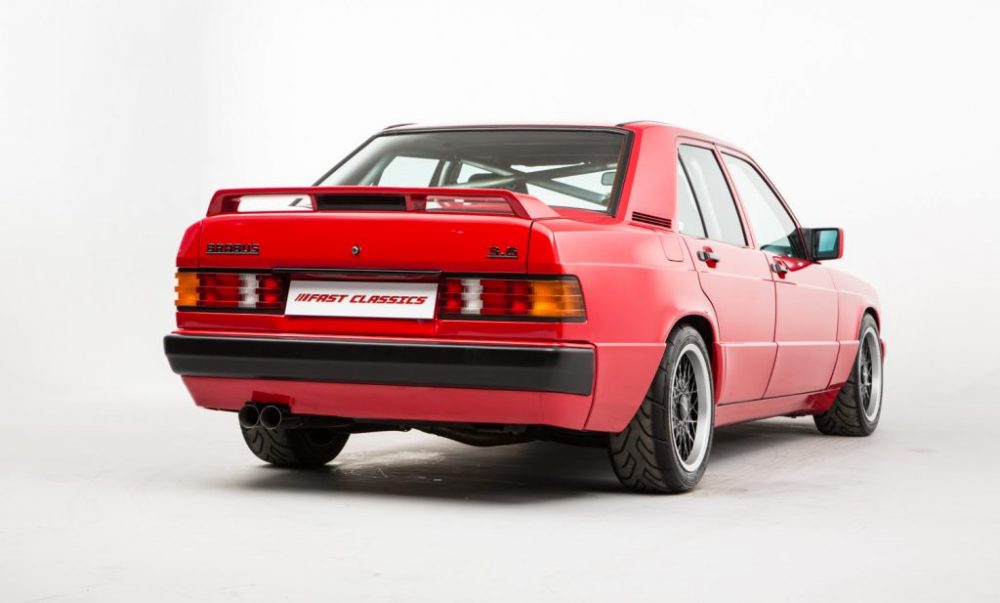 Year: 1989
Model: 190E 3.6
Engine: 3.6 liter inline-6
Transmission: 5-speed manual
Mileage: 9,977 mi
Price: £131,995 ($185,942)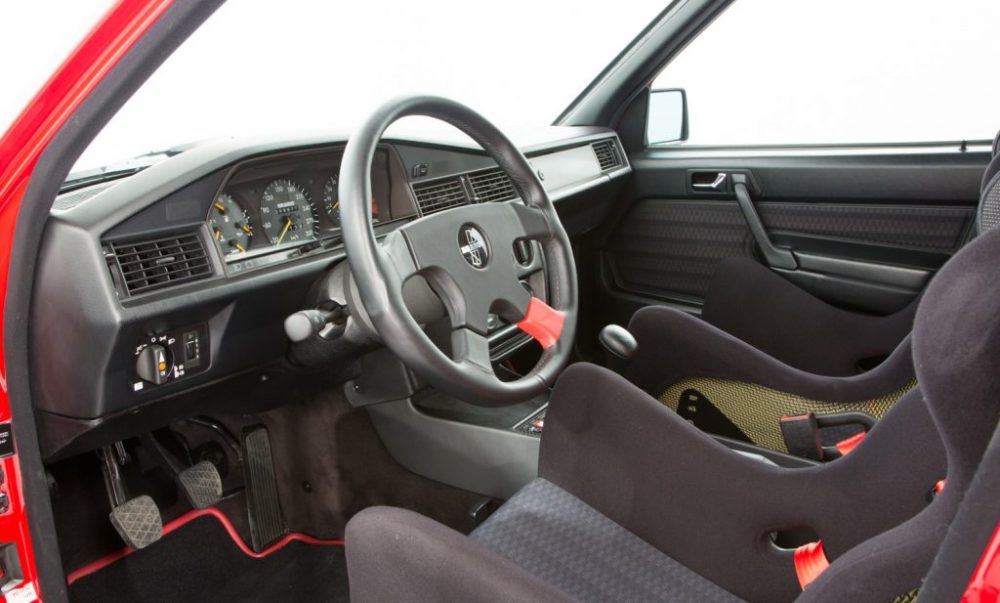 Brabus, founded 1977 in Bottrop (Ruhr Area), Germany, is a high-performance aftermarket tuning company which specializes in Mercedes-Benz, Smart, and Maybach vehicles. Klaus Brackman and Bodo Buschmann established the company in 1977, the name deriving from the combined first three letters of their last names. Brabus became the largest Mercedes tuner, other than Mercedes-AMG which became a DaimlerChrysler affiliate in the 1990s.

The Brabus 190E 3.6S. Already an evocative moniker, and nick named the 'Brabus Lightweight', The story behind the construction is part of its appeal. The mid eighties onward was a hotbed for fast compact German saloons with the Mercedes 190 and BMW E30 fighting for sales and racing supremacy. There were countless iterations of both, each flouting more power and wilder styling than its predecessor – it was an amazing period for German saloon cars.

Brabus wanted part of the action and showed their iteration in 1988, the prototype Brabus 190E 3.6S. A fantastically pure car that pushed the boundaries of a saloon, it had no air conditioning, less sound deadening, a straight six engine bored and stroked to 3.6 litres and amazingly, no rear seats. A wild concept, but just a step too far for Brabus customers, who requested that the air conditioning and rear seats be reinstated in the customer cars. That original lightweight prototype was converted into the first Brabus 190E 3.6-24 with all the seats and air conditioning back in place, which could of spelt the end of the Lightweight.

Luckily, one man fell for it, Sven Gramm, PR Director for Brabus and in 2008 (some 20 years after that fated prototype) he commissioned Brabus to produce another one, staying true to the concept as a two seater with no air conditioning. The build used a donor 190E 2.6E, as would have been done with the original. Under the tutelage of Sven, who spent many an hour searching for components and blueprints in the Brabus factory and storage facility, the 190E slowly morphed into a Brabus 190E 3.6S across a 10 month build period. Original parts were used where possible and bespoke components produced when not.

The result is awe inspiring to say the least. Mercedes Signal Red is the colour of choice and the Brabus has a slightly front down attack stance that suits the 80s touring car style perfectly, matching its track brethren. It sits low and hunkered down, courtesy of a set of Bilstein Sports dampers and Eibach springs. The interior is pure race car, yet with the functionality of a Mercedes.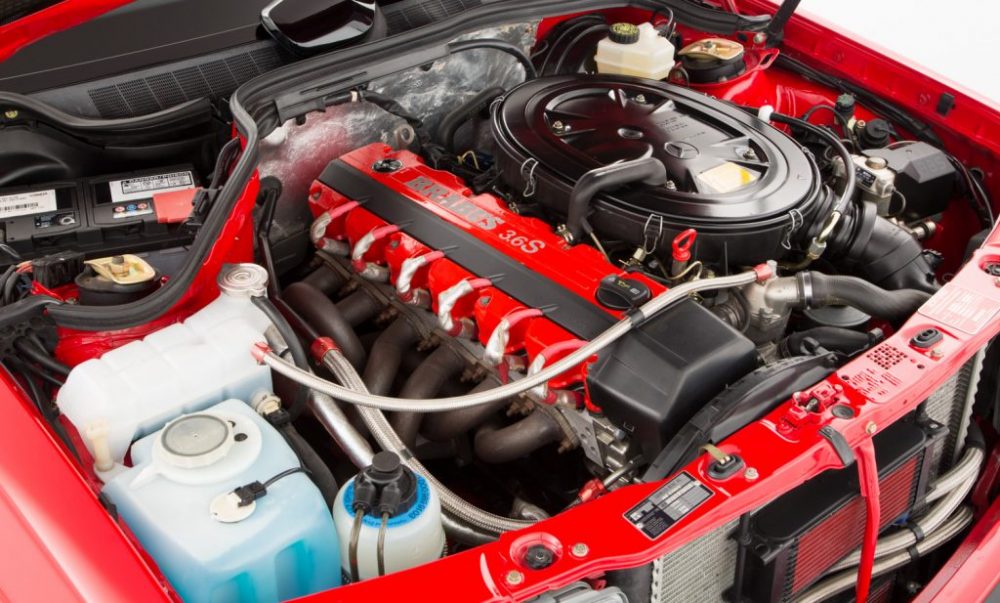 For as cool as this car is, I can't imagine trying to drive it on the street. Stiff suspension and lack of sound deadening is one thing, but those seats are another story. Unless you have the hips of a ballerina, both in terms of flexibility and size, you are going to be in some pain. The side bolsters on them rival any race car that I've seen and while it is a nice feeling to be "locked in" a seat, not being able to spread your knees on a car with a pedal box as wide as this one leaves me having second thoughts as to even trying to take this 190E on the street for a fun drive. Other than that, this car is amazing. Brabus did a great job building this car right up to the limit the chassis is capable of. Even despite being built in 2008, it keeps all of that late-80s styling and flair.
The price tag on this car of almost $186,000 is otherworldly but who am I to argue against it? This is a extremely unique and rare build that is nearly impossible to replicate given the connections from Brabus it took to build this car. Is it going to sell next week? Probably not. It is going to take a true Mercedes and Brabus fanatic with seriously deep pockets to buy this car.
Thanks to our reader John for the spot!
– Andrew