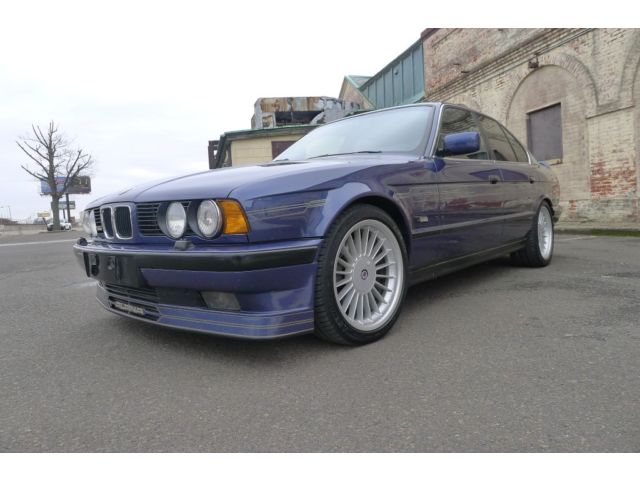 When it comes of tuned BMWs, there's no shortage of examples. Indeed, there are far more tuners of the popular Munich brand than all the others combined. From ABC Exclusive to Zender, everyone had their hand at modifying some series car into something a bit more. Sometimes more was tasteful, and othertimes it was garish – but all the way along, no firm has been consistently more effective at producing a quality product than Alpina. From their roots as a semi-factory race effort in the 1970s right through the dealer-offered cars of today, Alpina's results have always been top-notch redefinition of the basic car. And while they have subsequently built faster cars, for me the best examples of the ethos of Alpina and its relation to BMW has always been the B10 BiTurbo. BMW built the screaming S38 powered M5, but Alpina provided its clients a private jet for the road: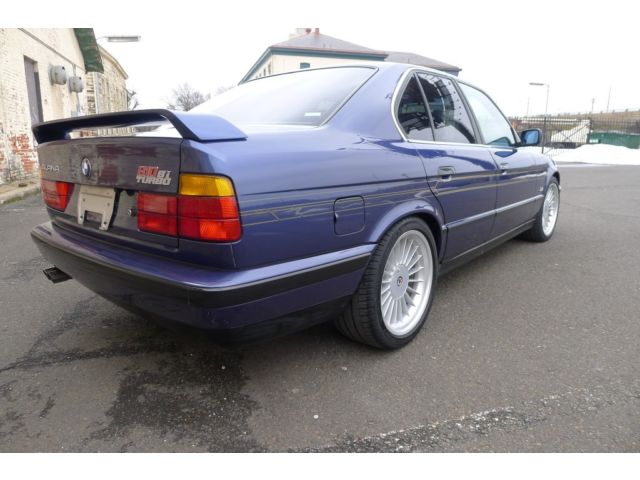 Year: 1990
Model: B10 BiTurbo
Engine: 3.5 liter twin-turbocharged inline-6
Transmission: 5-speed manual
Mileage: 75,221 mi
Price: $47,500 Buy It Now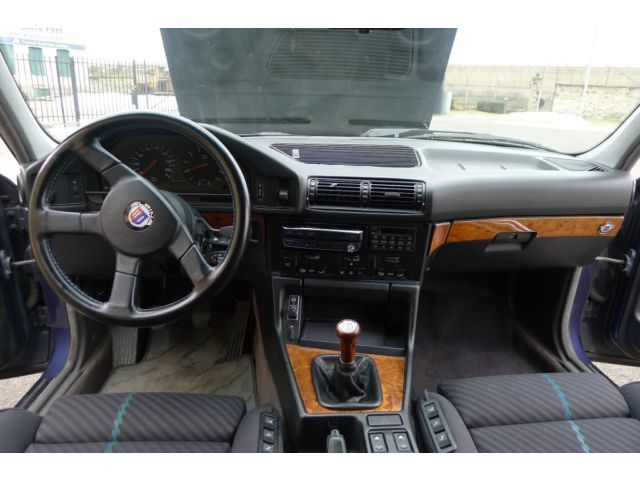 If you are looking on this car you probably know what is is, We will include some information about the car for the general public.

The Alpina B10 BiTurbo is a high performance version of the BMW 5 Series E34executive car built by Alpina. Beginning production in 1989, the B10 BiTurbo was based on the 535i and received several upgrades by Alpina, being the fastest production sedan in the world at the time of its introduction. Production ended in 1994 with 507 examples produced.

Based on the E34 535i and developed at a cost of $3.2 million, the B10 BiTurbo was introduced at the Geneva Motor Show in March 1989.

To build each B10 BiTurbo powerunit Alpina dismantled a BMW M30 engine, replaced the stock pistons with forged Mahle units, installed two Garrett T25 water-cooled turbochargers, and added a Bosch variable boost control with range of 0.4-0.8 bar, adjustable from the driver's seat. Additional modifications helped raise the horsepower of the stock M30 engine from 155 kW/208 hp at 5700 rpm and 305 Nm/225 lb-ft at 4000 rpm to 265 kW/360 hp at 6000 rpm and 520Nm/384 lb-ft at 4000 rpm. A Getrag 290 5-speed manual transmission was specified to handle the power.

Modifications to the suspension included Alpina-spec springs and anti-roll bars. Bilstein shocks were used on front and automatic-load levelling units by Fictel & Sachs were used in the rear. Front rotors were large 13.1-inch discs from UK-based Lucas Girling, bigger even than the 12.8-inch pieces found on the E34 M5.

The Alpina claimed a 0–100 km/h time of 5.6 sec and a top speed over 290 km/h ]putting it in the same league as a Ferrari Testarossa. In the September 1991 issue ofRoad & Track Paul Frère wrote: "For me this is the car … I think this is the best 4-door in the world."Despite a base price tag of 146,800 DM, nearly twice the price of an E34 M5, the B10 Biturbo became the best-selling single model in Alpina history up until that point. The six year production run beginning in 1989 ended in August 1994 with only 507 examples produced.

This car has is number 46 was build in September of 1990 . We have all service records for the car from the day one. This is one of the lowest kilometers and probably the best documented B10's we ever seen.

The car was then bought by US directly from the first owner in Japan in fall of the last year. We imported it in January 2016 and had it serviced by us upon arrival.
All the tires are nearly new Michelin Sports. The Aplina Wheels are in fantastic condition.

The car does not have any dents or major scratches.
Failing this the car is just sensational and hard to fault. The interior is clean, tight and odor free.
The car drives perfectly with no interior or exterior rattles or noises. Feel free to have the car inspected.
Hand books, toolkit and first aid kit all correct.
All original keys including service keys.
Full Service History from new.

This vehicles vin number is WAPBATL000B750046 This vehicle was legally imported from Japan and currently has a valid PA title. The mileage is displayed in kilometers which we converted to miles for the ad.

Please keep in mind you are bidding on a pre-owned vehicle. Everyday driving can cause minor chips, dings or scratches on a vehicle. Unless otherwise noted in our photos or description these items are minimal, but may exist in some cases.If you have any questions about this or any of my other auctions please feel free to contact me at (267)471-6561. Thank you for your interest and I look forward to hearing from you.
Why not simply use the S38 to power the B10? Because that's not how Alpina do things, that's why. And yet, the results of their developments are simply amazing. To me there is no more appealing E34 than the BiTurbo. It nails everything square on the head – great, subtle looks with just enough special details to set the car apart, the perfect stance, and step inside to one of the best looking interiors BMW produced. On top of that, these BiTurbos were ultra exclusive, with only around 500 produced. The net result is a perfect package and perhaps the ultimate driver's sedan. Yes, with "only" 360 horsepower these BiTurbos are far from being the fastest vehicles on the road and maybe the lack of the over-the-top flares of the 80s AMG 6.0s doesn't give them quite as much poster appeal. But to me, this is just about as good as sedans get.
-Carter