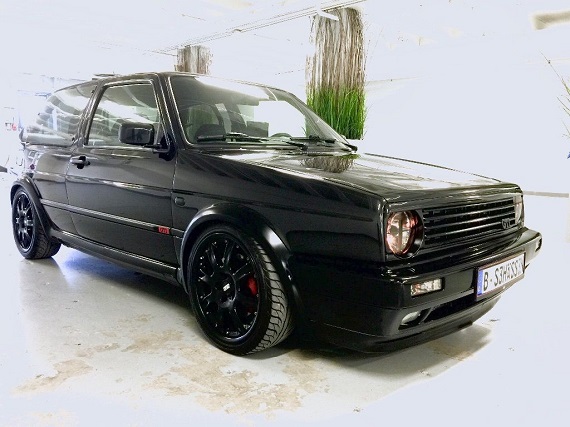 The hot hatch may just be the perfect have your cake and eat it too automobile. And though many argue that they weren't the originator and didn't produced the best example in the market, Volkswagen's GTi has been intrinsically linked with the moniker. It always raises an interesting question of which generation is best, and while there are plenty who would contend that the model never got any better than its original configuration, fans of each iteration of the venerable model abound. Like some others that read the blog, I came of automotive age in the midst of the Mk.2 model run. A Mk.2 Golf was also my second car, and as a result I have quite a soft spot for them. In the days before the internet, my knowledge of European models like the Golf Limited was non-existent, so at the time it got no better than the late GTi 2.0 16V. Wider arches, deeper bumpers, fog lights and the signature red striped quad-round grill setup coupled with some great colors like Montana Green. The roof mounted Fuba antenna was like a remote control pickup for fun, and capped with some awesome BBS RM multi-piece wheels and slick looking Recaros, the package might as well have said "Ferrari" on the front. But if the looks of the Mk.2 GTi were the best in the line, quite a few VW souls would point out that the fantastic sounding VR6 model that followed had the performance that really backed up the hot-hatch name. As a result, swapping the VR6 into the Mk.2 has not only become popular but almost a given, and VR swaps are nearly as prevalent as the ubiquitous S50/S52 in a E30 swap. This particular one has been dialed up a few more notches with a turbo, but channels the look of the 2.0 16V with some updates and a whole lot of black paint: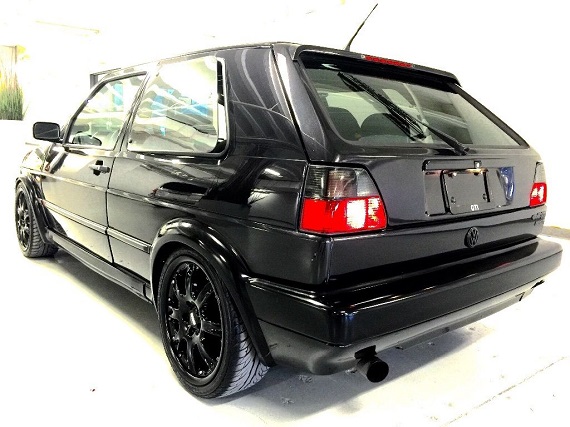 Year: 1992
Model: Golf
Engine: 2.8 liter turbocharged narrow-angle VR6
Transmission: 5-speed manual
Mileage: Not Listed
Price: Reserve Auction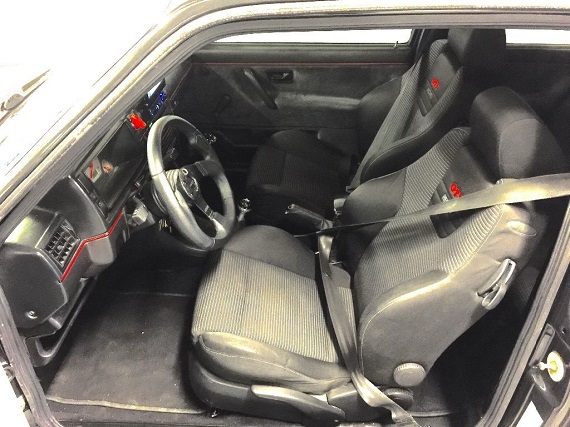 The time has arrived, I'm ready to sell my baby. Impossible to find in this prestine condition she's a real head turner ready to take the road. If you are looking for a collection car that will take by surprise any sport car, here's a one of a kind Mark II. With a reliable turbo set up, you'll have the best ride this summer. Always stored, filled with premium gas, always maintained and modified by true professionals. She doesn't go in the street when it's raining, nor anything that comes from high!

The 1998 OBD2 VR6 engine is very strong, no leak, no noise, and everything is new! My mechanic told me she's +/- 410HP. Just serviced and all the oils are new. Nothing to fix or repair! Just the body work cost 11,000$. Painted with black magic color code and covered with dynamat, she won't rust. Total investment is 37,000$.

Seriously the list is too long to mention everything that was done. The car looks new!

The Recaro seats from a 2005 GTI 20th anniversary give the perfect comfort for long rides and they are in mint condition. The roll cage makes the car stick to the road in the most exiting curves and the corrado drilled brakes will stop you in an instant.

Lots of thumbs up every time I take her for a ride.

For more pictures or informations please text me: +1(514) 577-8875 and I'll be glad to provide you everything you need.

On 20-Jun-16 at 00:33:11 EDT, seller added the following information:

Body:

full restauration BBQ style (11,000$)

Black Magic color code

Hella Rallye smoke taillights OEM (300$)

Euro lip and eye lid (300$)

Big bumper front and rear

Clear lights in front (400$)

Happich rear window (1200$)

Euro plate with frame front and rear (125$)

Badge less grill (200$)

Sun roof

BBS 17″ 2 pieces

Interior (mint non smoker):

Dash red strip no crack (500$)

Recaro seat or 20th front and rear (1000$)

New carpet (500$)

Clarion radio SiriusXM GPS DVD (1200$)

Roll cage

Momo steering wheel (600$)

Boost gauge with oil temp with adjustable light color (150$)

MK3 cluster (100$) not showing right mileage*

Mechanic (cost 17,000$ all together):

VR6 turbo +/- 410HP

Front mouth intercooler perfect welding

External west gate (sound is incredible)

Aluminum radiator

5 bolts conversion

Corrado brakes

Drilled rotors

Hawk pads

Adjustable suspension

Sway bars

Etc… The list is long. The car runs really great and pulls very strong. No issues, everything inside works, lighter, sunroof, wipers, lights, heater.

There is a curd rash on a wheel, on the sunroof, the clear of the paint is stratched a little bit nothing major.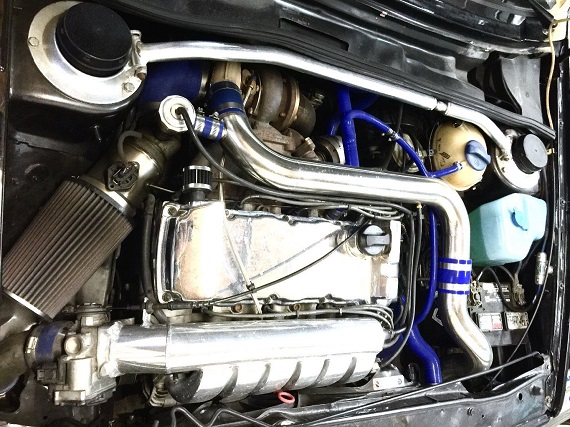 You get some laughable Volkswagen-fan interpretive spelling and some not particularly descriptive and heavily retouched photos, but there's still a lot of work completed here. The BBS RW wheels are an unusual but interesting wheel choice, though the all-black-everything look I could probably do without. Interesting too is the inclusion of updated seats and gauge cluster, the former of which works well though the latter doesn't fit at all. It's also not clear if this car was originally a Golf or GTi, though at this point I'm not sure it matters much. Horsepower claims are probably exaggerated too, as 410 horsepower is well over double what the motor produced stock. With a few days to go, bidding has been active but at $4,000 is well short of investment and probably the reserve, too. I'd guess the seller is hoping for north of $10,000 but that may be very difficult unless someone completely loves this particular package and work completed.
-Carter